Walther P99 Airsoft Reviews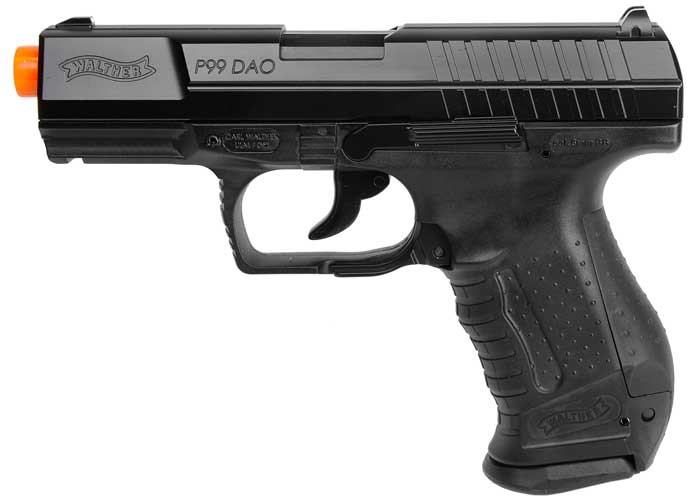 Average Customer Review
4.5
(48 reviews)
Add to Cart
Only 3 left in stock
Create an online review   and share your thoughts with other customers
The most helpful favorable review
2 of 2 people found the following review helpful:
5.0 5.0
5.0 5.0
5.0 5.0
By lhairsoft from USA on 2010-01-22 12:46:14
Things I liked:
The weight of this gun is very impressive. The blow back is amazing and makes it even more realistic, it even has a little kick! The slide is metal is cool. It is 380 fps with 20. gram bb's which is very powerful. This gun is pretty loud too. Overall awesome gun!!!!!!!! 5 stars
Things I would have changed:
Nothing!!!:)
What others should know:
If your looking in to this gun get it!
The most helpful critical review
0 of 0 people found the following review helpful:
2.0 2.0
2.0 2.0
1.0 1.0
By Keith from USA on 2017-04-18 13:15:22
Things I liked:
Very good replica of real P99. I purchased it as a trainer for my real P99. Shoots forever on one CO2 cartridge even with blow back. Trigger is DAO but about the weight of the real P99 DA pull (9-10 lbs).
Things I would have changed:
Mine was so inaccurate I considered it unsafe. The bbs came out of the gun like there was an upside down hopup. It shot several feet low at about 15 feet and because the gun blocked the flight of the bb from view it was impossible to manage where they were going. The blow back slide makes a rather unpleasant clank sound when fired. I think it would be an improvement to eliminate the blow back altogether and conserve the CO2 for firing bbs. The plastic of this gun is not of the quality of the CP99c or CP99 which seem like the material used in the real firearm.
What others should know:
I do not believe my experience with accuracy is representative or other reviewers would have noted it. I returned the gun and did not want to try another one because of the quality of the plastic and silliness of the clanking slide. Unless you need to shoot the plastic bbs for safety reasons, I would recommend the CP99c which costs about the same amount for a better shooting experience. Pyramydair is the only place I would by anything airsoft even if it costs more. I have never got anything airsoft that works right the first time and they are the best in the business if you have problems. I rarely have problems with steel bb and pellet airguns for some reason.