Predator Polymag Shorts, .22 Reviews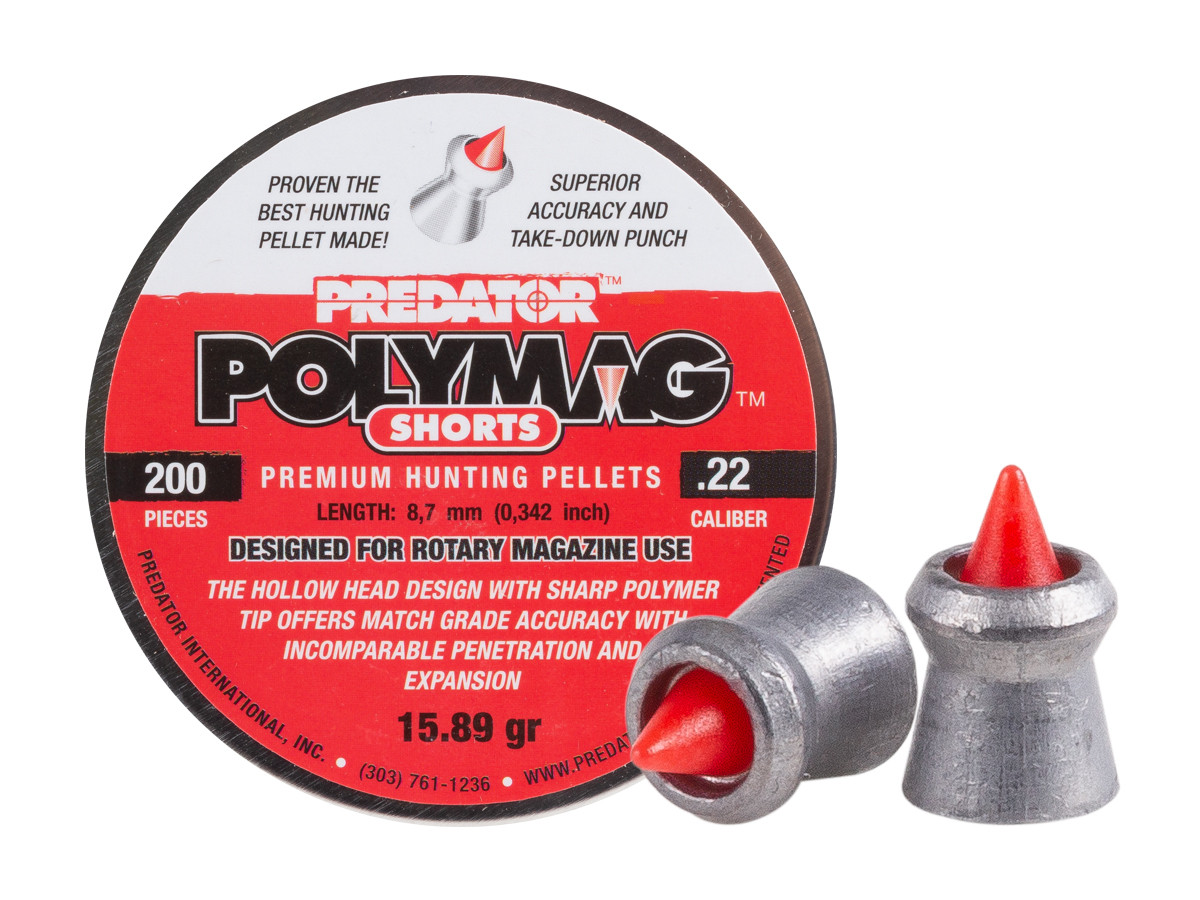 Average Customer Review
4.5
(42 reviews)
Create an online review   and share your thoughts with other customers
The most helpful favorable review
3 of 3 people found the following review helpful:
By Dwight from USA on 2017-09-27 13:43:41
Things I liked:
For pest control, these can't be beat! Using the m-rod ,P-rod, and gamo urban, pests don't have a chance. These are not for target practice or plinking. They are for one thing only, and they do that very well. The sound of a headshot on a squirrel with a polymag is a sound that you won't forget! It's a sound of devastation for the pest! The pellet is very accurate. I use them in all three calibers that I have from the .177, .22, .25. They are very effective.
Things I would have changed:
Nothing becuase the cost would only go up.
What others should know:
The shorts work perfect in my M-Rods magazine. The gamo red tip in .22 is next in line when pyramydair is out of the polymag, just isn't as accurate past 50 yards as the polymag are! We have a blue berry farm and these pellets are used daily. I have head shot a tree rat at 110 yards, with my 25cal M-Rod. Keep extra tins around. I order some with almost every order.
The most helpful critical review
0 of 0 people found the following review helpful:
By Kevin from USA on 2018-10-02 16:17:08
Things I liked:
I tried the Polymag shorts with my Gamo Swarm Magnum. These pellets are by far the worst pellets ive tried yet for accurracy. At 20 yards they group fairly decent about a quarter size with 5 shots. At thirty yards they are literally all over the target. At 80 yards the pellets are over 2 feet from my target. Even at this extreme distance the H&N FTT can Still hit a 6" target quite easily.
What others should know:
For my airgun these pellets are only accurate to about 60 feet. Several of the pellets had the red tips that were smaller than the rest. I def would not recommend these to anyone with a Swarm Magnum!