Item Description
PY-10100241-6P [PY-3255-6290]
KWA ATP Adaptive Training Airsoft Pistol, 6 Pack
Included:
6 KWA ATP airsoft pistols, Green Gas 8 oz. 12 canisters & 4 bottles of Air Venturi Pro CQBBs .25g airsoft BBs
This item is not eligible for coupon discounts
This product is out of stock.
Estimated in-stock date 09-28-2020.
Place your order now for delivery priority!
Service Plans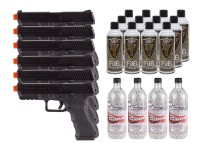 0.0
KWA ATP Adaptive Training Airsoft Pistol, 6 Pack
10-for-$10 Test!
20-for-$20 Mount/Zero Scope!
1-Year Service Contract - only $75.00
2-Year Service Contract - only $140.00