Posts Tagged 'Crosman Powerlets'
by Tom Gaylord, a.k.a. B.B. Pelletier
Airgun lubrication — spring guns: Part 1
Airgun lubrication — spring guns: Part 2
This report addresses:
• Molecules versus atoms
• Crosman Pellgunoil
• Can't over-oil with Pellgunoil
• "Fixing" leaking guns with Pellgunoil
• Transmission stop leak oil
• Oiling moving parts
• Ballistol
Let's look at lubricating gas guns — and by "gas," I mean CO2. What I'm about to say will also work on airsoft guns that operate on green and red gas, because both those gasses work similar to CO2; but there are no pellet or steel BB guns that run on any gas except CO2 (excluding air).
CO2 is a molecule — not an atom!
Many folks thought that high school science class was a waste, but in the curriculum there were things that matter to airgunners. How levers work is one of the most important things, and yet I still see youngsters grabbing breakbarrel rifles five inches back from the muzzle — as though the length of a lever has no significance! The fact that CO2 is a compound made of molecules is also important.
Atoms are very small. When they're inside a pressure vessel (air is made of several elements that are atoms), they try to escape through the smallest holes imaginable — sometimes through pinholes in the casting of the metal. Molecules are combinations of atoms that are much larger than atoms, by definition. They also try to escape, but they need larger holes to get through. This fact is what saves the CO2 airgunner, and it's also why CO2 guns can be made with larger tolerances. That makes them cheaper to build.
Crosman Pellgunoil is our friend
When I started seriously shooting airguns in the early 1990s, nobody talked about Crosman Pellgunoil. I didn't even know if it did anything. Then, I met Rick Willnecker, the man who runs Precision Pellet — one of the top repair stations for vintage CO2 and pneumatic airguns. Rick always had a jumbo bottle of Pellgunoil on his workbench, and he applied it liberally to valves, seals and o-rings whenever he assembled a CO2 gun. He told me that I should always put a drop of Pellgunoil on the tip of every new CO2 cartridge before it was pierced.
You cannot over-oil with Pellgunoil
I asked Rick how much oil was too much. He said it is impossible to over-oil a CO2 gun with Pellgunoil. Apply it liberally. What doesn't stay inside the gun gets blown out the muzzle. This was all news to me. I'd grown up with the bottlecap CO2 cartridges of the 1950s that leaked before you even put them in your airgun, and I thought CO2 was a gas that was totally unreliable. Rick's revelation turned this around. I discovered CO2 is a very reliable gas if you use Pellgunoil.

In the 1950s and '60s, Crosman was capping their CO2 Powerlets with bottlecaps that leaked a lot.
But the discoveries didn't stop there. Soon after learning about the benefits of Pellgunoil, I bought a Crosman model 111 target pistol at a flea market for $35. It was in the original box and came with the original 10-oz. CO2 tank that Crosman sold with the gun back in the early 1950s. I bought this gun thinking it would have to be resealed. It's seller told me it had laid in a closet for a minimum of 20 years before she brought it to this flea market, so how in the world could it possibly have any gas left in it?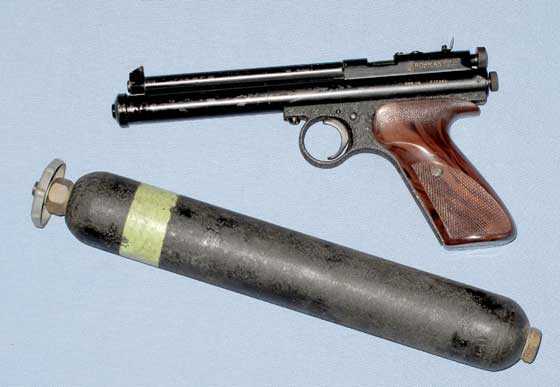 This .22-caliber Crosman 116 bulk-fill CO2 pistol and tank were sold up until the model 150 came out in 1956.
Well, that gun was still charged! What is even more important was the 10-oz. CO2 tank that came with it was also mostly full, so I was able to connect it to the pistol and charge it many times — for another 50 shots each time. Each time I charged the pistol, I applied more Pellgunoil, and that old pistol kept right on functioning for almost 2 years. When the seals finally did need to be renewed, I took the gun to Rick Willnecker, and he got me started in bulk-filling CO2 guns. I bought my first 20-lb. CO2 tank and the adapter to connect it to the 10-oz. Crosman tank, and I was off to the races. Since that time, I have owned five 20-lb. CO2 tanks and have been filling my own bulk tanks at home for more than 15 years. Where a CO2 cartridge costs about 50 cents, I pay about 5 cents for the same amount of gas!
But it didn't end there, either. I discovered on my own that by using copious amounts of Pellgunoil, I could get non-functioning CO2 guns to work again. That's when I started buying up old Crosman gas guns that were leakers and "rejuvenating" them with Pellgunoil. I still own a Crosman 180 rifle that I bought for $20. It has been holding gas for about 20 years so far!
Transmission stop leak oil
Dennis Quackenbush taught me this trick. He said he "fixed" a leaking Crosman 112 bulk-fill pistol with transmission stop leak oil — the stuff you get at the auto parts store. I had a Crosman 116 bulk-fill pistol that was a fast leaker, so I thought I would give it a try. I put several drops of this oil in the fill port connection of the pistol and filled it with CO2. That was about 2-1/2 years ago and that gun is still holding gas today!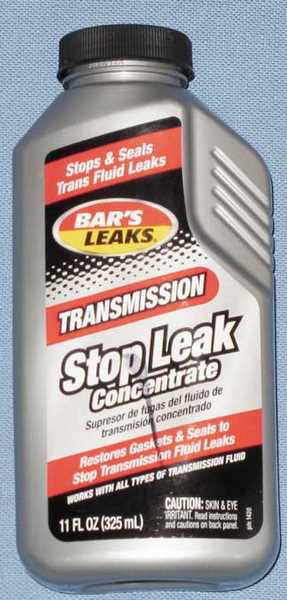 Transmission stop leak oil (this is just one brand…there are several others) will swell and make supple the seals inside an older CO2 gun.
Several people wrote comments telling me that this oil would turn the seals in my airgun to mush and it would be an even bigger leaker than before; but as I said, 30 months have passed and that gun is still holding gas. So is Dennis' gun. This stuff seems to work.
Oiling the moving parts of the gun
You can oil the moving parts of a gas gun with any good brand of gun oil, and I even use household oil (yes, 3-in-One brand) on mine. If you want to buy a good oil from Pyramyd Air, I have used Gamo Air Gun Oil for many years for this purpose. All you're doing is providing simple lubrication, and oil is correct for that.
Ballistol
Finally, you can wipe down the gun — wood, metal and plastic — with Ballistol. Ballistol removes rust, protects against fingerprint acids, lubricates and generally is the single best lubricant for an airgun or firearm.
by Tom Gaylord, a.k.a. B.B. Pelletier
Today's report is a guest blog from reader Paul Hudson. It It's his evaluation of the Crosman 622 repeater.
If you'd like to write a guest post for this blog, please email me.
Over to you, Paul.
The Crosman 622
by Paul Hudson
The Crosman 622 is a rarity — a slide-action CO2 repeater.
The Crosman 622 is a repeating slide-action CO2 pellet rifle. It was produced from 1972 to 1978 in .22 caliber only. It uses the familiar 12-gram Powerlets and has a rotary clip that holds six pellets.
There have been only a few other slide-action repeaters available in the recent past — the Gamo Extreme CO2 and the Shark roundball repeater made in Argentina are two examples. The Gamo uses an 88-gram cartridge, and the Shark is a bulk-fill gun.
This particular 622 belongs to my brother-in-law's friend. It had not been fired for many years and was in need of a resealing. The old factory lube had turned to hard wax, and several hours of cleaning was required to get everything in working order.
Due to its design, the 622 did not develop a reputation for durability. The valve body is made of two parts held together with a single screw and is prone to breakage. A second bolt or pin can be added to the bottom of the valve body to greatly strengthen the assembly. Another problem was the tendency for the gun to jam with certain pellets; this can happen if the muzzle is elevated when the slide is cycled. Some pellets (depending on their shape) can back out of the clip enough to prevent it from rotating. Keeping the gun pointed down will help prevent this. Possibly due to this problem, Crosman added a lever to the receiver of later 622s to aid removing stuck clips.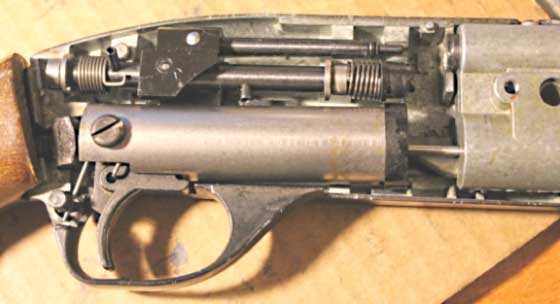 There are many parts in the 622′s receiver. The large, rectangular casting on the right is the valve body, and it's prone to breakage. The probe is near the top of the receiver and is in the rearmost operating position. In the middle is the rotating rod that advances the clip. The large cylinder on the bottom houses the striker.
The 622 is large enough not to feel like a toy. It's 40.5 inches long with a 13.5-inch length-of-pull, so it's adult-sized. The blued barrel is 23 inches long, and the gun weighs 6 lbs. without a scope. A square post front sight and a square notch rear sight come from the factory, and they're entirely suitable for the ranges at which the gun would be used. The painted receiver is made of two die-cast pieces and is grooved for mounting a scope. While the paint isn't the greatest finish, no complaints can be made about the blueing on the barrel and gas tube. It's very well done for a low-priced gun. Both the stock and forearm are made of varnished hardwood that has a very straight grain. The receiver is only about an inch thick, and the gun does not feel bulky; combined with the light weight, it's a perfect plinker and can be carried for hours.

The rear sight is a simple square notch and is adjustable for elevation and windage.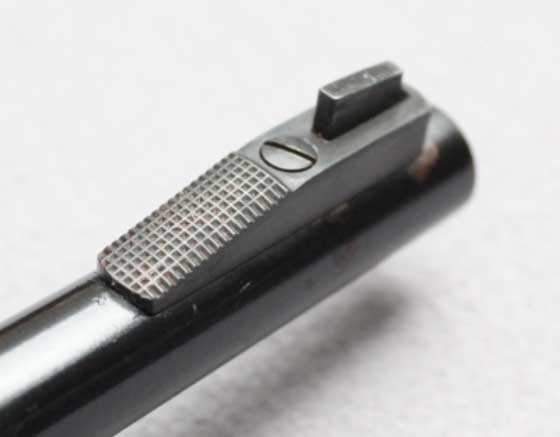 The front sight is a square post. The ramp is textured to prevent glare.
A manual safety is mounted behind the trigger; it's very similar to the unit on many other Crosman models. The single-stage trigger was a pleasant surprise. It isn't adjustable…but it's fairly smooth, mostly creep-free and breaks at a consistent 2 lbs., 2 oz. For an inexpensive airgun, it's quite good. Holding down the trigger while cycling the action lets the striker travel forward with the slide; it will not fire the gun.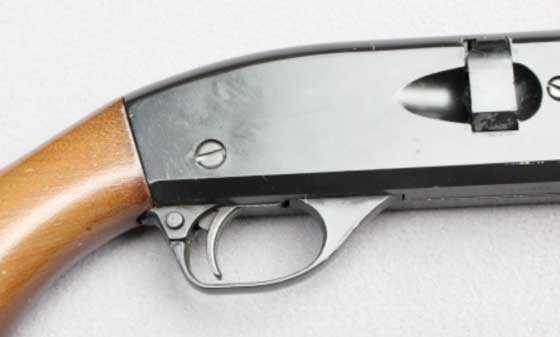 The trigger features Crosman's typical cross-bolt safety and is surprisingly good.
The rotary clip
The 622′s 6-shot rotary clip is easy to load and fits entirely within the receiver; it will not interfere with a scope or catch on anything during handling. Unfortunately, the clip accepts pellets with a max length of 0.275 inches. This prevents longer domed pellets and pointed pellets from being used. All wadcutters fit, and most cycle fine.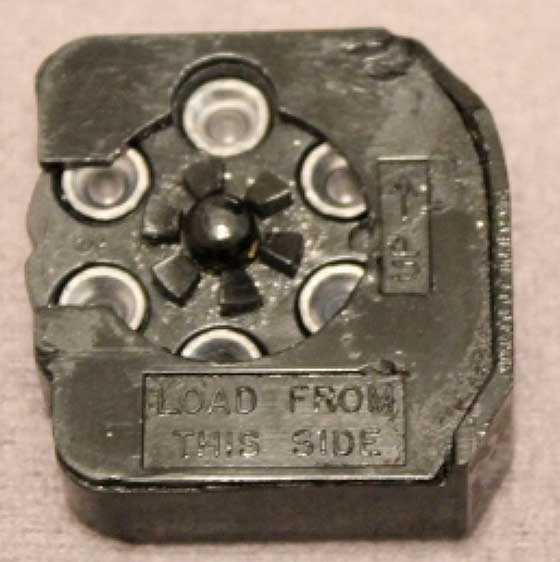 Rear view of the clip. Pellets load easily from this side.

The thin clip will not accept pellets over 0.275 inches long. The Baracuda Hunter is about the longest pellet that fits.
To charge the 622, the end cap of the lower tube is removed. A CO2 cylinder is dropped in nose-first (don't forget a drop of Pellgunoil on the tip), and the end cap is replaced. As the cap is tightened, a slight hiss will be heard as the cartridge is pierced. Further tightening should not be needed. Since the CO2 cylinder seats against a flexible seal, it should be removed after shooting. A single cylinder was good for 36 shots, or 6 full clips. A two-cylinder lower tube, similar to that of the Crosman 160, was available for a time; but this was an aftermarket part not supplied by Crosman.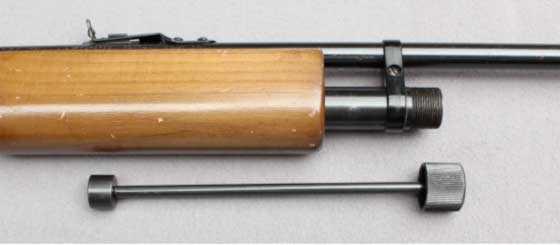 A single CO2 cartridge is used in the long gas tube.
Performance
The 622 was rated by Crosman at 450 fps; this gun exceeded that rating with all tested pellets. The temperature was around 90 degrees during shooting.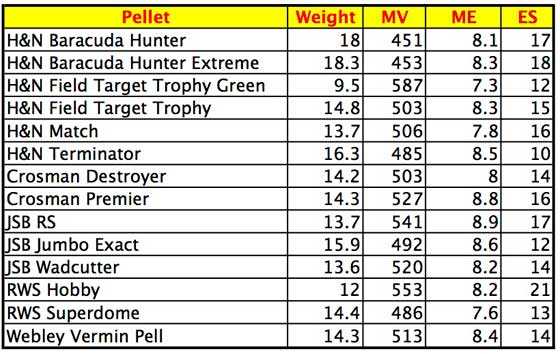 MV=muzzle velocity (fps), ME=muzzle energy (ft-lbs), ES=extreme spread (fps)
Getting the best accuracy from the 622 is a bit of a challenge. The forearm uses a single operating rod and can slightly rotate around the lower tube. This allows the gun to move upon firing if it's held by the forearm. For best accuracy, support the 622 just ahead of the receiver by holding the gas tube. This is really a minor point; the 622 is not a long-range target gun — it's a plinker, and one of the most entertaining ones at that.
10-meter groups with open sights
All pellets tested were more than accurate enough at 10 meters for plinking and informal shooting. Groups are 6 shots since that's the magazine capacity. Here are a few of the best performers: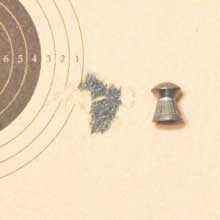 The RWS Superdomes gave a nice, round 0.31-inch group at 10 meters.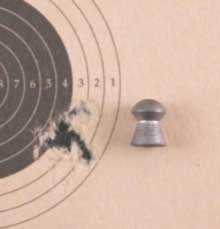 The 15.9-grain JSB Exact Jumbos made this 0.27-inch group at 10 meters.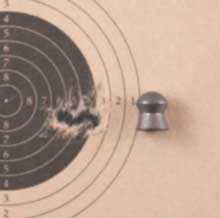 At 10 meters, the Beeman Field Target Specials produced the best group at 0.24 inches.
25-yard groups with a scope
The factory open sights just aren't precise enough to produce the best accuracy at 25 yards. I mounted a simple 4x Leapers scope for these groups. Most pellets gave groups in the inch to inch-and-a-half range. There were a few standouts, however: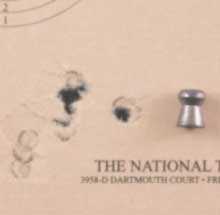 Six H&N Baracuda Hunters made this 0.84-inch group at 25 yards.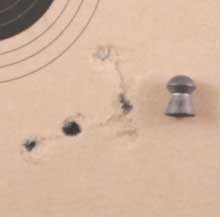 The 15.9-grain JSB Exact Jumbos also performed well at 25 yards with this 0.79-inch group.

The most accurate pellet at 25 yards was the Crosman Premier. Six pellets made this 0.57-inch group. There are three pellets in the lower left hole, two on the right, and one high and left.
Summary
While the 622 isn't the best engineered or most accurate airgun Crosman ever made, it's still an interesting piece. There have been only a few slide-action airguns produced; and for plinking, the rapid-firing provided by a slide-action really ups the fun factor.
Many 622s are still in circulation, and they regularly show up at airgun shows and on auction sites. Lack of attention from collectors has kept the price reasonable. One caveat is to make sure the gun includes the clip — they fetch about 25 dollars apiece. It's possible to load the rifle singly, but it's tedious.