by Tom Gaylord, a.k.a. B.B. Pelletier
Airgun lubrication — spring guns: Part 1
Airgun lubrication — spring guns: Part 2
This report addresses:
• Molecules versus atoms
• Crosman Pellgunoil
• Can't over-oil with Pellgunoil
• "Fixing" leaking guns with Pellgunoil
• Transmission stop leak oil
• Oiling moving parts
• Ballistol
Let's look at lubricating gas guns — and by "gas," I mean CO2. What I'm about to say will also work on airsoft guns that operate on green and red gas, because both those gasses work similar to CO2; but there are no pellet or steel BB guns that run on any gas except CO2 (excluding air).
CO2 is a molecule — not an atom!
Many folks thought that high school science class was a waste, but in the curriculum there were things that matter to airgunners. How levers work is one of the most important things, and yet I still see youngsters grabbing breakbarrel rifles five inches back from the muzzle — as though the length of a lever has no significance! The fact that CO2 is a compound made of molecules is also important.
Atoms are very small. When they're inside a pressure vessel (air is made of several elements that are atoms), they try to escape through the smallest holes imaginable — sometimes through pinholes in the casting of the metal. Molecules are combinations of atoms that are much larger than atoms, by definition. They also try to escape, but they need larger holes to get through. This fact is what saves the CO2 airgunner, and it's also why CO2 guns can be made with larger tolerances. That makes them cheaper to build.
Crosman Pellgunoil is our friend
When I started seriously shooting airguns in the early 1990s, nobody talked about Crosman Pellgunoil. I didn't even know if it did anything. Then, I met Rick Willnecker, the man who runs Precision Pellet — one of the top repair stations for vintage CO2 and pneumatic airguns. Rick always had a jumbo bottle of Pellgunoil on his workbench, and he applied it liberally to valves, seals and o-rings whenever he assembled a CO2 gun. He told me that I should always put a drop of Pellgunoil on the tip of every new CO2 cartridge before it was pierced.
You cannot over-oil with Pellgunoil
I asked Rick how much oil was too much. He said it is impossible to over-oil a CO2 gun with Pellgunoil. Apply it liberally. What doesn't stay inside the gun gets blown out the muzzle. This was all news to me. I'd grown up with the bottlecap CO2 cartridges of the 1950s that leaked before you even put them in your airgun, and I thought CO2 was a gas that was totally unreliable. Rick's revelation turned this around. I discovered CO2 is a very reliable gas if you use Pellgunoil.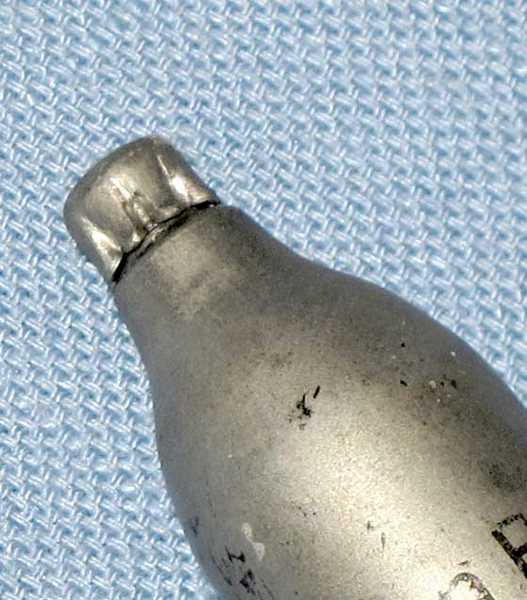 In the 1950s and '60s, Crosman was capping their CO2 Powerlets with bottlecaps that leaked a lot.
But the discoveries didn't stop there. Soon after learning about the benefits of Pellgunoil, I bought a Crosman model 111 target pistol at a flea market for $35. It was in the original box and came with the original 10-oz. CO2 tank that Crosman sold with the gun back in the early 1950s. I bought this gun thinking it would have to be resealed. It's seller told me it had laid in a closet for a minimum of 20 years before she brought it to this flea market, so how in the world could it possibly have any gas left in it?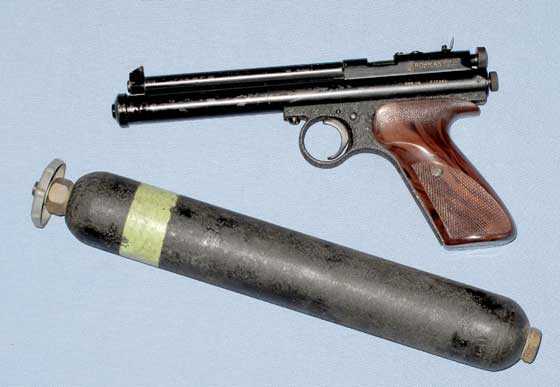 This .22-caliber Crosman 116 bulk-fill CO2 pistol and tank were sold up until the model 150 came out in 1956.
Well, that gun was still charged! What is even more important was the 10-oz. CO2 tank that came with it was also mostly full, so I was able to connect it to the pistol and charge it many times — for another 50 shots each time. Each time I charged the pistol, I applied more Pellgunoil, and that old pistol kept right on functioning for almost 2 years. When the seals finally did need to be renewed, I took the gun to Rick Willnecker, and he got me started in bulk-filling CO2 guns. I bought my first 20-lb. CO2 tank and the adapter to connect it to the 10-oz. Crosman tank, and I was off to the races. Since that time, I have owned five 20-lb. CO2 tanks and have been filling my own bulk tanks at home for more than 15 years. Where a CO2 cartridge costs about 50 cents, I pay about 5 cents for the same amount of gas!
But it didn't end there, either. I discovered on my own that by using copious amounts of Pellgunoil, I could get non-functioning CO2 guns to work again. That's when I started buying up old Crosman gas guns that were leakers and "rejuvenating" them with Pellgunoil. I still own a Crosman 180 rifle that I bought for $20. It has been holding gas for about 20 years so far!
Transmission stop leak oil
Dennis Quackenbush taught me this trick. He said he "fixed" a leaking Crosman 112 bulk-fill pistol with transmission stop leak oil — the stuff you get at the auto parts store. I had a Crosman 116 bulk-fill pistol that was a fast leaker, so I thought I would give it a try. I put several drops of this oil in the fill port connection of the pistol and filled it with CO2. That was about 2-1/2 years ago and that gun is still holding gas today!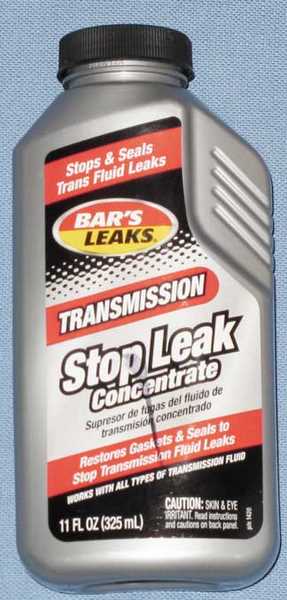 Transmission stop leak oil (this is just one brand…there are several others) will swell and make supple the seals inside an older CO2 gun.
Several people wrote comments telling me that this oil would turn the seals in my airgun to mush and it would be an even bigger leaker than before; but as I said, 30 months have passed and that gun is still holding gas. So is Dennis' gun. This stuff seems to work.
Oiling the moving parts of the gun
You can oil the moving parts of a gas gun with any good brand of gun oil, and I even use household oil (yes, 3-in-One brand) on mine. If you want to buy a good oil from Pyramyd AIR, I have used Gamo Air Gun Oil for many years for this purpose. All you're doing is providing simple lubrication, and oil is correct for that.
Ballistol
Finally, you can wipe down the gun — wood, metal and plastic — with Ballistol. Ballistol removes rust, protects against fingerprint acids, lubricates and generally is the single best lubricant for an airgun or firearm.