The dog days of summer will soon be giving way to cooler temperatures which means that hunting season is right around the corner.
Hunting is broken down into game sizes, small, medium, or large game. Small game being squirrels, chipmunks, rabbits, and similar-sized animals that weigh less than 10 or so pounds, medium game is generally considered to be animals that can weigh up to 250-300 pounds like groundhogs, raccoons, bobcats, coyotes, foxes, some feral hogs and whitetail deer, and large game is obviously everything bigger such as bear, elk, and many others.
In the airgun world, certain calibers are best suited for a certain size or weight of animals they are capable of harvesting. .177, .20, and .22 calibers are intended for small game, where they have the energy to effectively harvest the intended game, without being so overpowering or large diameter as to cause excessive damage to the meat.
Moving up the ladder, the medium game calibers are .25, .257, and .30 caliber, and have proven to be quite effective in their ability to take game.
Finally, the big bore guns of .357 caliber and larger diameter are intended for heavier game.
Choosing the correct caliber for airgun hunting is critical, just like golf, you need to choose the proper tool for the situation. You would not use a putter to drive off of the tee, and you would not use a three-wood to sink a two-foot putt.
With this article, we will look at several different options for taking game with air rifles in the "medium game" calibers of .25, .257, and .30.
Medium Game Air Rifles are perfect for:
Hunting thin-skinned game animals weighing up to about 300 lbs.
Protecting your pets or domesticated animals from predators.
Defending your backyard or garden from unwanted pests or nuisance animals.
Hunting or pest control in urban or populated areas where it is not legal or safe to shoot firearms or where firearms would be too loud.
With hundreds of options to choose from it's difficult to narrow down our top picks, but here is where we would start.
Top 10 Best Medium Game Air Rifles
1. AirForce Texan Big Bore Air Rifle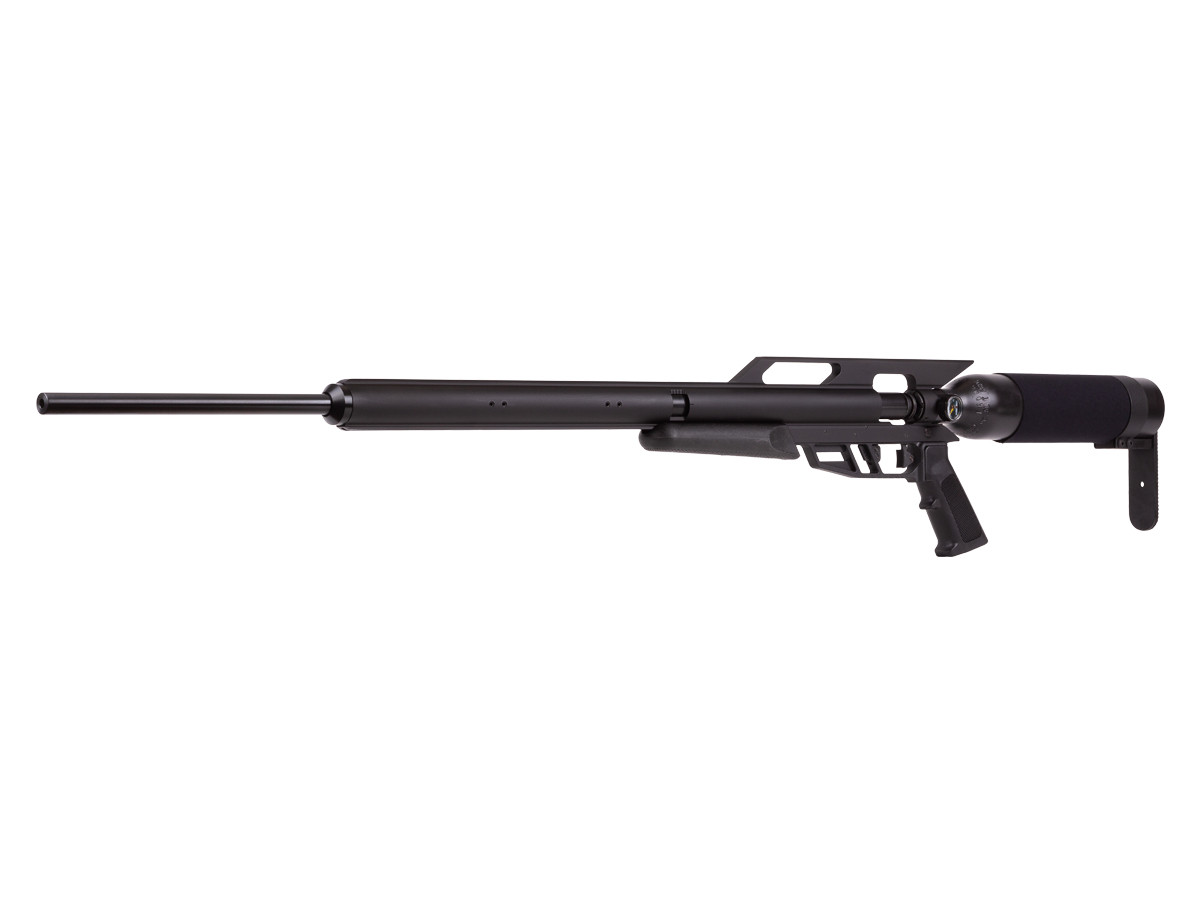 Product Details
The AirForce Texan is the most powerful production air rifle and is made in the USA. The Texan is available in several calibers including .257 and .30 caliber, and is capable of producing 175 ft-lbs of energy, and 275 ft-lbs of muzzle energy respectively.
The Texan is a single-shot side lever rifle that is ambidextrous, has a two-stage trigger, and an automatic safety that can be released with just a flick of your index finger. The loading tray is designed so you could use pellets or slugs in the rifle to tailor the level of performance you need.
Both calibers of the Texan share the same features of an out-of-the-box weight of just over 7.5 lbs. an adjustable length of pull, adjustable butt plate, adjustable power, an extended optics rail, and other rails to mount bipods, lights, or other accessories.
The AirForce Texan uses a 500 cc air reservoir that fills to 3000 psi, giving you up to 12 extremely powerful shots, because of the low fill pressure, it can be filled with a hand pump when other fill options are not available.
The AirForce Texan has the power, the accuracy, and the flexibility to defend the henhouse from marauding foxes or the backyard from raiding masked 4-legged trash bandits.
Why We Like It
The AirForce Texan has a deceptively simple but robust method of operation. The large loading tray can accept pellets or longer heavier bullets (airgunners call them slugs) to give you the speed or power you need for the task at hand.
The rifle fills to 3000 psi, so it is possible to fill it with a hand pump when you do not have the option of other fill sources.
It is available in .257 caliber for long-range accuracy or .30 caliber for more power at shorter ranges.
The Texan is backed by a lifetime warranty and is made in the USA.
Things to Consider
Like most of the rifles on this list, it is a precharged pneumatic air rifle using high-pressure air to achieve the power levels needed for medium-sized game, you will need a source of 3000 psi air to fill the rifle. It can be filled to 3000 psi with an inexpensive high-pressure hand pump.
The rifle is not moderated so it will be loud, not as loud as a firearm, but louder than an airgun that is moderated.
The rifle does not have iron sights, so you will need a scope and mounts.
2. FX Impact M3 Black PCP Air Rifle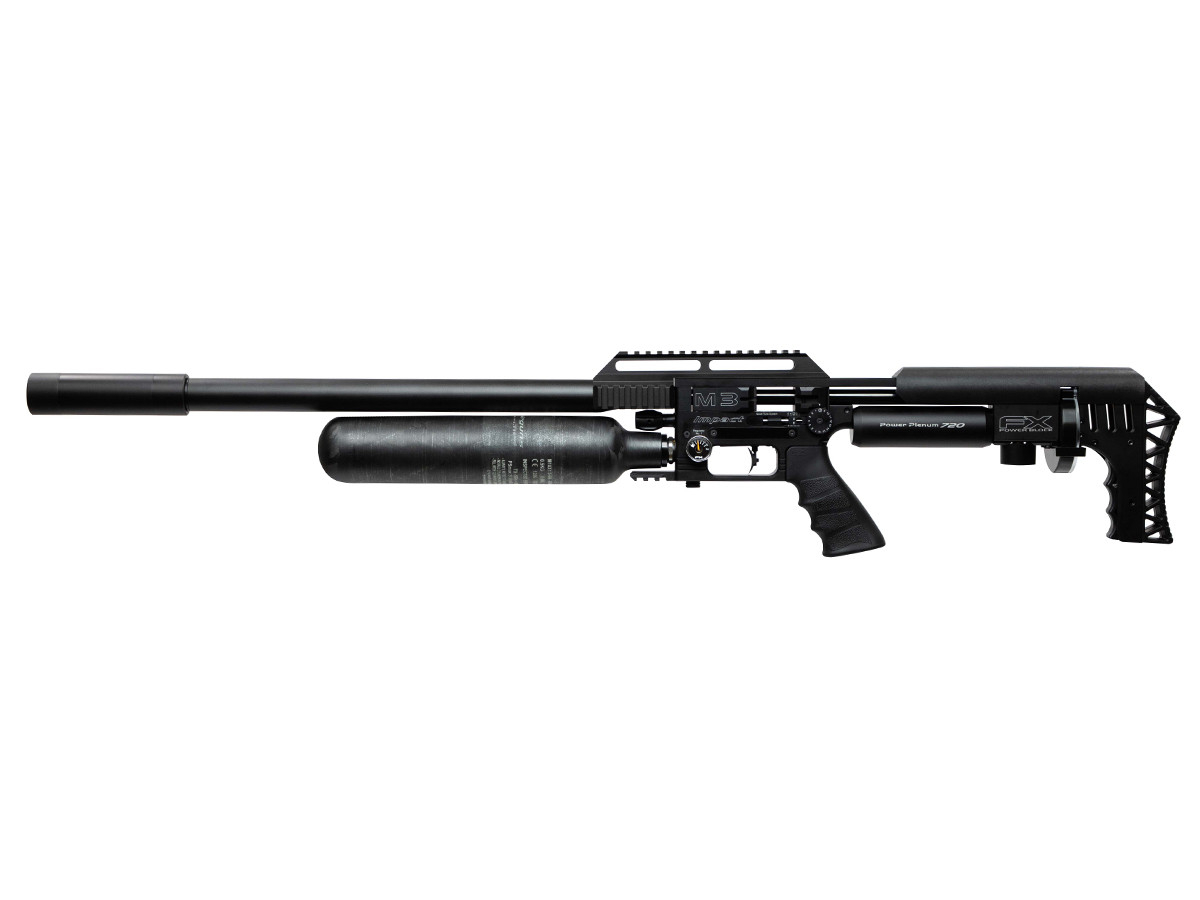 Product Details
The FX Impact M3 is the latest offering from the Swiss airgun maker that has set a new standard in air rifles by being ultimately adjustable, and upgradeable with its modular design.
The rifle can be purchased in .25 or .30 caliber, but you can also buy barrel conversion kits to change your rifle to a different caliber in just a few minutes with minimal tools. The .25 caliber barrel has dual ports, one optimized for pellet use, and the other optimized for slugs.
The M3 is one of the few rifles that uses dual Adjustable Match Precision (AMP) regulators to give the most consistent velocities available. The regulators feed a massive 72cc power plenum that allows a wide range of power adjustments.
While it is ultimately adjustable for power, the accuracy of this platform comes from the innovative FX Smooth Twist X Superior (STX) barrel and liners that are available in several lengths to suit your needs. It is also quiet because of the unique FX stackable moderator that allows the user to control how quiet they want the rifle by adding or removing sections of the moderator.
The FX Impact M3 has the accuracy, power, flexibility, and modularity to be adaptable to many situations and individual needs for medium game hunting and pest control.
Why We Like It
The M3 has ultimate adjustability without tools and is completely modular so it can be configured in the caliber, power level, or even the size you need to do the job.
Fitted with the 700mm barrel and 580cc carbon fiber bottle you can get up to 160 shots per fill in .25 caliber, and 105 shots in .30 caliber.
It has the capability of shooting both pellets and air rifle slugs with great accuracy. It is also backed by a 3-year factory warranty.
Things to Consider
The rifle fills to 3625 psi (250bar) so you will need a source of high-pressure air, a portable compressor is suggested to get the most enjoyment out of this rifle.
The rifle is expensive, but you definitely get your money's worth.
It does not come with a scope or mount so you will need one, and with the 700mm barrel and moderator fitted, it may not fit into some rifle cases.
3. Edgun Leshiy 2 Long PCP Air Rifle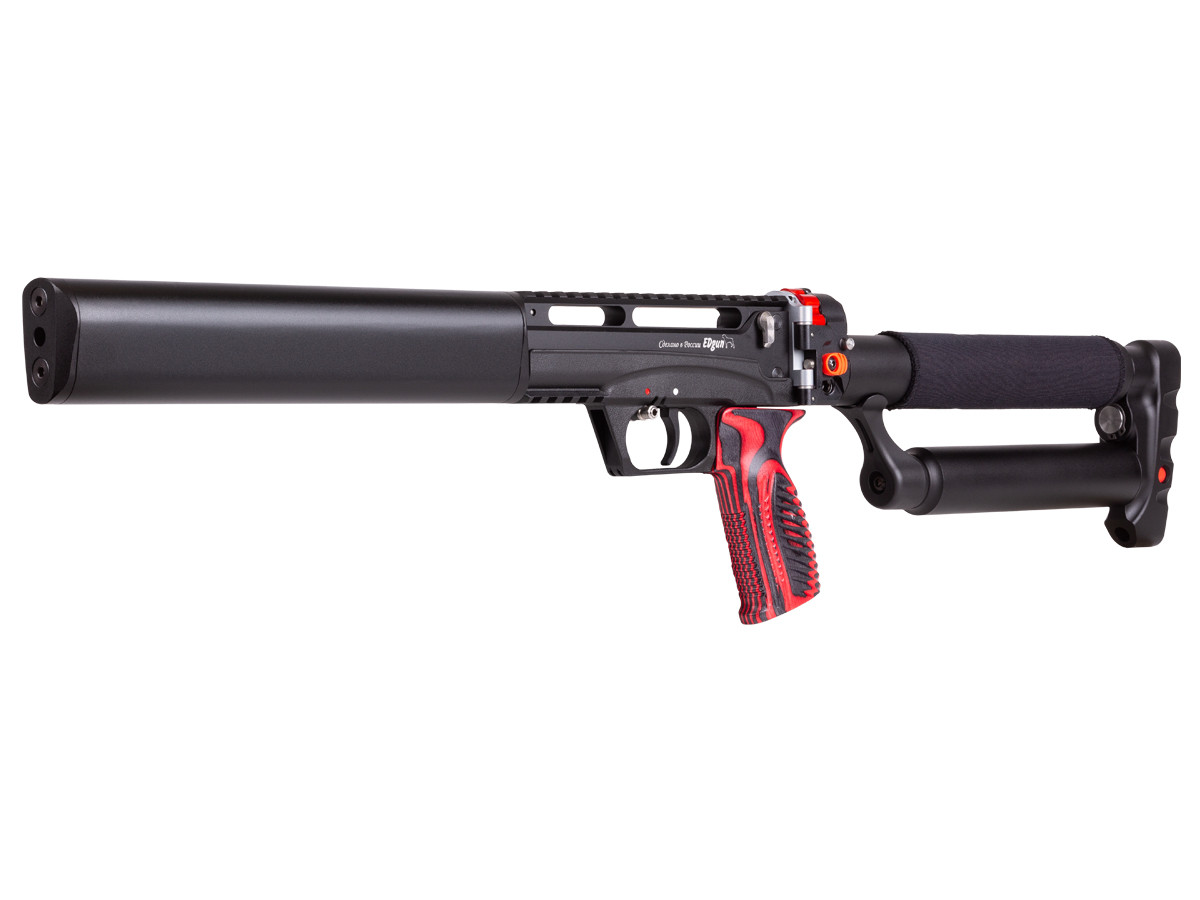 Product Details
The EDgun Leshiy 2 is designed and built in Russia, it is a sub-compact semi-auto air gun that is able to change calibers, and barrel lengths with ease.
It will fold up to fit into a standard backpack or briefcase, making it ultra-portable and discrete, and is what is sometimes called a "truck gun" meaning it is robust, simplistic, compact, and ready to go at a moment's notice.
Fully assembled and ready to shoot, the gun is just under 30 inches long. But don't let the diminutive size fool you, the EDgun is a full-power air gun capable of harvesting medium-sized game with both .25 and .30 caliber offerings.
The Leshiy 2 is fully ambidextrous, including the safety, the stock folds for storage, and can even be removed without any tools.
It has a 170cc air cylinder that fills to 300 bar (4351psi) the small air cylinder means it can be hand pumped if necessary. In .25 caliber you will get 22 full power regulated shots and 18 shots with the .30 caliber before having to refill the gun.
The externally adjustable regulator allows you to change your power levels on the fly, without degassing the gun first.
The EDgun comes with two magazines that hold 8 rounds each, and a holder that mounts to the gun to hold the spare magazine ready for use.
The gun uses a precision Alfa barrel that is encased in a custom-designed moderator to quieten the power this airgun generates.
The EDgun Leshiy 2 has the power, accuracy, and portability to take on any medium-sized game you may encounter in your adventures.
Why We Like It
The subcompact modular design lends itself to being stored in a backpack or briefcase making it easy to transport or store in a vehicle discreetly.
You will get more than two full magazines full power semi auto shots per fill, and the two included 8 shot magazines allow for quick follow-up shots on your game if necessary.
The precision Alfa barrel and suppressor make it quiet, and most importantly accurate for hunting and target practice.
The EDgun Leshiy2 is completely ambidextrous making it left-handed shooter friendly.
Things to Consider
The gun folds to make it easier to store and transport, but it will not fire with the stock folded, or with the stock removed, the air supply is in the butt stock.
The EDgun fills to 300 bar (4351psi) while still able to be hand pumped, a small portable fill tank or compressor is suggested.
The Leshiy 2 is expensive for a small airgun, but the technology, ruggedness, and features it has can not be found in any other airgun made.
4. Air Venturi Avenger Regulated PCP Air Rifle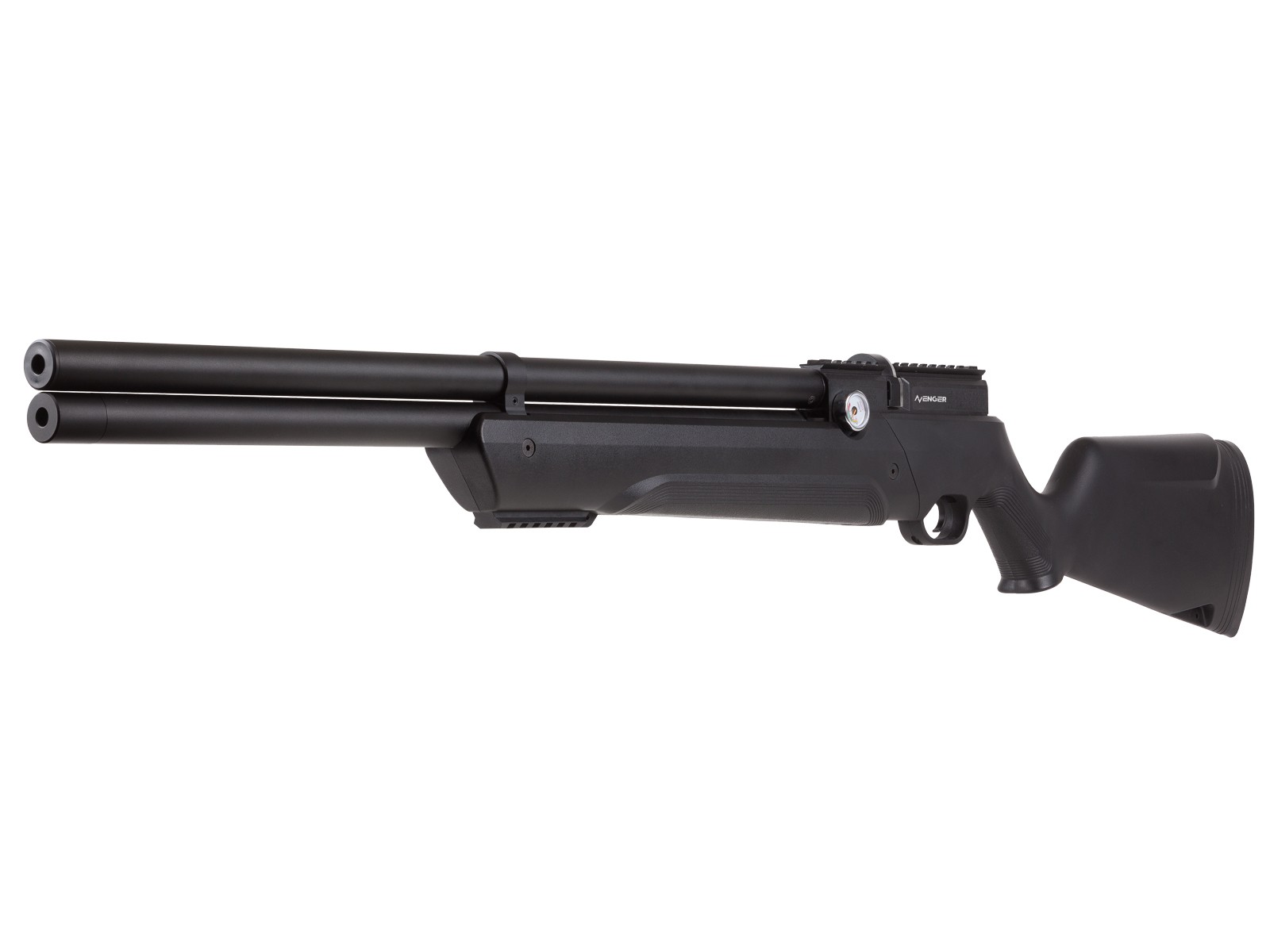 Product Details
Since its introduction, the Air Venturi Avenger has quickly risen to the top of the entry-level PCP market by offering features that are found on rifles normally costing many times the price it does.
The Avenger has an externally adjustable regulator that allows you to set the pressure at which you want the gun to operate while the main 180cc pressure tube fills to 300 bar (4351psi) giving you many more shots per fill than does a gun that only fills to 3000psi.
The list of premium features continues with a smooth side lever cocking system, it ships with 2 auto-indexing magazines, a single shot tray that is kept in place by magnets, an adjustable 2-stage trigger, an adjustable hammer spring, a shrouded barrel, built in sling attachment points, a Picatinny rail to mount a light or bipod, a combo rail that accepts either 11mm or weaver type scope mounts, a standard foster quick connect filling system, dual gauges, one for the regulator pressure, and one for the guns fill pressure.
That's a lot of features for less than $400, but it doesn't stop there.
The best thing about the Air Venturi Avenger is its accuracy, in the accuracy department, the Avenger will hold its own against air rifles costing many times as much as it does.
The rifle is available with an all-weather synthetic stock, or a wooden stock model is available for an additional cost.
The .25 caliber rifle is capable of over 48 ft-lbs of energy, making it very effective for taking medium-sized game. With an out-of-the-box weight of less than 7 lbs, you can carry it all day in the field without fatigue.
Designed for hunting, but it is also at home on the target range, the Air Venturi Avenger has the accuracy and power for your needs.
Why We Like It
The rifle is lightweight, and shoulders easy, while the side lever lets you load a second shot without losing your sight picture.
The scope rail fits both 11mm and weaver-type scope rings for more flexibility.
The Avenger is extremely accurate and the shrouded barrel quietens the report of the powerful .25 caliber projectile.
The externally adjustable regulator lets you tune the gun to the power level you want for optimum accuracy and air efficiency.
Things to Consider
The rifle fills to 300 bar (4350psi) while it is able to be hand pumped, a small portable compressor would make it much easier.
It can be used left-handed, but the controls are set up for a right-handed shooter.
The rifle does not come with a scope, so you will have to buy one.
5. RAW HM1000X Chassis PCP Air Rifle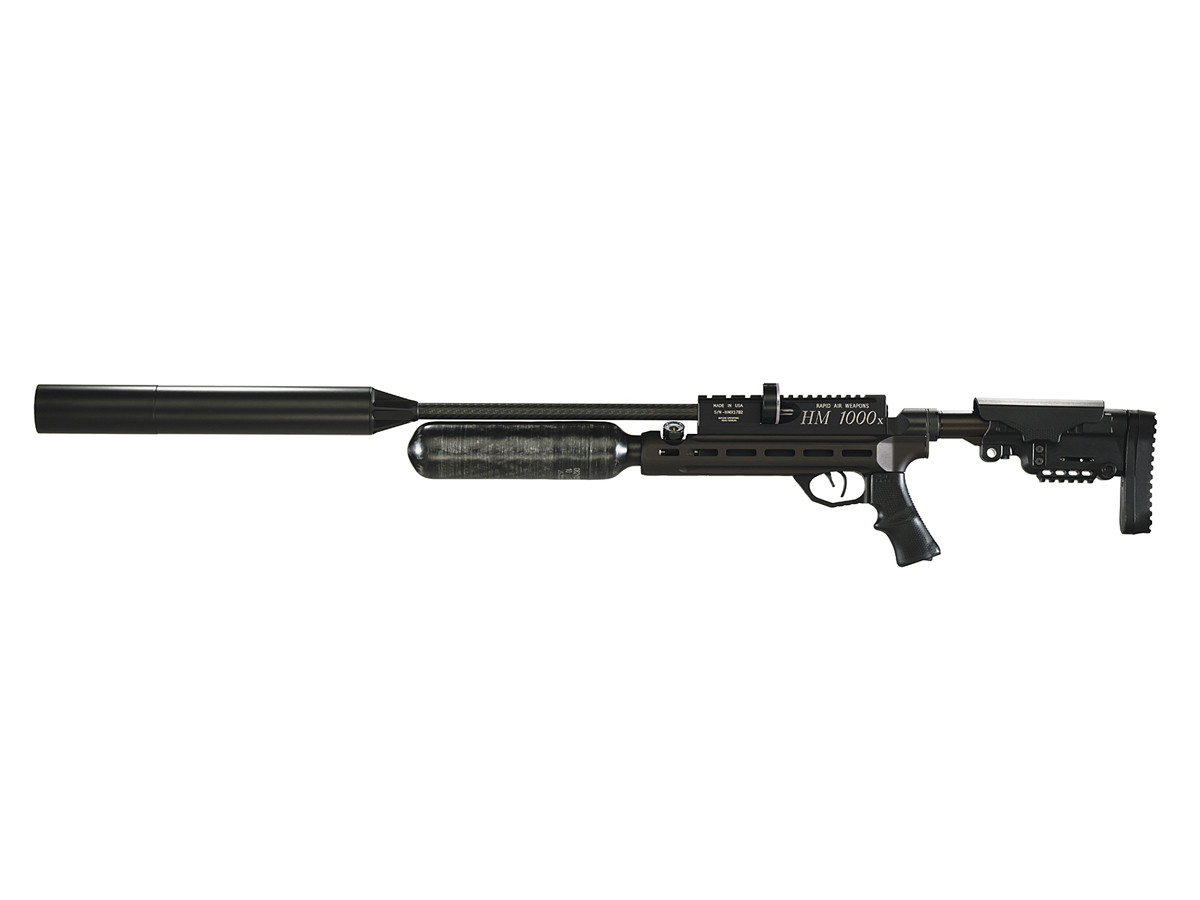 Product Details
The name Rapid Air Worx is legendary in the airgun industry for good reason: they are supremely accurate with the very best of Made-in-America build quality. Built with carbon fiber wrapped top-of-the-line Lothar Walther polygonal barrels, and an extremely consistent regulator, what really sets their guns apart from everyone else is their truly match-grade trigger. This is a recipe for competition-winning accuracy, and in fact, RAW airguns have taken top spots in more shooting competitions than we can keep track of!
But the HM1000X Chassis rifle is more than just a target rifle, it is a favorite among hunters because of its power and accuracy. The rifle is available in both .25 and .30 caliber and in left-handed or right-handed configurations.
It features a very smooth side-lever action and a two-piece shroud that knocks the report of the massive .30 caliber round down to manageable levels.
The HM1000X Chassis rifle integrates the proven HM1000X action into a tactically-styled chassis with M-LOK interfaces on three sides, doing this keeps the weight down and the profile slim.
The .25 caliber rifle feeds from a 12-round magazine, while the .30 caliber uses a 9-round magazine.
The RAW Chassis rifle is equally at home at the target range or hunting in the wild, this rifle has the accuracy and power to get the job done.
Why We Like It
The rifle is made in the USA, and it uses state-of-the-art Lothar Walther polygonal barrels. The rifle is available in left or right-handed models, and its furniture is AR-15 compatible and is available in .25 and .30 caliber.
The rifle is regulated for better accuracy and has a world-class trigger and easily adjustable hammer tension for fine-tuning. It not only looks good on paper, but RAW also has a proven track record of winning competitions and bringing home the bacon.
Things to Consider
The rifle ships with only one magazine, and only has a 1-year warranty. The RAW fills to 3335 psi, (230 bar), while it is capable of being filled by a hand pump, a small high-pressure compressor is suggested to get the maximum enjoyment from this rifle.
This model RAW is the tactical version with the aluminum chassis; that aesthetic may not appeal to everyone, but it is rugged, RAW does make woodstock models as well.
6. Hatsan Flash QE PCP Air Rifle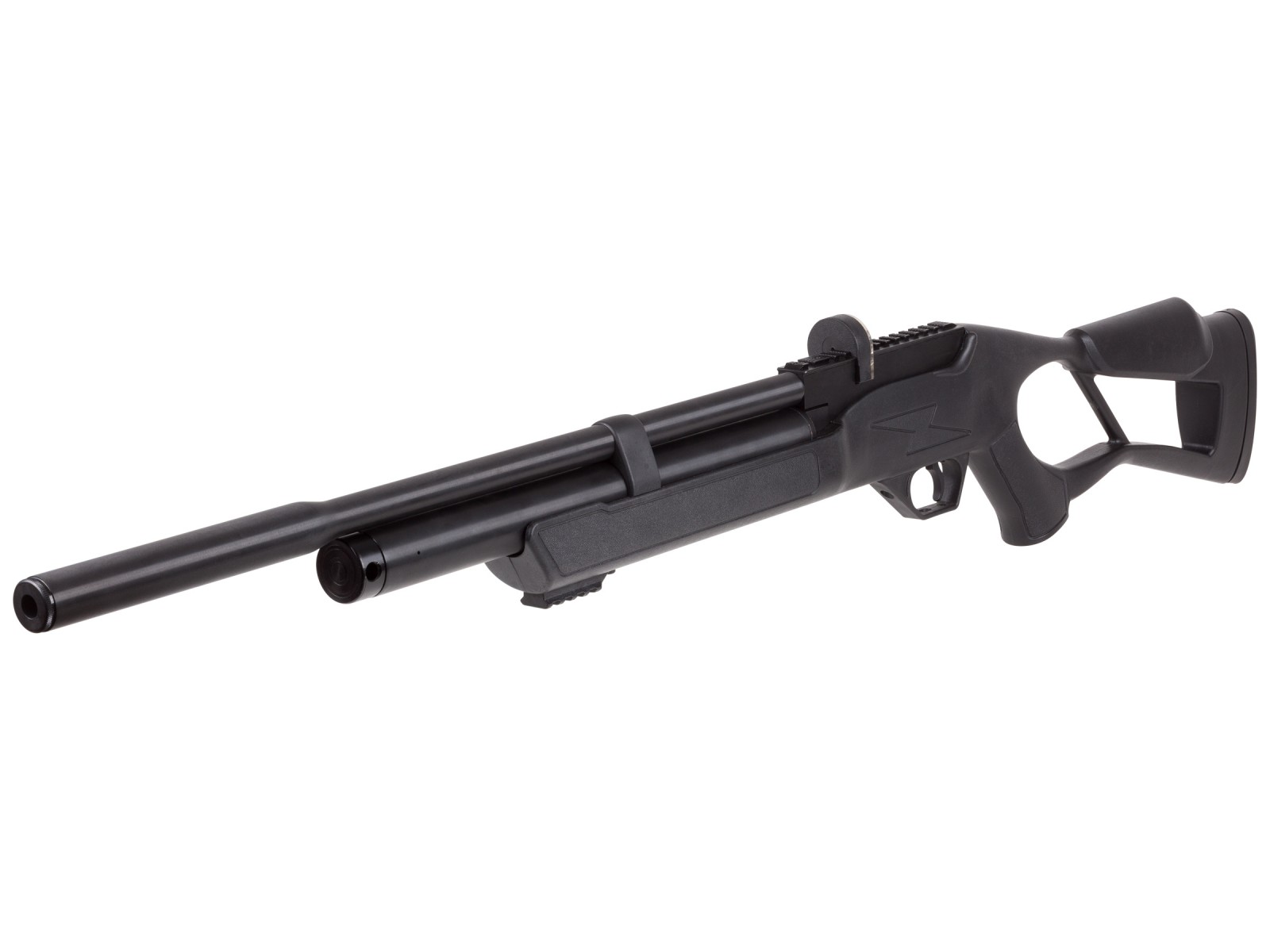 Product Details
Hatsan entered the affordable PCP market with a rifle that doesn't skimp on quality, or on the features it offers.
The Flash PCP is powered by a fixed 165cc aluminum air cylinder with a 2,900psi (200bar) fill pressure. The Flash puts its rounds downrange at speeds up to 900 fps in 25 caliber. This corresponds to a very capable 40 ft-lbs of energy in .25 caliber.
The Flash action is set into a nice skeletonized synthetic stock that gives a very comfortable hold. Resting under the forearm is a Picatinny accessory rail for mounting a bipod, and a combination Weaver/dovetail mount for the optics of your choice.
The Flash also has the acclaimed fully adjustable match Quattro trigger system. The rifle comes with a single shot tray and two indexing magazines so you can spend less time reloading and more time taking shot after shot.
Using Hatsan's very effective QuietEnergy (QE) system, the Flash's choked barrel is fully-moderated to quieten your shots, making it an ideal backyard protector and hunter.
Why We Like It
The precision choked barrel with the QE shroud and moderator are precise and quiet. The Quattro match grade trigger is adjustable and very pleasant to use. The stock is well made and feels good in the hand while hunting and shooting offhand.
The rifle fills to 2900psi (200bar) so it is easily filled by a hand pump, or quickly filled by a small portable compressor.
With 2 magazines and a single shot tray included with the rifle, you will not have to buy magazines to keep the pellets going.
Things to Consider
The Hatsan Flash is not regulated and uses a traditional bolt action rather than a side lever cocking action.
The rifle uses a proprietary fill probe that you have to keep up with in order to fill the rifle, and there are no provisions for sling attachments to carry the rifle while hunting.
7. Benjamin Marauder PCP Air Rifle Synthetic Stock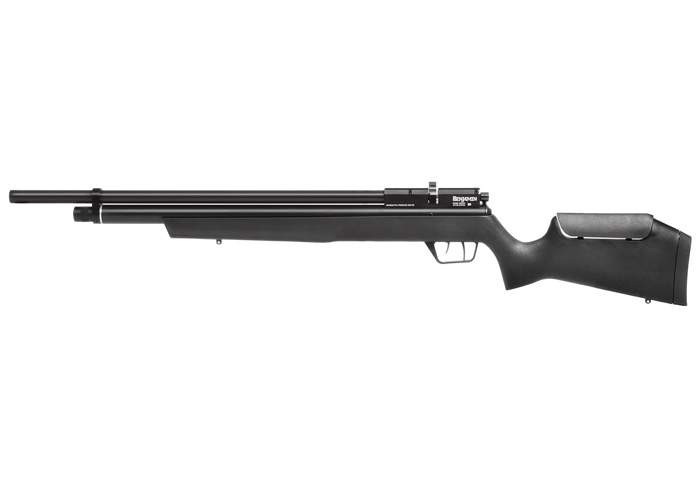 Product Details
The Benjamin Marauder (also known as the MRod) is the PCP rifle that because its price was significantly lower than European rifles, became the gateway to PreCharged Pneumatic air guns for millions of people.
The .25 caliber Marauder uses a barrel built in-house by Crosman (Crosman has been making match-grade barrels for decades) the barrel is encased in a full shroud that has baffles installed to make the rifle one of the quietest full-power PCP rifles available today.
The trigger that is used in the Marauder is the same fully adjustable match grade trigger that Crosman uses in their 10-meter competition rifle.
The .25 caliber MRod rifle uses an 8-shot rotary self-indexing magazine that has become the most duplicated magazine design in the airgun industry.
The bolt on the rifle can be moved so it can be operated from the left side, and the safety and stock are already ambidextrous, making this a perfect rifle for southpaws.
While the Marauder has been around for a few years, they have been quietly upgrading the rifle over the years as PCP technology has advanced, some of which is a factory-installed "depinger" to make the gun's firing cycle quieter, a simplified breech to make a more stable platform for larger scopes, and easier to service, an improved valve design to increase the shot count, and the trigger was moved rearward to provide better ergonomics and hand position.
The rifle is infinitely adjustable for velocity, shot count, and fill pressures up to 3000 psi.
The Benjamin Marauder is a proven design that other companies have tried to copy, but have never equaled.
The Marauder excels at everything, hunting, pest control, target shooting, and informal plinking, you have to shoot it to believe it.
Why We Like It
The trigger, the accuracy, the power, and how quiet the gun is when fired is amazing.
The synthetic stock is ambidextrous and impervious to the weather, it has an adjustable comb and sling swivel studs.
The fill pressure is adjustable, as is the velocity, the hammer spring, the transfer port opening, and the trigger.
The pressure gauge is located on the bottom of the rifle in front of the trigger guard, not at the barrel end of the rifle like some other guns.
The rifle is covered by a 5-year warranty!
Things to Consider
In its stock form, the Marauder is not regulated so as your fill pressure changes, your velocity will change as well.
There are no sights on the rifle, so you will have to buy a scope and rings.
8. AirForce Talon SS PCP Air Rifle Spin-Loc Tank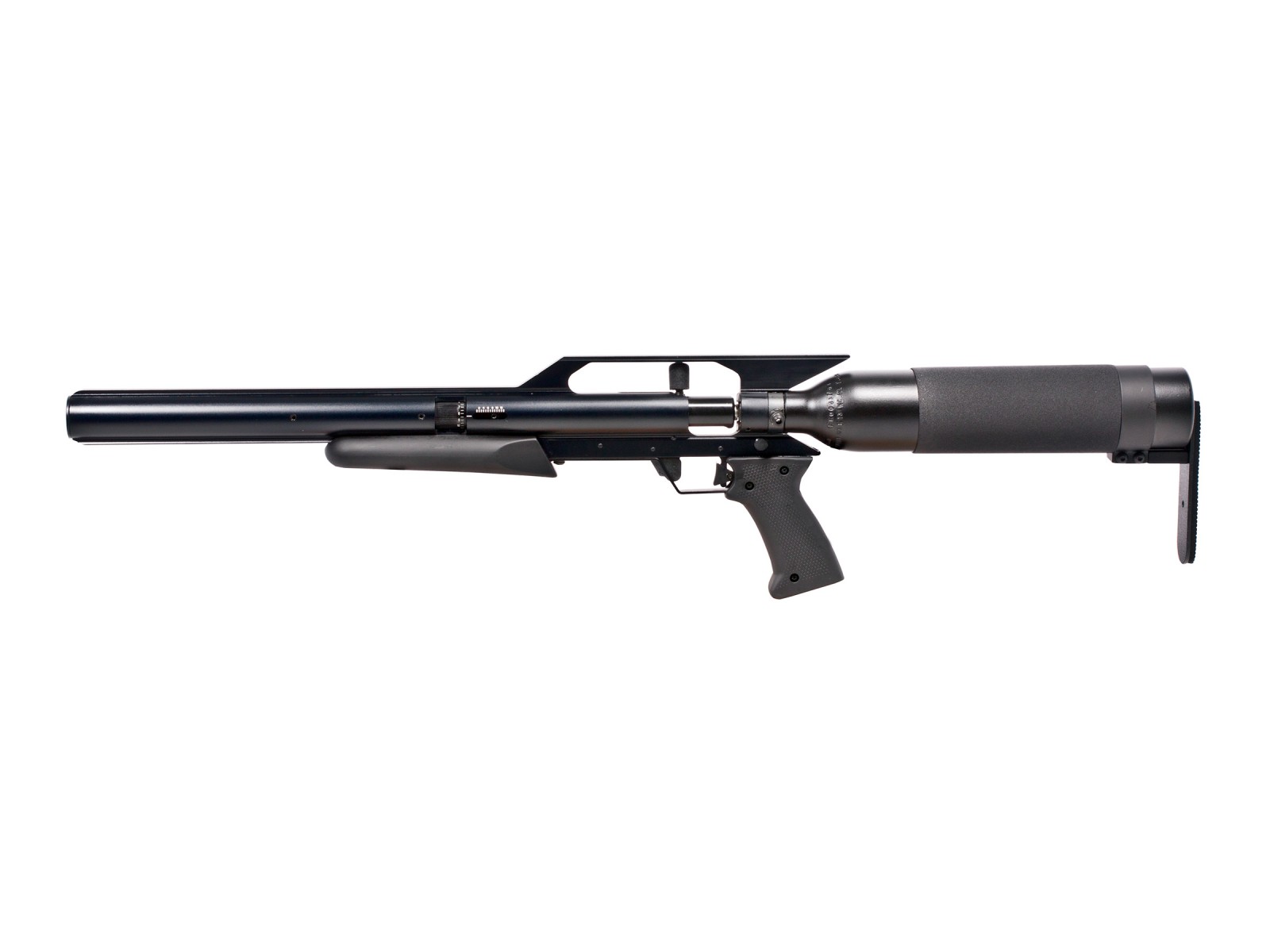 Product Details
AirForce airguns label their Talon SS a "utility" air rifle, meaning it is durable, hard-working, and always ready. There is a reason the U.S. Military uses this airgun for pest and vermin control on their military bases.
The design is a single-shot, ambidextrous powerhouse with a super efficient design that lets the air flow directly from the air reservoir to the barrel with no bends or twists that could disrupt the airflow.
Built in the USA, the Talon SS pre-charged pneumatic air rifle is for serious shooting, vermin or pest control, hunting, punching paper targets, shooting spinners and plinking are all perfect for the Talon SS, because it does everything so well! The easy-to-use power adjust wheel lets you decide how much power you want and when you want it.
From its (1:16 twist) Lothar Walther barrel to its removable air tank, the Talon SS is unique among pre-charged pneumatics. Made of space-age polymers and aircraft-grade aluminum, the AirForce Talon SS is lightweight and equipped with a durable finish.
The removable 490cc air tank (DOT-certified) can be filled with a hand pump, scuba tank, or electric compressor to 3000 psi (206 bar) for lots of shots without a refill. The tank is also the butt of the gun, contributing to its light weight and convenience. The tank also has a pressure-release valve for additional safety.
Using the new Spin-Loc tank and collar, you don't have to remove the gun's air reservoir to fill it as you did on older models. You can easily remove the tank and attach another one if you want. Carrying an extra filled tank when in the field is a lot easier than carrying a scuba or carbon fiber tank for refills.
Unlike the other air rifles on this list, the Talon SS has an extended sight rail and long dovetail rails that run the length of the main frame, allowing you the flexibility to mount lights, night vision devices, and cameras to the gun.
Why We Like It
The rifle is a very simple design that is completely ambidextrous and is very reliable and strong. The tank is easy to fill with a hand pump if you have no other option to fill the gun.
The Lothar Walther barrel is the benchmark of barrels everyone wants to match. The rifle is made in Texas and has a lifetime warranty.
The power levels can be adjusted to suit your needs, and you can interchange air tanks or barrels with ease.
There is a lot of room to mount optics, night vision, or video equipment, and the rifle has an internal sound suppression system already installed.
Things to Consider
It is a single-shot rifle but is quick and easy to load. Because of using the air tank as the buttstock, you may have to use a riser to raise the scope enough to get a proper eye alignment.
It does not come with sling swivels but they are available at a nominal cost and can be mounted in many locations on the lower rail.
The trigger is adjustable for position but not weight, but it is set from the factory at 2 lbs and is crisp and a very good trigger.
9. Benjamin Trail NP XL Air Rifle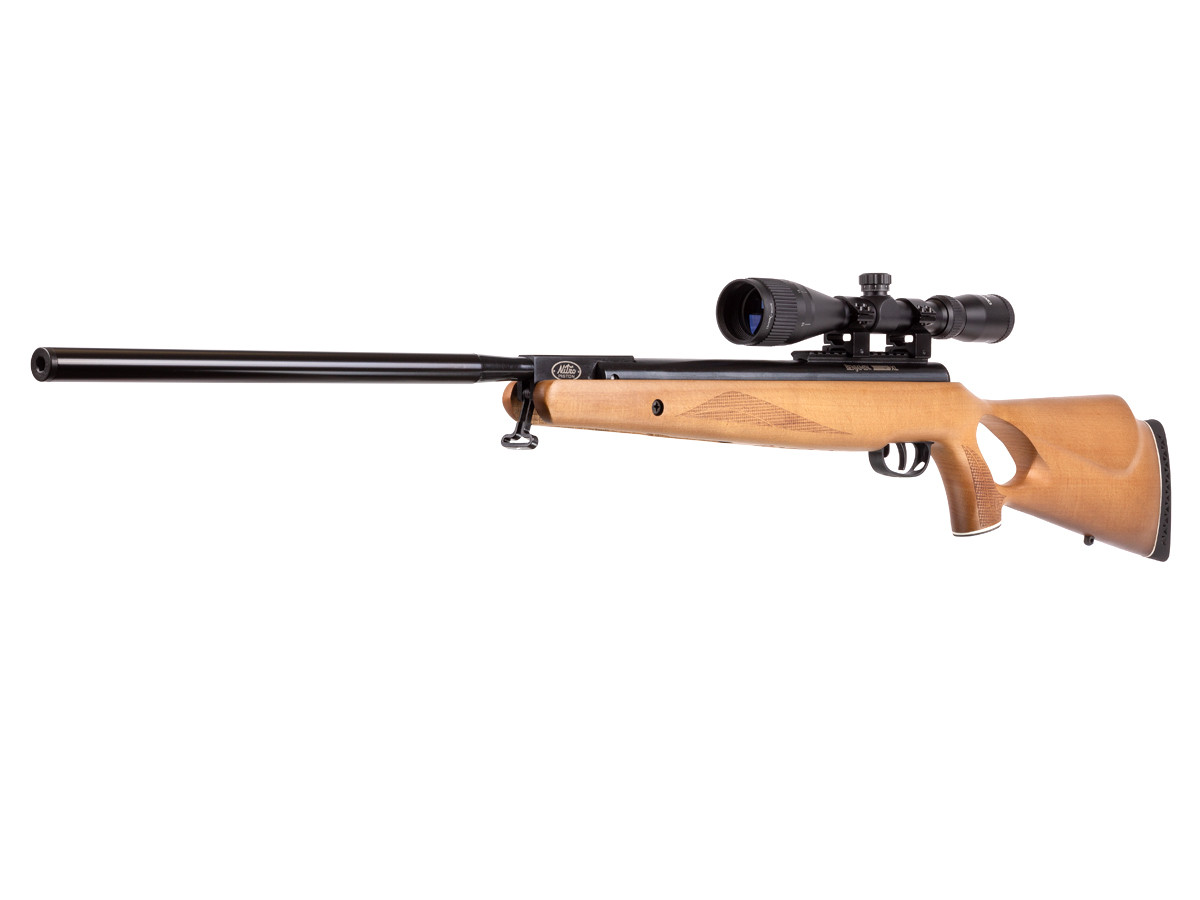 Product Details
The Benjamin Trail NPXL air rifle was designed with medium game hunting in mind.
The rifle uses a Nitrogen filled gas piston instead of a coiled spring to power the gun, it is still a single-shot air rifle, but it is smoother to cock, and can be left cocked for hours while hunting, and not have to worry about spring fatigue over time.
It includes a 3x9x40 Centerpoint scope with an adjustable objective to reduce parallax error. The scope mount is a Weaver/Picatinny rail that is welded to the receiver. The barrel is completely shrouded, so it is 70% quieter than most other break barrel air guns.
For medium game hunting, NPXL is a sledgehammer in .25 caliber. The rifle can be kept by the back door safely uncocked, but ready to defend the backyard against trash bandits at a moment's notice.
The hardwood thumbhole stock is completely ambidextrous and comes with sling mounts already installed.
All you will need for a day of hunting or plinking is the Benjamin NPXL rifle and a tin of pellets.
Why We Like It
The Nitro piston makes the rifle both smooth to cock, and quieter than spring-powered guns.
The included Centerpoint scope is a good match for this air rifle and is amazingly clear and has a mil-dot reticle to aid in hold over for long-range targets.
The ambidextrous stock and controls are left-hand friendly.
The weaver rail scope mount holds the scope firmly in position.
The NPXL is powerful, quiet, and accurate, what more do you need in an air rifle?
Things to Consider
The Benjamin NPXL is a powerful air rifle designed for hunting, so it will be harder to cock than lesser-powered air rifles.
At 48 inches, it is a long air rifle, but the power generated by the 19.5-inch barrel and the effectiveness of the shrouded barrel is worth the extra length.
10. Hatsan 135 QE Vortex Air Rifle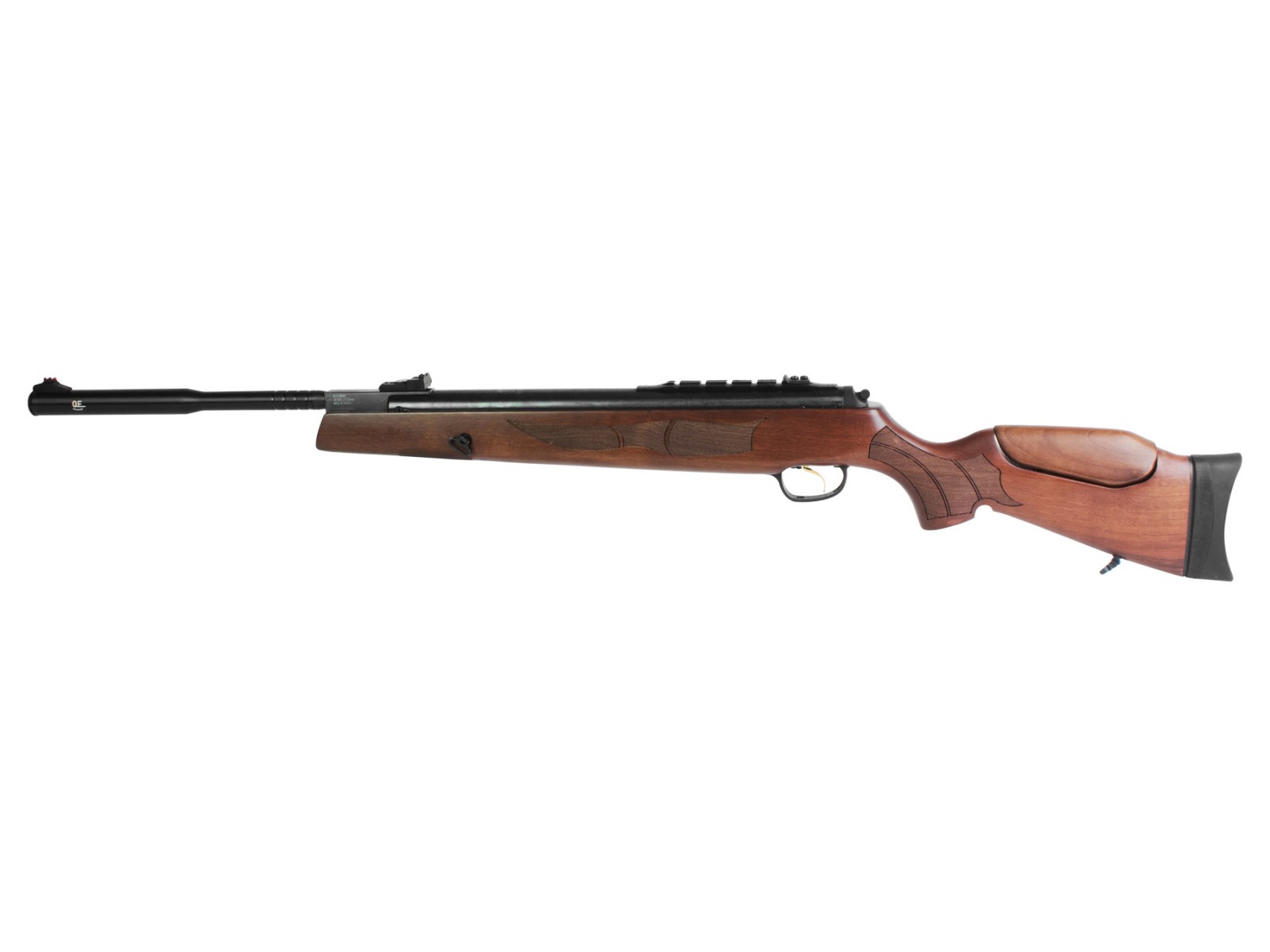 Product Details
Sometimes you make something just because you can, the Hatsan 135 Vortex is the embodiment of go big or go home.
The Hatsan 135 is available in .25, and .30 caliber. That's not a misprint, yes a .30 caliber break barrel rifle.
The list of features found in the Hatsan 135 QE is reminiscent of a much more expensive air rifle.
Some of the amenities are a Turkish walnut stock, with an adjustable cheekpiece, the much-acclaimed QE barrel and shroud to keep things quiet and on target, and the equally renowned adjustable Quattro trigger from Hatsan. Add to that the Vortex gas ram which makes the rifle smoother and easier to cock, all of these combined make the 135QE an exceptional value for the money.
The larger pellet diameter of the .30 caliber projectile transfers its energy faster to the target providing the knockdown and penetration needed for humanely harvesting medium game.
Why We Like It
The Hatsan 135 QE is available in .25 and .30 caliber. The QE barrel and shroud deliver the accuracy and power you want, quietly. The adjustable Quattro trigger allows you the flexibility to set your own pull weight. The rifle comes with Tru-Glo fiber optic sights as standard equipment.
It also includes Weaver-style scope bases.
And last but not least, it is very eye-catching with the beautiful Turkish walnut stock.
Things to Consider
There is no hiding the fact that to generate the power this rifle makes, it will be hard to cock. So it may not be suitable for younger shooters.
If you choose the .25 or .30 caliber model, you will have to order your ammunition online as those calibers are normally not sold in big box stores.
While the gun has a smooth shot cycle, this monster has some kick, so learn your rifle's tendencies.
Common Questions
Will a pellet gun kill a raccoon?
The short answer is yes, almost any pellet gun can kill a raccoon, with proper shot placement.
Ideally, you want to use a gun that has the power and accuracy to place powerful shots into the vitals area of the raccoon to humanely dispatch the animal. A wounded animal is needlessly suffering, and can actually become more aggressive and dangerous.
That leads us to the .25 caliber and larger air guns, they have the power to do the job efficiently so please use them.
If you are defending your backyard from raccoons or other nocturnal raiders, the airgun may spend weeks at a time propped in the corner waiting for you to use it. While a PCP can spend years under pressure with no adverse effects, spring-powered guns cannot. Never leave an airgun loaded and unsecured.
Whichever platform you choose, please do not store the gun loaded, and have it securely stored so unauthorized or untrained people can not have access to it.
What is the best high-powered pellet gun for raccoons?
The answer to that question depends on your particular circumstances, what features I need in a medium game rifle may be different than what your needs are.
You may need one that will only be used occasionally in the backyard at 20 yards, and you have no other intended use for that gun, so buying a $1500 pre-charged rifle, and a $900 compressor to fill the rifle is neither cost-effective nor convenient for you.
Where a $300 break barrel that needs no support equipment would fit the bill perfectly.
Where I already have the $900 compressor and need an air rifle to dispatch groundhogs at ranges of 100 yards or more, obviously my choice of airgun would be different.
So evaluate your needs, intended ranges, and budget before you buy.
How much power do I need to kill a medium-sized pest like a groundhog?
That's another tough question. Groundhogs as small as they are (normally less than 20 lbs) are notoriously hard to kill even to the point of hunters suggesting the groundhogs have super powers.
That being said, they can be eliminated with the proper shot placement of a pellet with enough energy and velocity to reach vital organs.
A pellet properly placed between the ear and the eye will strike the skull in a very thin place and will penetrate to the brain causing death. But being close enough and accurate enough to make that shot may not always be possible.
Smaller game animals like groundhogs can be very tenacious and tough to kill, generally, a good rule of thumb is the 3x principle. Whatever your target's weight, specifically when looking at smaller game, multiply it by a factor of at least 3 and use that as a starting place for your muzzle energy. If the animal weighs 10 lbs, then use 30 ft-lbs of energy, minimum.