It's only a pellet! Why airguns are so different from firearms (October 2009)
by Tom Gaylord
Copyright PyramydAir.com ©2009. All Rights Reserved.
This article originally appeard in Airgun Revue #1, published in 1997.
How can a pellet gun out-shoot a refined firearm that has had thousands of dollars worth of customization lavished upon it? The answer lies with the projectile--the thing that differentiates an air rifle from its larger, louder siblings.

The diabolo pellet is designed for stable flight.

Take a long look at an airgun pellet. It's not at all similar to the bullet from a firearm, or even the ball from a blackpowder arm. An airgun pellet looks, for all the world, like a badminton birdie made of lead. It's long and hollow, with all the weight concentrated forward in the nose. Like a birdie, the forward weight of the pellet gives it directional stability, even without the stabilizing spin imparted by rifling. If you haven't played badminton in a while, think of the game of darts. The dart is weighted in its nose to the extent that if you throw it tail-first, it will turn 180 degrees in flight and strike the target point-first.

Another pellet/birdie similarity is that both projectiles have a flared tail. The birdie tapers straight back from its head, while the pellet is shaped more like an hourglass. But the flared skirt serves the same purpose for both projectiles. It causes an immense amount of aerodynamic drag, which keeps the nose pointed straight forward to the line of flight. This is a second stabilizing feature, but it also serves to slow the projectile rapidly, as well. It allows the game of badminton to be played in a small area, even though the birdie may start out at well over 100 mph with a powerful serve. This same drag is what makes a pellet gun many times safer than a firearm of any kind.

Like the birdie, a pellet is extremely light for its size. This light weight, combined with the high aerodynamic drag, renders the pellet extremely safe at a very short distance from the muzzle.

A powerful pellet rifle today may be capable of launching its pellet at 1,100 f.p.s., a speed that a few years ago was thought to be impossible to attain. Even so, the pellet rapidly decelerates, just like the birdie; no matter how fast the initial velocity, it will soon be harmless. The most powerful pellet rifles commonly available today can only shoot a maximum of about 500 yards, as a result of this. And, they can only do that when they're elevated to a 30-degree angle to the horizon for maximum range! When shot relatively level, their pellets fall safely to earth in less than 150 yards. A .22 long rifle bullet will travel a mile and a half and come back to earth with sufficient energy to maim and even kill.
Ricochets, which have long been the bane of the firearm, are much less likely to endanger others; as the already-inefficient pellet is rendered even more so by deformation after striking the surface from which it rebounds. This is not to say that airgun shooters should disregard safety practices simply because their guns are so limited. Airguns can cause painful injuries at close range when they're handled without care. They can even be used to eliminate small pests, such as rats and poisonous snakes at close range.

It's because of their aerodynamic properties that pellet guns are best for safe training. Even disregarding their cheaper operating expense, low noise, and lack of harmful recoil, airguns are the ideal tools for initial gun training for all situations. Military departments all over the world have been using them for training since the turn of the century. And today, they've taken over the role of the world's most accurate arms of all types out to ranges of 50 yards.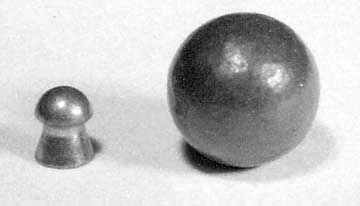 A .177 Crosman Premier is dwarfed by a .443 lead ball for the Farco air shotgun. The pellet weighs 7.9 grains, the ball 120 grains!
There are some air rifle projectiles in existence that do not have the poor aerodynamics mentioned above. Some air rifles even fire round lead balls with the same force as blackpowder rifles. These guns were initially designed in the early 1600s for European nobility. One model was actually used by the Austrian Army against Napoleon in the 1790s. Replicas of those guns are being made in ones and twos throughout the world today, but they hardly represent a threat to anyone. The logistics of shooting a powerful air rifle like these is so great that a flintlock looks like an assault rifle by comparison.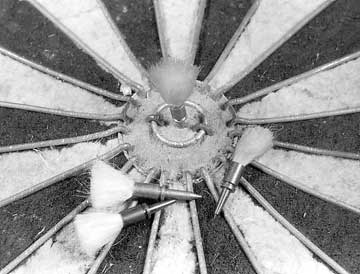 Some low-powered, smoothbore airguns are suitable for these darts. At close range, they're surprisingly accurate. Don't use them in rifled barrels!
Other types of airgun projectiles, such as BBs and darts, have their own unique safety requirements. A BB, for example, is quite prone to ricochet because of its round shape and hard steel composition. This is where "You'll shoot your eye out" originated. Until the 1920s, when steel shot was introduced to the market, BB guns all shot lead balls, which are far less likely to bounce back. Of course, the shooter must still practice safe shooting at all times.

The airgun dart is tipped with a sharp point that sticks well in a special target surface like a dart board. They're to be used in low-powered guns at short distances. The nature of the sharp dart makes it very dangerous, even at low velocity, when used in an unsafe manner. Parents should exercise close adult supervision at all times when children are shooting airguns with darts. Even adults have been known to turn with loaded pistols in their hands, which sets up a potential accident in an instant.

Airguns are what they are by virtue of their extremely specialized projectiles. Although capable of world-class accuracy at close range, they are the safest guns in existence.