Some type of .50 caliber rifle has been around for centuries, first with muzzle loading flintlocks, then percussion muzzle loaders, as the world progressed into the era of metallic cartridges so did the .50 caliber pellet gun.
It has always been a caliber people have gravitated to and want to own and use for both hunting and recreational purposes, in both handguns and rifles. Its popularity may be because its caliber is one-half of one hundred. Possibly because it has been used by the US Military as the .50 BMG (Browning Machine Gun) cartridge for more than a century, people always associate it with power.
In the airgun world, it has the same dedicated following, it provides the speed, power, and accuracy needed for hunting and high powered target practice that is unmatched in the airgun market, because of its popularity, a lot of research and testing has gone into the development of the 50 caliber air rifle.
Almost all of the big bore airgun manufacturers make at least 1 model in .50 cal air rifle for sale, as well as the smaller big bore calibers (.30, .357. .45) there are other calibers, but these are the most common ones and .50 caliber is the king of the hill in both power and popularity.
.50 Caliber Air Rifles are perfect for:
Hunting medium to large game
Large predator or pest control in areas where firearms would be too dangerous or illegal to use
Recreational shooting with maximum power
Top 10 Best .50 Caliber Air Rifles
1. AirForce Texan LSS w/ Carbon Fiber Tank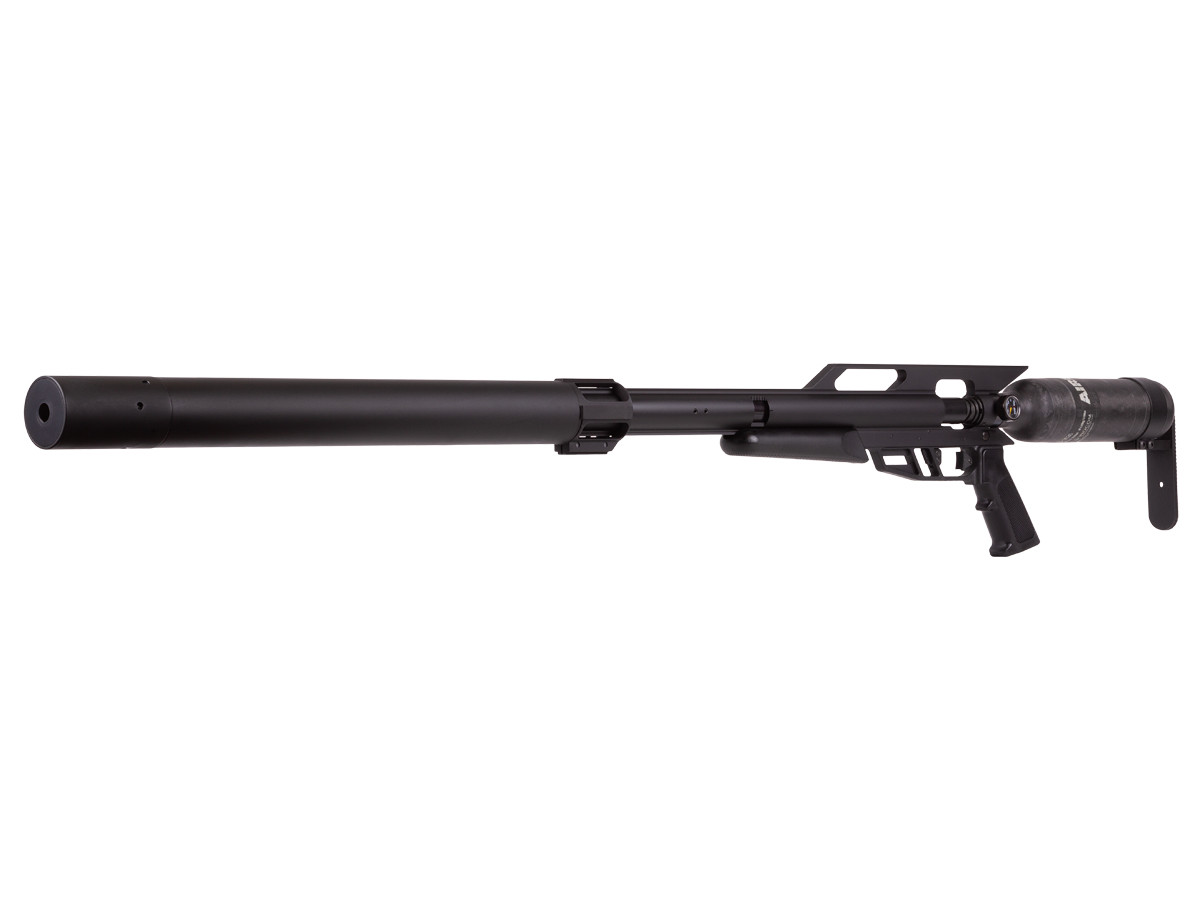 Product Details
The AirForce Texan LSS is made right here in the heart of America in Fort Worth Texas, it is currently the pinnacle of the ever-evolving Texan big bore air rifle.
It is a fully moderated .50 caliber air rifle, that uses a 475cc carbon-fiber tank that fills to 250bar (3600psi) that takes the Texan from the 600 ft lbs of energy of its older sibling to over 800 ft lbs of energy at the muzzle while going on a diet and weighing less than the standard Texan LSS that has the aluminum tank.
To achieve the increase in power and weight reduction the lightweight carbon fiber tank is fitted with an updated TX2 valve that has been optimized for increased pressure. The weight of the Texan LSS with the carbon fiber tank is now a handy 6.35 lbs, (compared to over 8 lbs of the standard Texan LSS.)
The Texan LSS does not trade power for accuracy as other companies may, the legendary 34-inch Lothar Walther barrel delivers the accuracy, while the Sound-Loc System reduces the bark of the huge .50 caliber bullet being fired at over 1100 fps.
The rifle uses an easy to open side lever that cocks the gun as it is opened, and can be used by either left or right-handed shooters, the trigger is also adjustable so you can tailor the trigger to your preferred settings. The integral 11mm dovetail rail accepts commonly available scope rings to fit the optic of your choice.
With its combination of power, accuracy, and sound suppression, the AirForce Texan LSS Carbon Fiber is an ideal solution that is able to take down any big game in a quiet, ethical manner.
Why We Like It
The rifle has power, accuracy, speed, lightweight, and it's quiet. The Texan LSS Carbon Fiber combines many desired traits all into one competent package.
The Texan LSS carbon fiber has adjustable power, and an adjustable 2-stage trigger, the side lever makes it easy to cock and load the rifle, and the safety is automatically engaged when you cock the rifle. The Lothar Walther barrel makes it accurate, while the sound suppression system makes it quiet.
It comes with a lifetime warranty.
Things to Consider
The 475cc carbon fiber tank fills to 3600psi (250bar) while it can be filled with a hand pump, big bore guns use a lot of air, so you will be filling it often, a small portable compressor would be the best solution to fill the tank.
Scope and mounts are not included with the rifle so you will have to provide them.
2. Umarex Hammer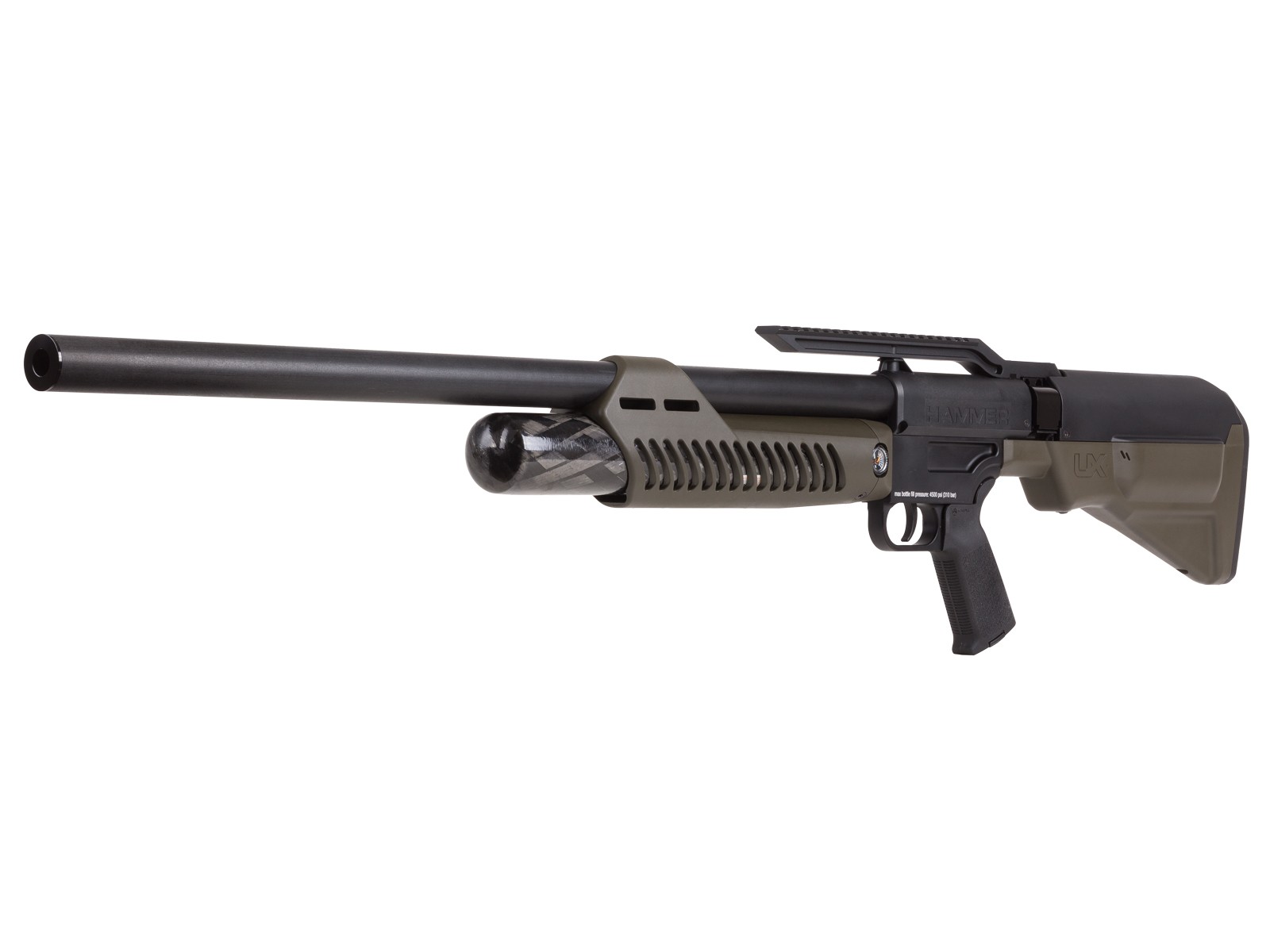 Product Details
The Hammer is a magazine-fed .50 caliber bolt action repeating air rifle, (it actually uses .51 caliber slugs) that is capable of delivering 3 regulated power consistent shots. Shooting a massive 550-grain weight slug at a whopping 700 ft-lbs of energy. With a 4th shot available at a slightly less energy level.
The Hammer uses a straight pull speed bolt design that cocks with a mere 2 pounds of effort. The rifle also incorporates a 3 step safety that consists of manual trigger safety, a hammer block safety, and a magazine lockout that prevents the rifle from being fired without a magazine being inserted. Each Hammer magazine has a 2 round capacity, so the company included 2 more extra magazines to keep the shots coming.
The German-made precision .51 caliber barrel is fully moderated and is reported to be able to put its first three shots within 1 inch at 50 yards. With the level of accuracy and power generated by the Umarex Hammer, you have the ability to take any large game you may legally hunt with an air rifle. The 475cc carbon fiber tank fills to 3600psi (250bar) while it can be filled with a hand pump, big bore guns use a lot of air, so you will be filling it often, a small portable compressor would be the best solution to fill the tank.
Scope and mounts are not included with the rifle so you will have to provide them.
Why We Like It
It uses an easy-to-operate straight-pull bolt to effortlessly load and make ready and includes 2 of the self-indexing magazines.
The rifle is regulated from 4500 psi to 3000 psi for consistent accurate shots. The barrel is shrouded to give some level of sound suppression.
It has 3 of the M-LOK slots in the forend for accessories, and an AR-compatible grip you can change for your needs.
Things to Consider
The rifle fills to 4500psi (310bar) so using a small portable compressor is best to give you the most shots per fill.
The rifle is designed to use .51 caliber projectiles, so make sure you buy the right ammo. Being a very powerful air rifle, it has a lot of recoil.
3. AirForce Texan with Carbon-Fiber Tank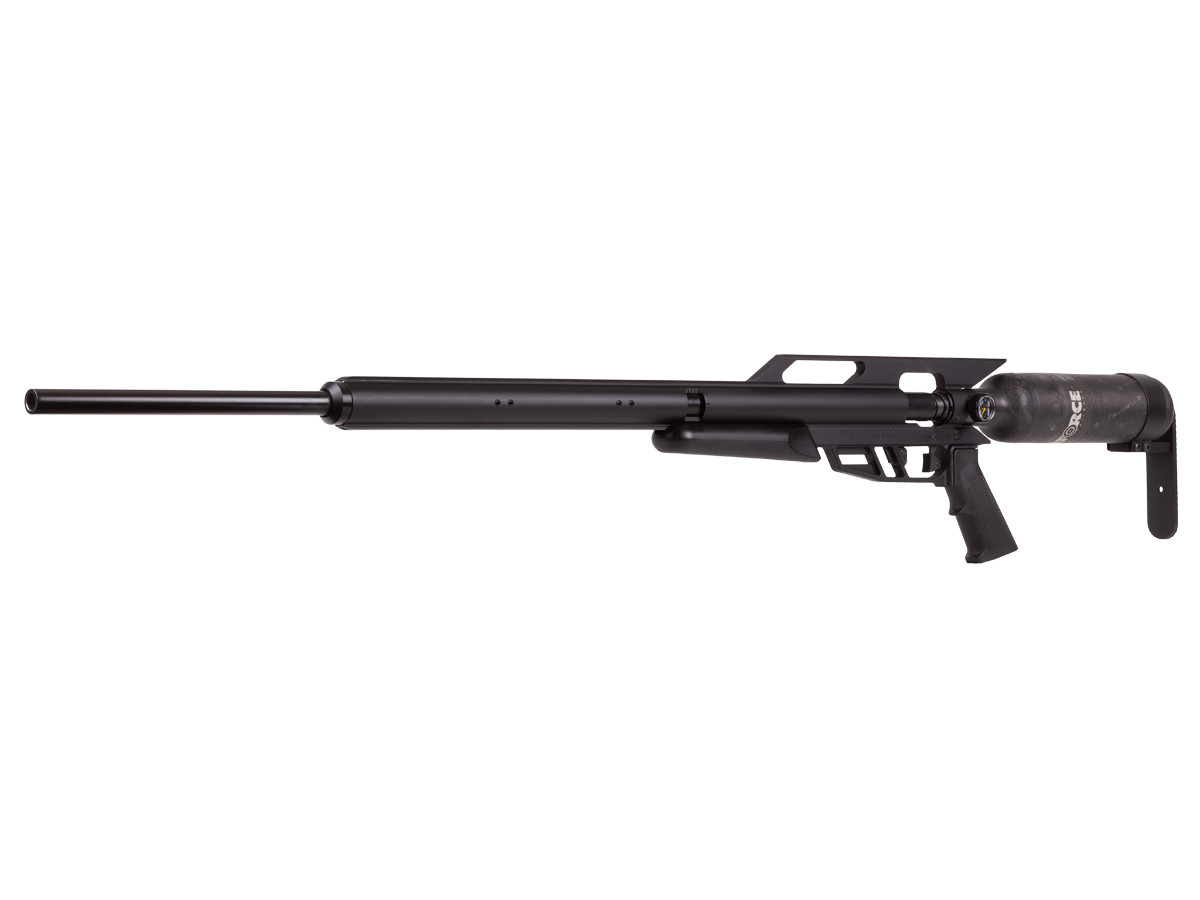 Product Details
Not one to rest on its laurels after a success, AirForce airguns have upped their game again, by introducing a 3600psi (250bar) carbon fiber tank onto their already amazing AirForce Texan .50 caliber PCP rifle.
The carbon fiber tank with its updated TX2 valve technology has boosted the power of the Texan to over 800 ft lbs of energy, it also shaved an amazing 20% in weight from the standard Texan model.
Not everyone needs a suppressed rifle, and would gladly trade sound for a longer barrel, slimmer profile, and lighter weight. The 34-inch German-made Lothar Walther barrel allows the bullet to develop more velocity than a shorter barrel, giving you more energy at the muzzle.
With more and more states allowing airguns to be used legally to hunt big game each state has instituted minimum power and velocity requirements, the Airforce Texan far exceeds the minimum requirements for hunting.
Why We Like It
The Texan comes in at a mere 6.12 lbs without a scope and mount, so it is easy to carry for a day in the woods hunting. It is backed by a limited lifetime warranty and is made in the USA.
It has an extended 11mm optics rail that uses standard dovetail mounts, and the power is adjustable to tailor the bullet/velocity combination for the best accuracy.
The trigger pull is set from the factory to just over 2 lbs, but it is adjustable for position, the ambidextrous safety is easily accessible, and the butt plate can be adjusted for cast on or cast off to fit your preferences.
Things to Consider
The rifle does not come with open sights, so you will need to mount a scope of your choice. The rifle fills to 3600psi (250bar) so a fill source of high-pressure air is needed, a small portable compressor is suggested.
It is not suppressed, so it will be louder than rifles that do have integral suppressors.
4. Hatsan Piledriver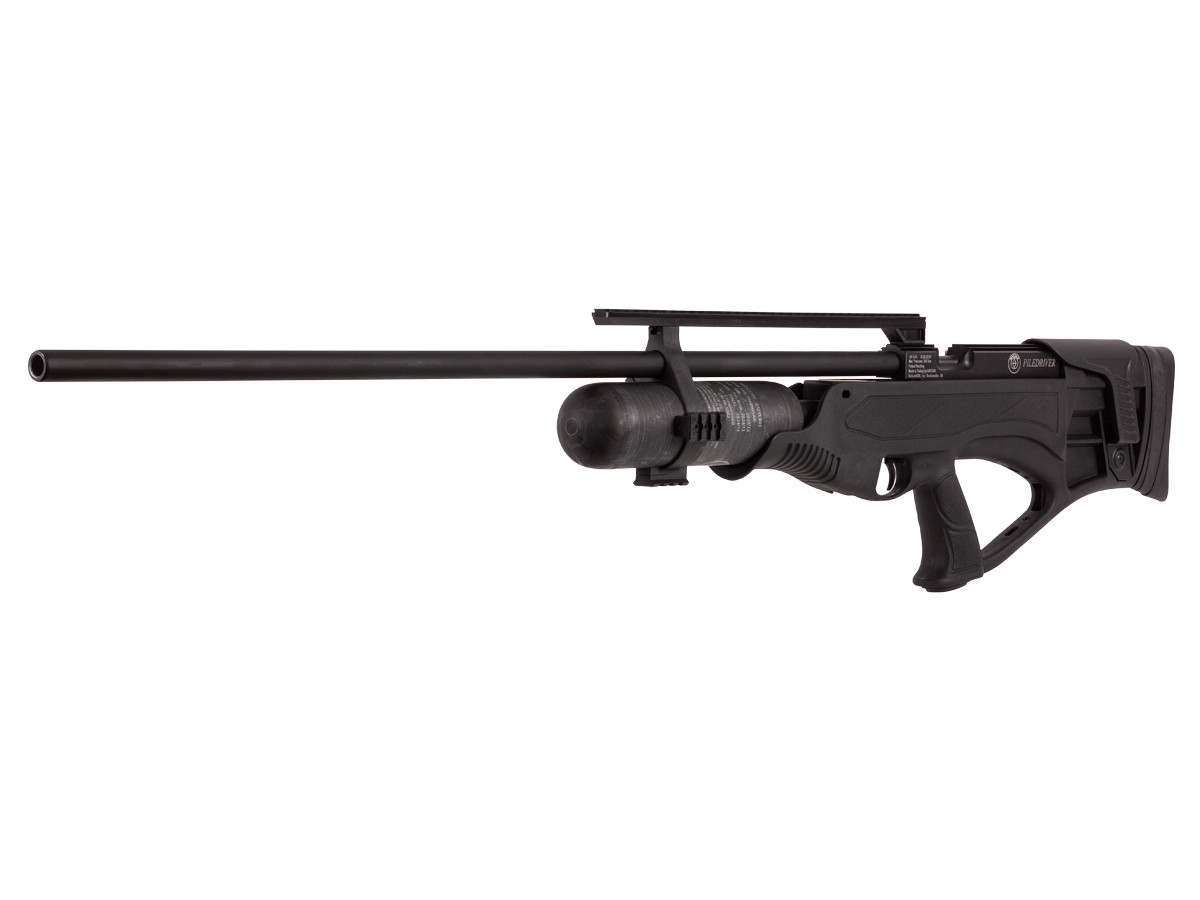 Product Details
In airgun circles when we hear the name Hatsan, we think of an airgun that is both powerful and built like a tank, the .50 caliber Hatsan Piledriver PCP air rifle is all that and a lot more.
Unlike other air rifles, the Piledriver doesn't use a coiled metal spring to fire the gun, it uses a patented Vortex nitrogen-filled piston to fire the valve, which makes the rifle easier to cock, and gives it a smoother shot cycle.
In .50 caliber, it gives you over 800 ft lbs of energy, and 3-5 full power shots per fill, that's more than enough power to take any large game animal on 4 legs. The rifle is a bullpup design, meaning the action is set back farther in the stock, allowing you to have a longer barrel, in a shorter package than a traditionally styled rifle.
The Piledriver uses a 480cc carbon fiber tank, that fills to 4350psi (300bar) for about 5 full power shots, the acclaimed Quattro is adjustable, and the rifle's loading port will also accept projectiles up to 34mm long, so it gives you a choice of a wide variety of available ammo to suit the size of game you are hunting.
Why We Like It
The Quattro trigger is very good, and adjustable, as is the butt pad, the bullpup design lets you have the barrel length of a long gun, but in a shorter easy-to-handle package. The weight is centered toward the shooter, making the gun easier to shoot off-hand.
The rifle has a very long loading port for a wide variety of ammunition, and a long side lever cocking handle so the cocking effort is minimal. Producing over 800 ft lbs of energy at the muzzle makes the Hatsan Piledriver capable of taking any land animal you want to hunt.
Things to Consider
It fills to a pressure of 4350psi, (300 bar), while it can be hand-pumped, a portable compressor may be a better option.
The pile driver uses a fill probe to get the air into the gun, be careful not to lose it. Once filled, it only gets about 5 powerful shots in .50 caliber, so you will be refilling often while at the range, but not while hunting.
5. AirForce Texan LSS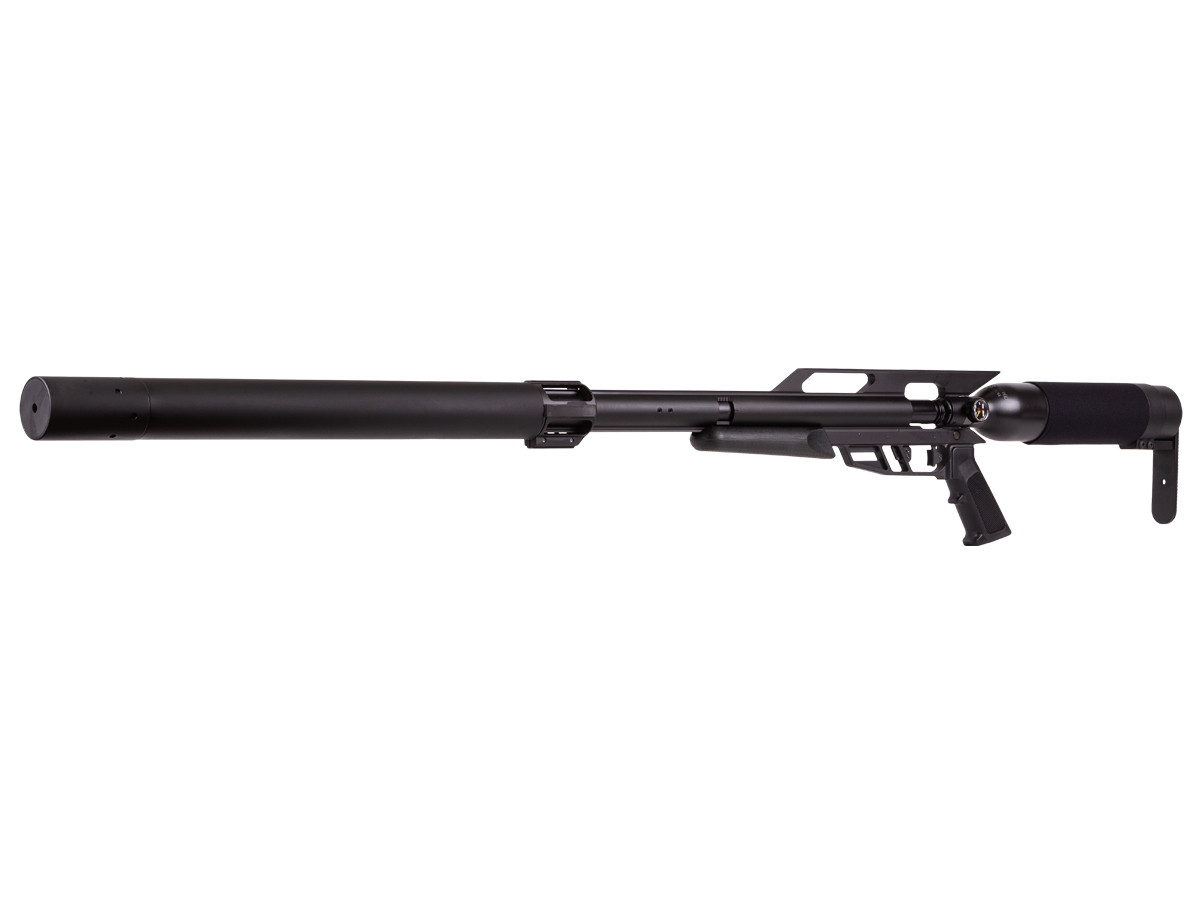 Product Details
Some people in remote areas that don't have access to dive shops may use a hand pump and may not want or need to fill their tanks to 4350psi, they may want the extra volume and lower pressure of an aluminum 490cc 3000psi bottle.
This is where the standard AirForce Texan LSS is home, for people in remote areas, or hunting in remote areas it is the perfect big bore airgun.
Generating over 700 ft lbs of energy with a 620-grain bullet it has both the accuracy and power to take any game animal in North America. The Texan LSS is fully moderated for a low muzzle report, but thanks to the updated TX2 valve, it does not give up any power and is comparable to its longer barreled, non-moderated predecessor.
Some of the features of the Texan LSS are adjustable power, a precision Lothar Walther barrel, an adjustable trigger, a long side lever for effortless cocking, an extended sight rail for optics and night vision or other optical accessories, and its Sound-Loc sound suppression system to tame the bark of a huge projectile going downrange very fast.
The AirForce Texan LSS in .50 caliber is the perfect big bore airgun for people operating in remote areas with minimal support equipment.
Why We Like It
The large 490cc bottle fills to 3000psi (200bar) so it is hand pump friendly, with that you will get over 700 ft lbs of energy with a 620-grain bullet. The Sound-Loc moderator quiets the rifle greatly over the unmoderated version.
The Lothar Walther barrel is extremely accurate, and the side lever cocking and automatic safety make the rifle easy to use and safe between shots.
Things to Consider
With a total length of 53 inches, it is a long rifle, and being a very powerful .50 caliber big bore air rifle, Newton's laws of physics apply, meaning it has a lot of recoil that most shooters do not expect from an air rifle.
It does not include a scope or mounts, so you will have to provide them. Because the air bottle is also the buttstock, the length of pull is not adjustable to be shorter than 13.875 inches, so it might not fit shooters that like or need a short length of pull.
6. AirForce Texan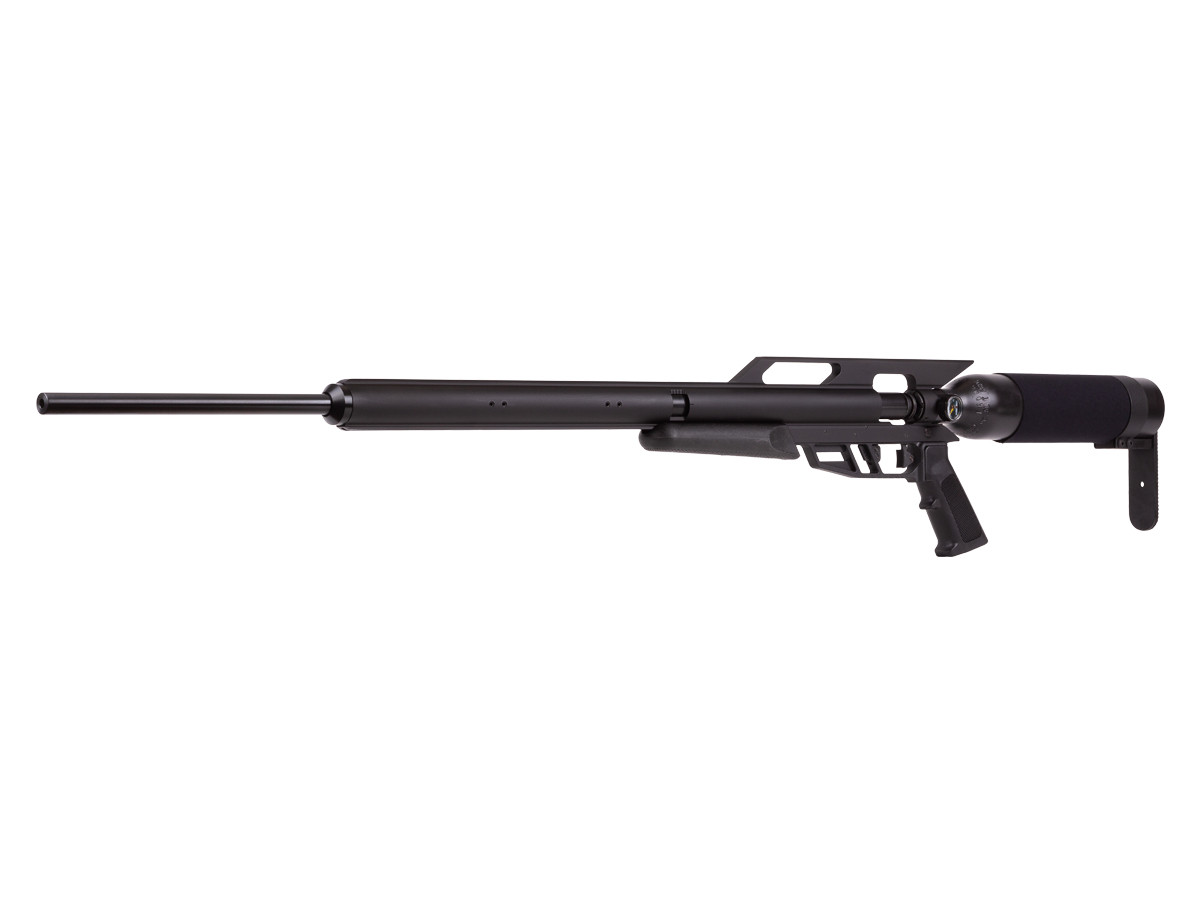 Product Details
With motorcycles and cars, there are some people who like their engines loud and proud, and then there are some people who like their engines to be quiet, to "fly under the radar" so to speak.
It is the same with guns, some shooters enjoy the noise, and some want their shooting sessions to be more subdued, the AirForce Texan .50 caliber rifle is for that first group of people. You may not want or need the silencer and like the looks of the sleek lines of a rifle and its unmoderated barrel.
The specs are the same as the Texan LSS, but the styles are different. You can still fill it to 3000psi (200bar) with a hand pump, you still get over 700+ ft lbs of bone-crushing muzzle energy to take down big game, and the outstanding accuracy shooters have come to expect from a Lothar Walther barrel. Just without the moderator.
The trigger is set for 2 lbs. It is light and crisp, and the safety comes on automatically when the rifle is cocked but is easily moved to the fire position with your index finger at a moment's notice when a shot presents itself.
Why We Like It
The AirForce Texan .50 caliber PCP air rifle is ambidextrous so southpaws will love it. It comes with a lifetime limited warranty. It's made in Fort Worth Texas, and their customer service department is very knowledgeable and helpful. It fills to 3000psi (200bar) so it can be filled with a hand pump.
The rifle uses standard dovetail scope mounts so the mounts are both inexpensive and are easily available at most big box or sporting goods stores.
Things to Consider
This rifle is not moderated so it is loud. Being a big bore air rifle, it has a lot of recoil that most shooters do not think an air rifle will have. Since it is launching a 620-grain bullet with over 700 ft lbs of energy, it uses a lot of air, so you will only get about 5 powerful shots per fill.
A scope and mounts are not included, so you will have to provide them in order to use the rifle.
7. Seneca Dragon Claw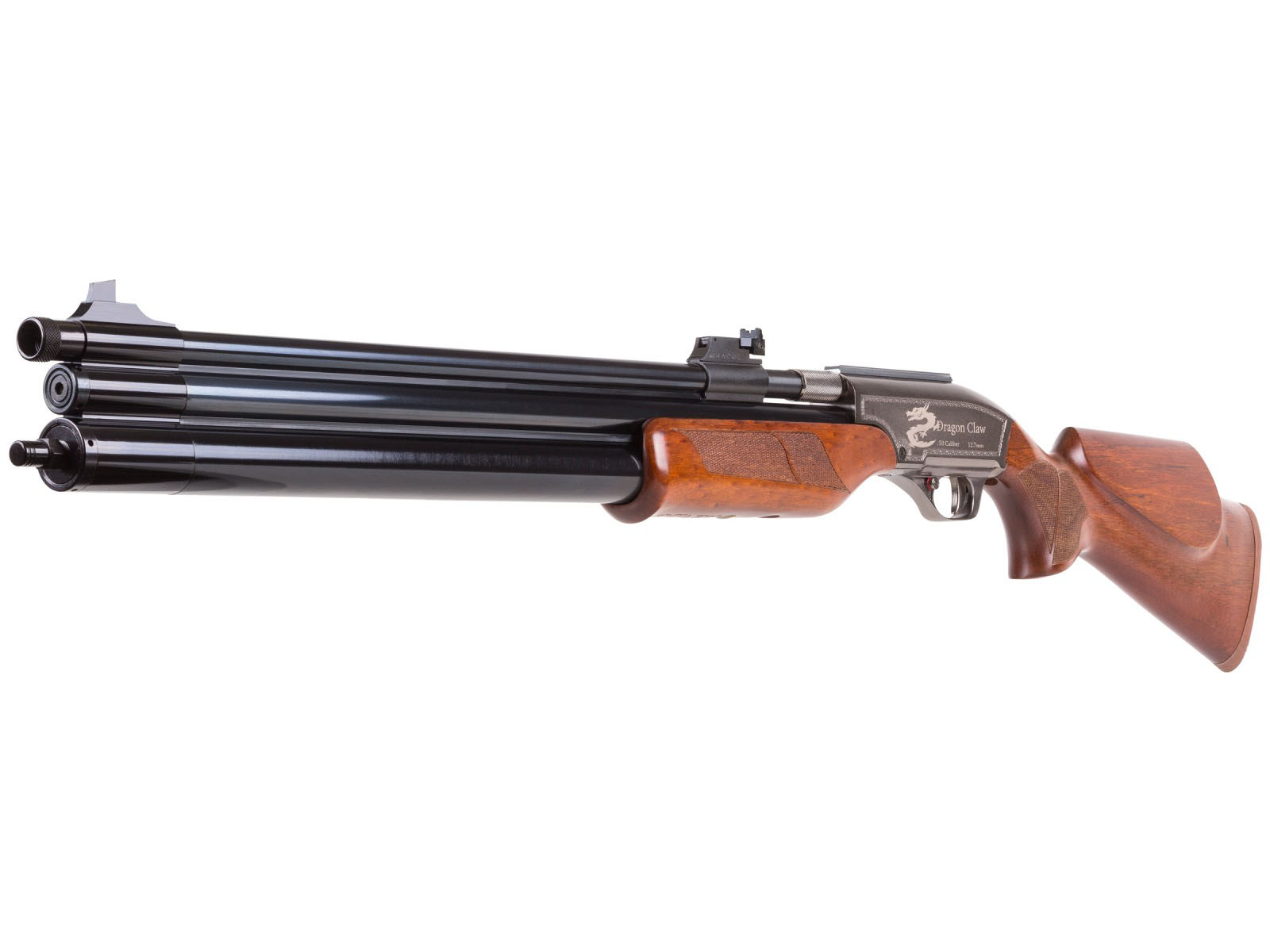 Product Details
The .50 caliber Seneca Dragon Claw air rifle has a list of features that are not always found in other big bore precharged pneumatic air rifles.
First is it one of the few that come with adjustable iron sights so you don't need to buy a scope, and some hunters that hunt in thick cover actually prefer to use open sights as it is faster to acquire and take aim on a moving target at a relatively close distance than it would be if you were using a scope.
The Dragon Claw has 2 power settings that can be chosen on the fly, just cock the hammer to the first click, and that is low power, then pull it rearward to the second click and that is full power. It also has a separate loading gate so you can safely load a round without cocking the action. All of this is fed by a dual 500cc, 3000 psi air reservoir that will give you about 20 shots per fill.
The Seneca Dragon Claw can also use Air Venturi Airbolts so you have the option of using either field point tipped arrows for target practice, or razor-sharp broadhead tipped arrows for hunting if your state allows it. Pyramyd Air has an interactive map that will show you what game animals are legal to be hunted with an airgun within the United States. (Please consult your State Wildlife Management for the most up-to-date laws concerning airgun hunting.)
Unlike some of the more utilitarian air rifles that are on the market, the Seneca series have finely blued steel and beautiful wooden stocks. Making the Seneca Dragon claw .50 caliber rifle a very capable and powerful airgun you will be proud to own and show off to your shooting or hunting buddies.
Why We Like It
The Seneca Dragon Claw comes with adjustable open sights and offers the option to mount an optic (not included) if you so desire. The rifle has a huge 500cc air reservoir that uses a standard foster quick disconnect fitting allowing you to fill to 3000psi, so you can use a manual hand pump to fill the rifle if other fill sources are not available, and you do not have to keep up with a proprietary probe to fill the rifle.
The Dragon Claw stands out from the other big bore air rifles because of the finely finished hardwood stock, with checkered pistol grip and forearm, and has a very deeply blued finish over the rest of the rifle.
Things to Consider
Like most big bore air rifles, it is a single-shot rifle. Because of the location of the loading gate, longer scopes may interfere with loading a projectile, so short compact scopes are suggested if you want to use optics on the gun.
While it can be shot left-handed, the raised Monte Carlo cheekpiece is only on the right side of the stock.
8. Seneca Double Shot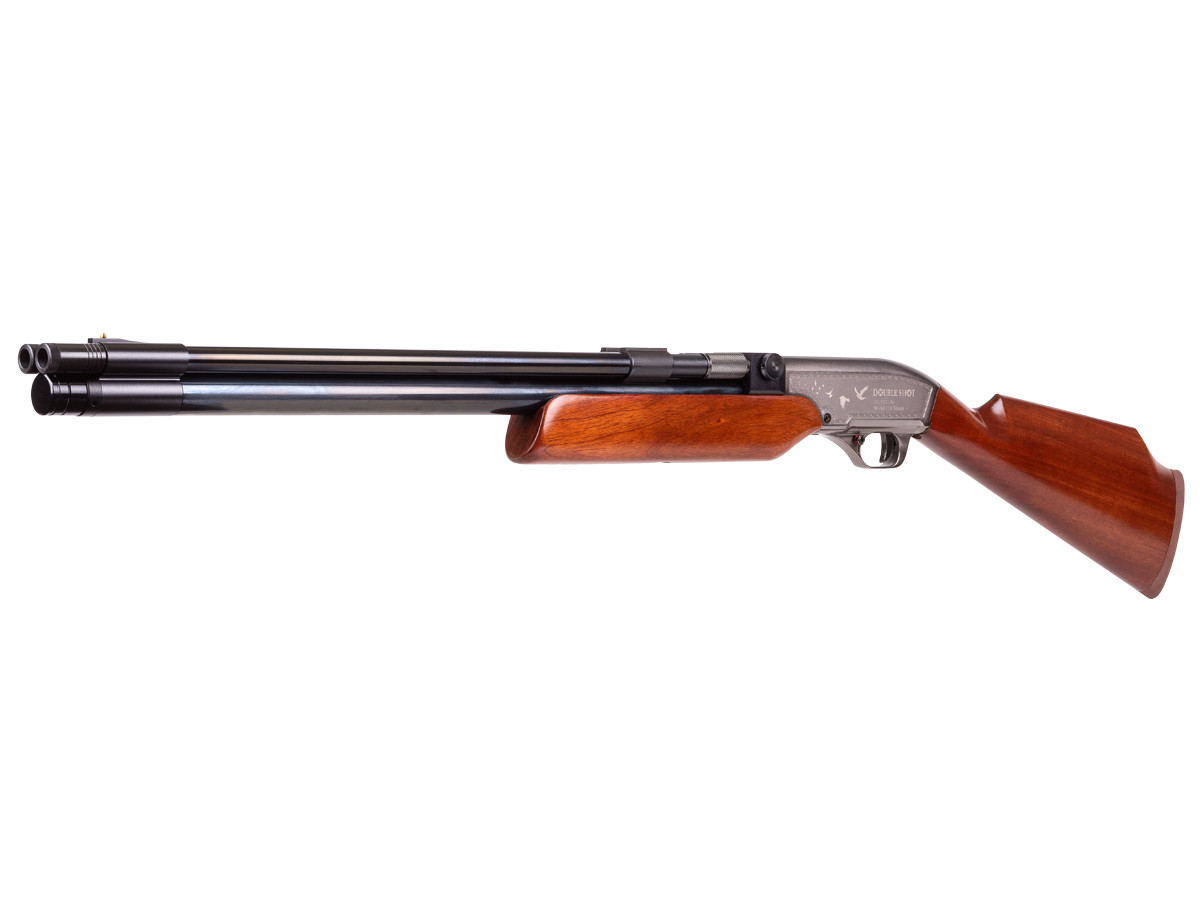 Product Details
What if we told you you can buy an airgun that can shoot .50 caliber slugs, arrows, or shotshells, and let you fire a combination of any two of them without changing anything on the gun?
Well, folks, it's true, the Seneca Double Shot is a double barrel side by side .50 caliber airgun that has the ability to load one barrel with a .50 caliber slug, and the other barrel with shot, or an arrow.
The flexibility of this gun is unheard of in the airgun world. In firearm history many years ago they made what was called a Cape Gun, it was a double-barreled side by side firearm that had a rifled barrel for long-range shots against large game, and a smoothbore barrel to be used against smaller game at closer ranges, without having to carry two different guns.
The heart of this innovative rifle is a 244cc pressure tube that fills to 3000psi (200bar) giving you 5 full power shots per fill. Capable of shooting over 1130 fps with shotshells, over 600 fps with .50 caliber round lead balls, and 425 fps with Air bolts.
With its historic design, its finely crafted hardwood stock, and exquisitely blued steel it harkens back to a time when people thought their guns should be both beautiful as well as functional.
Why We Like It
The double-barrel system allows you a second follow-up shot without reloading, and also allows you the flexibility to have 2 different types of hunting loads on hand ready for bird or fur.
The rifle comes with screw-on chokes, a fill gauge, an ambidextrous hardwood stock, and uses a standard foster quick disconnect fill adapter.
Things to Consider
The Double Shot does not have a rear sight, just a front bead sight like most firearm double-barrel shotguns. You can buy an optional scope rail to mount an optic of your choice. You can not fire both barrels at one time, you have to flip a barrel selector to fire the second shot but it only takes a second.
9. Seneca Wing Shot II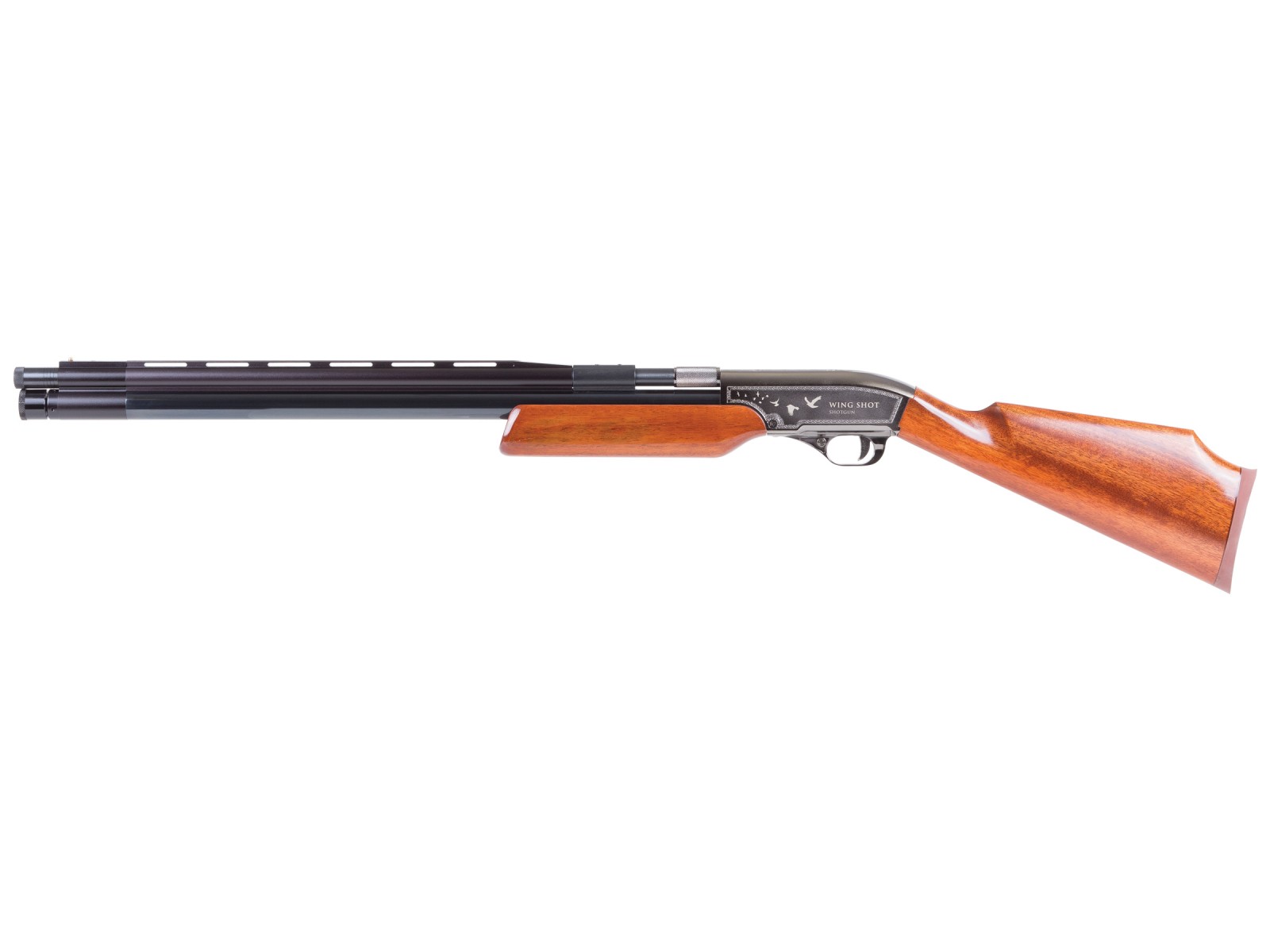 Product Details
The Seneca Wing shot II is an ornately engraved, and well-balanced single barrel airgun that is capable of shooting either shot loads or .50 caliber round ball or pellets at speeds of over 1130 fps generating up to 360 ft lbs of energy with 126-grain ammo. Making it the perfect airgun for shooting quail or dove-sized birds, squirrels, or other small game, but also able to take larger game and even trophy whitetail deer with .50 caliber lead ammo.
But the flexibility does not end there, you can unscrew the shotgun chokes and load Air Venturi Air bolts, and launch arrows at speeds of up to 500 fps, and 238 ft lbs of energy, giving you great accuracy and incredible knockdown power.
Weighing less than 7.5 lbs, the smoothbore Wing shot II features an ambidextrous hardwood stock, and soft rubber buttpad, a crisp 2-stage trigger, a bead front sight, 5 consistent powerful shots per fill, and a 1-year warranty.
The flexibility and power is reason enough to buy the Wing shot II, but the fine craftsmanship and attention to detail would be another reason to add this airgun to your collection.
Why We Like It
Weighing less than 7.5 lbs, and the flexibility to shoot birds, small game, medium, and even trophy-sized large game with the same gun is truly amazing. The ventilated rib over the barrel aids in a faster and more precise sight picture on your target than just a plain bead, like some shotguns.
The finely finished hardwood stock and deep rich bluing all add to the appeal of the Wing Shot II, they "just don't make guns like that anymore '' is an understatement. The 1-year warranty is just icing on the cake.
Things to Consider
It is a single shot shotgun, you will want to install the screw-on choke to get the best pattern for bird and small game hunting. You can not shoot slugs or arrows without removing the choke tube, but once you have you can shoot slugs, round balls, or arrows without any modifications.
10. Seneca Dragon Claw Ready-to-Hunt Combo
Product Details
The Seneca Dragon Claw Ready-to-Hunt Combo is an all-in-one kit for the person who is new to pre-charged airguns and big bore airgun hunting.
Everything you need to get started and go hunting has already been selected and matched to the gun to give you the best big-bore hunting experience possible. The work of filling the rifle is now done with an easy to use portable electric compressor, 100 lead bullets are included, 6 carbon fiber Air bolts, 3 razor-sharp broadheads, a tool to protect your hands while installing them, a quiver to mount to the gun to hold the arrows, and a 4-12x scope all in one package.
The Air Venturi portable compressor uses household current, and 12 volts DC to quickly fill your gun both at home and in the field. The compressor is capable of filling guns up to 4500psi (310bar), as you buy other pre-charged airguns (and you will), you do not have to buy a way to fill them as this pump will work for any precharged airgun on the market if you have the correct fill probe for the guns that do not use a foster fitting.
The Mantis 4-14 power scope with adjustable objective and mil-dot reticle is perfect for use with both the arrows and the lead bullets. The UTG bipod gives you a stable platform from which to shoot.
The lightweight Air Venturi Arrow quiver mounts to the gun and holds the bolts securely ready for action. The Air Venturi broadhead wrench protects your hands while installing the 3 razor-sharp broadheads onto the bolts for hunting big game. To round out the package, a box of 100-count 177 grain .50 caliber round lead balls is also included.
Why We Like It
Buying a compressor is normally a "buy once, cry once" item, meaning you spend the money once buying a quality item, and with proper maintenance, you should not have to spend that money again. Including the Nomad II compressor in this combo is a game-changer. It makes using and owning your precharged airguns much more enjoyable as it gets the most expensive support equipment out of the way.
Everything you need to hunt big game with an airgun is included in the package, no second-guessing, no hassle returning wrong purchases because you thought that was what you needed.
Things to Consider
There is not much to say negative about the kit, one owner mentioned that there should be more detailed instructions for people that are not mechanically inclined. The Dragon Claw is steel and wood, it weighs 8.5 lbs without anything on it, when you add the scope, quiver, and arrows, it will be close to 10 pounds.
Common Questions
What can you hunt with a .50 cal air rifle?
What you can hunt depends on a few things; what is legal to hunt in your area, what projectile you are using, and the velocity it is traveling. But the 50 cal allows you a lot of flexibility in the projectiles you have available.
Some of the 50 caliber air rifles are smooth bore so you can shoot birdshot charges and hunt small vermin, birds, doves, quail, and squirrels. You can load air bolts in the airgun no matter if it's smoothbore or rifled, and use a blunt-tipped arrow to hunt rabbits and other similar-sized game.
Moving up to the round lead balls, or conical slugs, and broadhead tipped Airbolts, now you have the ability to take any game that walks the planet with a properly placed bolt or bullet. There have been videos posted online of people harvesting Cape Buffalo, which can weigh over 2000 lbs. People have used air rifles to harvest American Bison as well.
In recent years commercial elephant hunting has taken many hits from public outcry condemning the practice. But in many African countries, they do allow limited LEGAL elephant hunting for a very hefty fee that goes toward elephant conservation. The license to harvest an elephant can be as much as $70,000 USD depending on the country, and the size of the elephant.
We have not found any references online of anyone harvesting an elephant with an airgun, but in the past, people have taken elephants with traditional archery equipment that shoots with a much lower velocity and energy than an Air bolt fired from a modern big bore airgun. So theoretically an elephant could be taken with a .50 caliber air rifle with the right projectile.
What's the most affordable .50 caliber air rifle?
Affordability is a term that normally does not go in the same sentence with .50 caliber rifles, but there are companies always trying to get a better product into the hands of shooters at a lower cost.
The least expensive .50 caliber air rifle Pyramyd Air sells at this time is the Umarex Hammer. It is a synthetic stocked 2 shot precharged pneumatic air rifle that offers great accuracy and power at a price that is well below other rifles of the same caliber.
The rifle is only part of the package that needs to be figured as an expense, how will you fill the rifle to the 3000-4500psi that it needs to operate? Hand pumps are the least expensive option, and will do the job, but with a lot of effort on the shooter's part. Small portable electric compressors are coming onto the market every day at a lower and lower cost. We have recently seen one that uses rechargeable Lithium batteries from a handheld drill to power the compressor while out in the field.
How powerful are .50 caliber rifles?
Asking how powerful something is will always get different answers.We will try to answer the question with things most people can relate to.
With current .50 caliber PCP air rifles getting up to 800 ft lbs of energy, we will use that as a benchmark. Most people are familiar with the .44 magnum pistol cartridge, used by fictional police Detective Dirty Harry Callahan portrayed by actor Clint Eastwood.
The .44 magnum cartridge generates about 800 ft lbs of energy on some of its medium power loads. The round will shatter cinder blocks, penetrate the doors of modern cars if it doesn't hit any of the rigid internal braces, and penetrate the interior walls of homes. Big bore air rifles are most definitely not your granddad's Red Ryder BB gun, and should be treated with great care in choosing your target, and what is beyond your target.
Many deer and other game animals have been taken by hunters with the .44 magnum cartridge with both carbines and handguns. So it is known as an ideal cartridge for short to medium-range deer-sized game animals, and because of the big slow-moving bullet, it is not easily deflected by the wind or by small brush that may be between you and your target.
Since the .50 caliber air rifles shoot a similar weight bullet and velocity as the .44 magnum, you can expect similar performance.
Shop for Best .50 Air Rifles