In 2008 Missouri became one of the first states to legally allow airguns to be used to harvest big game. Since that time the advancements in airgun technology have progressed in leaps and bounds much to the delight of large game air rifle hunting advocates.
Today we are blessed with many choices of big bore rifles for hunting, single shot, repeaters, and they are available in several calibers from .257 caliber up to .615 caliber, allowing you to choose the best rifle for your intended game.
Many are made with futuristic lines and durable modern lightweight synthetic stocks, while other rifles are made with beautiful wood and blued steel for people that want a more traditional styled hunting arm.
With the growing popularity of big bore airguns, the choices available are becoming more diverse every day. Traditional or modern style, you are sure to find one that will check all of the boxes of what you need in a big bore.
Big bore rifles are perfect for:
Hunting game animals from white tail deer to elk
Wild hogs
WIld bear
Predatory animals such as coyotes
Control of larger nuisance animals in urban areas
Top 10 Best Big Bore Air Rifles
1. AirForce Texan, Carbon-Fiber Tank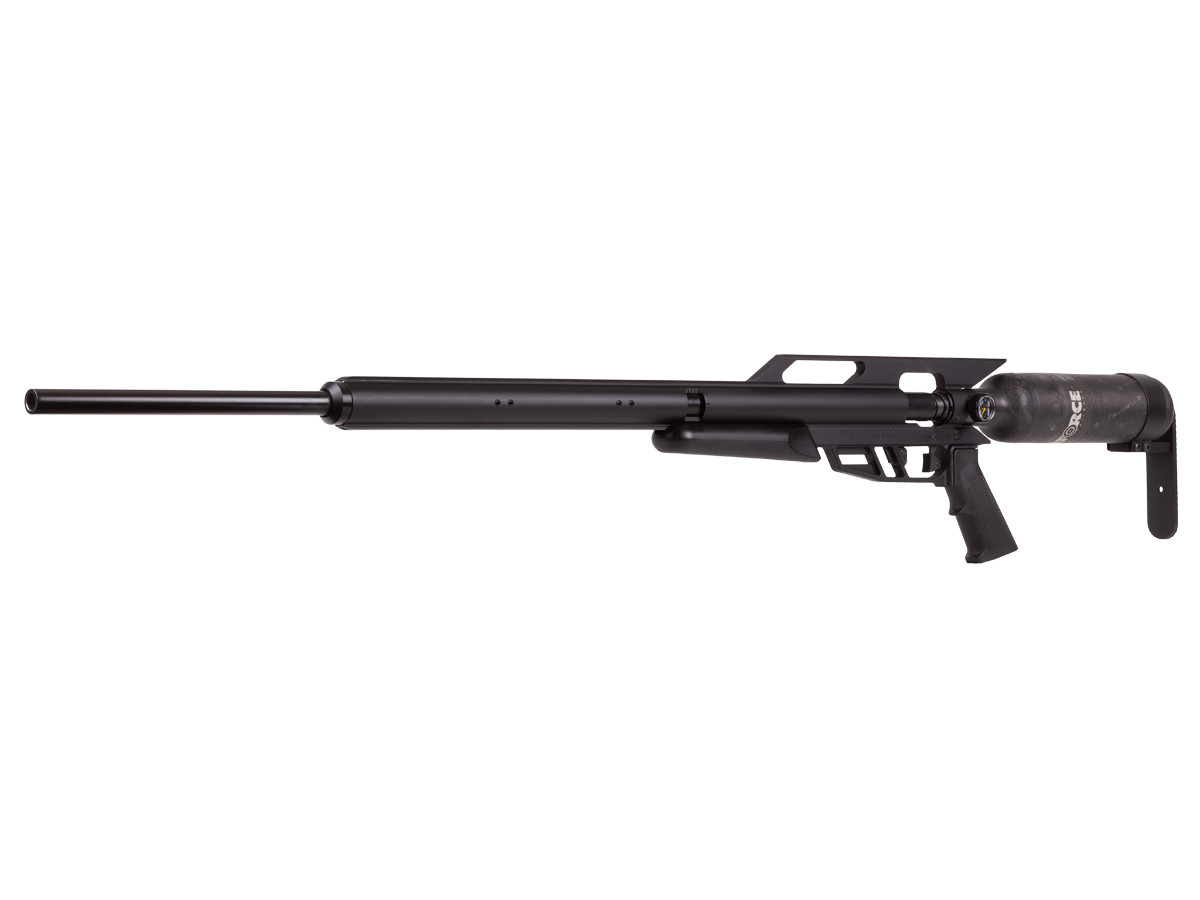 Product Details
Made in the heart of Texas, the Airforce Texan has been improved with the addition of a 3600psi (250bar) carbon fiber tank onto their already amazing AirForce Texan. The carbon fiber tank with its updated TX2 valve technology has boosted the power of the Texan to over 800 ft lbs of energy in .50 caliber, it also shaved an amazing 20% in weight from the standard Texan model.
The 34-inch German-made Lothar Walther barrel allows the bullet to develop more velocity than a shorter barrel, giving you more knockdown power.
With more and more states allowing airguns to be used legally to hunt big game each state has instituted minimum power and velocity requirements, the Airforce Texan far exceeds the minimum requirements for hunting.
Why We Like It
The Texan weighs a feathery 6.12 lbs without the scope and comes from the factory with a crisp light 2lb trigger pull. The power is adjustable to fine-tune your loads for optimum accuracy.
The smooth side lever cocking offers easy access to loading and is almost effortless. The design is ambidextrous, you can operate the safety easily with your trigger finger, and the buttstock allows for some adjustment in length of pull, and rotates to allow some cast on or cast off.
Things to Consider
The Texan fills to 3600psi (250bar) so a fill source of high-pressure air is needed, a small portable compressor is suggested, but it can be filled with a hand pump if needed.
The rifle does not come with open sights, so you will need to mount a scope of your choice. It is not suppressed, so it will be louder than rifles that do have suppressors.
2. Umarex Hammer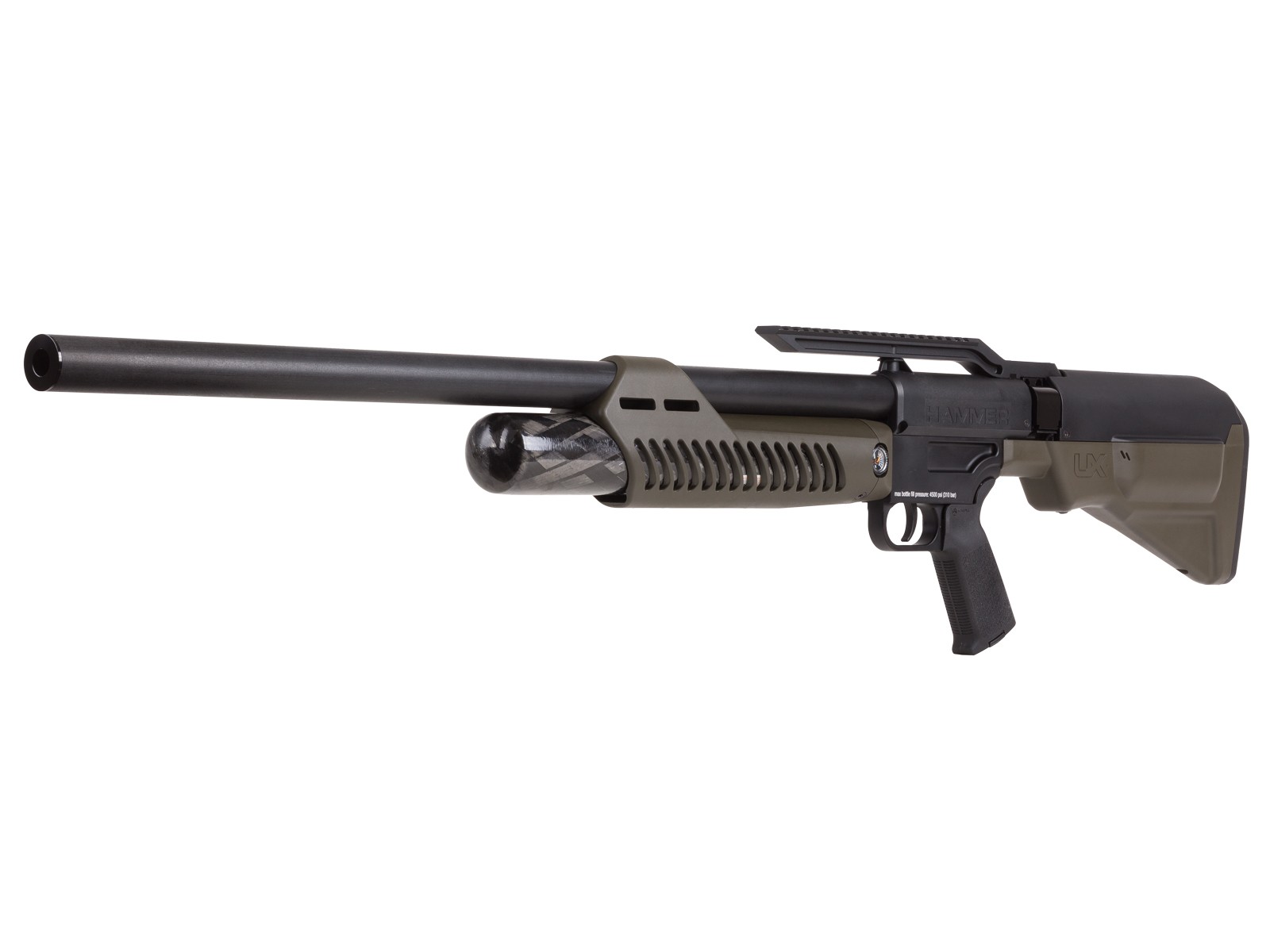 Product Details
The Hammer is a magazine-fed .50 caliber bolt action repeating air rifle, (it actually uses .51 caliber slugs) that is capable of delivering 3 full power regulated shots. Shooting a massive 550 grain weight slug at a whopping 700 ft-lbs of energy. With a 4th shot available at a slightly less energy level.
The Hammer uses a straight pull speed bolt design that operates with a light 2 pounds of effort. The rifle also incorporates a 3 step safety that consists of a manual trigger safety, a hammer block safety, and a magazine lockout that prevents the rifle from being fired without a magazine being inserted. Each Hammer magazine has a 2 round capacity, so the company included 2 magazines to keep the shots coming.
The German-made precision .51 caliber barrel is fully moderated and is reported to be able to put its first three shots within 1 inch at 50 yards. With the level of accuracy and power generated by the Umarex Hammer, you have the ability to take any large game you may legally hunt with an air rifle.
Why We Like It
It uses an easy-to-operate straight-pull bolt to effortlessly load and make ready. With 2 self-indexing magazines to easily follow up with additional shots. The rifle is regulated from 4500 psi to 3000 psi for consistent accurate shots. The barrel is shrouded to give some level of sound suppression.
It has 3 M-LOK slots in the forend for accessories, and an AR-15 compatible grip you can change to your choice of grip style.
Things to Consider
The rifle fills to 4500psi (310bar) so using a small portable compressor is best to give you the most shots per fill. It does not come with a scope or mounts, but it does use a standard Picatinny rail mount.
The rifle is designed to use .51 caliber projectiles, so make sure you buy the right ammo. Being a very powerful air rifle, it has a lot of recoil most shooters do not expect from an air rifle.
3. AirForce Texan SS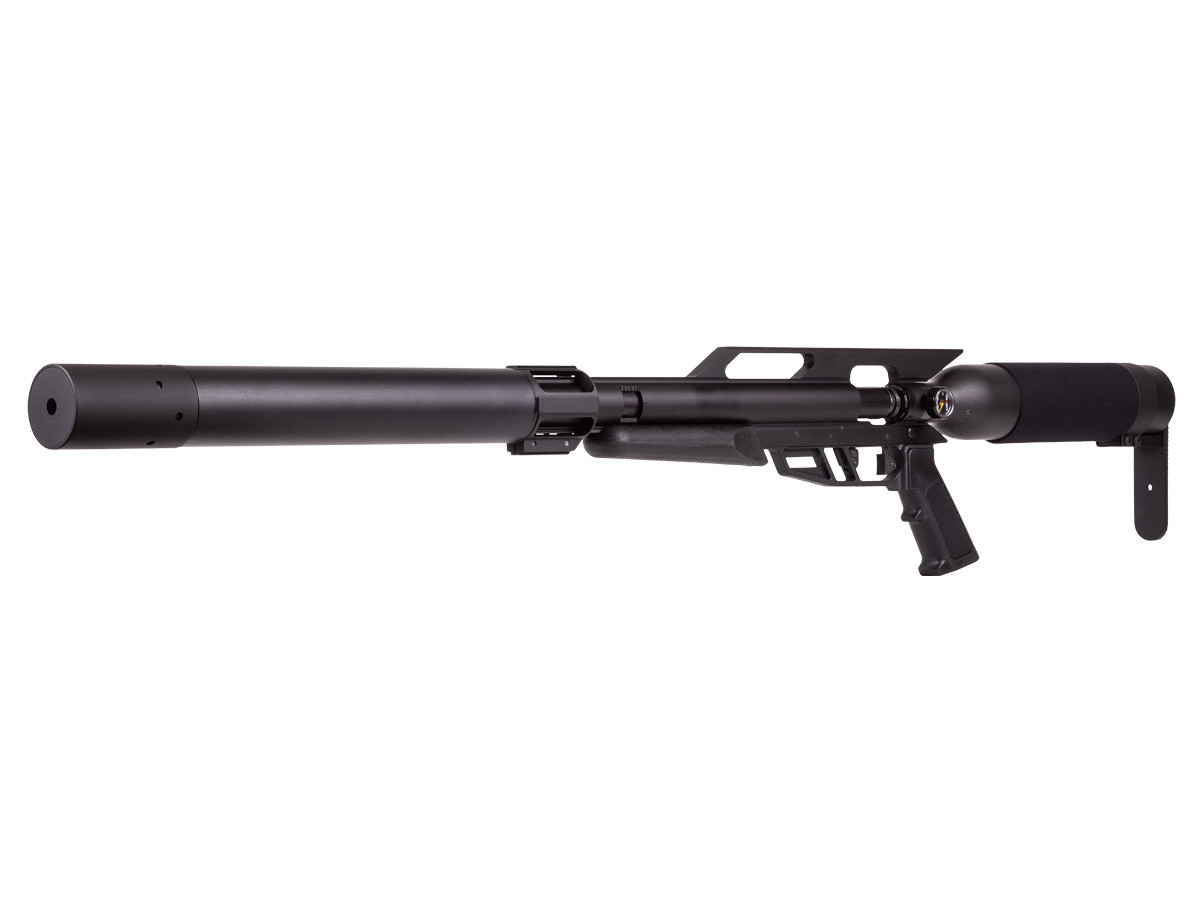 Product Details
When AirForce Airguns introduced the Texan big bore air rifle it took the market by storm as the first production big bore air rifle. Many things have been said and written about it since then, but being quiet was not one of them. Until now.
The Texan SS, was AirForce's first silenced option for big-bore fans. The Texan SS features a fully-shrouded carbine length barrel with Sound-Loc System technology, that makes the rifle easy on the ears.
The Texan SS keeps the power hunters' demand, but with quieter shots. The 490cc air cylinder has a max fill pressure of 3000psi (200 bar) and can launch .45 caliber rounds at speeds up to 930 fps. With rounds this large and AirForce's updated TX2 valve, this airgun (in .457) can produce up to 400 foot-pounds of energy at the muzzle.
Why We Like It
The Texan SS is made in the USA and comes with a lifetime warranty, the rifle is fully moderated for quieter shots. It can be operated either right or left-handed.
The Texan SS is available in .30, .357, and .457 caliber, so you can choose the best option for your intended game. It fills to 3000psi (200 bar) so using a hand pump is an option for filling the rifle if you are in remote locations.
The rifle uses an extended 11mm dovetail mount so you can use longer, more powerful scopes as sighting options, or even night vision devices or video cameras.
Things to Consider
It does not come with a scope or mounts, so you will have to provide them. The length of pull is not adjustable with the aluminum tank. It weighs 8.4lbs without a scope, with a scope you will be over 9 lbs, but the extra weight will help absorb some of the recoil from the heavy .457 caliber bullet.
It is a precharged pneumatic so you will need a fill source for 3000psi compressed air.
4. AirForce Texan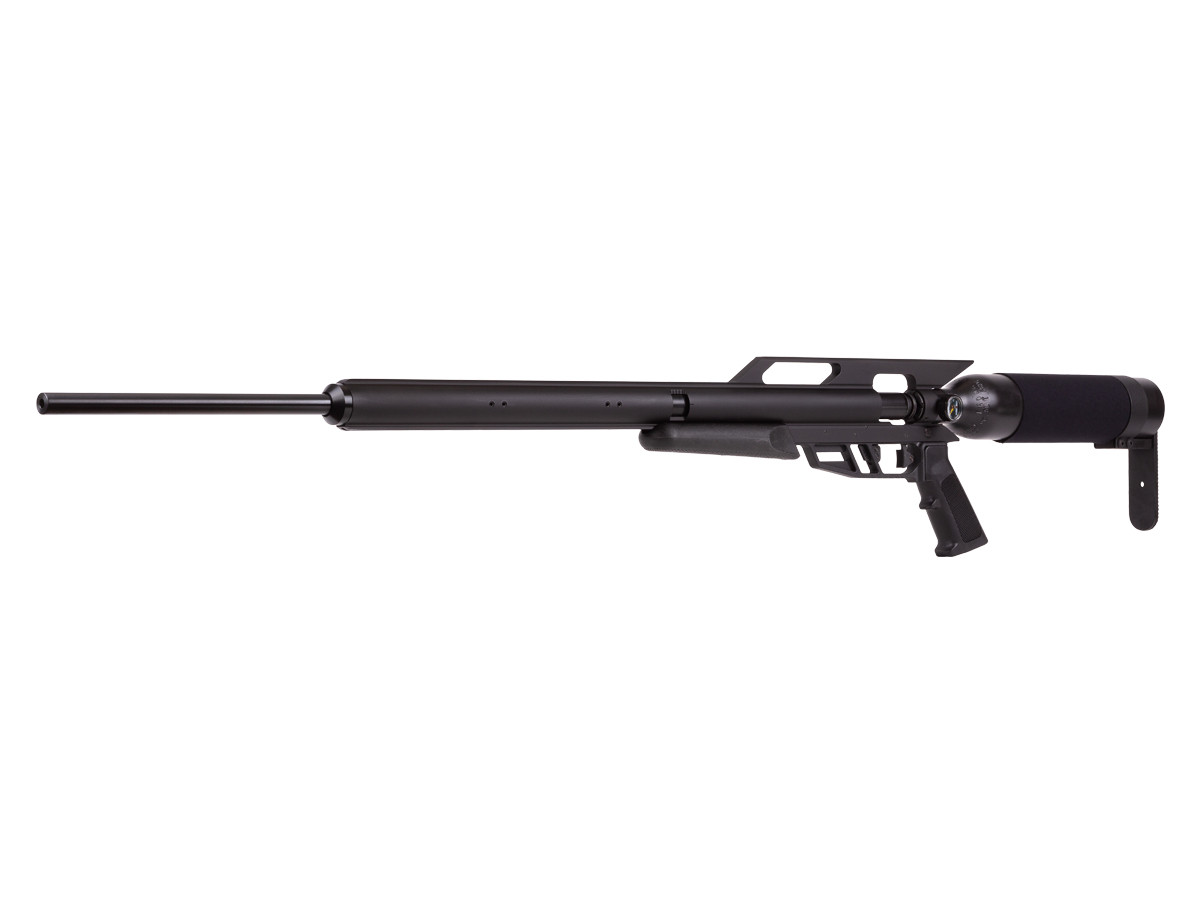 Product Details
This is the third Texan to make this list of the top 10 big bore airguns, while you may think, oh it is just the same gun over and over, that is not true.
This AirForce Texan is available in 5 different calibers:
.257 (6.5mm) for long-range precision shooting
.30 (7.62mm) caliber for better resistance to wind drift and more power for slightly larger animals at longer ranges
.357 (9mm) caliber for still larger game out to about 100 yards
.457 (11.6mm) caliber for even larger game that requires even more power
and finally .50 (12.7mm) caliber for the largest game out there
While this Texan shares some of the same features as the other AirForce rifles such as the famed Lothar Walther barrel, the same crisp 2 stage 2lb trigger pull, the same easy to cock side lever, and being left-hand shooter friendly.
But it also brings its own set of advantages over the other guns, the longer barrel helps give it over 700 ft lbs of energy since it is not moderated it weighs less than other Texans tipping the scales at an easy to carry 7.6 lbs. The rifle also uses a 490cc 3000psi (200bar) bottle making it hand pump friendly.
With over 700 ft lbs of energy in .50 caliber, less than 8 lbs weight, and fillable by a hand pump, the Texan is ready for any remote adventure or hunting trip you have planned.
Why We Like It
The rifle is available in .257 and .30 caliber, ideal for long-range hunting and target shooting at distances the larger calibers are not capable of. It has an extended optics rail for larger scopes or night vision devices.
It has a lifetime warranty and is built here in the USA. The power is adjustable, as is the length of pull, and the adjustable buttstock can adjust for some cast on or cast off if desired. It is lighter weight than other Texan models making it ideal for hunting.
Things to Consider
The rifle does not come with a scope or mounts so you will have to provide one. It is not moderated so it will be louder than air rifles that do have built-in moderators.
The larger more powerful calibers will have more recoil than some inexperienced shooters are expecting from an air rifle. Being a pre-charged pneumatic air gun, it has to have an external fill source to fill the tank to 3000psi.
5. Benjamin Bulldog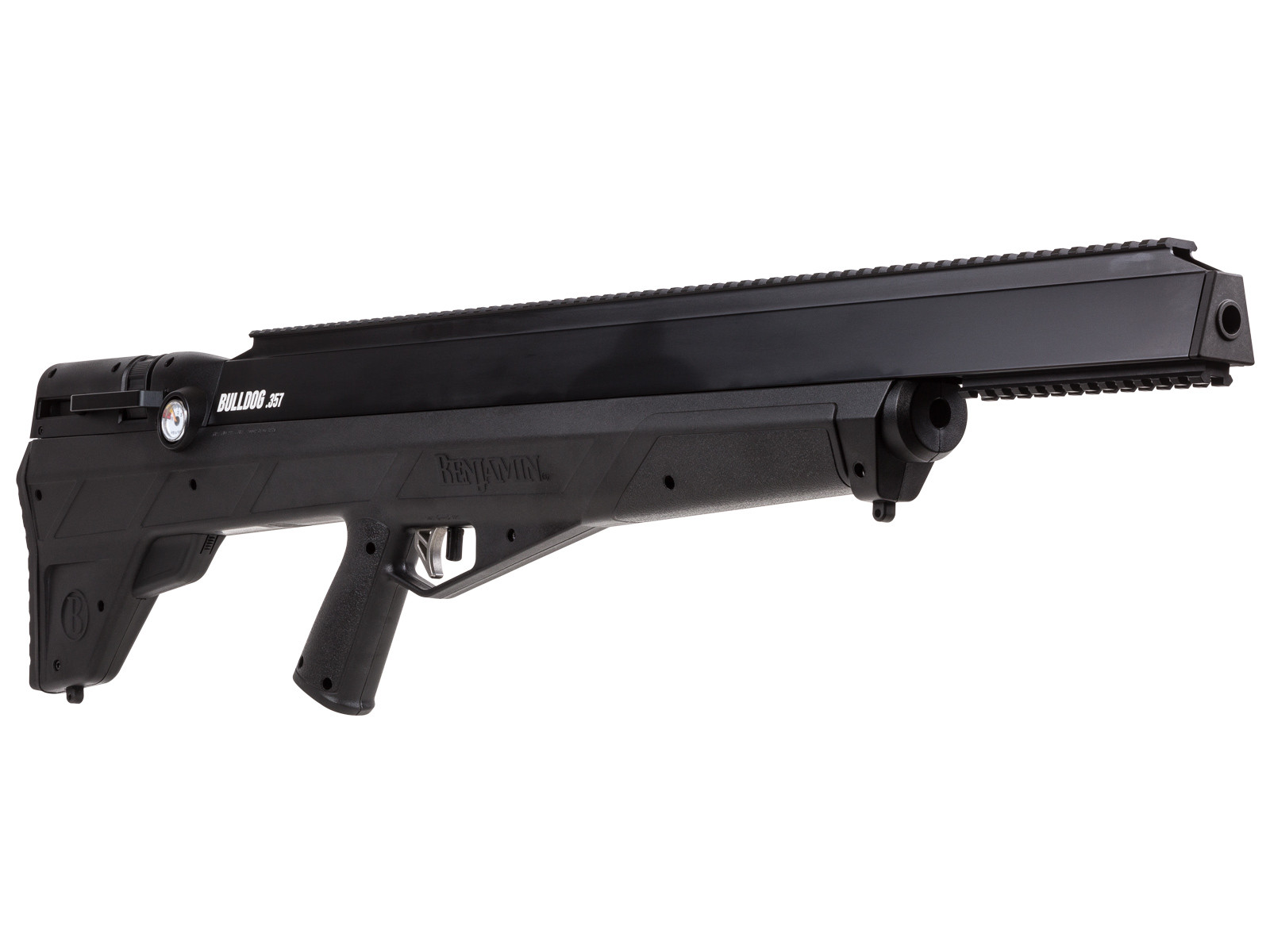 Product Details
What do you get when you put a 28-inch barrel into a 36-inch long air rifle? You get a bullpup!
A bullpup is a gun where the action has been set back to the rear of the stock allowing you to have the benefits of a long barrel rifle (more velocity, and more power) without having a gun that is almost as tall as you.
The Benjamin Bulldog was introduced in .357 caliber (9mm) it proved itself to be a very effective and accurate gun capable of harvesting medium to large game effectively. Now Benjamin has stepped up their game and is offering the Bulldog in .457 caliber (11.6mm) while at the same time adding 100cc more air capacity and more than double the power.
The .357 rifle will give you 10 shots per 3000psi fill, while the .457 will give you 3 shots at over 450 ft lbs of energy. The .357 uses a 5-shot rotary magazine, while the .457 uses a 3-round gravity-fed magazine that loads from the top like the internal magazine of a bolt action rifle.
Both calibers can be ordered with the side lever on the left for left-handed shooters. It has a 26-inch long Picatinny rail that will use any AR-15 height 37mm tall optics and has enough rail space for optics, night vision, and video camera mounting if desired.
If you want a powerful, compact hunting airgun for both medium or large game the Benjamin Bulldog is the rifle for you.
Why We Like It
With a total length of no more than 36.3 inches, it is very compact and easy to handle. The side lever is easy to operate, and the SoundTrap trapezoidal-shaped suppression chamber reduces the bark to a reasonable level.
It comes with a 5-year warranty, and the 26-inch optics rail has room for night vision and cameras at the same time. With a fill pressure of only 3000 psi and a 440cc tank, it is hand pump friendly.
Things to Consider
The side lever is not user-serviceable to move it to the left side, it has to be done when you order the rifle. The small tank size and high power of the rifle only give you 3 shots in .457 caliber. The rifle does not come with a scope or mounts so you will have to provide one. The trigger is nonadjustable but is only 3 lbs, just right for a hunting rifle.
6. Seneca Dragon Claw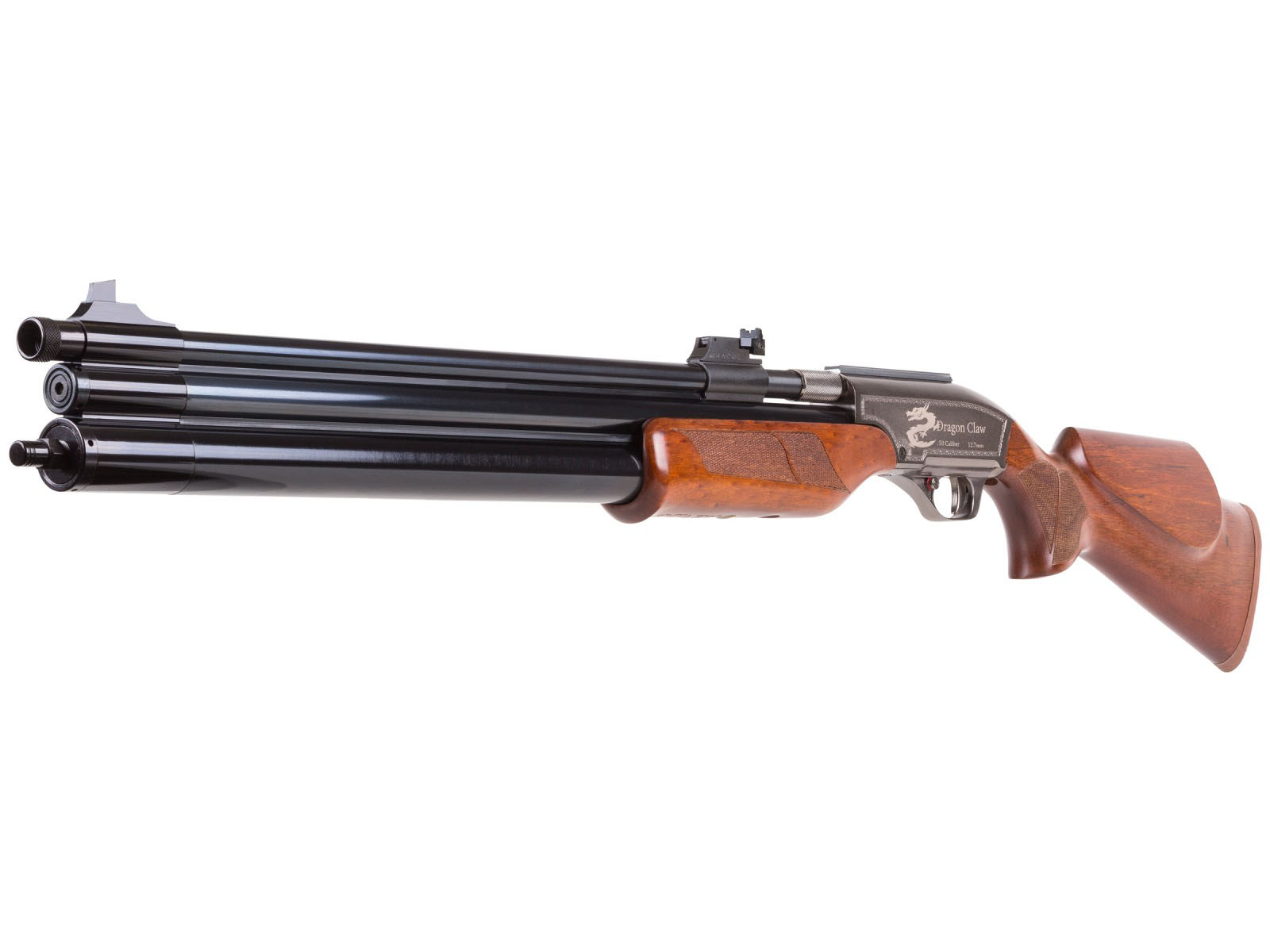 Product Details
Unlike some of the more utilitarian air rifles that are on this list, the Seneca series of airguns have beautifully blued steel and engraved actions and gorgeous checkered wooden stocks.
The .50 caliber Seneca Dragon Claw air rifle has some features that are not found on other big-bore precharged pneumatic air rifles.
It is one of the few that come with adjustable iron sights so you don't need to buy a scope, and hunters that operate in densely wooded areas actually prefer to use open sights as it is faster to acquire and take aim at a moving target at a relatively close distance than it would be if you were using a scope that magnifies the image.
The Dragon Claw has 2 power settings that can be chosen as you cock the rifle, just cock the hammer to the first click, and that is low power, then pull it rearward to the second click and that is full power. It also has a separate loading gate so you can safely load a round without cocking the action. All of this is fed by a dual 500cc, 3000 psi air reservoir that will give you about 20 shots per fill.
The Seneca Dragon Claw may also use Air Venturi Airbolts so you have the option of using either field point tipped arrows for target practice, or razor-sharp broadhead arrows for hunting if your state allows. Pyramyd Air has an interactive map that will show you what game animals are legal to be hunted with an airgun within the United States. (Please consult your State Wildlife Management for the most up-to-date laws concerning airgun hunting.)
The Seneca Dragon claw .50 caliber is a very capable and powerful airgun that will serve you well, and look good while doing it.
Why We Like It
The Seneca Dragon Claw comes with adjustable open sights and offers the option to mount an optic (not included) if you desire. The rifle has a 500cc air reservoir that uses a standard foster quick-disconnect fitting that allows you to fill to 3000psi, so you can use a manual hand pump to fill the rifle if other fill sources are not available.
Compared to the price of other big bore air rifles, it is very affordable and you get a lot of value for your money. The Dragon Claw stands out from many of the other big bore air rifles because of the nicely finished hardwood stock, with checkered pistol grip and forearm, engraved receiver, and deeply blued finish over the rest of the rifle.
Things to Consider
It is a single-shot rifle. Because of the location of the loading gate, longer scopes may interfere with loading a projectile, so short compact scopes are suggested if you want to use optics on the gun.
While it can be shot left-handed, the raised monte carlo cheekpiece is geared for a right-handed shooter. It is hard to describe how beautifully finished the rifle actually is, it is almost too nice to take hunting.
7. Seneca 44 909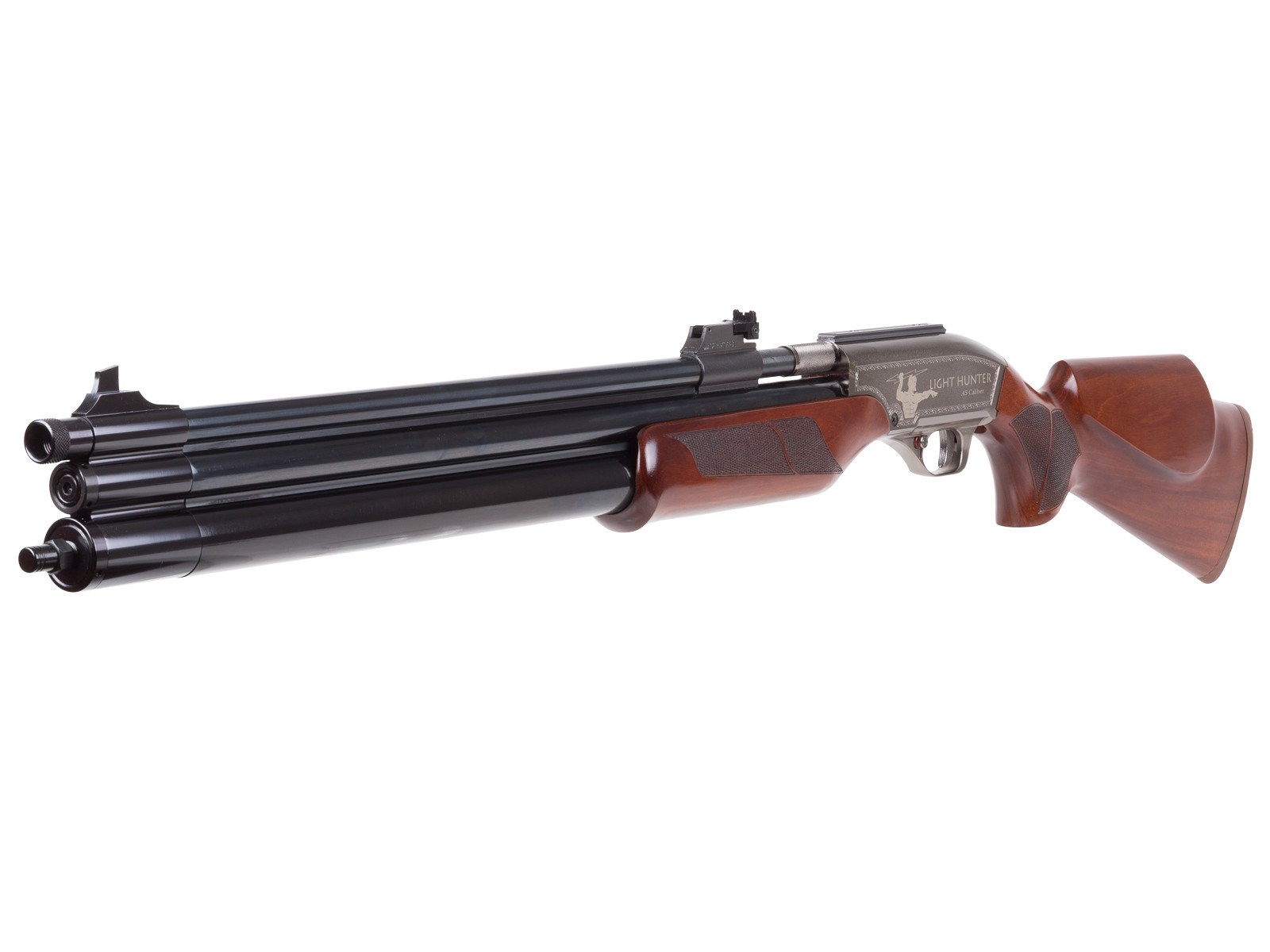 Product Details
You will see the name Seneca on this list again, they are a family of airguns that are like a set of golf clubs, you wouldn't use a 4 wood to sink a 2 ft putt, nor would you tee off with a putter.
No one air rifle is capable of doing everything well, it may shoot long distances accurately with the power for medium-sized game, but not have as much power as a larger caliber meant for larger animals at shorter ranges.
The Seneca 909 Light Hunter is just that, a light hunter, it is designed to be used on the medium-sized game and uses .45 caliber projectiles with over 237 ft lbs of energy. It shares the same action, features, craftsmanship, and attention to detail as the other Seneca airguns, just in a smaller caliber.
Each member of the Seneca family of air rifles has a beautifully etched receiver with the name, caliber and an image of its namesake. The Seneca Light Hunter is sure to be a treasured addition to your airgun collection.
Why We Like It
The Seneca Light Hunter appeals to airgunners that prefer traditional wood and steel airguns, it is reasonably priced and you get a lot of value for your money. The quality of workmanship and finish belies its modest price.
The adjustable open sights and 3000 psi fill pressure and standard foster fill connection will appeal to the hunters that want an air rifle that is dependable, and easy to use when in the backcountry.
Things to Consider
You can mount an optic if you wish, but because of the location of the loading gate, a compact scope is suggested. The rifle can be shot left-handed, but the raised cheek piece is geared for a right-handed shooter.
It is a single shot, but most big bore air rifles are. It is not moderated, because of the extreme power it generates, it is very loud for an air rifle.
8. Benjamin Bulldog Kit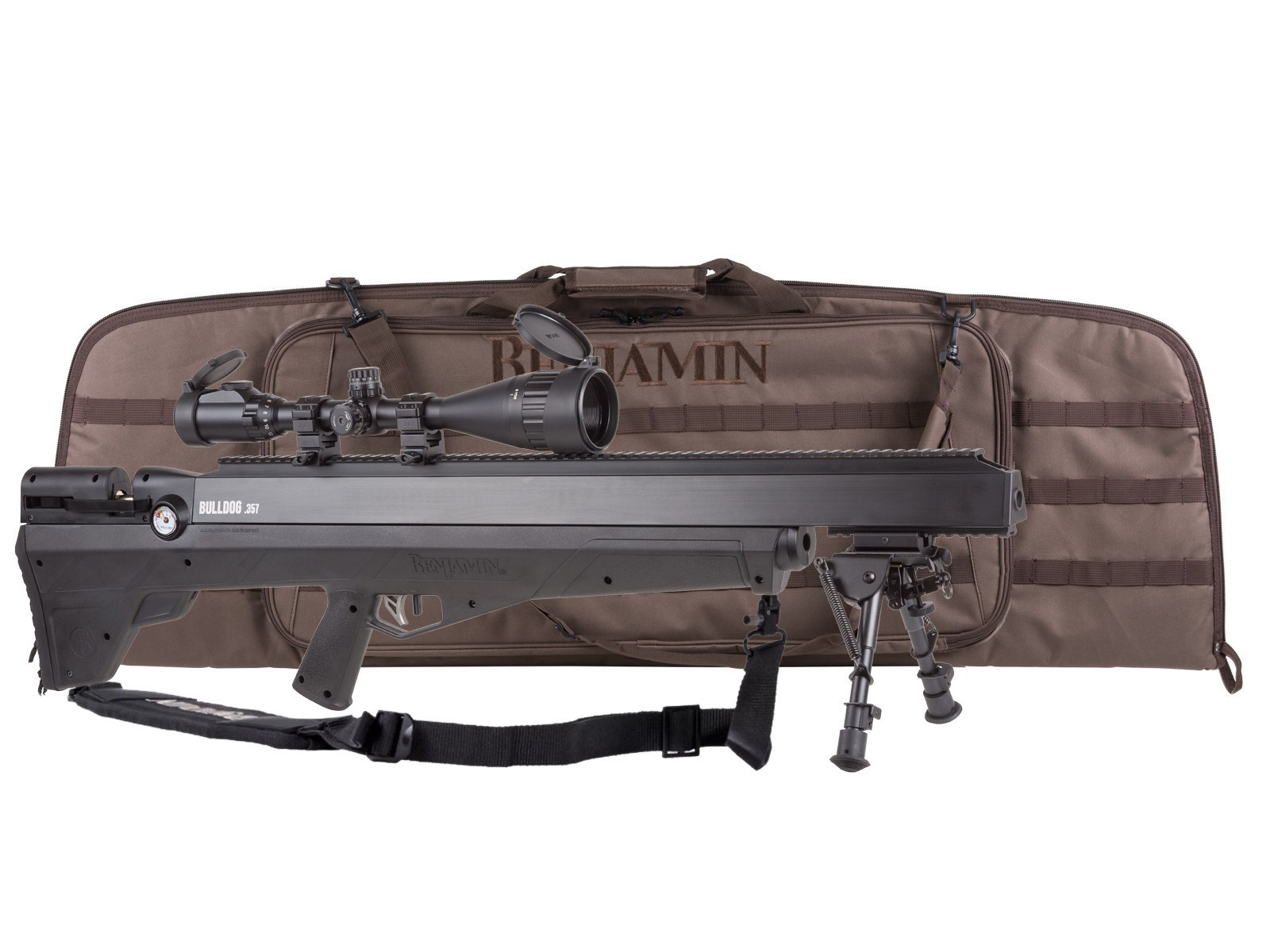 Product Details
Yes, we mentioned the Benjamin Bulldog bullpup earlier, but that was the rifle alone, this is a complete kit - you get the rifle, a 6-20x50 scope with an adjustable objective and mounts, a sling, a bipod, and a Benjamin embroidered padded case to protect your investment and its accessories.
The rifle is the proven .357 caliber (9mm) Bulldog, they have matched a Centerpoint 6-20x50mm illuminated scope that includes the battery and scope mounts, a padded case which includes a removable shoulder strap and wrap around handles, and a roomy outer pocket to carry your other accessories and bullets all in one well-protected package.
The case measures 15 inches tall by 48 inches long, the outer zippered pocket measures 13 inches x 28 inches, and the case has 3 rows of MOLLE webbing to attach other web gear you may need.
The hard part of assembling the kit has been done, all you have to do is choose your pellets or bullets, and your fill source and you are ready to hit the woods.
Why We Like It
Everything you need other than pellets and an air source is included. The case is large enough to accommodate the rifle with its accessories attached and is well padded to protect everything from knocks and damage.
The large outer pocket is large enough to carry ammunition or support tools, and possibly a high-pressure hand pump with a folding footplate.
Things to Consider
While the kit includes accessories for the rifle, it does not include a fill source, nor bullets/pellets. The case is well padded, but as a soft case, if something heavy is dropped on it, or it is subjected to a hard enough impact, the rifle could possibly be damaged.
While not as durable as a hard case, it does protect the contents well, the case can be used with other rifles they just need to be less than 48 inches long.
9. Seneca Recluse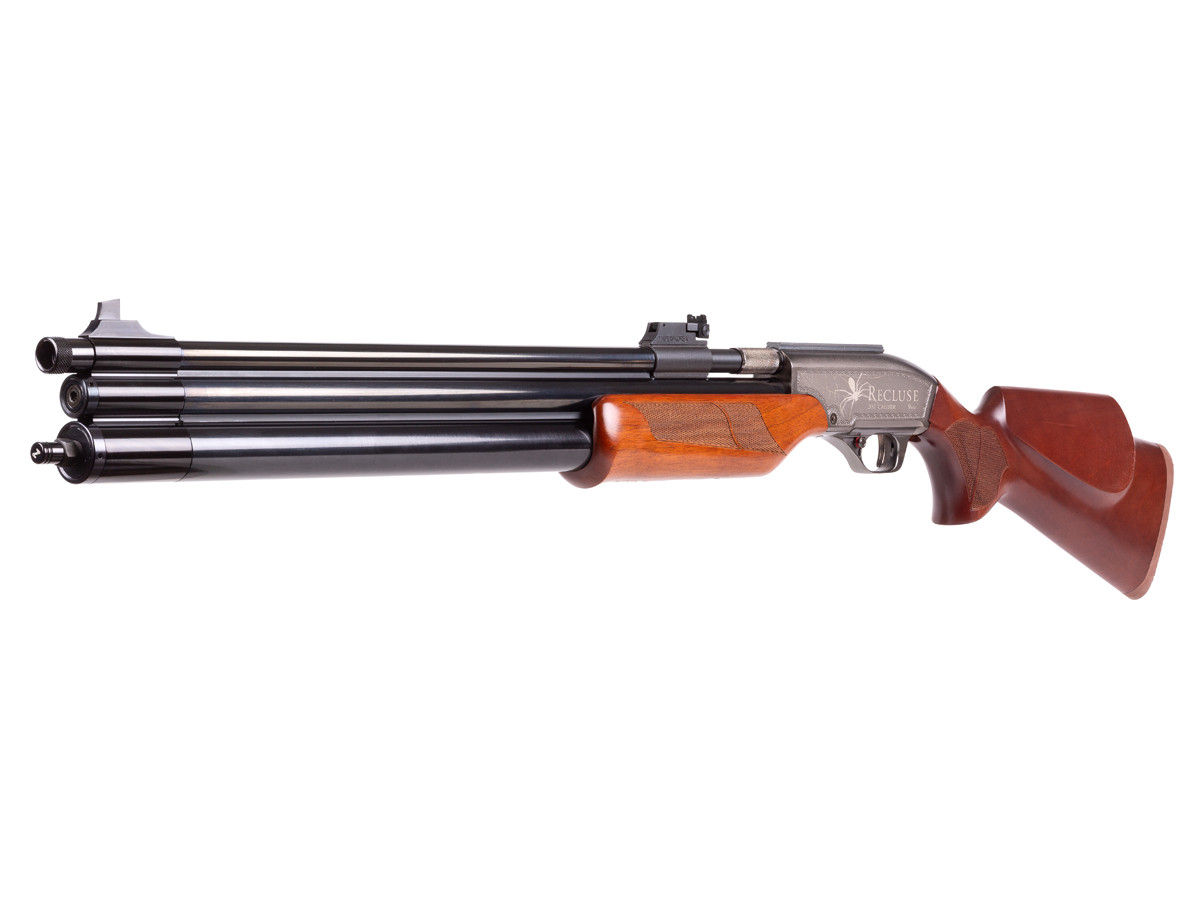 Product Details
The Seneca Recluse air rifle (there's that Seneca name again) is the .357 caliber (9mm) air rifle in the Seneca airguns, they all share the same basic platform and share the same luxurious build quality airgunners have come to expect from a Seneca airgun, but each comes in different calibers and power levels. So you know what you are getting when you buy an airgun in the Seneca line.
The .357 Recluse is designed for "smaller" big game, but still gives you the accuracy, power, and flexibility of using .357 round lead balls, .357 lead bullets or pellets, and the flexibility of using the Air Venturi Air Bolts that are made in .357 caliber just for this air rifle.
The .357 Recluse can be the perfect air rifle delivering the power, accuracy, shot count (21 shots per fill of the 500cc tank), and flexibility needed for your task at hand. The fact that it is a very beautiful and finely crafted air rifle is just icing on the cake.
Why We Like It
The Recluse is available in .357 caliber and fires with a maximum velocity of 983fps. The rifle fills to 3000 psi, with a 500cc dual tank, so it is hand pump friendly.
It comes with a fully adjustable rear sight, and an included 11mm dovetail rail for mounting your choice of optics. It has a straight pull side cocking knob with 2 preset power levels for you to choose from.
It has the ability to shoot the .35 caliber Air Venturi Air Bolts using field tips, or razor-sharp broadhead points.
Things to Consider
The stock is designed for right-handed shooters so may not be comfortable for left-handed shooters. The wood stock may be scratched easier than synthetic stocked rifles.
The Recluse is not regulated, so your air pressure drops after every shot so does your velocity. It is a .35 caliber air rifle so it attains less power than a .50 caliber air rifle, but you do get more shots per fill than a .50 caliber.
10. Hatsan BT Carnivore QE SL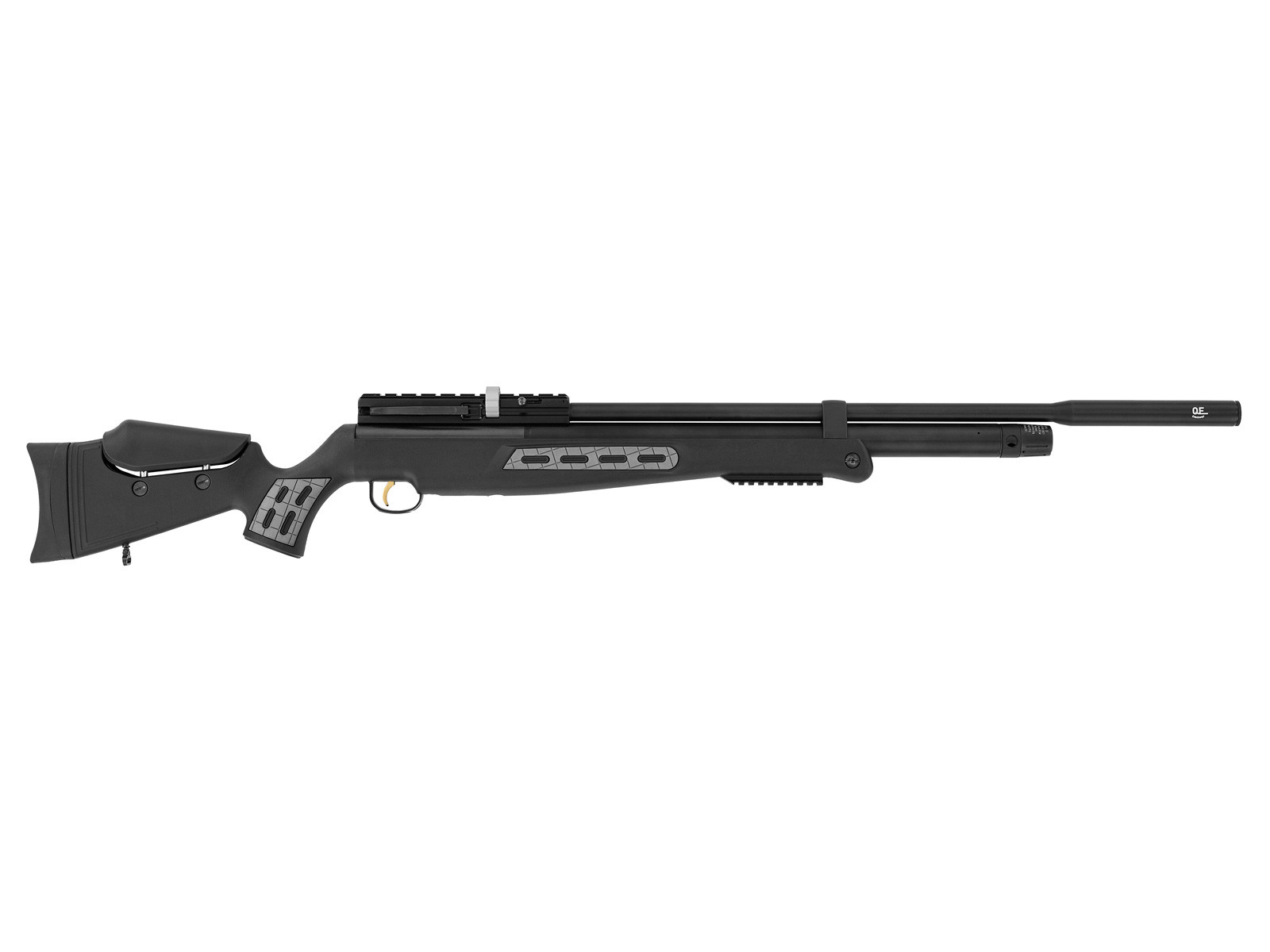 Product Details
The Hatsan Carnivore QE SL (Quiet Energy/Side Lever) is an update to their original Carnivore. The rifle is available in .30 caliber (7.62mm) and .357 caliber (9mm), it has an advanced polymer stock with an adjustable butt pad, and adjustable comb.
The updates include an easy-to-operate side lever cocking, and improved valving to give you more power (and who doesn't like more power?) The QE (Quiet Energy) barrel and integrated moderator reduce the noise level by approximately 50%.
The Carnivore uses the renowned Quattro adjustable trigger, a 255cc reservoir that fills to 2900psi (200bar) the reservoir is removable so you can carry extra charged cylinders in the field. You get about 21 shots per charge in .30 caliber, and 12 shots in .357 caliber before you need to either refill the gun or change the cylinder.
In either caliber, the Hatsan Carnivore is a serious hunting machine and definitely lives up to the Hatsan motto, Serious. Solid. Impact.
Why We Like It
First of all, it's a repeater and includes 2 of their metal magazines with the gun, 7 shots in .30 caliber, and 6 shots in .357, the rifle also incorporates an anti-double feed mechanism, preventing you from inadvertently loading 2 rounds into the barrel, a feature most repeaters don't have.
The Quattro trigger is adjustable, and the Quiet Energy suppression system makes it quiet as the name implies. The rifle fills to 2900psi, with only a 255cc cylinder, so it is hand pump friendly. The cylinder is removable for filling or carrying extras out in the field.
Things to Consider
The Carnivore is a solidly built air rifle, it weighs 9.8 lbs without a scope or mounts, but it does have sling swivels incorporated into the stock. Some owners say the hybrid scope rail is not standard 1913 Picatinny size and you should use the dovetail portion of the rail instead.
The rifle also uses a fill probe instead of a standard foster fitting so you have to be careful not to misplace the fill probe.
Top Hunting Big Bores
Common Questions
What can you hunt with a big bore air rifle?
There's an old joke that goes: You can shoot a mouse with an elephant gun, but it's not wise to shoot an elephant with a mouse gun.
You can shoot small game with a big bore airgun, but the damage to the game animal is sometimes to the point the meat is unusable. But you don't want to shoot an animal with a gun that lacks the power to humanely and efficiently kill the animal.
It has happened many times in Africa where both safari clients and professional hunters have shot dangerous game with firearms that were either marginal or completely inadequate for the size of the animal being hunted. The firearm lacked the power to kill the animal quickly and the animal killed the hunter before dying from the wounds.
In the airgun realm, "big bore" airguns come in calibers from .30 caliber (7.62mm) and larger. The most common calibers are .30, .357, .45, and .50 caliber. There are some custom airguns being built that are even larger caliber, but they are not yet in mass production by a major manufacturer.
The reason for the different calibers is to allow the hunter the ability of tailoring the caliber and power of the airgun to the size of the animal you are hunting. Smaller faster calibers for smaller game at longer ranges, and bigger heavier calibers for larger game at closer ranges.
Some of the states that allow airgun hunting for big game have mandated a minimum of a .30 caliber bullet weighing a minimum of 150 grains and having a muzzle velocity of at least 800fps, or any combination of bullet weight and muzzle velocity that will produce at least 215 ft lbs of energy at the muzzle.
You don't want to run afoul of the law, nor do you want to be inhumane to your quarry by using an inadequate caliber. Please consult your local Department of Wildlife and Fisheries for the most recent laws in your area.
What's the most affordable big bore air rifle?
Affordability is a term that normally does not go in the same sentence with big bore airguns but today we have an exception on this list.
The least expensive big bore airgun on this list is the Hatsan Carnivore, the list of its features is more inline with a rifle costing twice as much. It is a multi-shot repeater, is one of the few air rifles in any caliber that offer an anti-double feed mechanism, side lever cocking, suppressed, and comes with an adjustable stock and trigger.
The rifle is only part of the package that needs to be figured as an expense, how will you fill the rifle to the 2900psi or more that it needs to operate? Hand pumps are the least expensive option, and will do the job.
Unlike other precharged pneumatic airguns, the Hatsan only fills to 2900 psi, and has a 255cc air reservoir that is easily topped off by a hand pump, thereby making it an extremely affordable airgun. The cost of a Hatsan Carnivore and a hand pump is less than most of the other airguns on this list by themselves.
How powerful are big bore air rifles?
Asking how powerful something is will always get different answers. I will try to answer the question with things most people can relate to.
Big bore air rifles are most definitely not the .177 caliber multi pumps you had as a child, and should be treated with great care in choosing your target, and what is beyond your target.
Some big bore airguns are capable of generating more than 800 ft lbs of energy. At this power level it will shatter cinder blocks, and penetrate the doors of modern cars if it doesn't hit any of the rigid internal braces, and they will penetrate the interior walls of homes.
Several hunters have taken American Bison with big bore airguns, an adult bison can weigh over a ton. Having read the accounts of this being done, the bullet was powerful enough to pass entirely through the animal, and was able to impart enough energy into the animal to humanely dispatch it. A good rule of thumb is to pick a gun that produces two foot-pounds of energy for each pound of game. So if you are hunting 200-pound hogs, you would want a 400 foot-pound airgun.
Get the most from your big bore air rifles with these Big Bore Hunting Tips and check out other articles in our Hunting Guide.
Shop for Big Bore Air Rifles