Desert Eagle: The first blowback pellet pistol!
by B.B. Pelletier
Here is a pellet gun you can't buy for a couple of months, but I'm showing it to you now. Am I bad or what?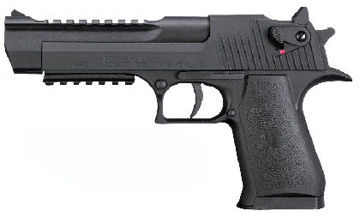 The new Desert Eagle pellet pistol from Magnum Research, Inc. is a full-sized handgun with realistic blowback action – the first for a pellet pistol.
Shown at the SHOT Show
The Desert Eagle from Magnum Research, Inc. is an ultimate big boy toy. It may not be the baddest pistol, there's always something bigger in the wings, but the Desert Eagle Mark XIX in .50 Action Express is a heckofa big gun, nevertheless. Now it's a pellet pistol, as well. And not just any pellet pistol!
The world's first blowback pellet pistol!
That's the claim, and I can't remember any other PELLET pistol with blowback. There are now several BB guns with blowback and many airsoft pistols, too, but this is a first for pellet guns. Blowback means the slide comes back with every shot, cocking the hammer as it goes. That lowers the trigger-pull weight needed to fire the gun. The 8-shot circular magazine will still be advanced by the trigger, so I'm not expecting a pull as light as the Crosman 600, but it should beat all guns that are double-action only.
Realistic recoil!
Let us not forget that with blowback comes the feeling of recoil. This is one of the greatest attractions for BB pistols like the PPK/S and the CP99 Compact. It's also a reason green gas airsoft pistols like the KSC G26C are so popular. Shooters LOVE that feel of recoil! Well, the Desert Eagle also has that feel – the first time in a pellet pistol!
Made by Umarex
Like every other realistic action pistol these days, this .177 caliber airgun is made by Umarex of Germany. They have made a name for themselves by creating the most realistic pellet and BB pistols that are exact copies of famous firearms. The Desert Eaqle has been popular in 6mm airsoft for a long time, but the advantage of a pellet pistol is greater accuracy at longer distances. Most Umarex air pistols, including this one, use metal 8-shot circular magazines.
Pellets
I've had good luck with Gamo Match pellets in all Umarex airguns. They 're still a bargain in the 500-pellet tins, so get a couple if you buy this pistol. The RWS Diabolo Basic looks like it's worth a try, too.
Powerlets
You're probably going to run through a LOT of these with the Desert Eagle, so I would stock up with a BIG box of powerlets!
Although the Desert Eagle isn't available yet, now is the time to order. Pyramyd Air is taking orders now, so you can get in line when they hit these shores. They will probably sell out of the first shipment right away, so don't wait if you want one.
Tom Gaylord is known as The Godfather of Airguns™ and has been an airgunner for over a half-century, but it was the 
Beeman
 company in the 1970s that awoke a serious interest in airguns. Until then, all he knew were the inexpensive American airguns. Through the pages of the Beeman catalog, he learned about adult airguns for the first time. In 1994, Tom started
The Airgun Letter
 with his wife, Edith. This monthly newsletter was designed to bring serious reports about airguns to the American public. The newsletter and
Airgun Revue
, a sister magazine about collectible airguns, was published from 1994 until 2002, when Tom started
Airgun Illustrated
-- the first American newsstand magazine about airguns. Tom worked for three years as technical director at
AirForce Airguns
, the makers of the 
Talon, Condor, and Escape
 precharged air rifles. Today, he writes about airguns and firearms for various publications and websites. He also makes videos, and you'll find short clips embedded in some of his artices on Pyramyd Air's website. Tom is a consultant to Pyramyd Air and writes under the name of B.B. Pelletier.