UTG Shadow Ops Type 96 sniper rifle – Part 1
by B.B. Pelletier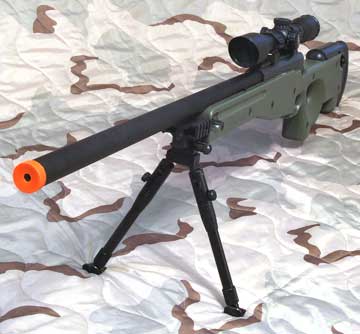 It shoots as good as it looks! The UTG Shadow Ops is an affordable airsoft sniper rifle.
A lot has changed in the world of airsoft in the past two years. New models and even entire companies have burst on the scene with features formerly available in guns costing three and four times as much. This really is the age of value in airsoft guns – and nowhere is that more the case than with sniper rifles.
I've already reviewed the UTG Master Sniper the Tokyo Marui VSR-10 G-Spec MG 315 and the UTG Special Ops M14 Sniper Rifle for you. Today, I want to start looking at the UTG Shadow Ops rifle. It's an airsoft version of the UK's famous L96 sniper rifle made by Accuracy International.
History
Before researching for this report, I was not aware that sniper rifles of the 20th century were notoriously inaccurate. According to a recent article in American Rifleman, Carlos Hathcock's rifle was only capable of two minute-of-angle accuracy, during an era when half-minute accuracy was the norm for tuned varmint rifles. That he was able to do all he did makes his story all the more interesting.
Accuracy International advanced the state of the art to the three-quarter-minute level with their new L96. The gun uses a patented 2-piece stock design with a bedding system built in. It delivers superb performance in the field, though not quite what the urban legends want us to believe. Instead of the 2″ groups at 600 yards that one Russian website claims, the actual claim is a first-round hit (on a human torso) at the same 600 yards. Three-quarter MOA would be a group slightly greater than 4″ at that range, but even the reality of a first-round hit seems impressive.
And, the UTG Type 96 copies the L96 quite well. In fact, when you see it for real, the very shape and substance of the gun conveys the image of accuracy to your senses. It's a heavy airsoft sniper rifle, weighing just over 10 lbs. with scope and bipod mounted. The bipod comes in the box with the gun, but the scope must be purchased separately. As far as I'm concerned, the only scope for this rifle is the UTG Tactedge 4×40 scope with Weaver/Picatinny rings. It mounts on the Picatinny rail that comes standard on the gun. I covered this scope for you earlier this year. In that report, I said it would make a good hunting scope. What is sniping, after all, but the ultimate in hunting?
Although the rifle is budget-priced at $130, it comes with a host of accessories: bipod, sling, two 23-shot magazines, speedloader and a plastic cleaning rod to clear jams…though in over 500 shots, I never saw a one. The scope adds $50 to the cost, but you won't find another scope more suited to this rifle. It has an extra-long 5″ eye relief that makes acquiring the sight picture a snap.
Power
Two years ago, power was something you had to upgrade to get. It didn't come in stock airsoft sniper rifles. Not only has that changed, it has now trickled down to highly affordable guns, so there is nothing you need to give up when shopping for a sniper rifle on a budget. Pyramyd Air reports velocities of 465 f.p.s. with 0.20-gram BBs and 415 f.p.s. with 0.28-gram BBs from the Type 96, but I actually got 465 f.p.s. with 0.20-grams and 428 f.p.s. with 0.25-grams. That's smokin'!
Tomorrow, I'll tell you about the accuracy and firing behavior of the gun.
Tom Gaylord is known as The Godfather of Airguns™ and has been an airgunner for over a half-century, but it was the 
Beeman
 company in the 1970s that awoke a serious interest in airguns. Until then, all he knew were the inexpensive American airguns. Through the pages of the Beeman catalog, he learned about adult airguns for the first time. In 1994, Tom started
The Airgun Letter
 with his wife, Edith. This monthly newsletter was designed to bring serious reports about airguns to the American public. The newsletter and
Airgun Revue
, a sister magazine about collectible airguns, was published from 1994 until 2002, when Tom started
Airgun Illustrated
-- the first American newsstand magazine about airguns. Tom worked for three years as technical director at
AirForce Airguns
, the makers of the 
Talon, Condor, and Escape
 precharged air rifles. Today, he writes about airguns and firearms for various publications and websites. He also makes videos, and you'll find short clips embedded in some of his artices on Pyramyd Air's website. Tom is a consultant to Pyramyd Air and writes under the name of B.B. Pelletier.