by B.B. Pelletier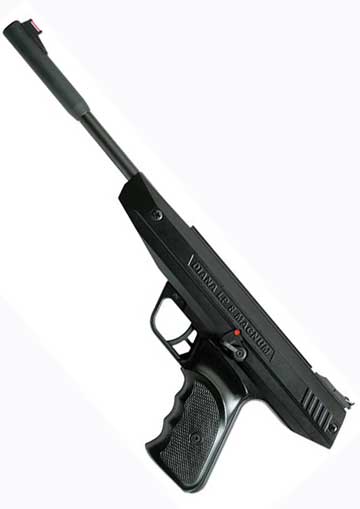 The .177 RWS LP8 pistol is a big, beautiful spring pistol.
Today, we'll look at accuracy for the RWS LP8 Magnum. It has a long and illustrious heritage to live up to, because the previous pistols from Diana have all been very accurate. We know from Part 2 that the pistol is powerful, though the Browning 800 Mag shaded it by quite a bit after I shimmed the breech seal. But this pistol is still a legitimate 700 f.p.s. air pistol!
Even BB can learn!
I hope you know that I don't know everything about airguns. And I hope you know that I sometimes make mistakes. Because I have a pretty big one to share with you today.
Remember all that talk about how to rest a recoiling air pistol? If not, read the report. Well, sometimes it doesn't work! And the LP8 is a pistol that doesn't like my way of holding a rested pistol. Allow me to explain.
I was testing another air pistol and getting groups that were strung out. When I shifted to the LP8, they were still strung out. But I know from experience that a Diana spring pistol is almost as accurate as a rifle, so I must have been doing something wrong.
Do you recall how I discovered the artillery hold for spring air rifles? By doing the opposite of what the Beeman catalog instructed. And the groups shrank up tight. So, I did the same thing with the LP8–I rested the barrel directly on the sandbag and the groups tightened up. Look at the difference I got while shooting Crosman Premier 7.9-grain pellets.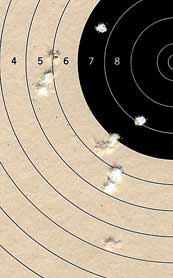 The 10-shot group of Crosman Premier 7.9-grain pellets from the hold described in the earlier report was this huge 2.603″ vertical string.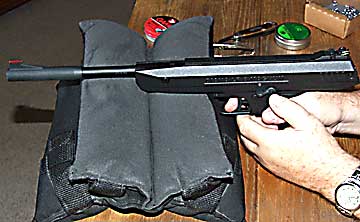 I refined the hold from what I normally do to this one with the barrel rested on the bag.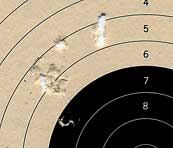 And the second group of 10 Premier lites went into this group measuring 1.263″. This is a significant improvement.
So, lesson learned! However, this does not negate that other hold, which I will always try first, before moving to this one. It does work on a great many pistols, just not this one.
Gamo Match
Gamo Match pellets proved to be the best in this LP8. Ten shots grouped 1.045″.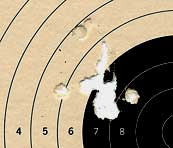 Gamo Match was the best pellet tested.
RWS Basic
RWS Diabolo Basic were a surprise by grouping a whopping 1.795″. Usually, RWS pellets are among the top for accuracy in a Diana airgun. Not this time, though.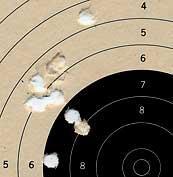 RWS Diabolo Basic wadcutters shot this 10-shot 1.795″ group. It was the best pellet tested.
Trigger
I noticed a lot more creep in stage two while trying to shoot accurately That always brings it to the forefront. And that screw we wondered about turns out to adjust the length of stage one, according to RWS USA.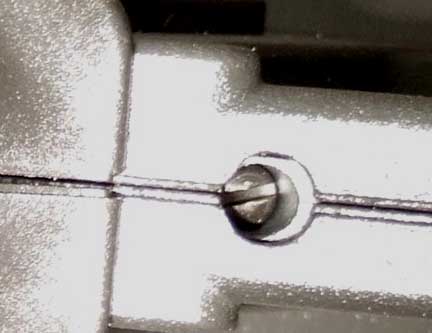 According to the importer, this screw adjusts the length of stage one in the trigger pull.
Conclusions
So, the bottom line is the new LP8 is more powerful than the pistols that came before, and it still has great accuracy. It represents a lot of value in a spring air pistol, even at a price that is no longer considered inexpensive. If you're looking for a powerful spring-piston pistol, this one just might be the champ when all things are considered.