by B.B. Pelletier
Today, we have a guest blogger. Paul Hudson has done other guest blogs for us; and true to form, he's been very thorough. This blog is about the Crosman 116, which is a great vintage gun that's the father of the Crosman 150. I'd say this is the ultimate test, as he tried 18 different pellets!
If you'd like to write a guest post for this blog, please email us.
Bloggers must be proficient in the simple html that Blogger software uses, know how to take clear photos and size them for the internet (if their post requires them), and they must use proper English. We'll edit each submission, but we won't work on any submission that contains gross misspellings and/or grammatical errors.
Take it away, Paul!
by Paul Hudson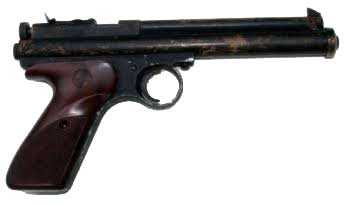 In 1950, Crosman introduced a line of CO2 pistols and rifles that were filled by an external tank. The .22 cal. 116 model (6-in. barrel) shown above was one of them.
This guest blog could almost be labeled as "Part 2" since B.B. did a very good review of the history and details of the Crosman 116 bulk-fill CO2 pistol. I had an opportunity to borrow a Crosman 116 from Jason, my brother-in-law. During the months I had it, I resealed it and did some testing. This 116 originally belonged to Jason's grandfather, who used it for pest control. It was passed down through his father to him and has seen a lot of use over the years, but the bore is still in excellent condition. A few hours spent stripping and repainting would make the gun look almost new. It turned out to be a lot of fun shooting this old pistol; and with the right pellets, it's surprisingly accurate as we'll see later.
What sets this pistol apart from most other CO2 guns (and the reason I like it) is that it's a bulk-fill gun. It doesn't use the familiar Powerlets but is, instead, recharged using an external tank. The old Crosman 10-oz. tanks are still available, but many filling stations will not service them. However, with a simple adapter, you can charge these guns from a paintball tank that's inexpensive to refill and will provide over a thousand shots.
Introduced in 1951 as a companion to the 8-in. barrel models, the .22 ca. 116 was produced in a time when American manufacturers could afford to put more hand work into making a gun. Most of the gun is made of brass to avoid rust. The breechblock and front sight are silver-soldered to the lower tube and fix the barrel in place. Overall, the pistol gives the impression of having been solidly built for years of service. All of the bulk-fill Crosmans were phased out after 1955 and were replaced by similar guns using the now-familiar Powerlets. The modern equivalent to the 116 is the 2240, which has the advantage of being modular and thus easily upgraded with a longer barrel, improved trigger, and many other parts.
At 23 oz., the 116 has a nice weight — heavy enough to be steady without being muzzle-heavy like the long-barrel models. A square front post and fairly wide rear notch are easy to use and work well at plinking ranges. The rear sight is adjustable for both windage and elevation and can be locked in place once adjusted.
Anyone who has used a 1377 or 1322 will immediately recognize the grips, trigger and safety of the 116 since they are identical to the 13xx models. The trigger-pull measures right at 5 lbs., but it feels far better than my 1377. There's almost no detectable creep, and with a little practice it's easily controlled.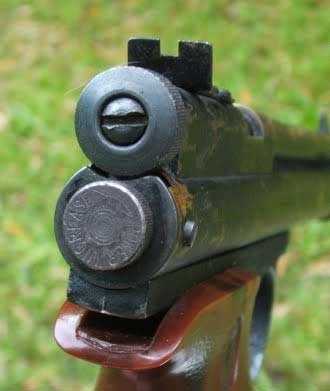 Top wheel cocks the gun; bottom wheel adjusts the power.
The bolt is opened by rotating the upper knurled bolt handle and pulling back until the striker clicks. A pellet is then loaded into the breech. Push the bolt forward and rotate the handle into the locked position and you're ready to go. Unlike my 1377, there's no screw head in the breech area, and pellets almost never flip during loading. The longest available pellets load easily. Below the bolt handle is a power adjustment screw that controls the amount of tension on the striker spring. Backing the screw out reduces the tension and the velocity. It also conserves CO2.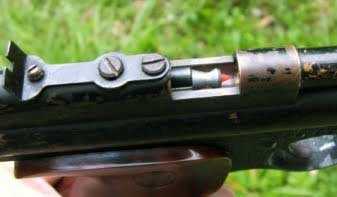 Long pellets load easily and there is no screw hole to make them tip!
Shooting the 116
The 116 was shot at both full and reduced power. At full power, it gets about 30 to 35 shots per fill and is roughly as loud as a 1377 at six pumps. With the power adjuster three full turns out, it'll get around 42 to 48 shots per fill and the pistol is noticeably quieter. For indoor shooting, this would be a real plus. At full power, the velocity spread was surprisingly low — never more than 11 fps and in several cases less than five. On low power, the spread was as much at 27 fps. With the lighter hammer blow, the valve is probably operating outside of its optimal range but accuracy didn't seem to suffer. The temperature was around 80 degrees, and I took about 45 seconds between shots during all testing.
Velocity results
All pellets were tested at full power and some with the power adjuster three full turns out (the low column is on the right):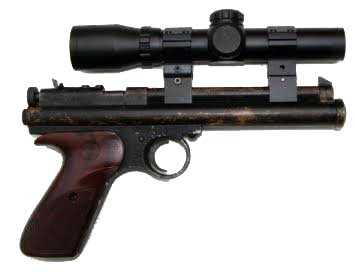 A pistol scope really aids the accuracy of the 116.
New meets old
To get the best accuracy from the 116, a BSA 2×20 pistol scope was added using Crosman intermounts. With just the open sights, the best groups I could get were about 1″ at 10 meters. With the increased precision of a scope, several pellets grouped well under an inch at 10 meters, and 25-yard hits on soda cans were easy. None of the pellets performed poorly; most gave 5-shot groups in 1″ to 1.5″ at 10 meters. There were a couple of standouts, however.
RWS Hobby pellets were about average in the 116, giving groups like this 1.05-in. example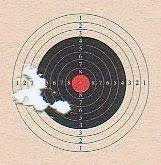 RWS Super H-Point pellets produced this nice .60-in. group.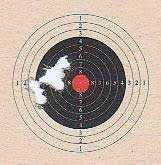 Gamo Hunters matched the RWS hollowpoints with a .60-in. group.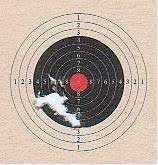 Crosman Premiers gave the best group at 10 meters at .53 in.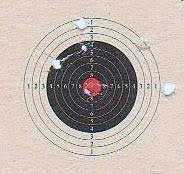 At 25 yds., the Beeman FTS pellets grouped in 1.55 in. The scope definitely helps at this distance.
Where do you get one?
There are plenty of Crosman bulk-fill guns still around, and they can be found at most airgun shows and on the usual auction sites. The 116 is probably the most common of the pistols since .22 was the preferred caliber in the 1950s and the shorter guns are more handy. Expect to pay about $90-$100 for a working sample in good condition. Many of these guns have not been shot for many years and are in need of resealing. The parts are readily available, and there are people who will do the job for a reasonable cost. If you have one of these guns, there's no reason to let it lie around. With new seals and regular use of Pellgunoil, they'll give many years of service. It would be a shame to leave one of these fine, old airguns sitting in a box and gathering dust.
I've had a lot of fun shooting the 116. Part of the charm is getting a 55-year-old gun working again. The 116 is also more accurate than I expected. For short range at low power, they're a real joy. Lots of shots with no pumping!