by B.B. Pelletier
Test and photos by Earl "Mac" McDonald
This is the other test result you've been waiting for. Today, we'll look at the accuracy of the Beeman P3 single-stroke pistol.
All accuracy testing was done at 10 meters using conventional 10-meter pistol targets. Remember that Mac has a red dot sight on his gun. And the pistol rested on a single leather bag that was pushed up snug with the triggerguard.
Mac gives this tip for those with astigmatism and see the red dot as a sparkle. Turn the lamp intensity as low as you can still see it, and the dot will grow smaller and sharper.
RWS Hobby
The lightweight RWS Hobby pellet turned in the second-best performance, with a 0.24″ spread for five shots. That's quite extraordinary, in light of what all the other pellets did. Hobbys are quite affordable, so this is a good solution for this pistol. P3 owners — be sure to try them.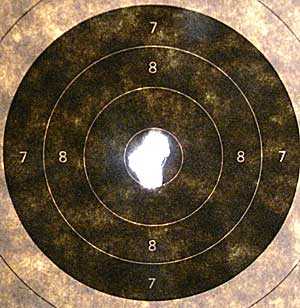 Five Hobbys went into this well-centered hole measuring 0.24″ between centers.
H&N Finale Match Pistol
The P3 didn't do as well with the H&N Finale Match Pistol pellet. The pistol pellet is light weight, though, at 7.56 grains but not quite as light as Hobbys.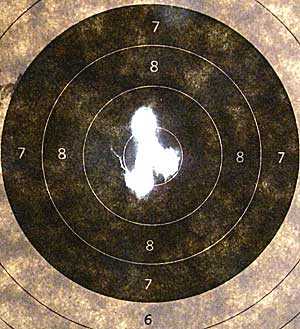 Five H&N Finale Match Pistol pellets went into this group that measures 0.45″ across the widest two centers.
JSB Exact Match
JSB Exact Match pellets, which are not a match pellet at all but a domed field pellet, performed a little better than the H&N Match Pistol pellets but were not close to the RWS Hobbys. The JSB is a domed pellet weighing 8.4 grains, which is getting heavy for a single-stroke pistol powerplant.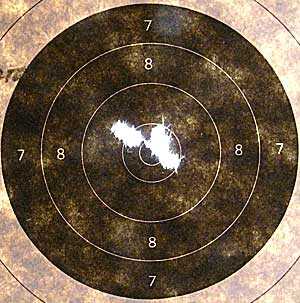 Five JSB Exact domes went into this group measuring 0.39″ across.
Crosman Premier lites
Last but not least were the 7.9-grain Crosman Premiers. They turned in the best performance of the test…an amazing group of 5 inside 0.11″ at 10 meters. And, they did it not one time but repeatedly. Mac was highly impressed by the accuracy and repeatability of this pellet.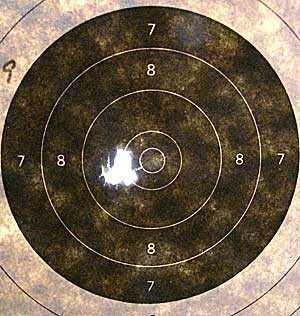 Five Crosman Premier lite pellets made this phenomenal group that measures 0.11″ across the centers. Mac shot several like this, and it was clearly the best of the test.
The bottom line
With groups like these, I hardly have to justify the Beeman P3 pistol as one of the top guns for a very affordable price. You're seeing very nearly 10-meter target pistol performance for a fraction of their purchase price.
If you're interested in shooting targets but don't want to spend the money for a full-blown target pistol, let the P3 be on your short list of alternatives.