by B.B. Pelletier
Testing and photos by Earl "Mac" McDonald
HW50S
Today is accuracy day, and the way I figure it, you guys are waiting for this report and the Beeman P3 accuracy report with about equal interest. The HW50S has delighted Mac, reminding him that great airguns are still being made. And, as Kevin pointed out days ago, the power of the new larger powerplant is approximately equal to the old Beeman R8, whose accuracy report I still have to do. So, if you lamented the passing of that great rifle, it's still here by another name.
Mac mounted a Leapers Accushot 4-16x56AO SWAT scope. It has a 30mm tube and was mounted in Leapers Space Age 30mm high rings. The globe front sight and the rear sight were left in position and caused no problems with the scope.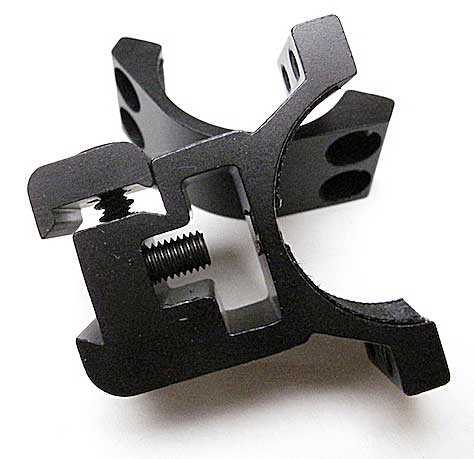 The Accushot Space Age rings have a vertical scope stop screw to adjust down into one of the three scope stop holes on the rifle.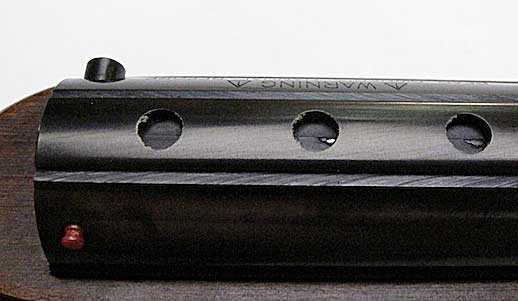 Put the vertical stop screw into one of these three scope stop holes on the rifle's receiver.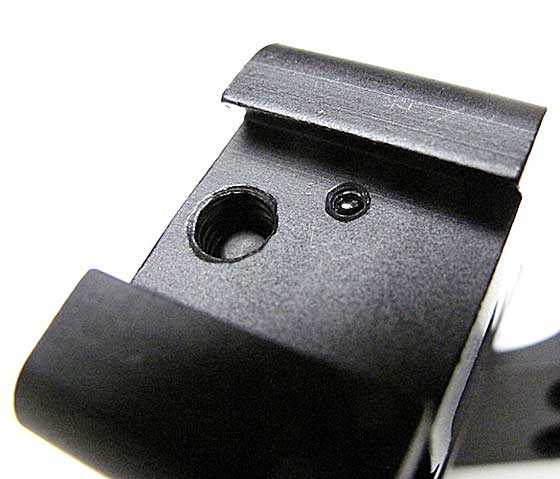 Looking at the underside of the Accushot scope ring base you can see the hole through which the scope stop pin passes.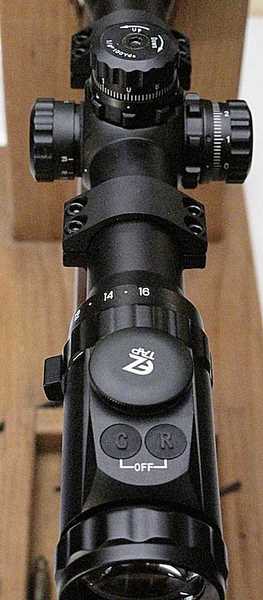 The Accushot SWAT scope Mac used has side-focus parallax adjustments and an EZ-Tap red/green illuminated reticle control for low-light hunting.
RWS Hobby
The lightweight RWS Hobby pellet turned in the worst performance at 30 yards. Ten shots went into a group measuring 1.04″ across.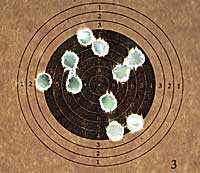 Hobbys shot the worst overall in the rifle. Group measures 1.04″ between the widest centers.
Crosman Premier heavies
10.5-grain Premiers turned in the second-worst performance.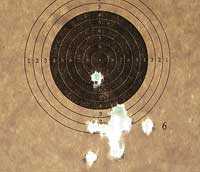 Premier heavies were about as bad as Hobbys in the HW 50S. Group measures 0.98″ across.
So things don't look that good at this point. But this is where they turned around. Remember, these are all 10-shot groups at 30 yards.
JSB Exact Match 8.4 grains
The next pellet Mac tried was the JSB Exact Match 8.4-grain pellet. It put 10 shots into a group that measured 0.75″ across. This is pretty good performance for any springer at 30 yards. Not the best, but pretty good. For you newer shooters a 10-shot group will be about 40 percent larger than a 5-shot group from the same gun, so please take that into account.

Ten shots into 0.75″ at 30 yards is good work.
Crosman Premier 7.9 grains
The Crosman Premier 7.9-grain lite pellet proved to be the best of the test. Not by a narrow margin, either! Mac's first group measured 0.68″ across, but he noticed that the front sight was loose. When he tightened it, the group shrank to a phenomenal 0.49″ across for TEN shots! And, he didn't do it just one time. He did it repeatedly!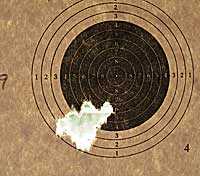 Best pellet of all was the Crosman Premier 7.9-grain pellet. Several groups like this 0.49″ group were shot.
In fact, Mac shot numerous groups with all the pellets. What you're seeing today is representative of what his rifle can do.
Mac did so much testing that I can't get it all in today. So, we aren't finished with this report just yet.