by B.B. Pelletier
Photos and testing by Earl "Mac" McDonald
This is a special report I asked Mac to make for you. The RWS Diana model 45 that was made until very recently is not the gun you are about to see here. This rifle comes from the decade of the 1980s, when the 45 was entirely different from the other Diana breakbarrel rifles. You'll see some of those differences in this report as it unfolds.
In 1988, Diana dropped the older style model 45 we're looking at here and used the model 34 action in a different stock to represent the model 45 that lasted up until 2004. That was the Diana model 45 TO1.
The rifle we're about to see predates that one and is its own special design. Mac's rifle has a date stamp of 07-83, which means it was produced in July 1983. But, the Diana 45 goes back much farther than that. In a moment, I'll document the history, but first a word about the name RWS Diana.
First, a short history lesson
RWS is a large manufacturer of industrial and sporting goods in Germany. But, they don't make airguns; and, as far as I know, they never did. Instead, they've partnered with the much smaller firm of Dianawerk GmbH & Co.Kg, which sometimes called Mayer & Grammelspracher. They've made airguns since the early part of the 20th century…at least since 1901. RWS acts as their exporter, and they carry the RWS brand name (along with Diana) in the U.S. So, Diana is the maker, and RWS is the exporter/importer.
Now, on our side of the pond, RWS USA services all the Diana guns they sell. Your recourse for parts and for service is RWS USA, which is co-located with Umarex USA in Ft. Smith, Arkansas. However, there's more. Pyramyd AIR bought out Airgun Express a number of years ago, and at that time Airgun Express had been the RWS Diana service station for Diana guns for many years. So, Pyramyd AIR has many parts on hand for obsolete models of Diana guns that even RWS USA cannot support. It may seem a bit confusing, but the RWS importation branch of the company has changed hands so many times in the past 15 years that things are not 100 percent straightforward. The point is that, if you read this blog, you can always start your search for something here and we'll probably be able to help you find what you need.
Back to the story
Now, back to the tale of the model 45. First, there was a model 45 that was an underlever rifle that loaded via a tap. It was produced from 1927 until 1940. The model 45U, as the Blue Book of Airguns lists it, is a pretty rare sight here in the U.S. It was later followed by the Diana model 58 that was somewhat more complex and sold for more money. That model is better-known in the U.S. because Stoeger imported a few of them. Retailing from $35 to $75 before WWII, they certainly didn't sell many.
After the war, the Diana company had to reorganize. They also lost machinery and their designs and even their name to the Millard Brothers of Scotland (branded as Milbro) as part of war reparations. That's all I'm going to say about the company history, except to fast-forward to 1978. In the decade of the 1970s, the airgun world was held captive by the thought of propelling a pellet faster than 800 feet per second for the first time in history. I think the honor for the first to do it probably goes to Feinwerkbau, whose remarkable model 124 was a worldwide success. But, other airgun manufacturers also competed at this level. BSF out of Erlangen, Germany, had the model 55, a small carbine-sized rifle that could sometimes break the 800 f.p.s. "barrier." And, Weihrauch had an old rifle — the 35, which they modernized — that almost made it to 800 f.p.s.
So, in 1978, the Diana company threw their hat into the horsepower-race ring with a completely new model — the 45. That's the rifle we're looking at today. That model lasted with a great many changes from 1978 until 1988, when the 45 name was consolidated into the easier-to-manufacture and even more powerful model 34.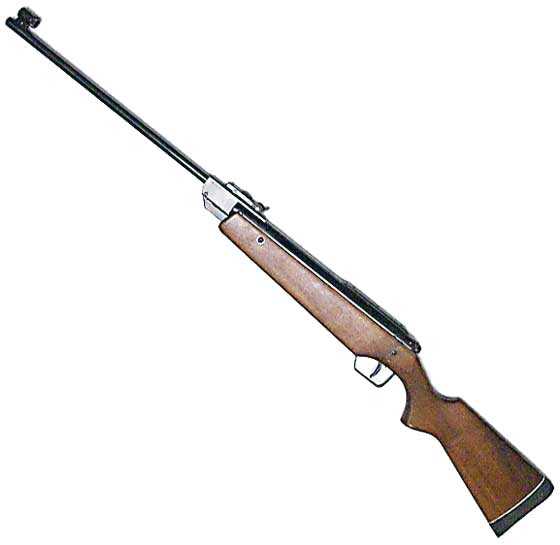 Mac's RWS Diana 45 is a real classic from the days of the great horsepower races. It was at one time one of four different models that could sometimes deliver velocities in excess of 800 f.p.s. in .177 caliber.
I'm going to talk about Mac's rifle, specifically, and I'm mentioning that because there were a huge number of cosmetic changes made to the 45 during its decade-long run. Mac's rifle is 45.50 inches long, so it's somewhat large. The length of pull is 13.75 inches, which BG_Farmer has convinced me is a more average adult LOP for a rifle. The barrel is a long 20.50 inches, which is needed to help manage the cocking effort of 40 lbs.
Mac's rifle is a .22 caliber, which isn't nearly as common as .177. Back in the day when it was made, the horsepower race was on full force and people really wanted velocity, so .177 was the caliber of choice most of the time. Mac's rifle has a real walnut stock, which was rare for the decade of the '80s.
Three things make Mac's 45 stand out in appearance. First, it has an overly large and squarish triggerguard that's obviously made of sheet steel. It always stood out among the air rifles of the time, and I think you'll agree that it still looks different today. Second, is the long, straight trigger blade that looks like no other air rifle trigger I know. The strangest of all is the transverse pin that holds the compression tube to the stock. It runs through the trigger housing; for many years, I thought the trigger was suspended by the stock, which made no sense at all. This pin will sometimes be hidden by stock inserts that have to be removed to get at the fastening screw for disassembly. On other rifles, like Mac's, the hardware is in plain sight.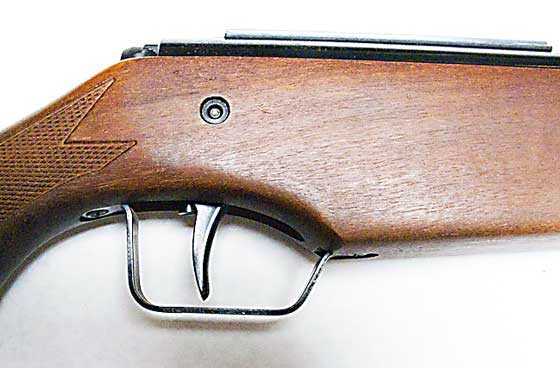 Here, you can see the overly large triggerguard, the long straight trigger blade and the crosspin that attaches the spring tube to the stock. The two-stage trigger is fully adjustable.
The safety is automatic and is a plastic cap that is the full inside diameter of the spring tube. It slides back when the rifle is cocked and is taken off before shooting by pressing in. The large plastic slider has a scallop on either side for your fingers to grasp in case you want to pull it back on.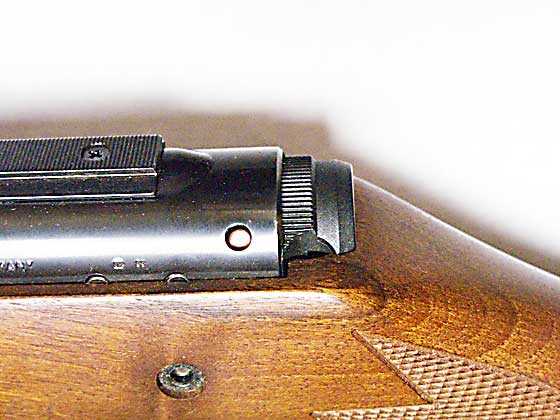 The automatic safety is the large cap at the rear of the spring tube. It sets automatically on cocking but can be pulled on manually at any time. In this image, you can see the date stamp between and slightly above the two disassembly crosspins.
Sights
The sights are all-metal, both front and rear, which was standard for the day. Because this is a 45, which was considered an upscale model, the front globe accepts interchangeable inserts. Of course, the rear is fully adjustable.
Diana 45 — an opportunity missed
Mac has always had a special place in his heart for this model. Whenever he sees one at an airgun show, he reacts the same way that I do when I see a BSF model 55. He's owned several of these over the years, but this .22 is such a wonderful shooter that he loves it too much to ever turn it loose.
For the same reason he likes it, I do not, or at least I didn't before Mac taught me about the gun. I knew it was an early mega-magnum (sounds funny today, but in its time that is exactly what it was), and I hated the harsh feeling of vibration when such guns were fired. Of course, of the four I've mentioned — the FWB 124, HW 35, BSF S55 and this one — I only had experience with the 124 and the HW 35, so what I was doing was projecting my feelings of misgiving on the gun without ever trying it. I do now own a BSF S55N which is another very smooth shooter, so my feelings about this gun have hampered me from ever experiencing it.
According to Mac, his 45 is a smooth shooter! We know that it has a leather piston seal and that the power is quite low by today's standards, but still, I would not have believed that a Diana 45 could ever have been a smooth shooter. So, for all those years through this very day, I've never owned one. Yet, I note that they're almost universally accepted as smooth shooters that inspire a great deal of loyalty among their owners.
We shall see if that loyalty is deserved in the next two reports.