by B.B. Pelletier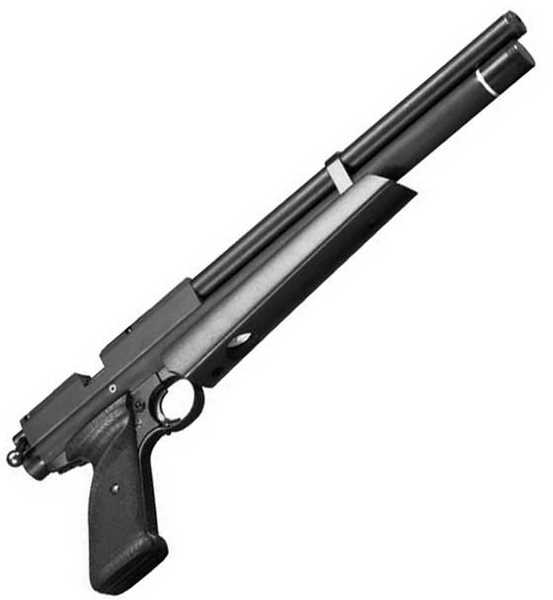 Benjamin's new Marauder air pistol is a large, powerful precharged air pistol. It will be among the very few legitimate hunting air pistols.
When Crosman announced the new Benjamin Marauder PCP pistol at the 2010 SHOT Show, airgunners in the know turned into preschoolers awaiting Christmas. And, without a bit of irony, we're now there and the pistol is out! The release of the first 100 guns was widely celebrated on this blog, as well as many other popular hangouts on the internet.
What is the Marauder pistol?
Okay, I plan to discuss this next aspect well enough that everybody should get it. Yes, the Marauder is an air pistol, but no, that doesn't mean that you can put it in your pocket or that there is a holster for it — yet. When you think of the Marauder pistol, don't think of a smaller sidearm like a Colt M1911A1 or a Ruger Blackhawk revolver. Those are one-hand guns. The Marauder is more like a Thompson Center Contender pistol that can be chambered in .270 Winchester and can drop a mule deer at 200 yards. You need to think about that as you lust for one. It may be an air pistol, but it's a big one.
The gun is 18 inches long. It has a 12-inch barrel that's fully shrouded, which is where some of the size comes from. And, veteran readers of this blog understand that, in a pneumatic gun, the length of the barrel equates to the power of the gun, because the air needs time to push on the tail of the pellet. In spring guns that use a tiny fraction of the amount of air the Marauder precharged pistol uses, the air is compressed and released in an explosive blast that lasts only a few milliseconds. Pellets shot from springers are like champagne corks bursting from bottles; pellets shot from PCPs are like ballistic missiles that have calculated burn times.
The trigger
The grip frame of the gun will look remarkably similar to one from a Crosman 2240 pistol — this is the model 2220, after all. It looks that way because that's where it comes from, but the trigger's much better. As I look the gun over, I'll have more to say about the trigger; for now, know this — it's two-stage. Stage two is adjustable for pull weight, stage one is adjustable for length of pull (travel) and can be adjusted out to make the trigger into a single-stage unit. There's also an overtravel screw that can be set to stop movement of the trigger blade the moment it's released the sear. That gives you the feeling of precise trigger control. And, of course, there's a positive trigger-blocking safety that's fully manual. In all, this is a fine trigger and fully what you'd expect to find on a Marauder.
Shoulder stock extension is standard!
One additional blessing this grip frame brings is that there will be aftermarket and Crosman Custom Shop grips in no time at all. And, in what has to be one of the best single decisions I have seen in a long time, this gun comes standard with an extension shoulder stock! Yes, they knew we wanted one and they provided it without our asking. Brilliant move! It stops those asking for a Marauder carbine before they can ask.


The icing on the cake. Benjamin provides a shoulder stock that most shooters are going to want, and it comes with the basic gun.
Being a pneumatic, the pistol needs an air reservoir, and, given the overall size of the gun, it has a generous one. That's important, of course, because the Marauder is a .22 caliber pistol. This is a hunting airgun and a serious bruiser that we will measure well in part 2 of this report. The reservoir fills at the front, just like the Benjamin Discovery and the Benjamin Marauder air rifle.
In the forearm, there's a reliable onboard pressure gauge to tell you at a glance the state of the air charge. Once you start becoming familiar with your own gun, you'll quickly learn the nuances of this gauge that should become part of your shooting procedures. By that, I mean that each gun is an individual and your gauge will help you learn exactly how your gun performs.
According to the manual, the gun comes set to operate on a 2,900 psi fill but can be adjusted up as high as 3,000 psi. I don't plan to adjust the fill pressure during this test, because it doesn't affect the performance of the gun that much. I want to know the realistic power and accuracy of the gun as I received it, and I'll leave the fringe testing to the soon-to-be hundreds of new owners. No doubt, the next year will be a very busy time for them as they explore the limits of this fine new pistol.
There are no sights, so some type of optical sight will be required. The top of the aluminum receiver is grooved for 11mm dovetails. There's zero recoil, so no thought need be given to a scope stop. The magazine sticks up above the top of the receiver, so two-piece mounts will be required to straddle the protrusion.
More innovation!
As if all of the above weren't enough, the bolt handle is designed to work equally well on either side of the receiver. It comes from the factory set out to the right side, but if you want it to stick out to the left, the change is possible. Some disassembly of the gun is necessary to make the change, and Crosman recommends sending it back to them, but I know that savvy airguners will make their own changes.
And then some more…
Just like the Marauder rifle, the pistol lets you adjust the power curve and air fill pressure level. Experimenters will delight in finding just the right combination of pellet and fill pressure to give what they feel is the optimum number of shots correlated to the power level. The one thing the pistol doesn't have that the rifle does have is the variable air transfer port. Instead, it offers both the hammer spring tension and the length of the hammer stroke. It should satisfy most owners, and old guys like me will find one setting that works and forget the adjustments exist after that.
Is that a lot of innovation? Well, it doesn't end there, because the Marauder pistol is an 8-shot repeater, as well. So, in my mind, it simply doesn't get any better. What more could you ask for, besides a revocation of the laws of physics that those unfamiliar with airgun operations dream up while sitting on their thinking stools…
"Benjamin really missed the boat with this one. What I would like to see is a full-auto pistol with at least 100 shots before it needs refilling! And, an onboard chronograph that speaks to you would really be cool, too."
I like the gun
Can you tell that I like the new Marauder pistol? I'm sorry that this report sounds like a sales pitch, but I really am impressed with everything I see. I've avoided nonsense observations like the plastic-to-metal ratio (only the grips, forearm and shoulder stock extension are plastic) or where the freaking' barrel band is placed (except to note that it's never in the right place), because in my time of looking at airguns I haven't seen very many with this level of innovation and value. I'm sorry that the gun costs almost $400, but my gosh, a gallon of gas costs me almost three dollars and I still seem to buy as much of it, as I still need to go where I want to go. I guess what I'm saying is that this new airgun is a serious shooting platform, and the data of how cheaply an offshore manufacturer can produce a gun I would never buy has no impact here. If you want nice toys, you have to pay for them.
This is Friday. Please chew this one up and digest it for me, so I'll know what I need to look at in future reports. I really do value all of your observations.