by B.B. Pelletier
I missed the first running of this show last year, so I have nothing to compare it to except other airgun shows. Every show is different and almost all of them have at least one big surprise, and this one was no different in that respect.
The show opened on Friday, April 15. I'm used to seeing a number of older dealers at the start of the show, but we have either lost them in the past year or they didn't make this show. While I recognized many of the dealers who were there, the veterans were mostly absent. In fact, Mac turned to me after the show was over and observed that we were now among the old-timers. I have no comment for that.
Manufacturers
It's rare that a manufacturer or importer comes to an airgun show, but this show had several, including some pivotal ones. AirForce Airguns was there with owner John McCaslin showing several of his company's new products. Among them were a new drooper mount from BKL that looks to be rugged as well as precise. Then there were new styles of camo patterns on the guns that included things like carbon fiber and skulls as well as the more traditional woodland and digital desert patterns. These will be special-order items for a while, to give the company time to assess the marketplace.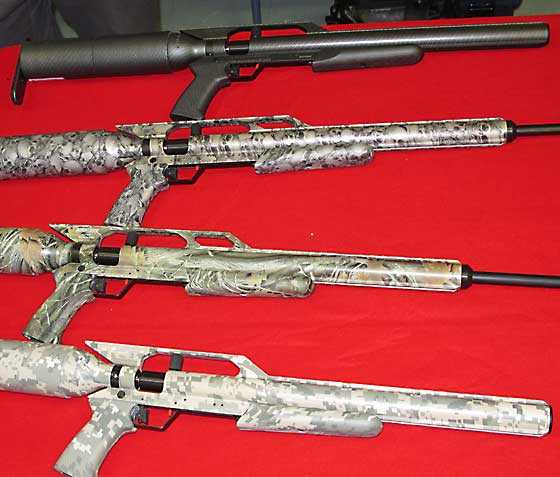 New camo patterns from AirForce put a different look on their guns.
But the big deal that I saw at this show was a new air tank that has both a manometer (pressure gauge) and a male foster fill nipple, allowing fills without removing the tank. There's a new type of tank bushing in the gun that the new tank screws into and the factory will retrofit that bushing to all older models. So everybody gets to use the new-style tank.
Scott Pilkington, the owner of Pilkguns, had several tables of 10-meter guns and related parts and supplies, including all sizes of his famous American-made Vogel target pellets. The Vogel was one of the top pellets in the long test of the AirForce Edge, and Crosman also recommends them for use in their Challenger PCP.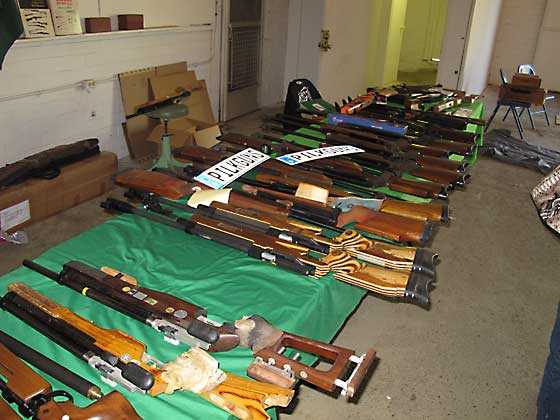 Ten-meter rifles by the fistful! Pilkington bought over 200 vintage rifles and was blowing them out at the show.
Big deal
But Scott had one of those big deals that I mentioned happen at almost every show. He recently bought several hundred 10-meter target rifles and his table was loaded with FWB 300 and 300S rifles, Walther LGR single-strokes as well as a couple Steyrs and some others. Under the table were even more of these rifles, and Scott was really dealing on them! I saw a beautiful FWB 300 and another nice 300S go to new owners for $225 — and the guns had sights! In a year, just the sights will be worth more than that. Mac obtained a well-used FWB 300 for just $150, and another with sights for a little more. Both will need seals, but like the 150 you read about last Friday, that's just a job that can be done. In fact, at the show I learned that Dave Slade at Theoben USA is also sealing these rifles. So, now there are two places to send your guns.
To he who has, more shall be given
So, Scott happened to be standing in the exact best place when a bluebird seller walked into the show with a small collection, wanting to sell the whole thing for one price. Scott bought it and immediately sold the key pieces to recoup the cost of the deal. I was able to buy three unopened tins of Japanese Mount Star pellets from the 1970s. Those were the pellets that Beeman branded as the Silver Ace and the Silver Jet, among others. But the story doesn't end there.
At another table, a guy was selling a couple thousand dollars worth of vintage guns for $1,350. One price took everything, and even a newbie could calculate what a deal it was. That one didn't last but a few hours before a buyer stepped up and bought it. And, as he was claiming his new possessions, the sales of individual pieces started immediately. Just ask our blog reader David Enoch about that.
Benjamin Rogue first sighting
Caught your breath yet? Neither did we, because Crosman Corporation had a table and were letting people shoot the new Rogue ePCP rifl. I shot it several times, and Lloyd, I have to say, Crosman has done you proud! When old B.B. can drill an X offhand with a .357 caliber big bore, we have an event worth noting. The trigger is a long single-stage that always releases at the same point, because it is really electronic. The software allows you to tell the rifle how to behave — whether it's to act like a coyote-buster or a 100-yard turkey-hunter. Special Nosler ballistic-tip bullets and two new Benjamin lead bullets will also be available from major airgun retailers to augment the hundreds of different .357 lead bullets already available in the reloading market. Thank goodness Crosman was smart enough not to fall into the 9mm trap, which would limit the bullets their new rifle can use!
Dennis Quackenbush
I'm not done with the manufacturers because my tables were in the same room where Dennis Quackenbush was selling his big bores and talking to interested potential buyers on both days. Mac scored early on Friday by buying one of the few .458 Long Action rifles Dennis actually had available to buy at the show. For those who aren't familiar with Dennis' work, a Quackenbush big bore rifle doubles in value the moment the initial owner takes possession. It's hard to lose money that way!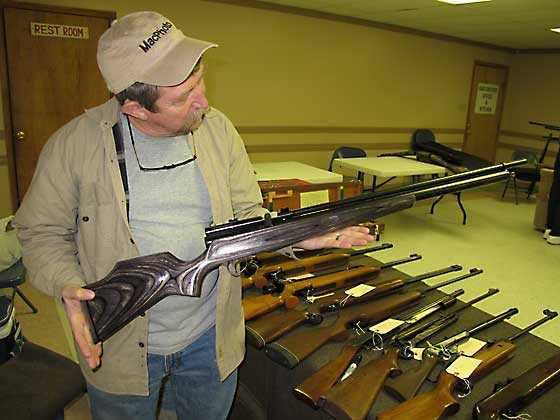 Mac scores a Quackenbush bog bore! Believe it or not, customers don't like this black laminate stock!
You have to have your money ready, though, because Dennis always has ten times as many buyers as he has new guns to sell. That's because he's also faithfully filling airgun orders from his order book and doesn't make rifles to sell at the shows. When a customer backs out of a deal or a gun isn't what they wanted, or heaven forbid there's a blemish, Dennis brings it to the show.
Next to Dennis, big bore hunter Eric Henderson was talking about his guided hunts and generally stirring the pot of airgun hunter interest. On Saturday, the local hunters flocked in to meet and talk with him and to watch him film his next YouTube video.
Shoebox air compressor
My two tables were next to the Shoebox Air Comressor, which I have to say was one of the hits of the show. For one-tenth the cost of a regular compressor, you can add the Shoebox inline with your shop air compressor to get 4,500 psi output. The guys buying them seemed fixated on filling carbon fiber tanks, but to my way of thinking that's too much to ask. The compressor can do it, but it takes too long. To fill a single gun, this is the ideal way!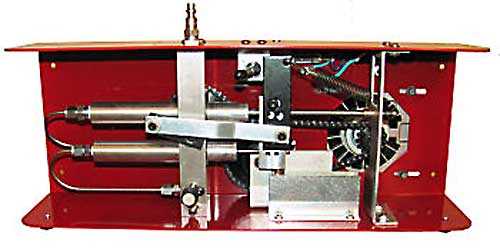 The Shoebox air compressor was a hit at the show. This is the model with the cogged belt drive that's very quiet.
I heard others talking about making similar compressors; but from what I can see, they will fail because these guy have done it right. As long as you maintain the machine, it looks robust enough to last a very long time. I watched two of them operate the entire show, filling tanks and guns in demonstrations.
Collectible stuff
Although this was a small show, there were many collectible guns there, too. Maybe there weren't as many of each gun to choose from, but the range of collectibles was broad.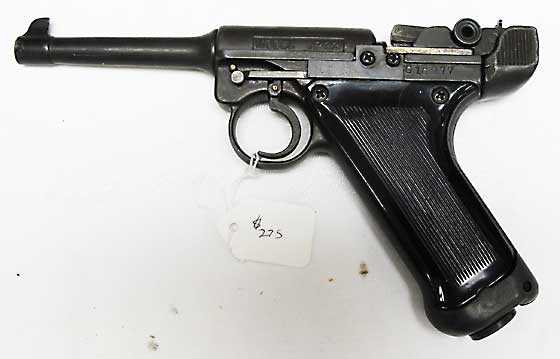 A beautiful Schimel pistol that still works! It's for sale.
Mac and I had two tables with some interesting guns to sell. I had thought Mac would sell all three of his FWB 150s; but with Pilkington's pile in the next room, he didn't have a chance. This was the show for 10-meter stuff.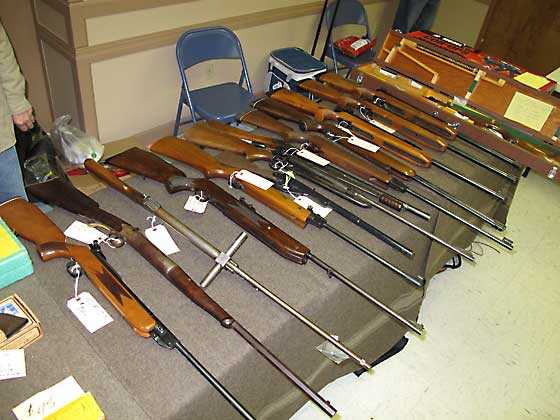 Mac and I had two tables. Look close, because there are some future blogs there!
Tom Strayhorn is an advanced collector who usually has an educational table at every show he attends. This one was no exception, and I'm showing you his table to drool over.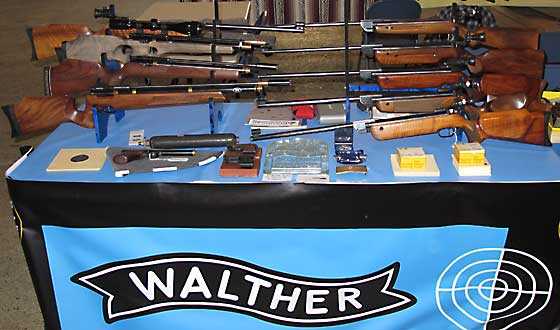 Tom Strayhorn had his usual table of beautiful vintage rifles.
End of the show
The show ended on a high note. Three teenaged boys came to my table to buy two airsoft rifles I had. Grandpa went out to find an ATM to get the cash, and Mac noticed that the one boy wasn't getting anything, so he gave him a nice breakbarrel pellet rifle. The boy was flabbergasted, and when grandpa returned we asked him to clear the gift with mom. What a wonderful way to end a very exciting airgun show.