by B.B. Pelletier
Writing this blog is a humbling experience. Sometimes, when I think I know the answer and it's obvious, there's a surprise. Today I wasn't just surprised — I was bowled over!
I started this test way back in June when I tested the velocity of all the pellets in my Slavia 631. While testing, I felt the powerplant was running a bit off, so I opened the gun and in so doing I lost one or two very important springs. That moved the Slavia from being a testbed to the repair category. I had other plans for that rifle besides testing non-lead pellets, and I've since acquired the parts to fix it (I think). Now all I need is the time.
But I did want to get on with this test so I went to my gun closet and guess what I found? Nothing I have with a scope on it is sighted-in. Remember the cobbler's children walk around barefoot? That's the same way for me, as I'm always mounting a scope on something new for another test.
But, fortunately, I own a class of accurate air arms that do not need scopes. My 10-meter target rifles do fine with their aperture sights; and for a 25-yard indoor test, they're all that's needed.
The most accurate of all the rifles I have tested to date is the FWB 150 I just tested for you, so that was the gun that got the nod. It was sighted-in for 10 meters (11 yards) so it should have been close enough for 25 yards if a large enough target was used. I used the 10-meter pistol target, whose larger bull at 25 yards looks very similar to the 10-meter bull.
NOTE: This is not a continuation of my earlier test of non-lead target pellets. That's a series I started but have not yet finished.
To verify sight-in, I shot a 10-shot group of RWS Hobby pellets that went into an embarrassingly large group. However, on the tenth shot one of the stock screws fell out, reminding me to do as I say and not as I do.
After tightening all screws I decided to shoot just five shots since this isn't a test of ultimate accuracy. I reckoned we could see what we needed from five shots, and I could go through more different pellets that way.
After tightening the stock screws, I shot another five-shot group of Hobbys. While this group was much smaller, it pointed out that I needed to tighten up my shooting technique. I think you will understand why I say that when you examine the group.

Two tight groups of Hobbys (one with three pellets and the other with two) at 25 yards. What can I say? I believe this is due to canting, for as you can plainly see, the pellets tried to group very tight, otherwise.
I figured I was canting the rifle to produce those two groups. With all other pellets, I used downrange cues to slant the rifle the same with every shot.
Surprise, surprise!
The first non-lead pellet I tested was the RWS HyperMAX. I hoped all would hit the target paper at 25 yards, but instead they produced a group that was not much larger than that of the Hobbys. This was not what I had expected. I've never seen HyperMAX pellets do so well before, and I must attribute their accuracy to the FWB 150 barrel. I also have to revise my thinking about non-lead pellets, because this is very acceptable performance!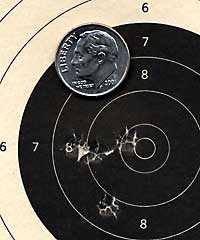 What a surprise! Five RWS HyperMAX pellets did very well at 25 yards from the FWB 150.
Following the HyperMAX, I shot five Skenco Type 2 Hyper-Velocity Field pellets that Pyramyd Air no longer carries. Only four of them connected with the target downrange and the group measured about 12 inches, but that's just a guess from the new mark I have in the drywall behind the target trap. This was the level of performance I had expected from all non-lead pellets, but in fairness to Skenco, these pellets fit the breech of the rifle very loosely and one even fell back out after loading. I wouldn't expect accuracy from a lead pellet with a fit like that.
I'm not showing a target for this pellet because it only has four holes, and they're so far apart that it would be meaningless. The 12-inch spread is no exaggeration.
Next, I loaded the golden Gamo Raptor PBA pellets that have never done well in any of my tests. These are the pellets Gamo touts for killing wild pigs on their TV ads. I've read the reports of others who have had good success with them, but I never have. Until now.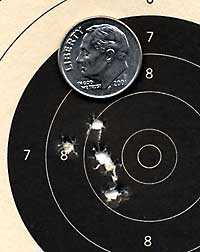 Five golden Gamo Raptor PBA pellets made this tight group at 25 yards.
That target was a real shocker for me because I've never seen Raptor pellets do well, and I've tested them a lot over the years. But the results are very hard to refute, and why would I want to? This is a test on non-lead pellets, after all. Raptors can shoot very well in the right airgun.
That result gave me a lot of confidence that the final pellet, also from Gamo, would group well too. This was the Gamo Platinum PBA pellet that resembles the golden PBA pellet but is actually even lighter.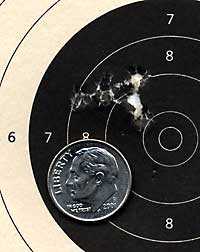 Five Gamo Platinum PBA pellets made the best group of the test.
I have much less experience with the Platinum PBA pellet, though after seeing these results I will try to include them in some future testing of other airguns. They really are an accurate pellet in my FWB 150.
Results
I wouldn't put too much faith in the individual group sizes in this test, because they're only five-shot groups. But the relationships of how accurate they can be should stand out clearly. It was just a chance accident that caused me to test with a target rifle, though I'm sure there are some readers who feel justified by these results. Clearly, lead-free pellets can be accurate in the right situations, and I have to revise my opinions of them.
I will continue to test them in other airguns, plus I'll look for other lead-free pellets to test in the FWB 150. That's why this is a Part 1 report. I'm sure there's more to follow.
It's also nice to have a reliable testbed rifle that I know I can leave alone for just such a purpose. I thought the 150 was just another pretty face, but now I know she can cook, as well! Life just keeps on getting better all the time.