by B.B. Pelletier
Announcement: Kit Palencar is this week's winner of Pyramyd Air's Big Shot of the Week on their facebook page. He'll receive a $50 Pyramyd Air gift card.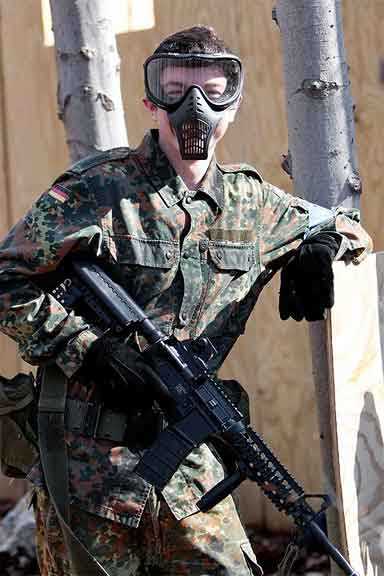 Kit Palencar is this week's Big Shot of the Week.
Part 1
Part 2
Part 3
Part 4
Part 5
Today, we'll complete the test of CB caps against an air rifle to show which is the better gun to use for close-in shooting. There will be a surprise in today's report, plus I'll summarize the entire test.
Today's shooting is all at 10 yards. This is probably where the test should have started rather than finished. Once again, here are the players.
Air rifle — A Talon SS with 24-inch optional .22-caliber barrel and a bloop tube silencer. The rifle is scoped with a Leapers 3-12×44 SWAT scope. It's shooting the .22-caliber JSB Exact Jumbo Heavy pellet.
The rimfire rifles are:
1. A Remington 521T target rifle chambered in .22 Long Rifle
2. A Stevens Armory 414 target rifle chambered in .22 Long Rifle
3. A Winchester Winder musket chambered in .22 Short
They're shooting:
Long cases
CCI CB Longs
Aguila Super Colibris
Short cases
CCI CB Shorts
RWS BB caps
RWS CB caps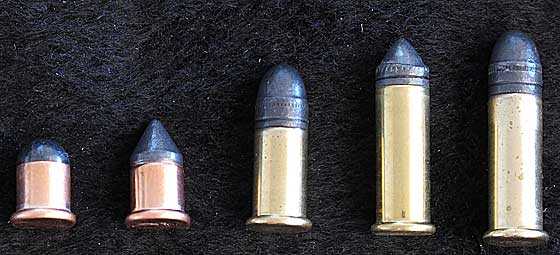 Left to right we have the RWS BB cap, RWS CB cap, CCI CB Short, Aguila Super Colibri and CCI CB Long.
Shooting indoors and the sound
I shot this final round indoors, so the relative discharge sounds could be closely monitored. There wasn't much difference between the air rifle and any of the rimfire rounds except for the two RWS cartridges. Both of them were shot in the Winder musket's 28-inch barrel and were slightly louder than all the others, with the BB caps being the loudest of all.
Performance
At 10 yards, the Talon SS shot all its pellets into a single hole that, until the tenth shot, was just 0.145 inches between centers. Shot 10, however, opened the group to 0.343 inches. You can see it when you look at the group. No excuses, though. I watched the last pellet drop and open the group, yet the hold on that shot was perfect, as it was for all the others.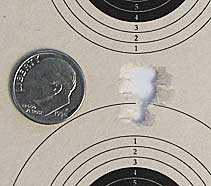 The last shot dropped lower, opening what was a fine 10-yard group from the Talon SS.
The Winder musket has proven to be the rimfire star of this test; and at 10 yards, it did what I thought was impossible. It beat the air rifle! Ten CCI CB Shorts tore into a group that measures just 0.258 inches between centers. So, the CB caps beat the air rifle. I wouldn't have believed this was possible if I hadn't seen it with my own eyes; but, clearly, the fact that the rimfires were shooting with peep sights against the air rifle's scope did not sway the test that much.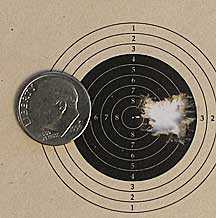 The Winder musket, shooting CCI CB caps, beat the Talon SS at 10 yards.
The Winder was a star at 10 yards. It grouped 10 CCI CB Shorts in 0.258 inches, 10 RWS CB caps in 0.409 inches and 10 RWS BB caps in 1.033 inches.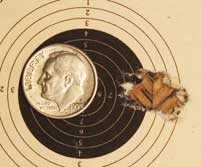 Even RWS CB caps did well in the Winder at 10 yards.
All of the rimfire rifles shot good groups with CB caps and BB caps at 10 yards. The Remington 521T grouped 10 CCI CB Longs in 0.666 inches and 10 Aguila Super Colibris in 1.119 inches. The Stevens Armory 414 grouped 10 CCI CB Longs in 0.778 inches and 10 Aguila Super Colibris in 1.083 inches.
There was another small surprise during this test. The Stevens Armory 414 out-shot the Remington 521T with Aguila Super Colibris and was nearly as good as the Remington with CCI CB Longs. That tells me that the Stevens is a good-shooting rifle, after all, but maybe it doesn't stabilize the slow-moving CB bullets well enough for accuracy at longer distances. I'll come back to that thought in a moment.
Something I didn't mention before
Blog reader Mike (I think) reminded me that CB caps have a pinch of gunpowder in the case, where BB caps are powered by the primer, alone. In this report, I've made it sound like the CB cap is also primer-powered with no powder, but that's not the case. I took apart a CCI Long cartridge to show you the powder, and I've put it next to a CCI Green Tag .22 Long Rifle for comparison.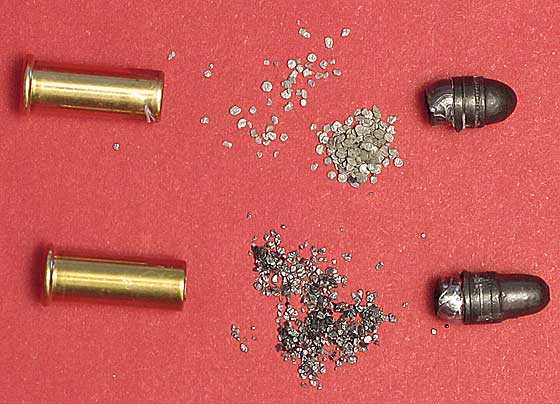 This goes in the "Don't try this at home" instructions. At the top is a CCI CB Long pulled apart. Below is a CCI Green Tag Long Rifle cartridge pulled apart.
What I didn't do in this test
I didn't bust my tail trying CB caps in every .22 I have. If I had, no doubt the results might have been a little different; but I doubt there would have been anything earth-shattering. Any reader who has access to a fine .22 rimfire target rifle is welcome to try his or her hand at this test and report the results. I would really love to hear what a Remington 40X or an Anschütz free rifle could do. Until I hear different, I'm thinking these results are fairly representative of what you will see from a .22.
The results
I have formed the following conclusions from the test results.
First, a CB cap in almost any .22 rimfire rifle in good condition can be accurate enough to dispatch pests at 10 yards or less. If you have a squirrel in the attic, a CB cap might be your best solution — especially if you don't have an air rifle ready to go.
The rifle does have to be sighted-in for CB caps. Though they will be off by only an inch or so at 10 yards, the targets are often small enough that it does matter. Having a scope that has mil-dots so you can easily shift aim points is the best way to compensate for this.
Beyond 10 yards, the CB cap accuracy starts falling off rapidly. The rifle and exact round you choose start mattering. This is not true for air rifles, because one air rifle can be good from 10 yards to 50 yards with just slight changes in the aim point.
At 25 yards, the CB caps become very chancy, and it really matters which rifle and which rounds are selected. In this test, I found that no CB cap/rifle combination was good enough to go all the way to 50 yards. Yet, the air rifle did so with ease and could go even farther.
I'm going to say the CB caps are not stabilized out to 50 yards, because that's what it looks like from the results. I just don't think those bullets have enough spin to keep them on track that far out.
CB caps are quiet, but not more than a quiet PCP. When you're in close confines, they'll sound louder than you think.
Some rifles are simply not suited to the use of CB caps. I eliminated the Ruger 10/22 from the test after experiencing difficulty loading the caps.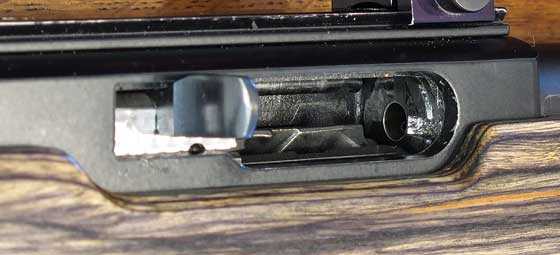 Stuffing those tiny CB caps into the Ruger 10/22's deep breech is no picnic. I don't recommend it.
CB caps are expensive; but if you don't plan to shoot a lot of them, they're much cheaper than buying an entire air rifle. CB caps are ideal for older .22 rifles that may not have the strength needed for today's more powerful cartridges.
On the other hand, if you own a quality air rifle like the Talon SS I've used in this test, I wouldn't think of using CB caps in its place. The air rifle is so clearly ahead of the CB caps at all ranges — the results of the 10-yard test notwithstanding — that it simply makes no sense.
Was it worth the effort?
It absolutely was worth all the time spent gathering the data in this test, because now we have some solid performance data as a gauge. No, this may not be the last test anyone ever does, but it's the first of its type of which I am aware. From now on, when somebody gives you the CB cap excuse for not shooting an airgun, you have something to help you argue your point.