by B.B. Pelletier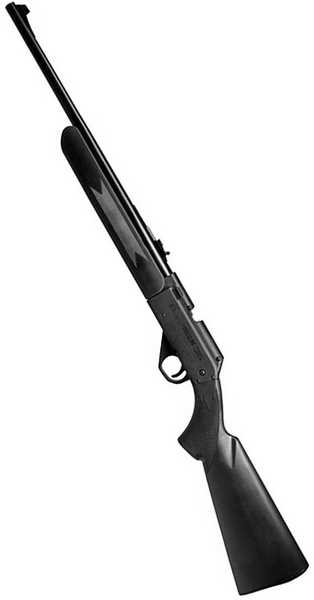 Daisy's new model 35 multi-pump air rifle is designed for youth. It's a smoothbore with several interesting features.
Daisy calls this model 35 an air "rifle," but it isn't a rifle at all. It's a smoothbore. Now, I take exception to the misuse of terminology, but I haven't shot a smoothbore pellet gun in so long that I welcomed the opportunity to try this one.
Also, this is a new model from Daisy. Normally Daisy makes new models by painting their older guns or laser engraving them with a name other than the base gun they come from. So anything that is really new from Rogers, Arkansas, like this gun, is worth a look.
The Daisy model 35 is a multi-pump pneumatic that shoots both BBs and lead pellets, though not interchangeably. You have to decide which ammo you want to shoot, because the loading methods are different for each type. I will cover that in greater detail in Part 2.
Pellets are loaded one at a time and when you shoot them the gun is a single shot. BBs are poured into an internal reservoir that holds up to about 50. They are then fed by manipulating the gun as you load it. A magnetic bolt tip grabs each new BB from the reservoir and inserts it into the breech.
One thing I noticed about loading is you have to be careful not to let the pellet pass into the hole at the rear of the loading trough. That's where the BBs come from and the hole is large enough to accept the pellet. If it enters the hole it could get stuck, so I found it best to roll the pellet into the trough with finger pressure, so it's controlled and doesn't go near the hole.
It's a smoothbore!
Because the model 35 is a smoothbore, we get the opportunity to see how diabolo pellets perform when they are not spinning. A lot will depend on the length of the pellet, as longer pellets should tumble more than shorter pellets.
I read the customer reviews and several mentioned that the gun is difficult to scope. Scope??? This is a smoothbore gun and people want to scope it? The open sights that come on the gun are adjustable in both directions, and although they are not adjusted by precision detents and knobs, they are everything that's needed to shoot well and have a good time. Forget the scopes for this gun, because multi-pumps are not suited to them.
Youth gun
This gun was undoubtedly made for youth. Daisy's Powerline label applies to guns of a certain muzzle velocity and it is supposed to be for children 16 years and up, but in all other ways, this is a kid's gun. Having a short-stroke pump makes it easy to pump to the maximum of 10 pumps, for which you are rewarded with a muzzle velocity of 625 f.p.s. with a steel BB and 605 f.p.s. with pellets. We know nothing about what pellet was used to test it, but Daisy must have used their own zinc-plated steel BBs for the BB velocity test. Therefore it will be very easy to compare the test gun to the advertised velocity.
As a youth gun the 35 is light, at just 3.1 lbs. And because there is no wood on the gun, that weight should not vary from one gun to another. The trigger is single-stage, which doesn't appeal to me personally, but I think it's the style preferred by more shooters. The pull is long and heavy enough to satisfy a lawyer, but it's relatively free of creep. It isn't crisp by anyone's definition, but it is entirely usable and probably a good thing for youthful fingers. I'll give you the pull weight in Part 2.
The sights are designed well and, as noted, they do adjust in both directions. Elevation is controlled by a notched elevator that slides in a slot in the rear sight leaf and windage is controlled by a screw that loosens to slide the rear notch in either direction. The front sight has a white dot , but if you light the target and keep the shooter in the dark the sight blade with appear square in the rear notch.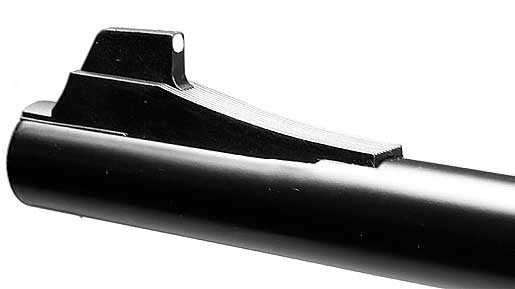 The front sight is a nice crisp post. You can hide the white dot with lighting, for better accuracy.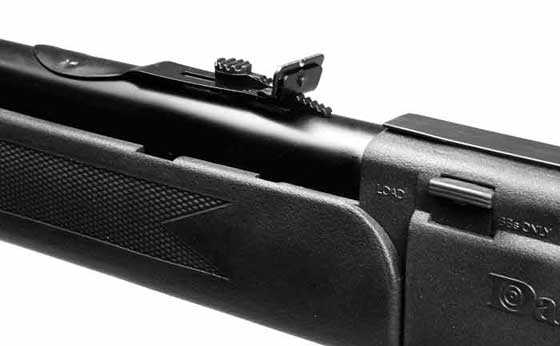 The rear sight adjusts in both directions. This photo also shows the BB loading door located on the left front of the receiver.
Maintenance
This is one of those pneumatics that looks like it cannot be stored with a pump in the compression chamber, because the bolt has to be cocked to charge the gun. Best to do it the way Daisy recommends. The pump head should be oiled, because it is just sealed by an o-ring. That makes the oil all the more important. There is a felt ring ahead of the o-ring that is accessed by opening the pump handle all the way, so it's very easy to oil this gun. And the owner's manual addresses this task very well
Lots of synthetic on this gun, as there must be at such a low price. What intrigues me is the nice adjustable sights and smooth bore. I'll get a chance to see how diabolo pellets do when stabilized by just their high drag! I'm looking forward to it.