by B.B. Pelletier
Announcement: Timothy Burman is this week's winner of Pyramyd Air's Big Shot of the Week on their facebook page. He'll receive a $50 Pyramyd Air gift card! Congratulations!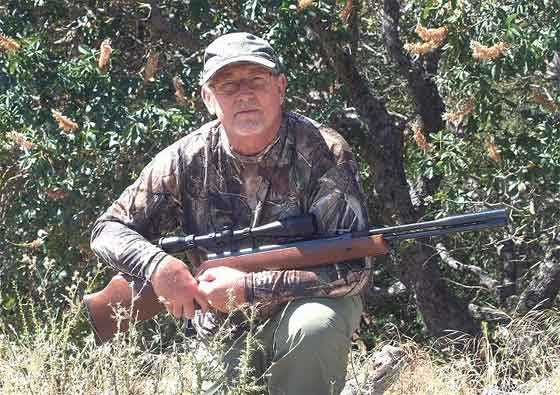 Timothy Burman is the Big Shot of the Week. He's holding his HW97K in .20 caliber.
The day before the SHOT Show opened this year was a special day set aside for the media to sample all the new guns at a range in Boulder City. There were 1,200 official registrants and another couple hundred who got in after the registration ended, plus about 500 personel running the ranges. So, for 2,000 people, each of whom fired 100-1,000 rounds, there was a whole lotta shootin' going on!
Only two air gun ranges were running — one by Crosman and the other was Pyramyd Air. At the Crosman range, I got a chance to sample the new AR-16 upper that converts your lower to a PCP target rifle. It has a Lothar Walther barrel and is a repeater that loads via the charging handle. Whatever sort of lower receiver you attach the upper to is what determines the kind of rifle you have, so the one that designer Scott Pilkington let me sample was quite nice.
But it was the 9mm Conquest (yes, it's both semi-auto and full-auto) rifle that thrilled me most. Maybe it was because I was repeatedly hitting the silhouette target at 200 yards with a rifle the first time I fired it! That's hard enough to do with a centerfire rifle right out of the box, but this gun did it the first time.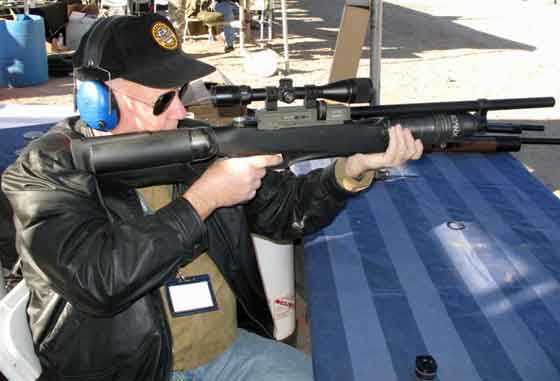 Tom shoots the 9mm Evanix Conquest at Media Day.
The 9mm is not ready for the market yet, and I still have the .22 report to finish; but it's being developed, and we already know that it works. As it gets closer to being a reality, I'll get into the particulars — but at least you know it's coming.
The show started the next day, and I saw a number of interesting new things right off the bat. I'll start with Hatsan USA. The company has stepped out on its own and will do business under the Hatsan name from now on. The designs that have been driven by other companies will no longer encumber the Turkish designers. We already know they make great firearms, and we hope that will spill over into the airguns they bring.
I saw two new things that need to be tested. They offer a new Quattro trigger that's extremely adjustable, according to president Blane Manifold, who referred to it as a match trigger. I'll withhold judgement until the first test, but here's hoping he's right!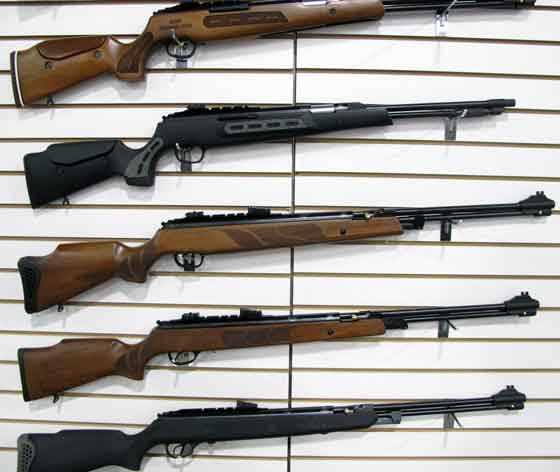 Hatsan's new rifles carry their name. Hopefully, their features will be fresh and sharp.
They also have a shock absorber system (SAS) that they say will isolate the shooter from the powerplant buzz. I hope the guns won't need to use it much because they're inherently smooth to begin with, but again, only a test will tell.
Over at Crosman, there are so many new products that if I were to tell you all of them it would take more room than this blog can dedicate. But one new product caught my eye over the others — the new butterfly hand pump. Those who read my report of the Benjamin 392 pump-assist gun will understand that applying the same technology to a hand pump means easier pumping to maximum pressures.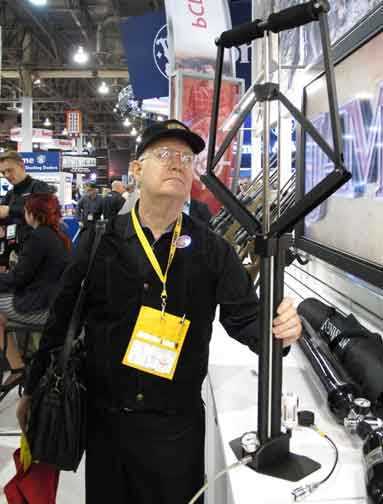 The new hand pump looks like a radio tower when the handle is extended. The butterfly design amplifies your energy to reduce the effort required to pump.
The new pump is in development and, no doubt, will require more time before we see it for sale…but it is in the works. With Crosman's stake in the pneumatic world, I think they need to fast-track this one!
At Umarex USA, there was another cornucopia of products, but once again something special caught my eye. This time it was two Hämmerli rifles — one a sporter and the other an affordable 10-meter target rifle.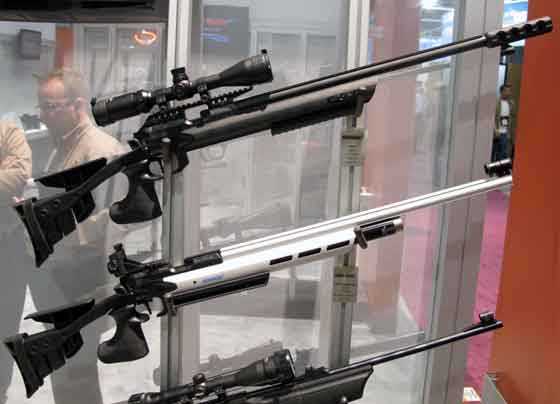 Hämmerli's sporter and affordable 10-meter target rifles will be the topic of our tests this year.
While there are many attractive attributes to these rifle, I do have a couple concerns for the 10-meter rifle. First, the max fill pressure is 300 bar, which is close to 4,500 psi. Not many U.S. shooters have air at that pressure. The guns can be filled to 200 bar, of course, but the shot count is reduced.
The velocity for the 10-meter rifle is 780 f.p.s. — way above what the other target rifles generate. I know Walther (Umarex owns both Hämmerli and Walther) would never dare field a target rifle that shoots that fast, so I'm curious to learn why they thought this one would be okay. Perhaps, it was just marketing copy written by someone unfamiliar with competition and was obtained with a non-lead pellet that would never be used in the real world. I certainly hope so — because in all other ways, this rifle has a lot going for it.
Another very interesting gun at Umarex was the Morph 3X — a BB gun that changes from a pistol to a rifle to a shotgun. I've got to test this one as soon as I can, because I've never seen anything like it. Okay — maybe in some cartoons or when the Joker pulls a revolver with a 6-foot barrel out of his waistband to shoot down the Batplane — but never in the real world!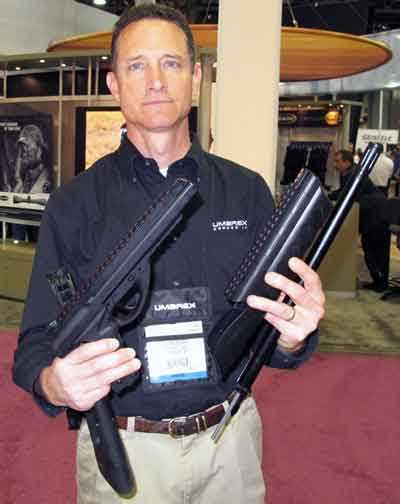 Glenn Seiter of Umarex USA holds the parts of the amazing Morph 3X — a one-gun-does-it-all for BB-gunners.
I'll end this part of the report at the AirForce booth, with the Spin-Loc air tank attachment system. How many times have I heard people say they wish AirForce tanks had a pressure gauge? This is it, and it allows the shooter to index the tank in any position or rotation he desires. The tanks also have a new adjustable buttplate that allows you to not only adjust the rotation, but also the length of pull.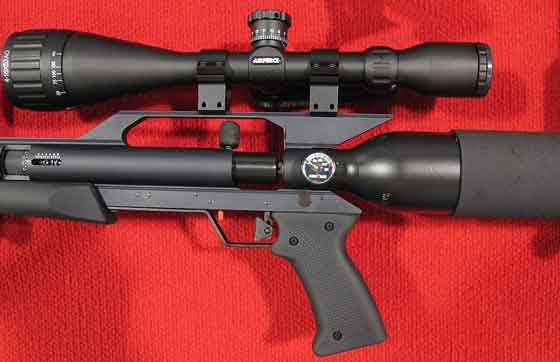 The new Spin-Loc air tank attachment system gives the shooter the in-tank pressure gauge shooters have been asking for.
On the opposite side of the tank, there's a male quick-disconnet fitting, so the gun can be filled while still on the gun. This is another feature that's been requested, and it makes sense to put it on with this new fill system.
I have taken a lot more pictures than I'm showing here, and of course there will be a more detailed report after I return from the show. I'll try to make sense of some of the rumors you may have read. Til then, chew on these new toys and let's hear what you think.