by B.B. Pelletier
Announcement: Allen Baltzer is this week's winner of Pyramyd Air's Big Shot of the Week on their facebook page. He'll receive a $50 Pyramyd AIR gift card! Congratulations!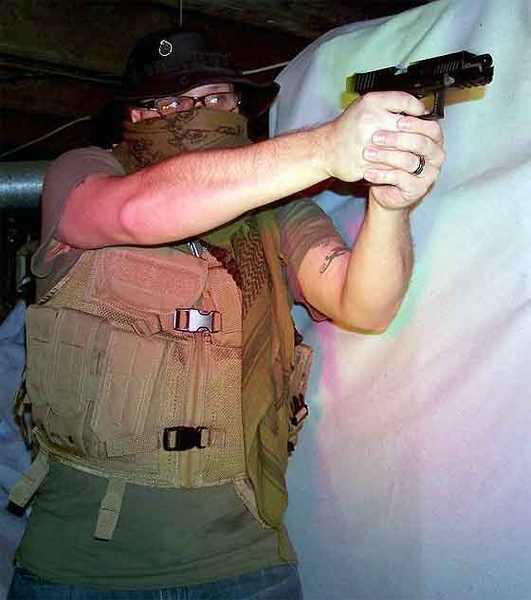 Allen Baltzer is the Big Shot of the Week. Here he's shooting his Umarex SA177 CO2 pistol.
Before I begin today's report, I have to tell you that this coming Monday I will show you something truly astounding. I tested an airgun at the range yesterday, and the results were so surprising that I had one target witnessed. But I told the guy who signed it to never speak of it, because people will think he is a liar—just like me.
That's coming Monday. Now, for today.
Lately, I noticed that my viewpoint on air guns and firearms in general has taken a new turn. I now find myself wanting to trim down my personal collection of airguns and firearms and to devote more time to fewer guns. If a gun isn't interesting, I don't have time for it. I've always been driven by the clock, but recently it's become very pronounced. If a gun can't justify itself, in terms of shooting fun or value, I don't need it.
That's not what things were like back when I started out in the shooting sports in the 1960s. Skipping over my youth and going right to early adulthood, it was in my early 20s when I was in college that I got interested in firearms, mostly because of my job at Frontier Village amusement park. Back then, I wanted to try everything, sometimes just to see if it was really all that people said or wrote about it, and other times just because I was fascinated. I wanted to try a .375 Holland & Hollandto see if it would knock me down (it didn't) and a .458 Winchester Magnum for the same reason. The .458 was sobering, but I was a reloader at the time and soon found that a certain lead bullet and a small charge of a certain smokeless powder gave spectacular results at 100 yards. I never shot a full-bore .458, again.
Then, I got commissioned and went to Germany with the Army, where I became interested in airguns through the writings of Robert Beeman in the first edition of Airgun Digest. Ironically, I was stationed in Erlangen, a city near Nürnberg and the home of the airgun manufacturer, Bayerische Sportwaffenfabrik (BSF), though I was unaware of that fact while I lived there. Instead, it was in the walled city of Rothenberg on the Tauber that I found and bought a Diana Model 10 target pistol. That pistol turned out to be so sweet-shooting that it changed my outlook on airguns forever.
Beeman was telling me in Airgun Digest about the guns I was probably passing in the night without actually seeing, and there I sat in Germany, pining for the day when I could return home to California and visit the Beeman store to buy a German air rifle! Talk about irony!
I did return to San Jose in December 1976, and the first thing I did was drive up to see the Beeman store in Santa Rosa. I bought a Feinwerkbau 124D after considerable angst deciding between it and an HW35 Luxus. It was my Christmas present to myself.
After that, it was a slow but steady ramp-up to full-blown airgun collector status, which happened around 1990. At that juncture, I wanted one of every airgun that existed, and I had no idea what existed. We didn't have the Blue Book in those days, so my education was one of trial and error while reading everything about airguns I could find.
For the next 10-15 years, I was an active collector; and because I was also writing about them, my finds provided the perfect research material! When I discovered the Crosman 600 pistol, for example, I didn't just want one — I wanted all three major variations! I met the movers and shakers among the American airgun collectors. Even though I made some costly mistakes, my lucky finds overshadowed them, keeping me on an even financial keel.
But about a year or so ago, the thrill of finding new guns left me, or at least it greatly diminished. Instead of many new guns, I found I am now more interested in fewer guns with which I can spend more serious time. The Ballard probably pushed me in that direction and made it easier to get rid of other guns I once thought I would never sell.
I do still have some items of interest, but now they tend to be the more important pieces that will also cost more, like the vintage 10-meter rifles I've been testing. The number of new guns I buy has dropped, and the pace of acquisition has slowed, but the enjoyment level has increased. I can see a day coming when I will own only a handful of guns, but enjoy the shooting sports immensely. Many of my friends are doing and feeling the exact same thing, so I believe this has to be linked to our age.
I still understand and appreciate the raw desire a person new to the hobby can exhibit for a certain gun, however. That comes through loud and clear even when the gun in question isn't my taste. I can certainly understand how it can appeal to others.
I think there are "seasons" to an airgunner's life, or journey through this hobby. At different times different things will be of primary importance. This might be related to the chronological age of the person, rather than to their level of experience. In other words, two 50-year-olds are more likely to view things the same, despite one of them being an experienced veteran and the other a newbie. I think this must be the case, because I'm also experiencing the same sort of thing in other areas of personal interest.
I read about Matt61's broad firearms interests in the daily comments and am reminded of my own similar interests when I was his age. However, some of those interests, such as the fascination with the M1 Garand design or seeing beauty in the No. 4 Lee Enfield rifle, seem to be timeless — at least so far.
Many years ago, there was a book about maintaining Volkswagen cars titled,  How To Keep Your Volkswager Alive — A manual of step by step procedures for the Compleat Idiot by John Muir. We called it the idiot's book, for short. The author rambled on about karma and stuff that a straight-laced Army officer shouldn't have been interested in, but I was! There were technical illustrations throughout the book, but there were also lots of other drawings that looked like Grateful Dead concert posters.
The point is that even though Muir and I probably didn't see eye-to-eye on many subjects and probably didn't support the same political ideals, I have to acknowledge that he wrote the finest car maintenance book I've ever had the pleasure of reading. I needed the info he was writing; but as an added benefit, he managed to put it into terms I could comprehend. Perhaps that made me an idiot, but I was so happy just to learn this stuff that I didn't care what label I got.
Sometimes, it's the subject (airguns in this case) that validates our interests and draws us together. But as we age, our outlook on many things changes. I still like airguns and shooting, but probably not in the same way that many of my readers do — especially if we are separated by several decades of life. So, I'll continue to review and test airguns as I have all along, but please bear with me when I reflect on the world as I see it. It's the same world that you see, only seen through older eyes.