by B.B. Pelletier
Simple enough question, no? Maybe you get confused by certain air-powered tools or perhaps a slang reference to a paint sprayer, but most folks know exactly what you mean when you say airgun.
Think so? Think again.
The term airgun isn't found in most dictionaries, yet. You'll find your spell-checker wants you to write it as two words, but that's not what today's blog is about. I really want to know if you know what's encompassed by the term airgun.
Some of you have already stopped reading to formulate an official-sounding definition that goes something like this: An airgun is any smoothbore or rifled gun that propels a projectile by means of compressed air. As you stand back to admire your work, it suddenly dawns on you that your definition doesn't encompass any of the guns that are powered by CO2. Don't you hate it when that happens?
Airguns, it turns out, can be a great many different things. Air is only one of their defining characteristics.
Carbon dioxide
Before we move on, however, let's deal with the CO2 issue. Clearly carbon dioxide isn't air. If you doubt that, try breathing it for 20 minutes, and then we'll talk. I've had arguments at length with airgun collectors who were stubbornly opposed to labeling CO2 guns as airguns. While that's a fun subject for two people to banter about as they watch the fireflies rise on a warm evening, it doesn't serve a person who is drafting state legislation regarding new hunting laws!
So, are CO2 guns airguns, or not? Well — let's see. They're sold by airgun dealers, they travel under the same restrictions as guns that do operate on air, they use the same ammunition and they perform similarly. And, heck, there are even a few amphibious models such as Benjamin's Discovery that operate on either compressed air or CO2. Wasn't it Robert Kennedy who observed that if something quacks like a duck it probably is a duck? So, yes, guns that use CO2 are also airguns.
Green gas/red gas
Wouldn't it be nice if it ended there? Well, it doesn't. There are other propellant gasses that power guns that must also be considered, now that the door has been opened for CO2. I'm talking about green gas and red gas. The airsoft industry hates to admit it publically, but green gas is actually propane. A tiny bit of silicone oil is added to the gas to lubricate the gun's parts as it functions, and they leave out the odor that's added to commercial propane to identify gas leaks (real propane doesn't smell like onions; it has no smell at all).
The same dealers who tell you green gas is special will even sell you adapters to fill your green gas guns from five-pound propane tanks, all the while backpeddling on admitting that green gas is propane! The Orient, where a lot of airsoft guns are made, is quite good at doublespeak!
Here's where it becomes interesting. Green gas develops a pressure of around 115 PSI at room temperature. That's plenty of push to propel a 3-grain plastic ball (they call them BBs) out the spout at a fairly good clip.
Red gas is more exotic. It has a higher vapor pressure than green gas, so the guns that use it require some modifications. If you read all the warnings, you'll get the idea that red gas is like nuclear fuel, but for one thing. Some airsoft guns also operate on CO2, which has a vapor pressure of 853 PSI at room temperature, which goes way beyond the pressure of red gas. To operate on CO2, airsoft guns have to be modified even more, and this is done by restricting the gas flow through special valving that has very small gas ports. There you are. Guns that run on green gas, red gas and CO2, none of which is air — yet they fall into the airgun category because there's no other category for them.
Airsoft guns do receive special legislation of their own because many are built to simulate firearms (called "real guns" by some folks), and they're used in force-on-force skirmishes, with people shooting at each other. There are legal issues concerning brandishing in public and special markings on the guns that are not as applicable to the kind of pellet guns I generally write about. But airsoft guns are sold by the same dealers and often made by the same companies who make conventional airguns. Again, they quack like ducks.
Catapult guns
We're not finished with the non-air powerplants, yet, Sparky. There are still catapult guns to consider.
Catapult guns propel their projectiles by means of a spring in the form of an elastic band or even a conventional coiled steel spring. If you think CO2 guns cause controversy among the anal airgun collectors, try raising this subject and see what happens!
The most common catapult guns are the Sharpshooter-series guns dating from 1923 and produced as toy novelties in the U.S. through at least the 1980s. These guns all shot .118 lead shot, which is more commonly known as No. 6 birdshot.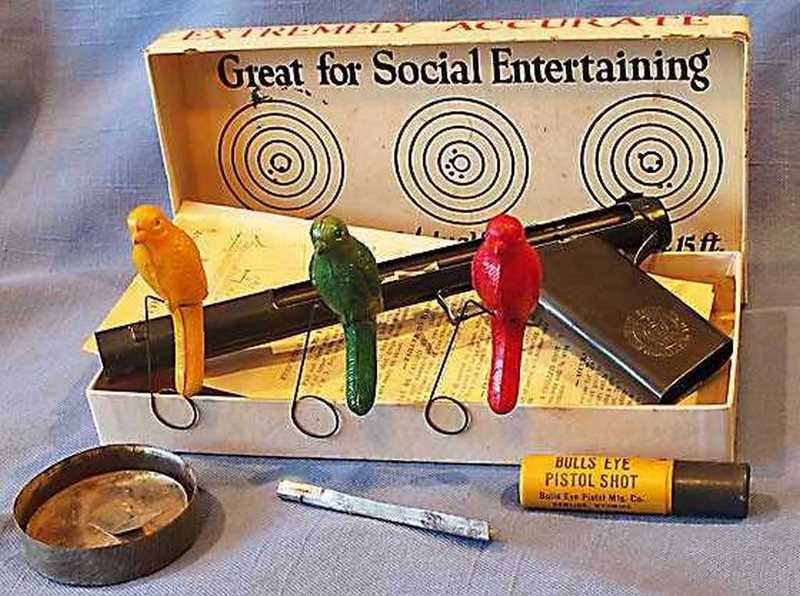 This Bulls Eye pistol was the first of many so-called Sharpshooter pistols powered by rubber bands. It fired No. 6 birdshot up to ~150 f.p.s. when multiple rubber bands were used.
In most airguns, the use of dropped shot (shotgun shot is made by either dropping it from a high tower so that it forms a ball as it solidifies or forced through small holes by centrifugal force) can be a problem, because of inconsistent size. The shot can easily get jammed in barrels when it's oversized, which is why we seldom see real BB-sized shot (shot size BB is nominally 0.180 inches in diameter) used in antique BB guns. It simply isn't regular enough. But catapult guns seldom use barrels. They usually place the shot to be fired in a shaped seat to hold it during acceleration, then release it cleanly at the end of the acceleration phase.
The Johnson Indoor Target Gun shot conventional steel BBs from a submachine gun-looking plastic frame. It used tubular elastic bands much like modern surgical tubing to launch a 5.1-grain BB at 100-150 f.p.s., depending on the strength of the bands.


The Johnson Indoor Target Gun sold for $15 in 1949. It shot steel BBs at 100-150 f.p.s.
But Daisy made a catapult gun that used steel springs. Their model 179 is a Spittin' Image replica of a Colt single-action revolver that I reported in this blog some time back. Instead of just flinging the BB with the force of the spring, the spring in the 179 pushed a paddle that actually hit the BB like a croquet mallet smacks a ball. Instead of just pushing the BB out the barrel (and this is one of the few catapult guns that really does have a smoothbore barrel), it was whacked out like a line drive off a baseball bat.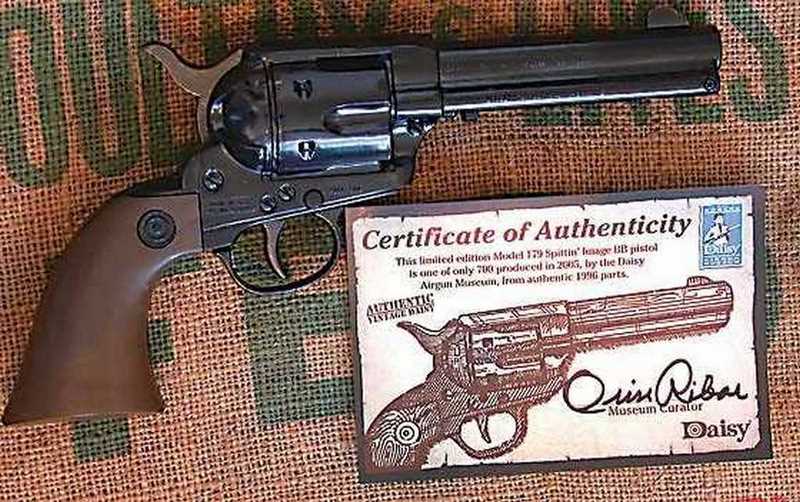 Daisy's 179 was an early Spittin' Image gun. Production began in 1960.
Rigid airgun collectors are really challenged by catapult guns, because of the Daisy connection. They don't want to include them in the body of legitimate airguns; but with Daisy being such a key player, they usually cave.
That sets them up for a huge disappointment when they suddenly learn that in the 1840s there was another catapult gun that launched lead balls of approximately .43 caliber with sufficient force to kill small game. The Hodges catapult gun is a long gun with no barrel but with all the Victorian styling expected of a naval weapon made in the 1840s. The thought among advanced collectors is that it was a foraging gun made for naval vessels. Except for the few parts that absolutely had to be made of iron for durability, the rest of the gun is fashioned from bronze and English walnut!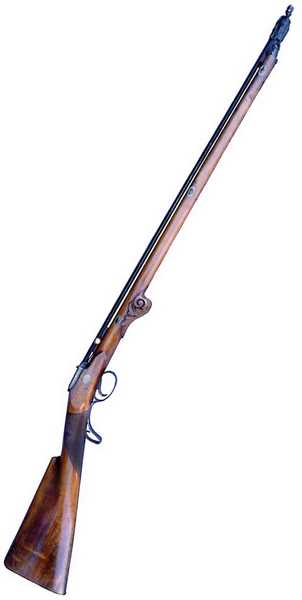 The Hodges catapult gun dates from the 1840s. It was a ship's foraging gun that made little sound, yet could take game of reasonable size without alerting hostile natives. The Roman soldier statues at the front are for anchoring the elastic bands.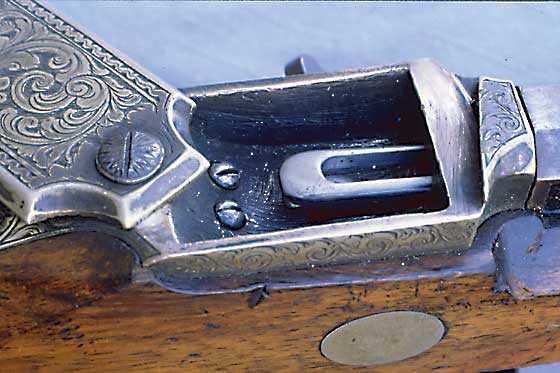 The Hodges ball carrier is pushed back until the sear hooks it. Then the elastic bands are stretched one at a time to increase power. This way, the shooter can build in a lot more power than he can possibly handle when cocking the gun.
The elastic bands were anchored at the forward end by two Roman soldiers cast in detailed bronze relief. I've seen two such guns — the one pictured here is in remarkable preservation and the other one has been restored to working order and shot by its owner, who reports velocities in the mid-400 f.p.s. range with 122-grain swaged lead balls.
Caps!
The next branch on the oddity tree deviates toward those guns that shoot BBs and shot by means of the power of an exploding toy cap. Wamo made a minimum of five different models, and new ones surface every couple years. The most recent I've discovered shoots potato plugs!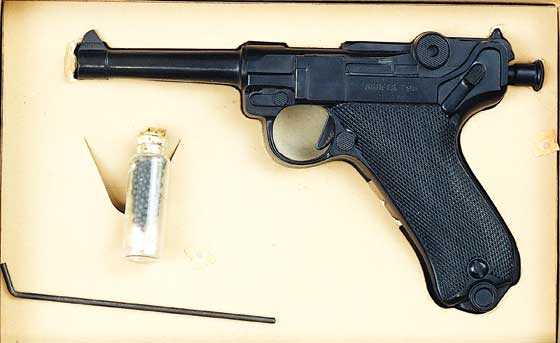 The Kruger '98 was a cap-firing gun that shot No. 6 birdshot. The same gun also shot BBs and was called just Kruger. Wamo (also spelled Wham-o) made them both.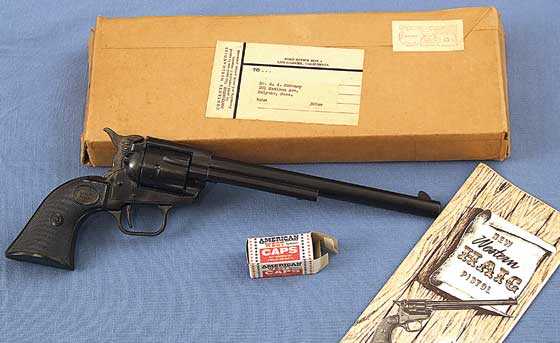 The Western Haig used toy caps to launch No. 6 shot. It sold for $2.98 in the 1960s. Sold by the founders of Wamo under a different company name and only from a P.O. Box.
If a toy cap can launch a BB, what's to prevent it from igniting a small charge of black powder? And who decides what's "a small charge"? There have been .22-caliber, .36-caliber and even .45-caliber rifles made by Rocky Mountain Arms Corporation in modern times that operate by means of exploding caps igniting black powder. If you go back 100 years, there were some made then, as well. They're clearly firearms when they use black powder, but what about those using caps only?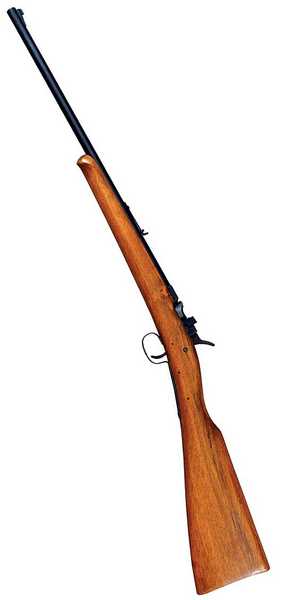 This .22 rifle from Rocky Mountain Arms Corporation uses toy caps to ignite black powder behind a .22-caliber lead ball. They also made this in .36 and .45 calibers!
As long as we're talking about caps, what prevents someone from using percussion caps and even primers to propel pellets and BBs? Apparently nothing, because it's been done. Are these all airguns, as well?
Not the end!
As you now can see, the question of what constitutes an airgun is far from clear. Once you accept any of these deviations, the rest will come streaming through the same loophole. For instance, is a gun that also launches an arrow then considered a bow? And if so, is it legal to use during bow season?
It is for reasons like this that Edith and I are sometimes so rigid and precise in our terminology — because you never know what's waiting in the wings.