by B.B. Pelletier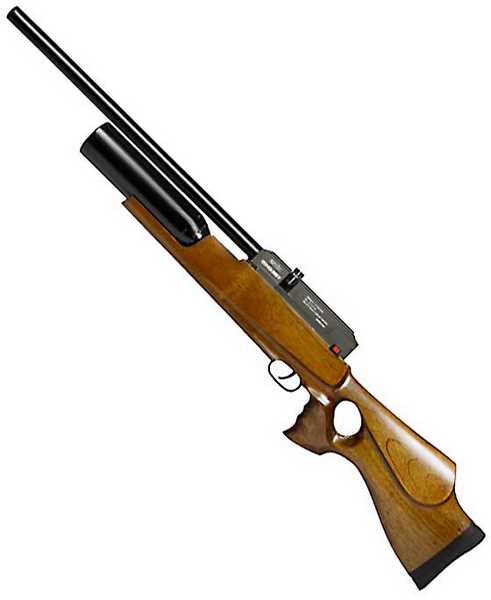 The Evanix Conquest has features that set the bar very high for air rifles.

The cat's out of the bag, so to speak, because today's title tells you what my big news is about. And I tied reader Kevin to this report because he owns an Evanix Conquest PCP air rifle that hasn't given him much joy. Today, I'll show you the most astounding shooting I've ever done, but I'll also address a mechanical concern and how it was corrected! This will be a report to remember, and here we go.
The Conquest is a very different air rifle. It took me two separate reports just to get through the general description because there are so many differences and unusual aspects of this airgun. The action is operated by a battery in the same way that an AEG airsoft gun operates, so I had to show you all of that. And, as I predicted, the forums are full of discussions about upgrading the battery pack — discussions among shooters who haven't even seen the gun, yet. My advice it to see it and shoot it, first. It might just be good enough as is.
The rifle shoots both semiauto, which very few pellet rifles do, and full-auto, which only one other CO2 gun (the Auto Ordnance SMG-22 belt-feed carbine) currently does. Until this test, I had a lot to say about the wisdom of providing a full-auto mode — likening it to a shopping cart with wheels rated to 200 mph. That's my way of saying, "Who needs it?" Today, I'll eat those words. Stick around.
Posting backwards?
Also, I am reviewing accuracy out of the usual order. Normally, I look at velocity first and accuracy afterwards. Several readers have commented that they do it the other way, because who cares how fast certain pellets will go if they aren't accurate?
Believe it or not, I put a lot of thought into doing a review in the order I usually do it. When I review velocity it's not to correlate it with accuracy, but rather to show the power potential of the powerplant. I do understand the readers' viewpoint that only accurate pellets are interesting; and like everyone, else I do tend to shoot only the most accurate pellets. But when I do the velocity test, I'm separating the power question from accuracy. I want to know what the gun is capable of doing as far as power is concerned, then in a separate test I want to discover what its accuracy can be.
Yes, I'll recommend shooting the most accurate pellet, but if it only produces 20 foot-pounds while the most powerful pellet produces 25 foot-pounds, I want to show that the gun is fully capable of producing 25 foot pounds. Who knows if there will be a new pellet in the future that will be able to use all the power the rifle has and be accurate at the same time? So, my test will have demonstrated the peak power potential. If you look back at my discussions of accuracy and power in many past tests, I think you'll see this has always been my thrust.
Today, we're looking at accuracy first, because I had the opportunity to get to the rifle range on a dead-calm day. I could not let such an opportunity pass. So, today is accuracy day, and velocity day is still to come for the Conquest.
A couple corrections
During the time I was examining the rifle for this report, Edith wrote the most comprehensive airgun manual I've ever seen. She wrote it for both the Conquest rifle and the Speed, and we had to operate the gun extensively to check facts for her manual. Several things I initially told you have been changed as a result of this more detailed look.
1. The batteries need at least an 8-hour initial charge before the first use.
2. The magazines hold only 10 rounds instead of the 12 rounds I told you (with all double-mags holding 20). That holds true in all three calibers (.177, .22 and .25) but not for the 9mm, which is yet to come.
3. There was a problem with the magazine sticking in the action that was corrected by lubrication. Let's look at that right now.
Magazine sticking problem
When I first examined the gun, I noticed that sometimes the magazine would not come out of the action when it was supposed to. When this rifle fires, the bolt passes through the magazine and pushes the pellet into the breech just before an air blast propels it out the barrel. If the bolt doesn't retract all the way after the shot, you can't remove the magazine because the bolt will still be inside.
Now I know what the plastic window on the right side of the receiver is for! Use it to access the bolt, so you can lubricate it properly. Then, it'll retract and the gun will run perfectly — or at least mine did.
The bolt has two diameters — a large rear section and a narrow front section. Both diameters must be lubricated, because they pass through different passages in the receiver.


Use an oiling needle to get oil onto both diameters of the bolt. The larger black steel portion on the left looks oily in this picture, while the smaller silver portion on the right, to the right of the hook-like part in the middle of the window, looks dry. That's because the surface is too smooth to see the oil. It's there. I used bike chain oil, but Pyramyd Air used FP-10, and both products did the trick.
Once I lubricated the bolt with the oiling needle, it worked fine and there were no more sticking magazines. But if you do encounter a sticking mag, the recommended solution is to pull the trigger and hold it back for a few seconds after the rifle fires.
A great day at the range
Well, it was a great day for shooting the Conquest. The morning was foggy, where not a breath of air could be felt. I shot the entire test in the most perfect conditions imaginable. And all shooting you are about to see was done at 50 yards.
Accuracy
The rifle comes without sights, so I mounted a Bushnell Trophy XLT 4-12x40AO scope on low two-piece rings. I then sighted-in the rifle with Beeman Kodiak pellets.
The first four rounds got me on target, and then six more went into a group that measured 0.811 inches between the two widest centers. If I accepted 5-shot groups as standard, my job would already have been done, and the Conquest would be a very accurate air rifle. But that's not how I roll, as you know, so I reloaded the magazine and shot a full 10-shot group.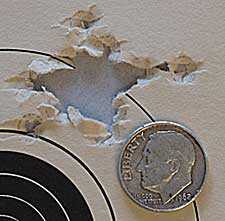 Ten Beeman Kodiaks went into 1.241 inches at 50 yards. That's okay, but not great. Time to try the next pellet.
Ten shots into 1.241 inches isn't the level of accuracy I'd hoped for, even at 50 yards, so I decided to move on. However I note that the 21.1-grain Kodiaks do feed smoothly through the magazine. Length is not a problem.
The trigger and what it feels like to shoot
Shooting these two groups (6 shots, followed by 10 shots) afforded me the opportunity to get used to the Conquest's trigger. I remember saying that a rifle at this price has to have a perfect trigger. Well, the Conquest trigger is far from perfect. But then I thought of another semiautomatic air rifle — the FX Revolution, which I'd tested a couple years back. It also has a less-than-desirable trigger that slaps you back through the trigger blade every time the rifle fires. In comparison, the Conquest trigger is less annoying. Instead of breaking like glass, this trigger has a rocket-push feel to the release. It's difficult to describe, but you feel the movement of the bolt through the trigger blade.
But the magic of shooting a semiauto with almost zero recoil allows every shot to go where you want, and soon you forget the trigger. Knowing the rifle will stay exactly on target — and all you have to do is pull the trigger for another shot — builds your confidence like you wouldn't believe!
JSB Exact Jumbo Heavy
Next, I tried the 18.1-grain JSB Exact Jumbo Heavy pellets. In many rifles of this power, the 18.1-grain Jumbo Heavy JSB is the most accurate pellet, but not this time. In the Conquest, 10 JSB Jumbo Heavys made a group measuring 0.958 inches between centers. That's not bad, but it's still not the best the rifle can do.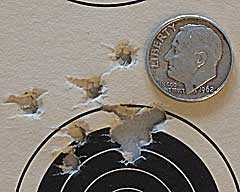 Now this is more like it! Ten JSB Exact Jumbo pellets in 0.958 inches at 50 yards. This kind of performance is very credible, though not as good as the Conquest can shoot.
JSB Exact 15.9-grain
The next pellet I tested was the JSB Exact 15.9-grain dome. JSB calls this one a Jumbo, but I find that confusing with the Jumbo Heavy, so I make an exception by referring to this one by its weight. Over time, I've found this pellet to be the most consistently accurate .22-caliber airgun pellet.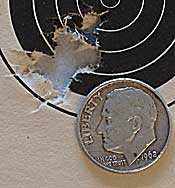 Now, that's a group! Ten JSB Exact 15.9-grain domes made this 0.547-inch group at 50 yards. This is fantastic performance. It is accuracy rivaling some of the finest semiautomatic rimfire rifles — after they've been accurized.
The 15.9-grain JSB Exact shot many groups between 0.50 and 0.75 inches, time after time. It was so dead-reliable on this perfect day that I would have picked it over all other PCPs for a benchrest match. But there's one dynamic you do need to watch.
Other pellets tested
I also shot the .22-caliber Crosman Premier and the heavy 28.4-grain Eun Jin dome. Both groups were about the same as the Kodiaks, and I did not pursue them beyond a single group.
Shot count
The Conquest holds a lot of air, so the tendency is to keep right on shooting for magazine after magazine. If you are shooting spinners at 35 yards you'll get away with it, but out at 50 yards things start to look different. That's why I test at that distance with super-accurate PCPs like the Conquest.
I noticed that the first three 10-shot groups were all very tight. The group of JSBs going into 0.547 inches, shown above, was the first group fired on a fresh fill of air and also the best group of the test, but let's take a look at the fourth group fired on the same fill with the same pellet.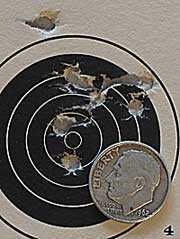 This group of JSB Exact 15.9-grain domes was the fourth group on the same fill. It measures 1.267 inches between centers. Three 10-shot groups are the limit at 50 yards when the best accuracy is required.
That fourth group is approximately the same size as the group of Beeman Kodiaks I showed you first. While it's a good group, it's not representative of this rifle's true capability at 50 yards. What this means is the total shot count you'll get on a fill with this rifle depends on what you're shooting and how far it is. If you want the absolute best the rifle can do, refill the gun after 30 shots. But if you're hunting squirrels at 35 yards you can go to at least 40 shots, if not more.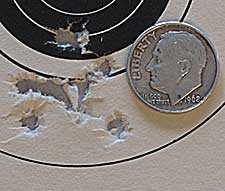 This 10-shot group of JSB Exact 15.9-grain domes measures 0.760 inches between centers. There were many groups like this, and I would say this is representative of what the rifle will do all the time under good conditions with this pellet.
Full-auto
Of course, semiautomatic is only half of the game with the Conquest. I had to fire the rifle on full-auto, even though I was scoffing at the thought. Why would anybody even do that, I wondered. Well, the first group I shot answered my question.
The big surprise!
When I looked through the scope after the burst was finished I couldn't tell if all the pellets were in the group or not, so I checked it with my new super-sharp spotting scope. What I saw caused me to jump up and down and pretty much stop the shooting on that range.
I am fortunate that my shooting buddy, Otho Henderson, was there to witness what happened. I had told him the Conquest was a full-auto gun; but until you hear it rattle the shots off, it doesn't sink in. Seeing me this hyper after looking through the spotting scope, he knew something was up because I don't even crack a smile unless a group is really astounding.
We both walked down to the target to examine what was a single ragged hole at my exact point of aim. I had used a 12-inch by 12-inch paper target, stapled to a 24-inch by 48-inch cardboard backer that had no other holes in it close to this target. The other target on which I'd been shooting semiautomatic groups was 12 inches above this one, so it was clear that all 10 shots went into the same tight group.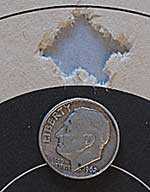 The first full-auto group from the Conquest measures 0.568 inches between centers! Never in my wildest imagination did I think this rifle could ever do something like this on full-auto!
Now I know what many of you are thinking. This was a fluke. You'll never do it again. I thought the same thing, so I shot a second full-auto group for you.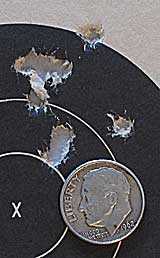 Ten JSB Exact 15.9-grain domes went into this group measuring 1.001 inches between centers. I would expect this to be more representative of a full-auto group at 50 yards. Even so, it's fantastic!
I'm guessing that this second group is closer to what the Conquest will do on full-auto at 50 yards most of the time on a perfect day. But since 90 percent of all the air rifles in the world can't do as well shooting their pellets one at a time, it's still pretty amazing.
In fairness to Mac, he did predict exactly such a thing when we were still in Las Vegas. He once owned a .22 rimfire semiauto that would occasionally dump its whole magazine; and he noted that when that happened, the group was always smaller than what he could shoot pulling the trigger each time. Apparently the gun takes care of business before the shooter can screw it up. I didn't believe him until this happened.
All the good was used up!
Following the Conquest test, I went over to the 100-yard range and proceeded to shoot my old Ballard with the new bullets and loading techniques. Nothing worked, and the best I could do was shoot 4-inch groups! Then, I tried a 30-30 that had shot a half-inch at 50 yards the time before and it, too, shot four-inch groups. So, all the accuracy for the day was used up by the Conquest.
One last thing
Perhaps I should have mentioned this earlier, but I thought it would be a nice surprise here at the end of the report. I had mounted a 4-12x Bushnell scope on the Conquest for this test, but in doing so I failed to notice exactly which Bushnell it was. When I got to the range and tried to adjust the power ring, it wouldn't budge. I had mounted a broken scope on the rifle, so the entire test had to be shot at 4x!
I doubt that mounting a 32-power scope would improve the groups all that much, simply because these groups can't be improved much more than they are right now. But please feel free to imagine what might have happened if the scope had been better.
We look at velocity and power potential next, but at this point in the test my mind is already made up. The Evanix Conquest is a most worthy precharged pneumatic air rifle. It has a number of interesting deviations, some of which, like the battery, will turn off some shooters. But other features, like the full-auto capability, are surprisingly more effective than you might imagine.
As I look at these results, I'm reminded of two weeks ago at Las Vegas, when I pounded a 200-yard metal silhouette with the 9mm Conquest that's still in development. Who knew these guns could be this accurate?