by Tom Gaylord, a.k.a. B.B. Pelletier
Photos and report by Earl "Mac" McDonald
This is the final report about Mac's vintage steel-breech IZH 61. We are only doing two reports — partly because the rifle performs just like the one that's being sold today, but mostly because Mac sold this rifle at the Roanoke airgun show this past weekend. He also bought one just like it that was like new in the box because he got a super price at the same show. That one will be given to some fortunate youngster, as part of Mac's "Arm the Children" program!
Today, we'll look at the accuracy Mac got from his rifle. Then you can compare it to what I was able to do with the IZH 60 I recently tested for you.
Trigger
As I reported in Part 1, this vintage rifle has a truly adjustable two-stage trigger, instead of just being able to reposition the trigger blade like on the current gun. Mac had it set to release at 27 oz., and he says it was crisp.
Someone wanted me to post a photo of the entire vintage rifle, but there isn't that much difference between it and the current one. I didn't think it was worth showing. Yes, if you're a fanatic collector, there are some small differences; but I spent the weekend with the vintage gun before it sold, and it's pretty much the same as what they sell now except for having a steel breech and metal clips.
Metal clips
On the subject of the metal clips, Mac says he has had some plastic clips that got worn to the point that they would no longer stay in the gun as they should. They're supposed to advance one pellet each time the sidelever is pulled out to cock the rifle, but he said some of his would shoot out the side of the rifle because they're under spring tension.
Sights
I showed the sights on this rifle in Part 1, but Mac tried both the peep sight that comes with the rifle and also a Tasco Pro Point dot sight with a 4 MOA dot. At the 10 meter distance he shot, the dot covered about 0.35 inches He e got equal accuracy with both types of sights, but all the groups seen in this report were shot with the Tasco.
He rested the forearm of the rifle on the palm of his hand and shot off a bag rest at 10 meters. We wanted to keep the results equivalent with those I recently got with the new rifle. And he also shot at 10-meter rifle targets, which is why he elected to use the dot sight. The hole in the factory peep sight is so large that there's a loss of precision when using the smaller 10-meter rifle bulls. They get lost in the hole (meaning you can't tell when they're exactly centered). He could have used pistol targets that have a much larger bull, but he wanted his test to look just like mine.
Mac shot 5-shots groups instead of 10-shot groups. Things got confused in our talks, so we didn't shoot the same number of shots per target. Still, I think you will see some interesting things as we go.
JSB 8.4-grain Exacts
The first pellet tested was the JSB Exact that weighs 8.4 grains. Five shots at 10 meters produced a group measuring 0.95 inches between centers. That's pretty big for just 10 meters!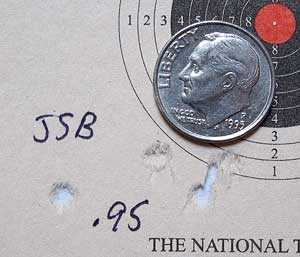 Five JSB Exact 8.4-grain domes at 10 meters made this 0.95-inch group. One pellet looks like it went through the paper sideways!
There are some indications of tumbling with the JSB, so it's possible the rifle wasn't stabilizing it. That would account for the large group.
RWS Hobbys
Next he tried RWS Hobby pellets. These are often among the most accurate in a low-powered rifle, but not this time. Five Hobbys made a 0.90-inch group.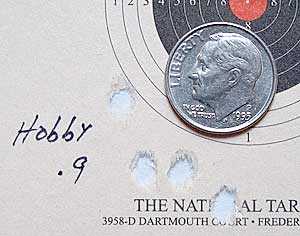 The only nice thing I can say about the Hobbys is they did cut larger holes. They're obviously not the right pellet for this rifle.
H&N Finale Match
Next up were H&N Finale Match Pistol pellets. Five of them made a group that measured 0.80-inches, but notice that one is apart from the other four. If there was something wrong with that pellet, it could explain why it's apart. This might be the right pellet for the rifle, and it's a good example of why one 10-shot group tells you more about accuracy potential than three 5-shot groups.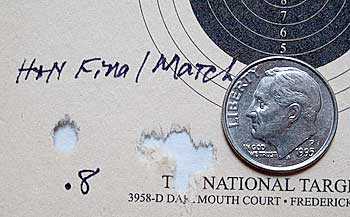 Five H&N Finale Match Target Pistol pellets made a group measuring 0.80 inches.
Eley Wasps
The next pellet Mac tried was one you can't buy anymore. The Eley Wasp has left the stage, at least in the version Mac was shooting. It was an oversized pellet that sometimes cured accuracy problems for rifles with larger bores. In this rifle, 5 shots made a group that measures 0.70 inches. You'll also notice that there don't seem to be any signs of tumbling like there were with the JSBs.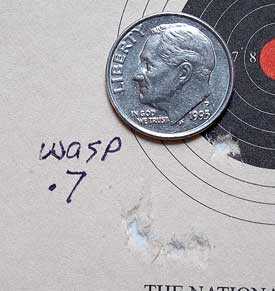 Five Eley Wasp domes made a group measuring 0.70-inches. This group also has a single stray pellet, which means it might also have more potential than seen here.
RWS R10 Pistol pellet
The last pellet Mac shot was the RWS R10 Pistol pellet. These grouped best, with 5 of them making a 0.50-inch group. While that looks good in comparison with the other groups, it doesn't begin to equal the groups I got with the new IZH 61 shooting 10 shot groups! That means is we have to revise our thinking about the old steel-breech/metal clip guns, don't you think?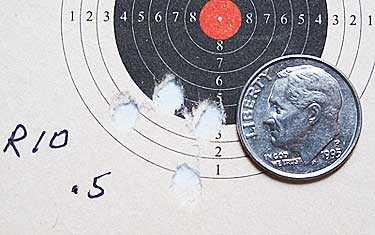 Five RWS R10 Pistol pellets made a half-inch group at 10 meters. It's good only in comparison with the other groups, but doesn't begin to equal the groups from the new rifle.
Our conclusions
Mac and I discussed these results at length, and we believe that the steel breech IZH 60/61 has perhaps become more accurate through the long lens of memory. Just as a walk to school was always 10 miles uphill in both directions when we were young, so it's possible that these rifles were as variable back then as the new ones are now. From the results, we have to say that it looks like the current version of the gun is at least as accurate as the old one, if not more so.
We think that there were probably some very accurate rifles with steel breeches, and then the rest — which our test rifle seems to be — were only good plinkers. I know this test was hardly exhaustive, nor was it entirely without bias. Even so, I think we must admit that the new rifle beat the old one in this case.
What do you think?