by Tom Gaylord, a.k.a. B.B. Pelletier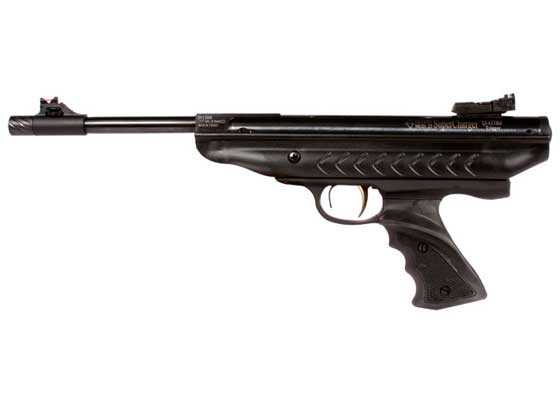 Big and powerful — Hatsan's new model 25 Supercharger breakbarrel spring-piston air pistol is different.
Before I begin, I want to remind you that there will be at least one more Christmas gift recommendation list coming this week. I read all the comments you made and see that several readers have the same thoughts as I about what stuff would make good gifts.
Today, we'll begin our look at Hatsan's model 25 Supercharger breakbarrel air pistol. The pistol I'm testing is serial number 0812 29728 and is in .22 caliber. This pistol also comes in .177 caliber.
Priced right!
My first observation must be that this pistol is certainly priced right! At $130, it's priced below all the competition — of which there is very little. Given the advertised power — if this pistol can deliver decent accuracy — it will be a best buy!
But you know me. Money means nothing if the gun doesn't deliver. That's what this evaluation is all about, isn't it? So, I'll put it through its paces to see what kind of pistol you can get at this price.
The gun
The breakbarrel pistol is rated to produce 600 f.p.s. in the .22 caliber I'm testing and 700 f.p.s. in .177. That puts it at the top of the spring gun list for power. It has a conventional coiled steel mainspring and a screw-on barrel extension that serves as a cocking aid. Believe me — you're going to need it because this pistol is a real bear to cock! I'll tell you how hard it is in Part 2.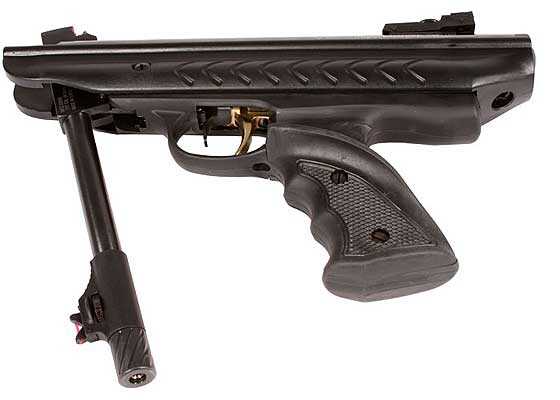 The pistol is broken open to cock its powerful spring.
The gun is for right-handed shooters, only. The rubberized grips have a raised thumbrest on the left panel, which makes it perfect for righties, but uncomfortable for southpaws.
The pistol has fiberoptic sights, front and rear, and this is one time that I'm glad for them. The sight radius is so long, and I don't expect the accuracy of the pistol is going to be that of a target gun, so it's good to have sights that allow you to just point and shoot. I will note that the red tube in front doesn't gather the light too well, so it will be darker than I would like it to be.
The sights are fully adjustable, and I do mean FULLY. The rear sight adjusts in both directions with crisp detents. The elevation wheel has bold numbers, while the windage adjustment relies on a lined scale to let you know where you are. But it doesn't end there! The front sight also adjusts for elevation with a wheel of its own! And that, too, has very crisp detents. The owner's manual shows a 6 o'clock sight picture that's impossible to achieve with these sights. So, sighting-in the gun and shooting for accuracy should be interesting.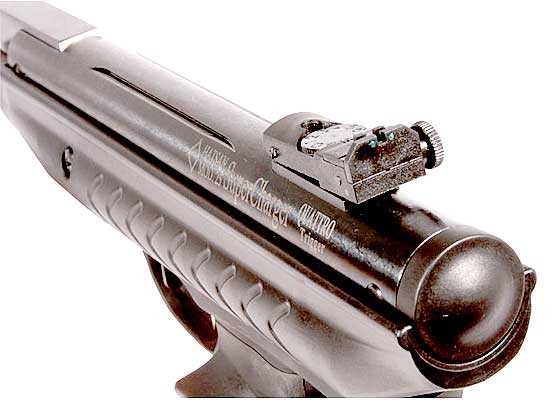 The rear sight is fully adjustable. Note the short 11mm dovetails in front of the sight.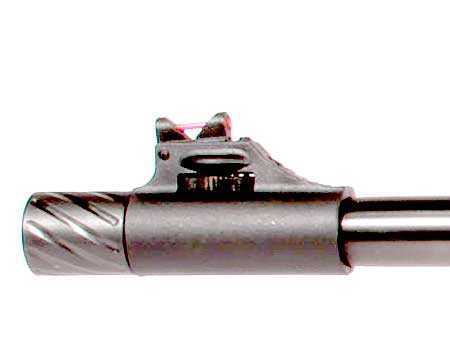 The front sight adjusts up and down with a wheel in the sight base. This photo also shows the shorter muzzle cap instead of the cocking device.
A very short set of parallel 11mm grooves atop the spring cylinder permit the installation of a dot sight. You can mount a scope by selecting an offset mount, such as the one from Leapers.
The pistol has the Quattro trigger, which adjusts for both pull weight and length of travel. The image in the owner's manual is a generic one, and the screws that are shown are actually in a different place on this pistol — but you get the idea quick enough.
Big pistol!
The model 25 is big and heavy. It weighs nearly 4 lbs., which is quite heavy for a handgun. Think about shooting this one with both hands, because you'll probably have to.
With the grip in your hand, the spring cylinder is over an inch above, which should lead to some interesting recoil. While I don't normally like to make comparisons between guns, I must say this one does remind me a lot of the Browning 800 Express pistol I tested for you a few years back. The model 25 even has the same recoil-reduction system the Browning has — where the spring cylinder slides on rails built into the lower receiver. But the Quattro trigger and adjustable front sight is found only on the model 25.
Overall evaluation
This is a big, black spring pistol. There are a lot of synthetics on the outside of the gun, but it all looks tough enough to do the job. It certainly isn't much different than other synthetic guns these days.
I've fired the pistol a couple times so far and noted that it's hard to cock and the trigger seems pretty good. The breech is very tight, which I think bodes well for accuracy.
The firing behavior is quick and jolting. There's a definite forward jump when the gun fires.
The pistol is very tight. I can tell it's going to loosen up a bit after a break-in, but that's the way it should be.
Discharge noise is low for a spring gun of this power. It's not quiet, but I think it could certainly be used in a backyard without scaring the neighbors.
Hatsan — forgive me, but…
I just have to say this! When I look at this pistol I cannot help but wonder what a nice carbine it might make. If it were put into a stock with about a 14-inch pull and if the barrel was lengthened with a cocking aid extension to about 16 inches, this might be a wonderful little plinking gun. It has all the power you would ever want in a plinker; and if it was a carbine, I don't think it would be too difficult to cock for most adults. The rear sight could be moved forward to give the proper eye relief, and I think they would have something pretty special.