by Tom Gaylord, a.k.a. B.B. Pelletier
Announcement: Mark Barnes is this week's winner of Pyramyd Air's Big Shot of the Week on their airgun facebook page. He'll receive a $50 Pyramyd AIR gift card. Congratulations!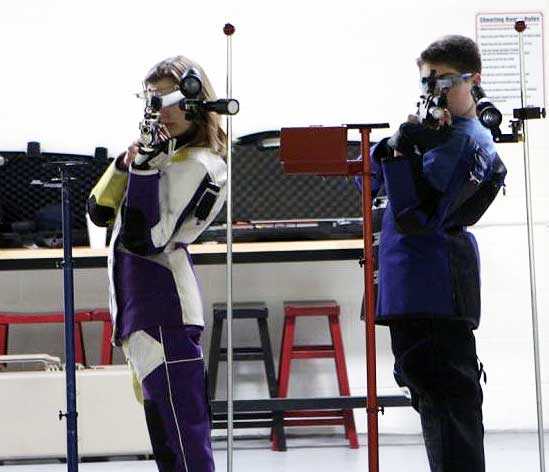 Mark Barnes is this week's Big Shot of the Week on Pyramyd Air's facebook page.
At last, we've come to the day when I get to spend your money or suggest gifts for you! Knowing what an enabler I am, you must appreciate what a rush this report is for me.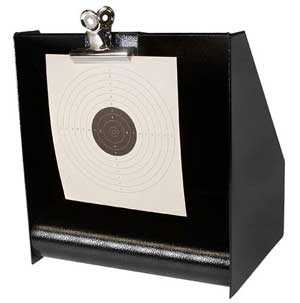 Pellet trap
I will dive right in with my first suggestion — a Champion Heavy Duty Metal trap. If you don't yet own one of these, you need one. They cost $42 when I bought mine in the early 1990s, and time is a-wastin' for you to get yours. Yes, they're pricey for what they are, but this is the last trap you'll ever need for any smallbore air rifle. It's rated to stop standard-speed .22 long rifle bullets, so you know that nothing your airguns can toss at it is going to do any damage. Mine has uncounted shots on it, and it's still in near-perfect condition — except for the paint. I've emptied about half a ton of lead from this trap over the years; and, yes, that was all melted down to be reused in cast bullets. The last 100 pounds of it is still waiting to be melted. This trap is big, heavy and hard to love — except when you've been using it for several years, and you finally realize what a tremendous piece of equipment it really is! Not for steel BBs!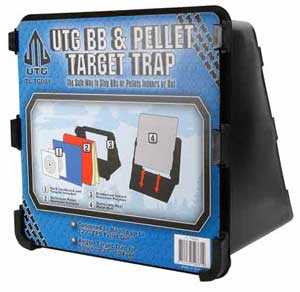 BB traps
Crosman no longer sells their famous model 850/852 pellet and BB trap, so the Leapers UTG Pellet & BB trap is the only game in town. That is, if you want to have ballistic curtains that you can replace. I destroyed my Crosman trap after about 100,000 shots with steel BBs and low-velocity lead pellets, and I hope Santa remembers that this year. I hope Leapers never drops this trap from their line, as it's the most valuable, flexible BB trap I know of.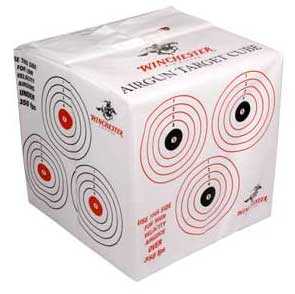 I'm not big into BB guns, but this blog affords the opportunity to shoot steel BBs a lot more than I normally would. When the Crosman trap finally gave up the ghost, I asked Pyramyd AIR to send me a Winchester Airgun Target Cube for BBs and Pellets. I've used this target trap with both BBs and pellets much of this year. Some of the pellets were leaving the muzzle at speeds over 800 f.p.s. There's a steel plate inside the cube for higher-speed pellets, and the BB side is rated to 350 f.p.s. I would estimate I have around 1,000 total shots on the cube, and it's still going strong. I use it every time there's another BB gun to test because I have no other BB trap — at the moment. It stops all the BBs cold, with not one of them falling to the floor, which is a big advantage to an in-home range. I would be careful to hit this cube straight-on, rather than at an angle, just so the BBs have to penetrate as much of the foam as possible.
Chronograph
Here's another item that we all need, yet find difficult to buy for ourselves. But I want to make a little analogy here. Not buying a chronograph and living in perpetual doubt about the velocity of your airguns is like being the "modern" guy or gal who laughs at those of us who wear wristwatches, because cell phones display more accurate time. All well and good, but why do these people (Edith) keep asking me what time it is?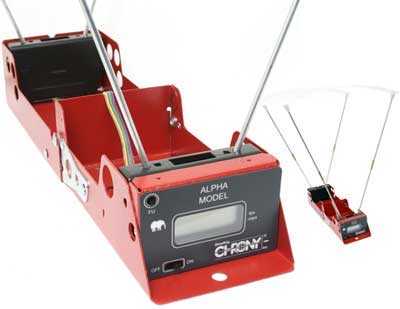 I could give you lots of reasons why you need a chronograph, such as keeping tabs on a spring gun's health and calculating the ideal fill pressure and shot count for a PCP, but that has all been done many times in this blog. Let's just agree that a chronograph is wonderful, too, for every airgunner and leave it at that.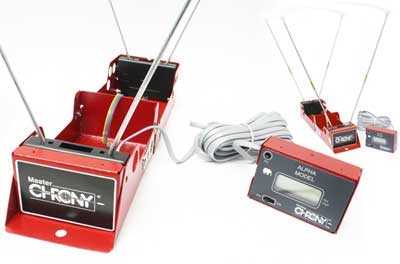 My choice for you would be a Shooting Chrony Alpha model, which is what I use all the time. I selected the Alpha model over the cheaper F-1 model because the Alpha has a built-in calculator that does simple statistics for you. The F-1 also does give both the high and low shots plus the average. If that's all you need, it's a wonderful value.
If you don't mind spending a little more money, the Alpha Master with its remote readout that allows you to be up at 15 feet from the skyscreens is great for those who also want to chronograph firearms. Sometimes with powerful centerfires you do need to be several feet back from the start screen.
Blue Book of Airguns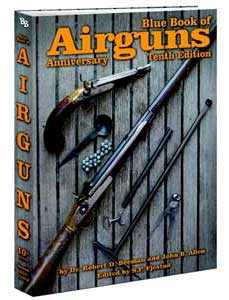 For those who are finding that this airgun hobby keeps growing and expanding, the Blue Book of Airguns, 10th Edition is a nice reference to have. There's great information about many of the vintage airguns we talk about in the blog, plus all sorts of other useful stuff such as the crossover names for multi-branded guns like those made by Diana. The 10th edition also has a very special article by Dr. Robert Beeman about the Lewis & Clark airgun. Doctor Beeman has done more research on the Lewis & Clark airgun than anyone and has uncovered a wealth of information for a book he's writing on the subject. This article is a sneak preview of all he's learned.
Airguns?
Well, am I ever going to recommend any airguns? Yes, I'll get to that right now. But these first gifts are the ones I believe people really need but will not buy for themselves.
I have to be very careful about the guns I recommend because sometimes newer airgunners put a lot of faith in what I say. That's not necessarily warranted; but I'm aware that a few people are doing it, so I watch what I say. I know that for many of you, one airgun may be all you buy. If that's the case, I want it to be the best representative it can possibly be, and I don't mean just FOR THE PRICE. A poor choice is a poor choice at any price, and I will not get into a game of rating "value" according to the price of something. If I recommend it, I believe the item has to stand on its own.

Air Venturi Bronco
I recommend the Air Venturi Bronco. It's a low-cost breakbarrel spring rifle that has a lot going for it. It's accurate, easy to cock, sized for older kids as well as adults and has a wonderful trigger. It's not a powerful air rifle, but I don't think there is a better all-around air rifle on the market today.

Gamo Whisper
I'll bet this choice surprises a lot of people — especially the folks at Gamo, who may think I'm overly critical of their airguns. The fact is that they hit the nail on the head, with the Whisper and I find it to be a very fine airgun! I love the fat muzzlebrake that contains their baffled silencer; and regardless of whether or not it makes the gun any quieter (it does), it is the handiest cocking handle on the market. The only two things that would make the Whisper better are a gas spring and a better trigger. Pyramyd AIR lists the Whisper with a Crosman Nitro Piston conversion in a different section of their website, which I find terribly confusing. But it is there, so don't overlook it. The gas spring removes all vibration from the gun, which the standard Whisper does have. The better trigger we'll just have to wait on.
Crosman used to have a Nitro Piston lower-velocity rifle that I would have also chosen for a gift, and for a very short time they also listed a Benjamin Legacy in .22 caliber that was one of the very finest spring rifles they ever offered. Sadly, both have been discontinued. If any other maker decides to de-tune a gas spring air rifle, there's a market for it. Perhaps, the sales at the discount stores wouldn't justify it, but educated buyers like those who read this blog could sustain steady sales, I believe. The Bronco got off to a slow start; but now that the word has circulated throughout the airgun community, I think the sales have picked up to the sustainment level.

Air Arms TX200
You don't have to ask because here it is. You have a bunch of money and want the absolute best spring gun — it's the TX200 Mark III. Not the Hunter Carbine or the Pro-Sport — just the Mark III. This air rifle is built the way you think they all ought to be built. The metal is deeply blued, and the wood is flawless. The trigger is like the Rekord, only in its finest incarnation. Yes it costs a lot; but if you want the best, this is it.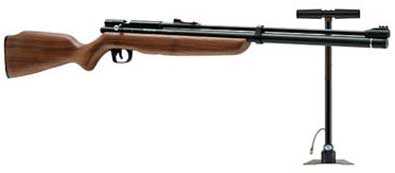 Benjamin Discovery
I know, it sounds like bragging to promote a gun I had a hand in designing, but the fact is that Crosman carried out my wishes for the Benjamin Discovery almost to the letter. I was so proud of it that I wanted my name to go on it! Yes, the Marauder that I will get to next is quieter, more accurate and has a better trigger. But as a way of getting into the mysterious world of PCP airguns for little money, nothing can beat the Disco. If you do your part, it'll shoot groups of 10 that are smaller than an inch at 50 yards. I linked to the combo that includes the hand pump because, frankly, I think this is the best way to learn about PCP airguns. And the price is right!

Benjamin Marauder
Crosman got their revenge on me when they introduced the Benjamin Marauder and everyone said it was the gun they should have built in the first place. They wanted to build it first, but I convinced them to start with the Discovery and gain some experience before tackling a more complex airgun like the Marauder. The Benjamin Marauder certainly is without equal. It has a fine adjustable trigger, splendid accuracy, is very quiet to shoot, and the fill pressure and velocity are both adjustable. What more can you ask for? Maybe the stock is on the fat side, but far be it from me to criticize the rifle that has changed the world of PCP airguns. Every PCP manufacturer has benefitted from the Marauder because it opened the world to the "dark side" — precharged airguns. I won't suggest a caliber because each one has its champions. I've shot them all and they're all best buys.

AirForce Talon SS
If you like the black rifle look and can shoot a single-shot, then it doesn't get any better than the Talon SS from AirForce airguns. As I've pointed out in numerous reports, this isn't just an air rifle — its a whole shooting system. You can change calibers and barrel lengths and run on either air or CO2. And the gun accepts an entire host of accessories. Some folks do not like the black rifle styling. That's fine. If they want a conventional style there are certainly many air rifles to choose from. But for all those who only care where the pellet goes each time, the SS wins hands-down.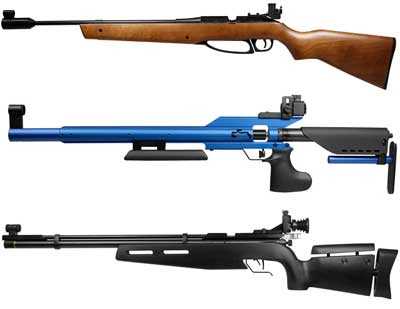 AirForce Edge & Crosman Challenger PCP
If you want a nice target rifle without paying a fortune, there used to be just one choice — the Daisy Avanti 853. It still exists, of course, and there are hundreds of thousands of them still in the hands of junior shooters all around the country, but its time has passed. I say that because the rifle's trigger is poor and can only be modified to be okay, at its best. Two other 10-meter junior rifles have kicked it out of the nest. The Edge from AirForce is the first of these.
The Edge is an entirely new rifle from AirForce and incorporates their new target sights, as well. While the price is on the high side, you're getting $170 worth of target sights included in that. I have tested the Edge and found it to be one of the two best youth target rifles available today. You'll get an incredible 100+ shots from the tiny air reservoir, and filling it from a hand pump is relatively east for an adult. A dry-fire mechanism is built into the trigger so you can practice without firing a shot, which all target shooters need to be able to do. The trigger cannot be any better than this is — literally — since it's limited by the NRA and CMP competition rules. If you like ergonomics, no junior target rifle comes close to the flexibility of the Edge. It even lets you to weight the rifle perfectly according to each shooter's preference — up to the maximum permitted overall weight.
The Crosman Challenger PCP is the other great youth 10-meter target gun. This rifle doesn't have sights that are as nice as those on the Edge; but in all other ways, it's just as good. It's a tack-driver, and I've proven that in a test. You'll also get more than 100 shots on a fill with the Challenger PCP, and the trigger is very good, though it's also constrained to the minimum weight requirement of 1.5 lbs.
The Challenger is very adjustable, as well. The pull of the stock has a wide range of adjustability and the buttplate can be canted sideways for comfort. All things considered, I think either this rifle or the Edge would make a wonderful Christmas gift for the target shooter — both young and old.
I told Edith that I could get everything into a single report this year, but that was wrong. I still have a lot more to do, so look for part 2 next week.