by Tom Gaylord, a.k.a. B.B. Pelletier


M1 Carbine on top and Crosman M1 Carbine below. A realistic copy!
When I attended San Jose State College in the 1960s, I was in ROTC. My first 3 years as a cadet were in the enlisted ranks, and we all drilled with the M1 Garand. Today, people feel the Garand is a cool historical military weapon (and it is!); but in the late 1960s when it was all we had, it wasn't nearly so cool. It was, in fact, heavy, clumsy and dangerous when you performed Inspection Arms. We learned to live with it and eventually became adept at not smashing our thumbs when we closed the bolt, but the fact was that the Garand was a 10.5-lb. clunk that always seemed to weigh too much.
The cadet officers, in sharp contrast, were issued the M1 Carbine, which weighed about half as much and felt like a feather compared to the Garand. When they performed Inspection Arms, there was no heavy spring to fight to get the bolt open and no chance of an M1 thumb. The bolt on the Carbine action slides home with minimal fuss.
Of course, we never got to shoot our guns. We just drilled with them. I could perform the Manual of Arms pretty well but had no idea what it was like to touch off a round. And those days were long before Garands became widely distributed among private owners in the U.S. They were around, but a kid in college like me shot a 1903 Springfield if he shot anything.
Carbines were more readily available, but I never had the chance to shoot one of them, either. So my entire opinion of both weapons was based solely on their weight and the relative ease with which the Manual of Arms was performed. Naturally, I fell in love with the M1 Carbine.
I wasn't an airgunner in those days. I'd been one 10 years earlier when firearms were out of the question…and I would be, again, in a few years when I encountered adult airguns during a tour with the First Armored Division in Germany. I was unaware that Crosman had marketed an M1 Carbine lookalike BB gun from 1966 to 1976. And, given my interest in firearms at the time, it's doubtful that I would have been interested in one if I had known about them.
It wasn't until I started going to airgun shows in 1993 that the Crosman M1 Carbine popped up on my radar screen; and when it did, I assumed it was a CO2 gun since my total knowledge of Crosman was that they made CO2 guns. Having lived through the great experiment of the "bottle-capped" CO2 containers in the late 1950s (they leaked gas), I wanted nothing to do with any gun that used it. That's a story of its own, and it's one I'll share with you soon.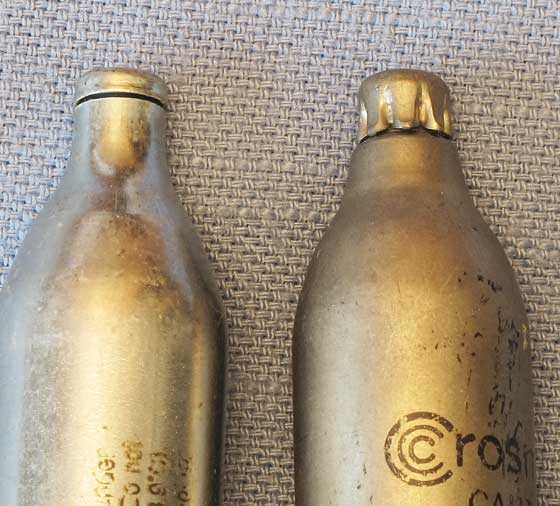 Crosman's first CO2 cartridge (right) used a type of bottle-cap close. Many leaked.
In the late 1980s, someone offered me a Crosman M1 Carbine for $15, and I turned it down because of my distaste for CO2 guns. It wasn't until about 10 years later when I was writing The Airgun Letter that I discovered my mistake. The Crosman M1 Carbine is not a CO2 gun. It's a spring-piston BB gun that cocks using the push-barrel system that Quackenbush (Henry Marcus, not Dennis) made popular in the late 1800s.
I also discovered that this BB gun had a rear sight that adjusts in the same way the type II and type III Carbine rear sights adjust. And it's lightweight — just like the military gun. And powerful for a BB gun! And also accurate. What was not to like?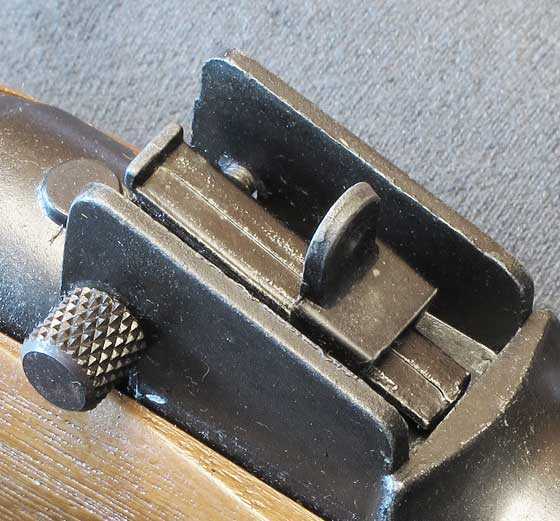 The Crosman rear sight is fully adjustable for windage and elevation — just like the type III military Carbine rear sight.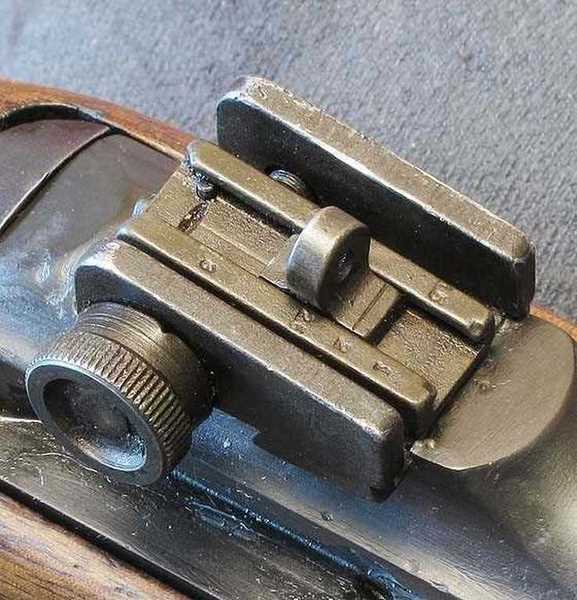 A military Carbine type II rear sight is very similar to the Crosman sight. They adjust the same way!
I broke down and bought a wood-stocked Crosman M1 Carbine at the Winston-Salem Airgun Expo. That gun taught me what I'd been missing all those years. It was accurate (for a BB gun), powerful and looked great. But those were busy days when I was buying and selling airguns often to have new material for the newsletter. So, I let that gun get away from me — for almost twice what I paid to get it! That was the value of the wood stock, which was available only for the first two years of production.
Then I went into a severe case of seller's remorse, which I guess I also verbalized a little. My friend, Mac, saw me looking at another M1 Carbine at another airgun show, and he bought it for me as a gift. That was the kind of friend he was.
Following that, I got serious and set about to acquire my first actual M1 Carbine firearm — just to complete the circuit. I found it to be wimpy, weak, inaccurate and in all other respects thoroughly lovable. I have not been without a Carbine since. And I will never get rid of my Crosman M1 BB Carbine.
The rifle
The Crosman M1 Carbine is a very realistic airgun. It weighs 5.25 lbs., which is within 1 ounce of the firearm's weight. The stock is plastic dyed medium brown and given a grained pattern on the surface. Crosman called it Croswood, and for its day it was very realistic. In fact, it looks much more authentic than the real wooden stock that's slab-sided and without figure. The Croswood stock is much more rounded and more fully contoured than the wood stock.
The picture shows that the airgun is in most ways very similar to the firearm. Of course, there are some significant differences. The "magazine" for instance is nothing but a metal box — a reservoir for BBs that must be dumped out and then loaded into the 23-shot gravity-fed magazine before they'll work in the gun.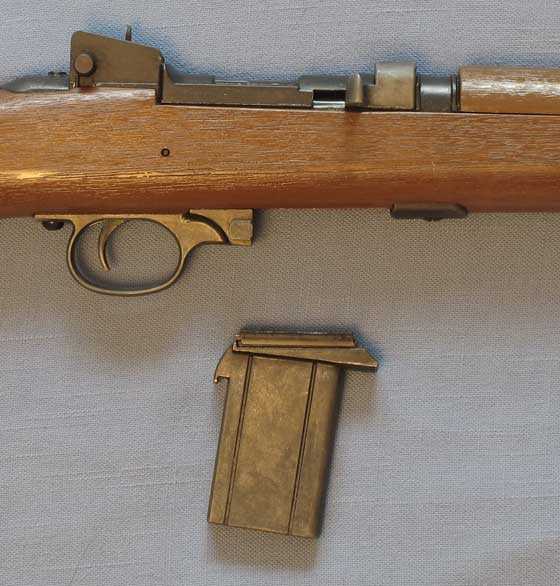 Crosman's magazine is really just a reservoir for extra BBs. They have to be removed from the reservoir and loaded into the gun.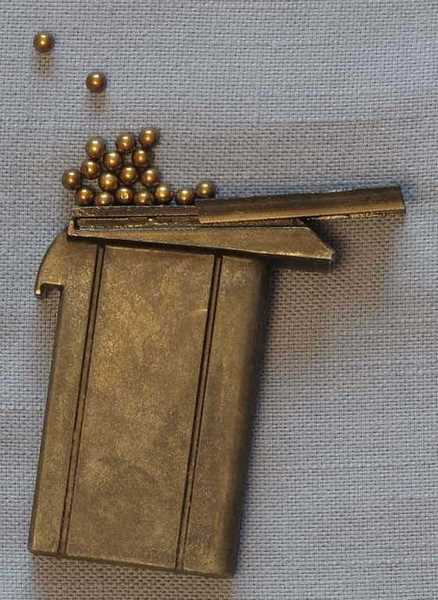 Slide the plastic cover off the magazine and pour out the BBs.
That magazine, by the way, is the gun's Achilles heel. Kids (and parents who don't understand its purpose) remove it and lose it. The gun will still work fine without it, but some of the authenticity is lost. There have been solid plastic magazines sold over the years for those who need to regain the look without the storage compartment.
The BB gun loads through a hole in the top of the stock. To load, you slide the operating handle to the rear to open the hole, then drop in the BBs one by one. They roll back toward the butt, which is natural. When you cock the gun, you pull back on the barrel and normally the muzzle will be elevated when you do.
This gun can be difficult to cock — even for some adults. The mainspring is powerful, and the barrel doesn't offer a good handle to grasp when pulling it back. Many people cheat by putting their palms over the muzzle and pushing the barrel back. That puts your palm over the muzzle of a cocked gun — which is not something you want to do.
The right way to cock the gun is to use the front sight as an anchor for your index finger but not put any part of your hand in front of the muzzle at any time. I'm sure kids developed their own ways of cocking this gun, as it's entirely too powerful for most youngsters to cock conventionally. Most Carbine BB guns will have significant finish wear on the barrel just behind the front sight due to repeated handling.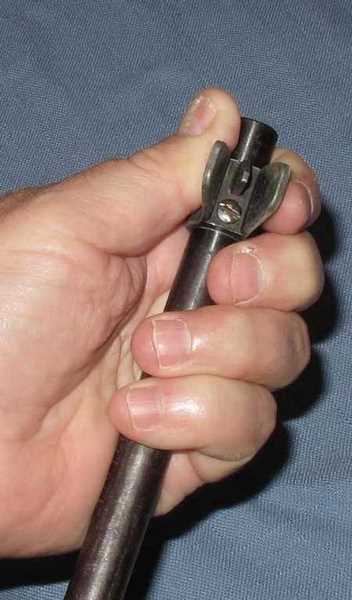 Grasp the barrel this way to avoid putting your hand over the muzzle. This wears the finish off the barrel at this point.
The pull of the stock is a somewhat short 13 inches. But the firearm's pull extends only another quarter inch farther, so it's right in line with that. And the overall length is 35.50 inches for the BB gun and 35.75 inches for the firearm. So, the pull is where the difference is.
This gun was an icon to kids growing up in the late '60s and '70s. It was (and still is) so realistic that every junior BB-gunner wanted one for himself. Even if he couldn't cock it without resorting to trickery, this was a gun to own!