by Tom Gaylord, a.k.a. B.B. Pelletier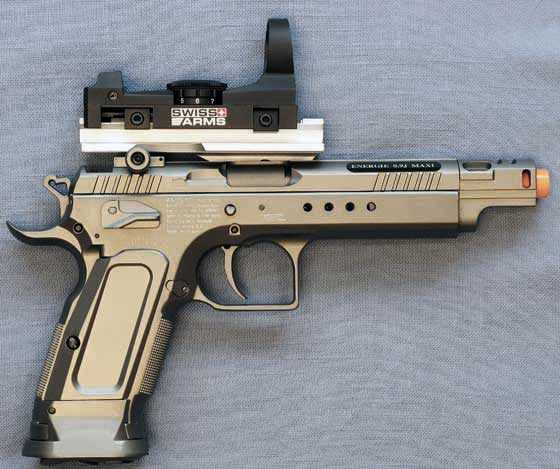 The Tanfoglio Gold Custom Eric Grauffel pistol is a competition airsoft gun in a box!
Today is accuracy day for the Tanfoglio Gold Custom CO2 blowback airsoft kit gun, but it's just the first of many tests. An airsoft gun with adjustable Hop-up, or BAXS in this case, has to be adjusted to shoot its best. I've never adjusted a gun with BAXS, but I've adjusted plenty of them with Hop-up and that is how it always happens. The gun never shoots its best right out of the box. I'm assuming the BAXS is the same.
All I did today was find out which BBs are worth continuing with and which aren't. As it turned out, I got good results with several 0.20-gram BBs, which is what the manufacturer recommends for this gun. I also did well with one 0.25-gram BB.
I'll warn you right now, the targets you're about to see are not very impressive. They look terrible, in fact. If you're used to good groups from pellet guns, these are going to seem hopeless. But they do show small differences between the good BBs and those that aren't worth pursuing, and that was all I wanted to do today.
I shot off a bag rest with the butt of the gun (the bottom of the magazine well) rested against the bag. I also tried holding it ahead of the bag and just resting my arms on the bag, but it moved around too much. Maybe next time I'll play with some different holds.
I shot only 5-shot groups today because I was testing a large number of different BBs. In all, I tested over 10 different brands, but only the most promising will be shown here.
Sight failure!
Before I get to that, however, there was another problem not related to the gun. The Swiss Arms red dot sight that was bundled with the pistol quit working suddenly during the first session. It wasn't the battery because that's still good. So, I dismounted it and installed a Walther Competition II Top Point red dot sight that I got from Pyramyd Air for testing; but some funny-bunny at the factory had left the sight turned to high power, and the battery was dead. I replaced it with a fresh battery but the sight failed to respond. So — two red dot sights out of the running even before we start. That was what ticked me off yesterday and caused the rewriting of my blog.
Fortunately, I have an older Tasco Pro Point red dot sight that has functioned perfectly on many airguns over the past 15 years. That one went on for this test, and everything was good again.
Quick rundown
Sight-in was a bit frantic because I unknowingly chose the least accurate 0.20 BB for the job. The gun doesn't like the Air Venturi Pro CQBBs that weigh 0.20-grams. It took me about 10 shots to get sort of on target, but it wasn't until I switched ammo that I found out what was happening. More on that in a moment, now for the quick rundown.
This pistol hates 0.12-gram BBs. They couldn't even stay on the trap at 10 meters, and I was using the UTG Accushot Pellet and BB trap. Forget staying on target! This things were hitting the backer board that was behind the trap. Fortunately, I expected something like that, so I didn't waste much time. BBs this light are usually good only in lower-powered spring-piston guns.
The pistol also performs only average with the 0.28-gram BBs. Though I only tried one brand, the TSD Tactical 0.28-gram BBs, I can tell from experience that this BB is too heavy for the pistol.
That leaves 0.25-gram and 0.20-gram BBs. The gun shot the best group with Air Venturi Pro CQBBs 0.25-gram BBs, but it was 2.864 inches for 5 shots. See what I mean about not getting too excited?

Five shots of 0.25-gram Air Venturi Pro CQBBs went into 2.864 inches at 10 meters.
The second-best group of 5 shots was a 0.20-gram Marui Black BB that Pyramyd Air doesn't carry. Five of those went into 2.875 inches at 10 meters, which is really too close to call. The round BBs tear holes that are indistinct and measurement may be off by a lot. Fortunately, the pictures don't lie.

Five Marui Black 0.20-gram BBs went into 2.875 inches at 10 meters. It was the second-best group of this test, but also too close to call. It may be just as good as the first group.
But it was another 0.20-gram BB, the TSD Stealth that's apparently no longer made that tipped the scales on this day. The first group I shot was spread out wide, but it was just one BB that did it. The other four were in 1.809 inches. I was so encouraged that I shot a second group; and, again, 4 BBs went into 2.229 inches and the fifth shot opened the group several more inches. I think this might be the most accurate BB after the BAXS gets adjusted, or at least 0.20-gram BBs of some other brand might turn out to be the best. If not, the 0.25-gram Air Venturi BBs might get better with the adjustment.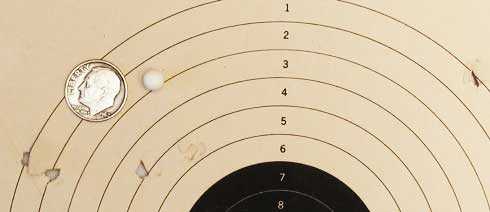 Four of five TSD Stealth BBs went into 1.809 inches. This BB shows promise and may do a lot better after BAXS adjustment.
Don't get discouraged!
My time with airsoft has taught me to first look for the best BB, and then spend more time adjusting the Hop-up to maximize its potential. That's what lies ahead of us for this pistol. I won't guarantee the gun will be much more accurate than this; but if past experience holds true, it will be!
Shooting characteristics
Believe me, I do understand that this is not a target pistol. But to win as a competition gun, it has to place its shots close together. IPSC for airsoft doesn't shoot as far as 10 meters, so this test is extreme, but it's also quite good at showing what the gun is capable of.
The gun's recoil is sharp when you're aiming carefully. And the trigger that I loved before is still preforming well. All in all, I'm a little disappointed that I can't show you better groups than these; but if the BAXS works as it should, I should be able to reduce these by a lot.