by Tom Gaylord, a.k.a. B.B. Pelletier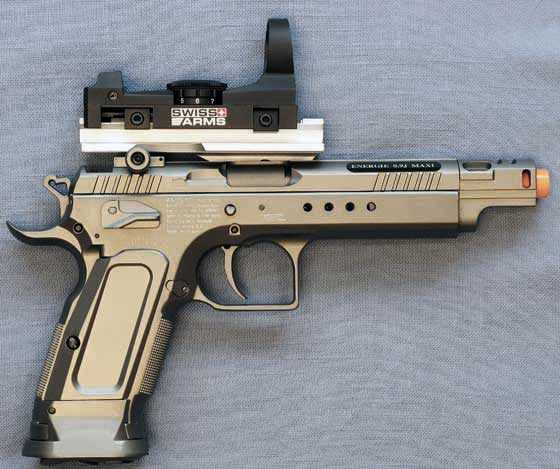 The Tanfoglio Gold Custom Eric Grauffel pistol is a competition airsoft gun in a box!
Let's look at the velocity of the Tanfoglio Gold Custom CO2 blowback airsoft kit gun. When I started the test, I discovered something unusual. The CO2 cartridge I'd loaded last week to test the gun initially had leaked down completely. That usually doesn't happen until several months have passed, so it got me wondering. I'll watch the gun and see if it happens again. I left the test today with a 75 percent filled cartridge; so if I test it again in a week and it's out, I'll know. And to answer your question, yes, I did use Crosman Pellgunoil on the tip of each fresh cartridge when I installed it.
Testing the velocity of an airsoft gun is a little different than testing a pellet gun. It's more like testing a BB gun because the airsoft BBs come in specific weights. The velocities tend to conform to the weights rather than to the individual brands of BBs used. I'll test the pistol today with the 4 most popular weights — 0.12 grams, 0.20 grams, 0.25 grams and 0.28 grams. And let's get something straight right now. When we're talking about airsoft BBs, we're speaking in terms of GRAMS — not grains. There are about 454 grams in a pound, but 7,000 GRAINS per pound. So a gram is MUCH heavier than a grain. A gram is a decimal unit of the metric system. It's one-thousandth of a kilogram. A grain is an apothecary (medical) weight from the old English system of weights — a system that is also used by jewelers. It was historically the weight of one barley seed, but has been standardized to one seven-thousandth of a pound.
Regardless of the weight of each BB, they're all the same size. Their weight is controlled by the material used to make them.
UHC Precision Ground BBs, 0.12 grams
First up are 0.12-gram (1.85 grains) UHC BBs. They averaged 417 f.p.s. in the Tanfoglio pistol. The range went from a low of 406 to a high of 425 f.p.s. That's slightly slower than the maximum advertised veloicity of 453 f.p.s for this pistol. At the average velocity they produce 0.71-foot-pounds of energy at the muzzle. Given the design goals of airsoft, that's fine, because much more than that will start to injure anyone hit by them.
Air Venturi Pro CQBBs, 0.20 grams
Next up were Air Venturi Pro CQBBs 0.20-gram (3.09 grains) BBs. These are value-priced BBs that come in bottles of 2,700 rounds, 5,000 rounds and, for the serious shooter, supersized bags of 125,000!
These averaged 333 f.p.s. with a spread from 315 to 346 f.p.s. This is the recommended BB weight for this pistol, which means it will probably be the easiest one to tune the BAXS (the trajectory adjustment in the pistol) with. At the average velocity, this BB produced 0.76 foot-pounds of muzzle energy. I have other brands of 0.20-gram BBs, including competition BBs; so if this weight turns out to work well in the gun, I plan to give it the biggest test. As a final note, the velocity was right where the specs say it should be (320-350 f.p.s.).
Air Venturi Pro CQBBs, 0.25 grams
This 0.25-gram (3.86 grains) BB is a little heavier than the recommended weight, but sometimes that doesn't hurt the accuracy at all. With the right BBs, it can enhance it — and this is where having several different brands of premium airsoft BBs is an advantage. I tested velocity with the Air Venturi Pro CQBBs 0.25-gram BB that's the equivalent of the 0.20-gram BB mentioned above, but heavier. It comes packaged the same way, and I have the 2,700 BB bottle for the test.
These BBs averaged 296 f.p.s. in the Tanfoglio pistol. The range went from 282 to 304 f.p.s. At the average velocity, this BB produced 0.75 foot-pounds of muzzle energy.
TSD Tactical, 0.28 gram BBs
The last BB I tried was the TSD Tactical 0.28-gram (4.32 grains) BBs. These are clearly too heavy for this gun, but they did produce velocity very close to the 0.25-gram BBs. The average was 289 f.p.s., with a spread from 274 to 302 f.p.s. At the average velocity, this BB developed 0.80 foot-pounds of energy at the muzzle.
Loading the magazine
I don't have a speedloader, so I loaded each BB one-by-one into the double-stack magazine. They have to be pressed through the top of the magazine, which then holds them against falling out while the gun is operating. That's the sign of a quality airsoft gun. If you remove the loaded mag for any reason, a BB doesn't fall out of the mag as it often does on lower-priced gas guns and most spring guns and auto-electric guns (AEGs).
I also note the BBs instantly arranged themselves within the mag…and without any fuss. With lesser guns, the BB stack will have gaps on one side that lead to misfeeds.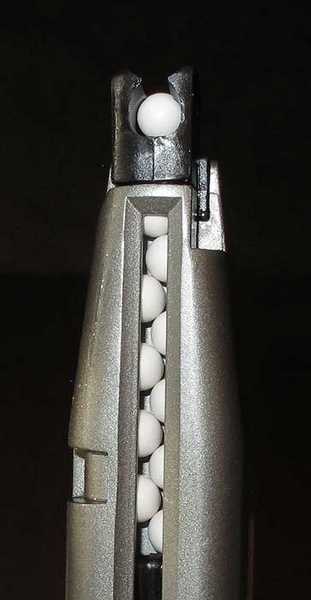 BBs arrange themselves perfectly inside the magazine every time!
Stopping the BBs
Nothing rebounds worse than a plastic airsoft BB. Nothing! Those of you who know airsoft probably wonder how I managed to stop the BBs in the velocity tes. When I tell you that I stopped 100 percent of more than 60 BBs fired, you need to know how I did it! I used a UTG Accushot Pellet and BB trap, and in front of that I placed a heavy cardboard sheet at a slight angle of perhaps 15 degrees to the face of the trap. The trap and cardboard both stood in a shallow cardboard tray that caught all BBs that came back out of the trap. It worked so well that I will use it when I conduct the accuracy test.
Trigger-pull
I proclaimed how much I love the Tanfoglio trigger in Part 1. Now let me tell you the specs. It's single-stage, with the blade moving through an arc that can be felt, and it breaks cleanly at 2 lbs., 9 oz., which is even lighter than the trigger on my Wilson Combat CQB 1911 firearm. This is a pistol trigger to die for! The only criticism is that it doesn't break like a glass rod; but since the gun is for action shooting and not bullseye targets, that doesn't matter.
Shot count
I got exactly 40 shots before the gun began slowing down. After that, there were another 10 good shots before the blowback function came into question. I guess a lot of the CO2 is used for blowback. Since this is a competition gun, that makes no difference. Winners will buy it and use it, no matter what it takes to make it work. This is not a budget plinker. It's a full-blown competition airgun!
I hope this pistol will be a real tackdriver because that would make it perfect. I know that it's not a target gun, but it does have to place its shots in the same place to score high in the competitions it would enter. If it does — well, I don't know that I will let it go back!