by Tom Gaylord, a.k.a. B.B. Pelletier
Mea Culpa!
You know, Babe Ruth was the home run king of his era. But he was also the strikeout king. Sometimes when you swing for the fence, you get fanned by the pitcher. I've done that a couple of times in recent reports.
The AirForce Escape SS has a 12-inch barrel. I said it was an 18-inch barrel, but several of you clever guys spotted why that could not be. And, while I was starting to redden from embarrassment in the AirForce booth, John McCaslin also took the opportunity to inform me that what I wrote about the Escape valve is also incorrect. It isn't different than the TalonP valve — it is identical. So, gather a crowd and paint me red…I goofed!
The Escape has a 24-inch barrel, the Escape Ultra Light has an 18-inch barrel and the Escape SS has a 12-inch barrel. All 3 rifles come in either .22 or .25 calibers and no others.
The $100 PCP
I'm happy to report that Crosman is taking the $100 PCP project seriously. They will look into the possibility of making such an air rifle, but that doesn't mean they have made any decisions to proceed. A lot of things must be taken into consideration beyond the fact that it might be possible. Don't any of you start a clock on this! I'll continue to test the rifle I have, and we'll leave it at that.
Mike Mellick (Mike in Iowa) did come to Las Vegas, and we had a meeting. He showed me 2 examples of the rifles he's currently selling, and we talked about my testing one for a feature article in Shotgun News. I plan to present the entire $100 PCP project in that article, which I think will be in the July 2014 color issue.
Okay. On to the new stuff.
Leapers
Leapers is going to introduce an upgraded line of optics later this year that they'll call the T8 line. They're trying to offer optics as clear and sharp as those currently being sold for tactical use by Law Enforcement. They want to give $2000 worth of value for something in the $200 price range.
The first scope will be a 1-8X that fits the tactical scenario very well. If you're in the CQB team, you run your scope on 1X and have a wide field of view and rapid acquisition. If you're in the overwatch team, you're running 3-4X and cover the door-breakers. The snipers sit on the high ground at 8X, watching everything.
I looked through a prototype scope, and it was clear as a bell, but the development is not quite finished. After it's announced later this year, they'll move ahead on a 2-16X scope to compliment the first one.


Leapers T8 scope line will offer upgraded optics.
I saw many products at Leapers this year, but the one that surprised me the most was the little peep sight they developed for a number of firearms. It's so small, yet it adjusts in both directions. I asked if it could be made for airguns because then people wouldn't have to root out the sides of their wood stocks to make room for the elevation slide — not that I've ever done that!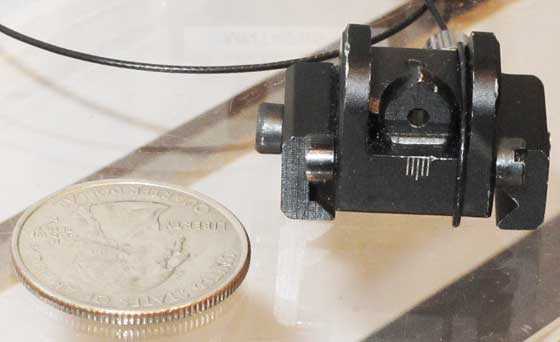 This peep sight is made to fit Weaver bases, but imagine what you could do with this on an airgun!
Air Arms
I saw the new field target rifle being offered by Air Arms. The FTP 900 is a purpose-built target rifle suited to knocking down those pesky steel targets. Short for Field Target Professional, the FTP replaces the EV2, their longtime field target competition rifle. It's loaded with features. But to sum it up, this rifle is adjustable! It's completely ergonomic, so it can be adjusted to fit the shooter like a glove. If $2,500 seems a lot to pay for an air rifle — just try winning the World's with something less!


Air Arms FTP 900 is the newest field target rifle in the Air Arms line.
KalibrGun
From the Czech Republic came the KalibrGun company with a range of precharged pneumatics. According to their spokeswoman, the specs are fluid, but they did show a bullpup called the Colibri, assumedly after the world's smallest (2.7mm) firearm. It's a tiny thing they'll offer in .177, .22 and .25…but they were somewhat vague on the velocities as apparently some things are still in flux. Besides being a bullpup, it's also semiautomatic! Unfortunately, it takes a 300 bar (4,350 psi) fill according to their literature (the sales rep told us that 250 bar is recommended), so I don't know what the U.S. reception will be.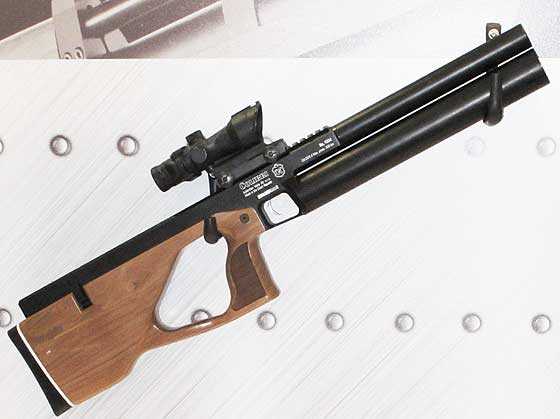 The KalibrGun Colibri is a semiautomatic bullpup.
BSA & Gamo
BSA is located in the Gamo booth, and they keep secrets about their products better than the National Security Agency! I did photograph the BSA Buccaneer SE for you. It appears to be a precharged carbine and I'm sure that someone in the world knows something about it, but they weren't in the booth at this show either time I visited. Perhaps the intelligence community will discover something about this airgun at some time this year. If they do and I learn of it, I'll be happy to share it with you.
Years ago, when BSA was a UK company, the airguns they made were well-designed and had remarkably accurate barrels. Let's hope some of that tradition has carried over to the newest crop of guns!


The BSA Buccaneer SE is a pretty little PCP carbine. It looks like it can shoot!
As far as the Gamo guns go, I couldn't make out what was new and what wasn't. A lot of them were on display, but the confusing plethora of names lead me to abandon the quest. When Pyramyd Air gets some in this year, I'll test some of them for you.
Crosman
Crosman got a healthy exposure in the first report due to the Nitro Piston 2. But I didn't get the full tour until the third day of the show. Let's start with the AK BB gun that everybody was talking about before the show. It's called the Comrade AK and is a semiautomatic BB gun that gets 150 shots per 12-gram CO2 cartridge. Yes, that was the number I was given for a 400+ f.p.s. BB gun!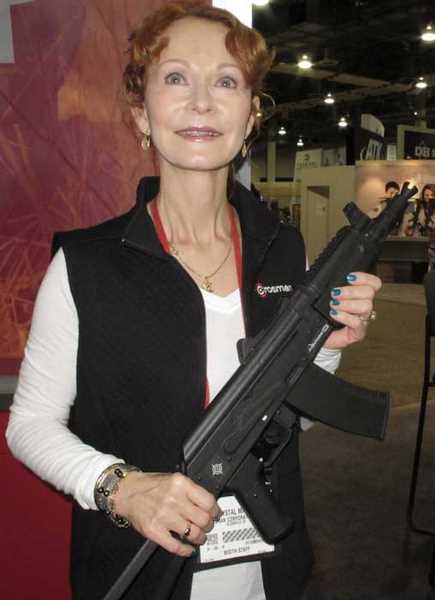 The Comrade AK BB gun is semiautomatic and gets 150 shots per CO2 cartridge, according to Crosman.
I was also shown the new 760 that has been redesigned for greater velocity and easier pumping effort. They lengthened the pump handle to lighten the load and strengthened the pump rod and pump cup to make the mechanism more efficient.
There are also a couple airsoft guns I'm really excited about. One is an automatic electric pistol that fires both semi- and full-auto. There aren't many full-auto handguns in the world, so I'll let you decide which one this looks like. I hope to test one for you soon.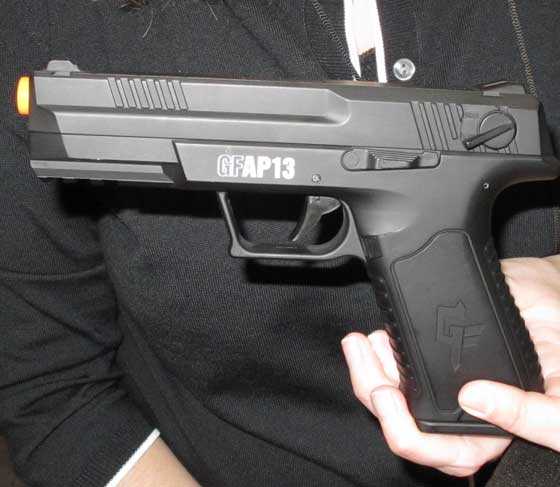 The GFAP13 BB gun is semiautomatic and gets 140 shots per CO2 cartridge, according to Crosman.
There's also a Chicago Typewriter (Tommy Gun) that's a fun AEG. It has an 800-round BB drum that winds on the outside — just like the real thing! I want to test one of these as well.
Finally, I saw a very neat looking CenterPoint dot sight that has a laser built in. So, it's both a dot sight and a laser sight! I don't think I've tested one of those before! This one is a high-quality holographic unit.

CenterPoint dot sight features both red and green dots, as well as a red laser!
Well, this is the last day of the 2014 SHOT Show. If I see anything new today, I'll stick in one of the reports next week.