by Tom Gaylord, a.k.a. B.B. Pelletier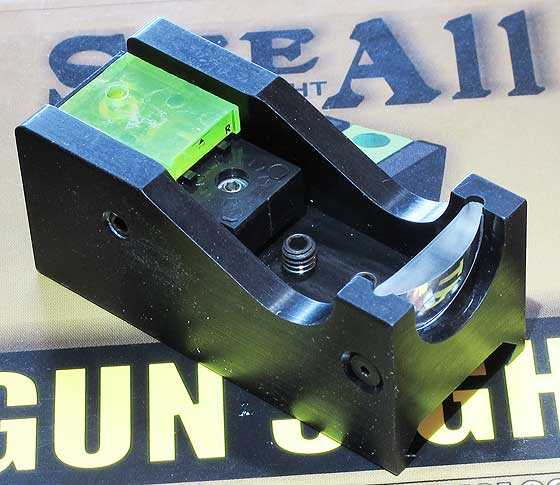 The See All Open Sight is revolutionary!
I mentioned this sight in my last SHOT Show update last week and started a firestorm of discussion! Apparently, many of our blog readers see the same potential that I do! Let's start a long, detailed look at the See All Open Sight.
What can it do?
I see several uses for a sight like this. First, there are a number of airguns that come without open sights, and I get asked repeatedly what can be done about it. Let me take one of the more common ones, which also happens to be one that is extremely difficult to deal with — the TX200 Mark III underlever spring-piston rifle. If you've read this blog for any time at all, you know that I'm a huge fan of the TX200. I've written dozens of reports about it — the most recent batch being a 12-part series that just finished. Or I thought it was finished. Now, there's a good reason to test that rifle once more with this new sight!
But the uses don't stop there. If the See All really works as well as we all hope, it solves another problem because it is easier to see than other types of open sights. There's a magnifying function built into this sight that may make it easier to use for shooters whose eyes are less than perfect. To test for that, I'll rely on my shooting buddy, Otho, who's been complaining about his eyes for years. He used to be a wonderful shot with open sights, but now he has to wear glasses to even use a scope! If he can use the See All successfully, then there's hope for other shooters whose eyes are troubling them.
I bought a See All Open Sight as soon as I returned from the SHOT Show, and it's been delivered. But the See All folks called me last week and offered to send me a second sight for testing. I reckoned I could get Otho testing one while I'm testing the other, so I can give this sight a thorough wringing out. Besides a lot of installments for this blog, I plan on writing about the sight for Shotgun News and also for the new Blue Book of Airguns that's coming out late this spring.
Another use for the sight are those target guns whose costly and often hard-to-find sights are missing. Will the See All be a useful replacement for target sights? I don't know, but we're about to find out.
Still another use for it will be on certain air pistols that lend themselves to optical sights, but for which no good sights are made. I'm thinking of the Beeman P1 and the P17 pistols for starters, but it could expand to many others.
As things progress, I'm sure we'll find even more uses for this sight. It all comes down to one thing: Does it really work? Just from looking at it, I'm intrigued. It looks like it ought to work very well. People whose opinions I trust who have seen the sight feel the same as I do. There's a sense that it's right and ought to work as advertised. We'll see!
A brief look at non-electronic optical sights
What follows is not a thorough history. It's just a few things I happen to know about these sights. Shooters have looked for many years for open sights that enhance the eye's ability to sight the gun. Elmer Keith inlayed gold and silver lines in the front sight post of some of his revolvers so he could refer to them when shooting long distances. He killed an elk with a .44 Special at over 400 yards, so his sights must have worked! I suspect his eyesight was much better than what passes for perfect sight today, and that had a lot to do with how successful this idea was for him; but it's still a part of our shooting history.
The King Sight Company developed a front sight that has a small reflector to shine extra light on a gold bead. I once owned a Smith & Wesson Triple Lock in .45 Colt that was customized with such a sight. It had probably been installed in the 1940s or '50s; but when it was put on the gun, the barrel was also cut back to about 3 inches. I was never able to hit anything with that revolver.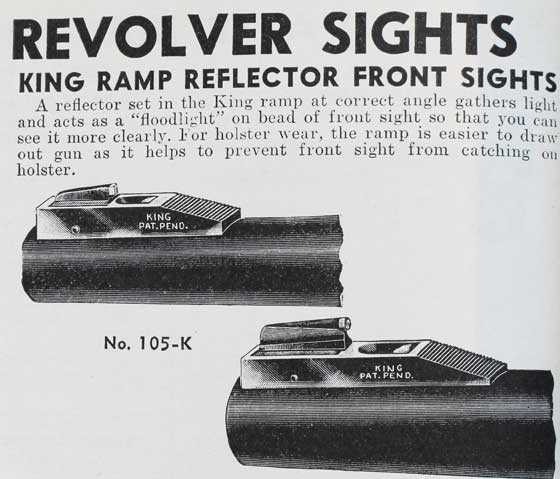 This ad from the 1948 "Shooter's Bible" shows the King revolver sights that used a reflector to brighten the bead.
But the sight that has intrigued me the most is the Nydar optical sight. It was a non-electronic dot sight that was touted as great for shotguns in the 1940s. It used a mirror to concentrate a dot in the center of a circle on what today looks like a holographic screen. This was an adaptation of anti-aircraft weapon sights from World War II. Did it work? I'm sure some shooters found that it did for them. I've never seen one, but I've had a fascination for them since reading about them as a teenager.

The Nydar sight is an example of an optical sight that doesn't use electronics. Also taken from the 1948 "Shooter's Bible."
The See All Open Sight
What is the See All Open Sight? It's a single unit that attaches to the top of a gun and presents a sight picture to the shooter. This sight picture or reticle is placed against the target to align the gun for the shot. You can use the sight with one eye closed or with both eyes open — I don't yet know which is the better way.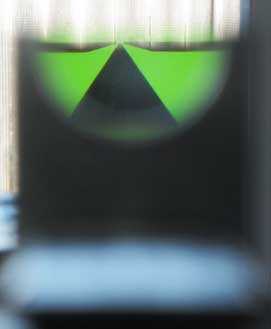 This is what you see when you look through the sight. This wasn't as easy to photograph as it looks. The first person who suggests I retake the photo with a bullseye target on top of the triangle gets excommunicated from this blog!
The sight is lightweight, weighing 1.8 oz. So, recoil shouldn't affect it that much. There's no need for a front sight, as the See All is complete in itself. Just like a dot sight, it stands alone. But now that you see the reticle you can see that it isn't really a dot sight.
The sight is made from aluminum with some pieces being made of synthetics. It looks like a great deal of thought went into the design and nothing looks cheap.
It mounts to a gun with an open dovetail clamp that's as wide as both the Weaver and Picatinny dovetail bases. But there's no crossbar locking rib on the integral base of this sight. Instead, there are two Allen screws that are adjusted to push down onto the gun, forcing the clamping jaws of the sight base up against the dovetail flanges of the gun's mount base. So, the See All holds to the gun by clamping pressure, alone. I'll determine if this is a problem with recoiling spring airguns.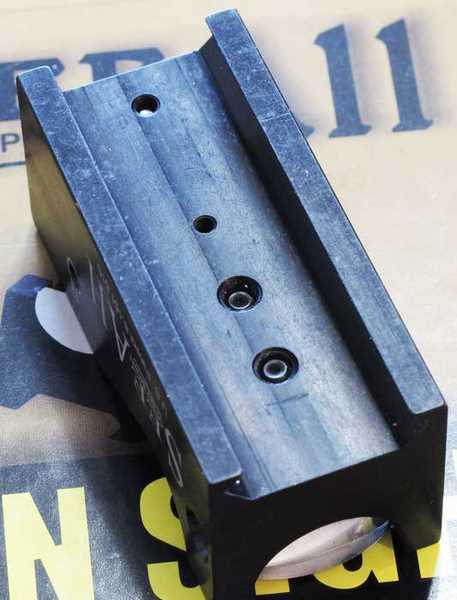 The sight base will clamp to a Weaver or Picatinny scope dovetail, but it has no crossbar to lock the sight in place. The 2 screws seen here are used to jam the sight base into the jaws of the dovetail.
Because the integral sight base is made for a Weaver dovetail, it's too large for the 3/8-inch or 11mm dovetails that are common on rimfire guns and airguns. But there are adapters that can change 11mm bases to Weaver bases. I'll find out how practical these are for our purposes. The people at See All have told me that if there's enough of a demand, they'll also make their sight with an integral 11mm base. Perhaps, they could provide an adapter with the sight so it would fit both Weaver and 11mm dovetails/bases, similar to what Tasco does with their ProPoint line.
The sight reticle (See All calls it a crosshair reticle) is engraved on a bright green plastic plate made from something they call edge glow material. I'm red-green colorblind, yet have no trouble seeing this reticle. You look at the reticle though a plastic lens they call the optic. It magnifies the reticle, and what you see is a triangle with a line above it. Put the target on the point of the triangle to sight correctly. The instructions say the sight is parallax free, which is wonderful if true! I certainly plan to test that because positioning the head is such a problem for me since I test so many different guns.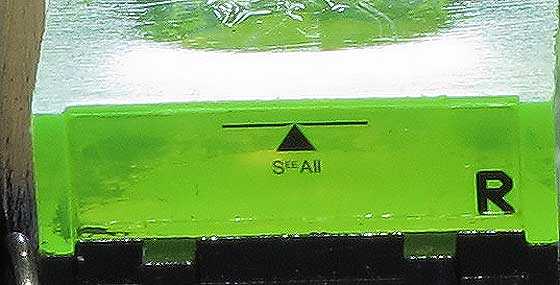 This is what you see through the magnifying optic.
There are adjustments for both windage and elevation. The instructions say there are a total of 45 minutes of angle of vertical adjustment and 75 minutes of horizontal adjustment. Because we know that many spring rifles have a barrel-drooping problem (the axis of the bore is angled downward, relative to the sight base on top of the gun), I will take care to mount the sight as close to the bore axis as possible.
The makers claim that the accuracy is unsurpassed by any sighting systems without the use of magnification. That's a claim I plan on testing with a 10-meter target rifle. It should be easy to shoot some groups at 10 meters with conventional aperture sights and then duplicate the test with the See All. I hope the claim turns out to be true because this is something many shooters have been searching for!
First test
I originally mounted the See All sight to the MK-177 multi-pump I recently tested for you because that rifle has a long Picatinny rail along its top. But then a new Leapers UTG scout scope arrived for testing, and that rifle is ideal for testing that scope, so I switched the See All to my M4-177.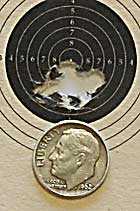 A couple years ago, I tested the M4-177 and got this 10-shot group with Crosman Premier Super Match wadcutters. I shot from 25 feet with 5 pumps per shot. A 10-meter group shouldn't be much larger. When I test the new sight, I'll reshoot with the factory sights just to be sure.
I'll get to this first accuracy test very soon because I know many of you are waiting to see how well this sight works. I'm pitting the See All against the peep sights that are on the M4-177 rifle from the factory. This isn't the 10-meter test I mentioned earlier — it's just a start at testing what could turn out to be the most exciting new open sight to come along in our lifetimes.