by Tom Gaylord, a.k.a. B.B. Pelletier
Before I begin today's report, there are a couple SHOT Show updates. First, there were numerous inquiries about Crosman's butterfly hand pump. Are they going to build it? Is it dead? Stuff like that.
They told me the pump is still an active project. The problem is that they're trying to find a manufacturer that can build it to the quality they'll accept. They keep getting samples from different companies, but there are always problems. They're not going to put it on the market unless it's fully developed. So, there's no date when the pump will come to market.
Why don't they build it themselves? Read today's report to answer that question.
A couple folks wondered about the Chinese-made TX200 copy that Crosman has shown at past shows. That project is dead. Crosman told me they weren't satisfied with the quality of the gun being made, specifically in the area of the safety. They feel it cannot be made to their standards, so they aren't going any farther with it.
I was asked specifically by blog reader Ariel if I'd seen the Air Arms S510 Ultimate Sporter. I hadn't, so I went back to the Air Venturi booth and looked for it. They had it sitting on a counter, so I took a photo and here it is.


The Air Arms Ultimate Sporter was featured by Air Venturi at the SHOT Show.
Simon Gibbon from Air Arms wasn't in the both when I was there, so I don't have an answer about Canadian importation. I will continue to work on finding out.
Next, I stumbled across a Pardini dealer right here in the United States! Pardini is an Italian maker that makes both firearms and airguns. I've tested their 10-meter target pistols in the past. They're in the same quality category as Walther and Steyr, but they don't have quite the ergonomics. They offer both electronic and mechanical triggers on their guns, and the grips are either designed by Morini or heavily influenced by them.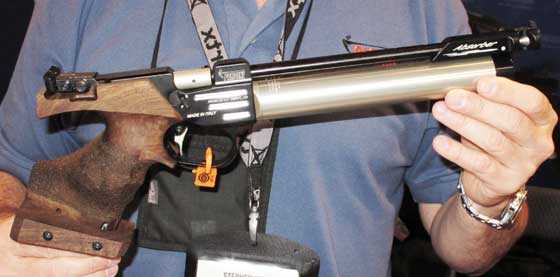 Nice to know there's a Pardini dealer in the U.S.!
Incidentally, the man in the booth was not the Pardini dealer, but his friend. This man custom builds handguns and showed me a 9mm pistol that shot a 1.8 inch 10-shot group at 100 yards! He also showed me a rifle he makes. He builds the action and it's rigid as any sniper rifle. The 100-yard groups were 0.3 inches!
Big news!
The last find at this year's show may prove to be the best one if things pan out. It's a new type of sight. When I walked up to the booth, a woman was standing in the aisle asking if people wanted to look though the sight, which attaches to the rear of a rifle. Since it was mounted on a Gamo breakbarrel, I decided to have a look. Lo and behold, this is an optical type sight that uses passive light! Think of a dot sight without any batteries!
That's an over-simplification and also somewhat misleading, but the See All Open Sight appears to have the precision of a dot sight and the size and light weight of a peep sight.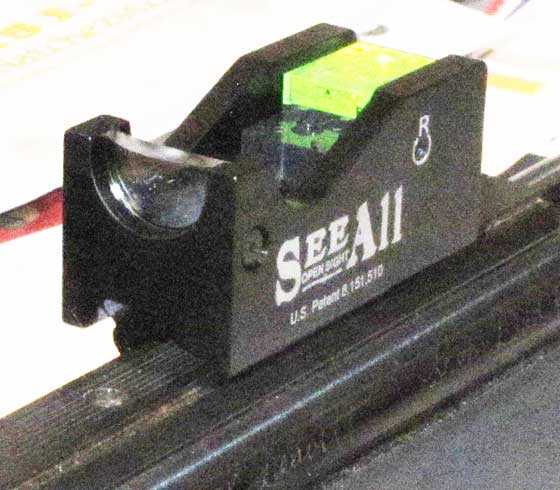 See All Open Sight may be just what the doctor ordered for all who want open sights on air rifles that are currently without them.
I have to give Edith credit for making the connection for me. I saw in general terms how useful this sight might be; but when she mentioned that it could be put on a TX200, the lights came on! How many times have I had to explain to people that guns like the TX simply cannot have open sights installed. Well, maybe now they can!
Why can't "they" build it?
Today's report seems very appropriate in light of the Crosman butterfly hand pump and underlever spring rifle projects. As consumers, we usually see new products after they've gone through a long development process — only some of which we understand. Today, I'd like to talk about what goes on behind the curtain.
When we think of a certain product, we think in terms of performance. If we have some experience, we may lump things like reliability and maintainability into our definition of performance. But that's as far as it goes.
We don't think about what it takes to make the things we desire. That's all hidden from view, but it's at least as big and important as performance and can spell the difference between success and disaster for a product.
We think products are in the U.S. Space Program, where billions of dollars are available to support them. So, if something is possible, we expect every new product to have it. Let's look at a few examples to see how it works.
Materials
Let's start with materials. Fussybritches LTD builds cool precharged rifles that look gorgeous and shoot quite well. The only problem is that they're expensive! You'll pay over $2,000 for one of their FoxxxHunter Premium guns. But Cool Cal Eber out in Portland sent a FoxxxxHunter Premium over to his contact in China, Mr. Har Lee, and he found a factory that can make it for $560, retail. They can even replicate the beautiful walnut stock for that price, which isn't surprising since Fussybritches buys their stocks from them already! The only thing is that Factory 12 cannot get the correct seal material for the valve seats and o-rings. Also, the metal finish isn't quite as nice, and there are divots in the wood stock — only some of which are filled with putty. The Chinese guns are known to leak down over time, and the stocks are often filled with blank spots that are wood putty over holes.
But Cool Cal isn't worried. He says, "Anyone who wants to save that much on an air rifle has got to expect to do some work on their own." The problem is that Bob Sixpack bought one thinking he was getting a heck of a deal by cutting out the middleman, only to discover what the term support really means. Now, he has a rifle that doesn't hold air, and Bob is no mechanic.
Size
Mammoth Air, Incorporated makes some of the best airguns for the money. But Mammoth has expanded their production capacity to the limit. They run 2 shifts a day, 6 days a week, with factory maintenance, cleaning and machine repairs accounting for the additional time. The cost to build another 50,000 square-foot factory building (which is the cheapest structure per square foot they can build and still get all the power, OSHA, floor loading, cooling, waste removal and additional requirements met) is $7,500,000. Then, there's the additional workforce needed to staff the extra capacity, plus the machinery to fill the building.
Mammoth has 27 fabrication centers and 3 process lines in their current 350,000 square-foot plant, which all need upgrading. Their CNC machines are 14 years old and have reached the end of their expansion limits. They can continue to do what they've been doing for many years, but they can't make more parts, nor can they do many of the complex operations that Mammoth would like to take advantage of.
New machinery and upgrades to the existing plant have been estimated at $43,000,000 over the next 7 years. Mammoth is doing great right now, but there isn't enough money in the budget to build the new plant, to say nothing of tooling it and still upgrade the current production capability. And the additional workforce has to be factored in, including the cost to train and maintain them, as well as the loss of productivity over the period they're introduced into the current workforce.
So, Mammoth has been looking outside their plant for additional production capacity. They don't want to do it, and their customers hate it when they learn some products aren't really made in the Mammoth plant, but what can they do? They can phase out older products that don't bring in the revenue they used to; but when they do that, the diehard supporters of those traditional products go on the warpath — claiming Mammoth is loosing sight of their heritage.
Mammoth appears to be a giant, and it really is. But what you don't see is that the giant is spinning 30,000 plates at the same time over a concrete floor!
Sources
Instant Airguns is just the reverse of Mammoth. They're small and light on their feet. They can make changes fast, but what they can't do are some of the more exotic steps to make their own parts. I will choose just one — barrel making. Making barrels is a specialty trade, much the same as optics. It takes a huge investment in both machinery as well as skilled people to make good barrels. Sure, one craftsman can hand-rifle 120 good barrels in a year and still do the other things needed to make airguns. But Instant Airguns makes over 7,000 top-quality airguns each year. They make most of their guns, but the barrels they buy for the reasons mentioned.
Let's say you're a well-known barrel maker who knows the market. You know that Instant Airguns is renowned for using your barrels. In fact, they tout them in their advertising! So, if you want to charge a little more for your barrels, don't you think Instant Airguns will pay? Of course they will! If they could make their own barrels they would, but you know it would cost them a bundle just to get started. You're in a comfortable position. And Instant Airguns customer will just have to settle for periodic price increases.
Capital equipment
You're a medium-sized airgun maker who makes a fine sporting rifle. It's accurate and beautiful, but you take a lot of criticism because your triggers are creepy. The reason they are is that you're drilling the pinholes on a drill press with an indexing bed fixture to hold the receivers. The best tolerance you can hold that way is a maximum of 0.005 inches in the plus dimension between all the pinholes. To accommodate the variation in the pinholes, you have to drill the holes larger than the pins. There's a 6-axis CNC machine that could hold the tolerance to +/- 0.0005 inches, but it costs $450,000, and you just don't have the money.
A number of disgruntled customers have reamed the pinholes of their triggers and installed larger diameter pins. They berate you on the chat forums for being too stupid to realize this is the simple solution. What they fail to understand is that hand-reaming adds a half-hour to the build time and approximately $130 to the retail cost. It seems easy to them to do one rifle this way, but it's a killer to do 340 of them in each 8-hour shift. And it would kill about 80 percent of your sales to charge that much more for your gun.
The list goes on and on. When I meet with industry executives, owners and engineers, they tell me my blog reports like this one read like the history of their company. But no matter what they do, they can't get most of their customers to understand these problems. And perhaps they shouldn't even try. This is business, pure and simple. It's their responsibility to wade through the jungle of problems and wind up with a great product.
But just for today, I thought you'd like a look at the other side of producing airguns.