by Tom Gaylord, a.k.a. B.B. Pelletier
Today, I'm starting a long series on lubricating airguns. Blog reader Joe asked for this; but as I was researching the subject, I stumbled across another request that came in through the customer reviews on the Pyramyd Air website:
"I wish that RWS or Pyramydair would explain the process and frequency of oiling these RWS rifles in particular the RWS mod 48. Everyone I talk with says the RWS owners manual is outdated and that with the new seals they use does not need to be lubed maybe for years….I purchase the RWS chamber and cylinder oil at a cost of almost $30.00 and now am told I probably will never need it? This topic should be cleared up once and for all by the manufacturer."
Perhaps this customer is referring to RWS Chamber Lube and RWS Spring Cylinder Oil as the two products he purchased. And they do add up to $28 before shipping. Are they necessary? Should he have bought them? That's the question I'll start answering today.
This subject is so vast and complex that I cannot address it in a single report. In today's report, I'm only going to look at lubricating the piston seal. That constitutes about half of the lubrication requirements for many airguns, in my opinion. In the next installment, I'll address all other spring gun lubrication, including the mainspring and piston.
Leather piston seals
In a spring gun, the piston seal is what compresses the air when the gun fires. As the piston goes forward, the seal keeps the air in front of the piston, where it gets compressed because the only escape is blocked by the pellet sitting in the breech. If the gun's working properly, all other avenues for the compressed air to escape have been blocked.
In the past, pistons were sealed with a leather pad or cup. Leather is an ideal material for this job. It's rugged, lasts a long time and will conform to the shape of the compression chamber after a few shots — much like a leather shoe that eventually fits your foot perfectly.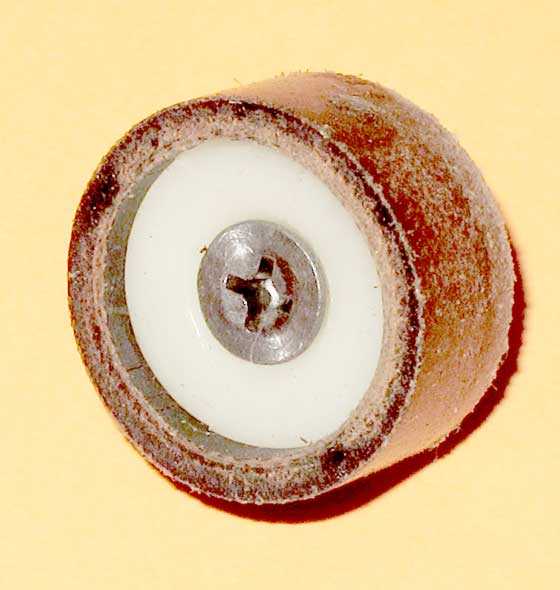 This cup-shaped leather piston seal is for a Chinese spring rifle.
To do its job, a leather seal has to stay soft and pliable, and oil is the best thing for this. As the spring gun operates, a little of the oil is consumed with each shot, so a leather seal needs to be oiled frequently to stay soft. How frequently? In some older guns, I've found that oiling every few weeks is necessary if they're shot a lot. Certainly, all guns with leather seals need a couple drops of oil at least once each month if they're to be shot. You can leave a gun with leather seals unoiled for years if you don't shoot it; but before you start shooting it again, that seal needs to be oiled. When I start shooting an older gun that I know has leather seals (I use references for finding out things like this), I put about 10 drops of oil through the air transfer port and let it soak into the seal for at least an hour, although a half day is even better.
What oil to use?
The type of oil you use depends on the velocity of the gun. Guns that shoot less than 600 f.p.s. in both .177 and .22 caliber will be oiled with regular household oil. Any petroleum-based lubrication oil will do. Yes, gun oil will also work. For guns that shoot faster than 600 f.p.s., I use silicone chamber oil, like the product listed above. The spring cylinder oil is not for chambers and should not be used on the piston seals of these guns.
Synthetic seals
Starting in the 1950s, manufacturers began experimenting with piston seals made from synthetics. Some of them, like the ones used by Anschütz and Falke, worked well and lasted for many decades. But others, such as the seals used by Walther on all their airguns and the seals that Feinwerkbau used on the 121 and 124/127 sporting rifles, were made from a material that dry-rotted within about 20 years. If they were oiled by anything, they failed even faster. These seals started out as a light beige color, but as they absorbed oxygen and oil, it turned them dark yellow and brown until they began to break apart in waxy chunks.
Diana was one of the last companies to switch from leather to synthetic, and they had the benefit of watching the others. They were still using leather seals in their powerful model 45 rifle in the late 1970s, at a time when that airgun had broken the 800 f.p.s. "barrier." When they started making synthetic piston seals, they used a blue-colored material that was tough and long-lasting. It's interesting to note that the others adopted similar piston seal material when they finally realized their seals were perishing in use.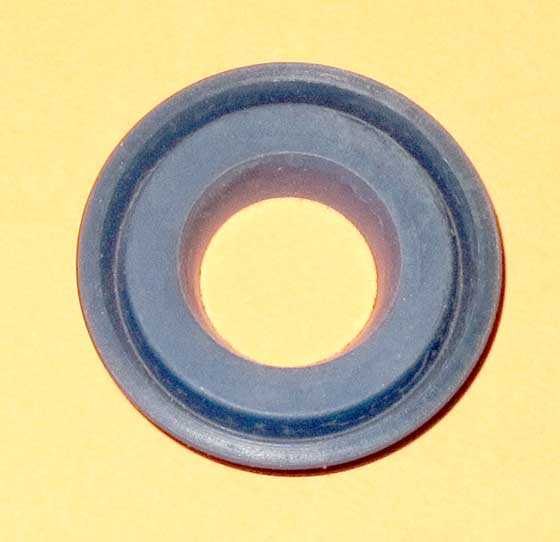 The blue Diana parachute seal is so rugged that hobbyists use it for many other airguns. It needs very little oil!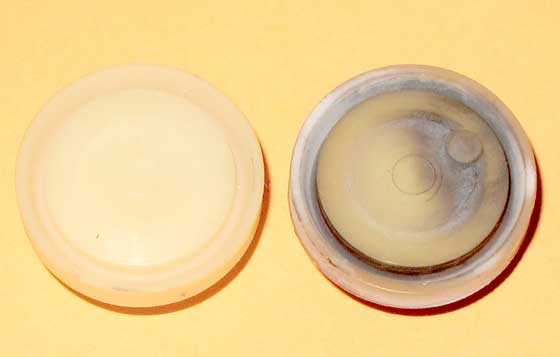 These 2 FWB 124 seals are made from modern synthetic material, yet they look like the original ones. The one on the right has been inside a rifle for a few thousand shots. It looks bad but is still in great shape and will last for many decades.
Don't fixate on the color blue for piston seals! These synthetics can be colored any way and still be fine. I have modern FWB 124 seals that look similar to the old seals in color, yet they'll last indefinitely. It's the material, not the color.
Which oil to use?
With synthetic seals, I always use silicone chamber oil. That's SILICONE CHAMBER OIL — not brake fluid, silicone spray lubricant or any other concoction. Chamber oil is for piston seals. It does not lubricate metal parts because the viscosity is too low. It'll ruin metal parts if you use it that way. On the other hand, nobody knows what will happen to a gun that's lubed with anything other than SILICONE CHAMBER OIL.
Diana recommends using two drops of chamber oil on the piston seal every 1,000 shots, and one drop on the breech seal at the same time. That's it. To answer the person who asked if he needs the chamber oil, the answer is yes. But one small bottle will last a long time. I've observed that most Diana airguns can get by with even less oiling than what's recommended. One diagnostic for when a gun need its seal oiled is when the seal honks like a goose as the gun is cocked.
Silicone chamber oil has a high flashpoint. Since the air in a spring-piston gun reaches about 2,000˚F with every shot, this is important. This heat is adiabatic — it doesn't heat the gun because the interval is too brief.
Overlubing vs. underlubing
It's almost impossible to overlube a leather piston seal. And it does not harm the seal if you do.
On the other hand, overlubing a synthetic seal can start the gun detonating. Not dieseling — most spring guns diesel. When you smell burning oil, your gun's dieseling. Dieseling is just a few oil droplets vaporizing with each shot. It's perfectly normal in a spring gun.
Detonation is when a lot of droplets vaporize and cause an explosion. That will damage your piston seal if it's allowed to continue for a long time. It can also break your mainspring.
So, dieseling is okay, but detonations are bad. And overoiling synthetic seals causes detonations.
Do you see why I had to cover just the piston seals today?