by Tom Gaylord, a.k.a. B.B. Pelletier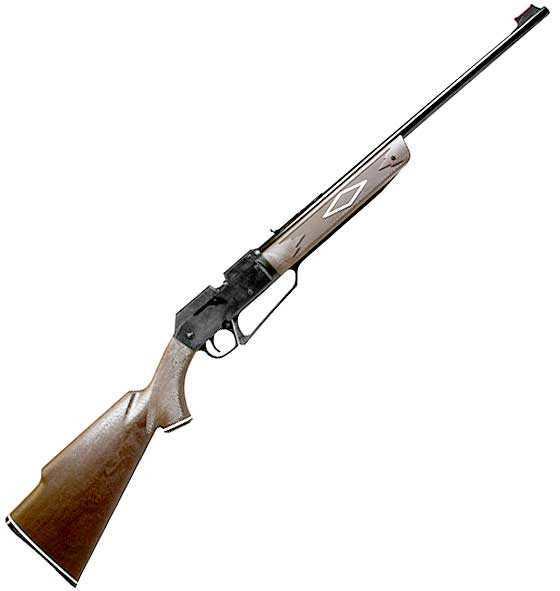 The Daisy 880 multi-pump is a classic.
This report addresses:
• Examining test targets sent from Daisy with this rifle.
• Accuracy with 3 different pellets.
• Accuracy with BBs.
Today, we'll look at the accuracy of the brand-new Daisy 880 that Daisy sent for this test. Before we begin, I'll show the test targets Daisy sent with the rifle. Then, I'll shoot the rifle at 10 meters with 3 different pellets. Finally, I'll move up to 5 meters and shoot steel BBs.
Daisy targets
When Daisy sent me the rifle, they included the results of their testing. So, I have 2 targets for the rifle. They did not indicate which target was shot with BBs; but since they used a 10-meter target for the one test and a 5-meter target for the other, I'll assume the first was shot with pellets and the second with BBs.
The target they shot with BBs was enlarged before they copied it, so it looks larger than its actual size. The black bull is supposed to measure 18.415mm across, but the target they sent measures 25.07mm from side to side. So, it's approximately 137 percent the size it should be. I'm telling you that because I can't put a dime next to that target and make any sense out of it.
They also shot just 5 shots per target, where I normally shoot 10. So, my groups should be 40 percent larger than theirs. They did give me the center-to-center measurements for each group, however, so we'll be able to make some comparisons.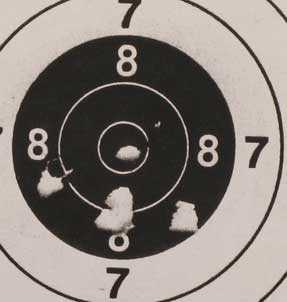 Daisy shot 5 BBs into 0.65 inches at 5 meters with the test 880. Remember, this target appears larger than it really is.
They also sent a 10-meter target they shot with pellets. They didn't indicate which pellets were used for this test, but I would think they would use Daisy Precision Max pellets — that only makes sense. This 5-shot group measures 0.60 inches between centers.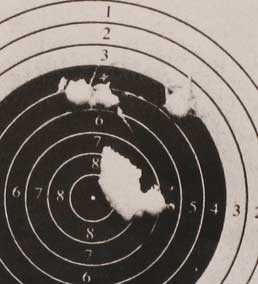 Daisy shot 5 pellets into 0.60 inches at 10 meters with the test 880.
There was no indication of how many pumps were used for either target. I will therefore use my best judgement when I shoot my own groups.
Pellets first
I shot the 880 rested at 10 meters using 3 different pellets. The first was the 7.9-grain Crosman Premier dome that was used for the velocity test. I used 6 pumps for each shot with pellets. The rifle was rested in a sandbag rest.
Sight-in took 2 shots because the rifle was shooting low for a 6 o'clock hold. It was also shooting a little to the right, but I didn't bother correcting that on the first group. Ten Premiers went into 1.037 inches. While not bad, I hope to find another pellet that does better.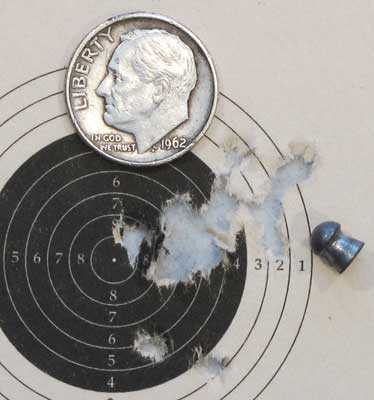 Ten Crosman Premier lite pellets went into 1.037 inches at 10 meters. Not a very great group, but there's the silver dime several of you obsessed over.
Daisy wadcutters
After the first group, I adjusted the rear sight down one notch and over to the left. Next, I tried some old Daisy Superior Match Grade wadcutter pellets. How close they are to the current pellets Daisy sells, I have no idea. Ten of them went into 0.713 inches, which is better than the Premiers and, accounting for my 5 additional shots, also better than what Daisy got.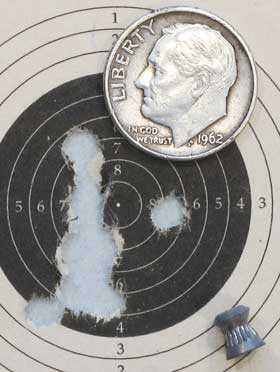 Ten Daisy Superior Match Grade wadcutters made this 0.713-inch group at 10 meters.
RWS Hobby pellets
I felt the rifle had redeemed itself with the Daisy pellets, but I wanted to try just one additional pellet. This next one was an RWS Hobby. When you see what it did, I think you'll agree with me this was a fortunate choice.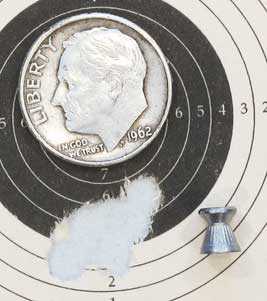 Ten Hobbys made this 0.458-inch group at 10 meters. Now THIS is a group!
So, the 880 I'm testing can definitely shoot. Both Daisy and I got good results from the rifle with pellets. Let's see what it can do with steel BBs.
Daisy with BBs
I moved the shooting table up to 5 meters from the target and started shooting with Daisy Premium Grade BBs. At this distance I used 3 pumps for each shot. They were hitting the target right where the top of the front sight was, so I decided to hold for the center of the bull instead of at 6 o'clock. They did hit a little to the left, but it was nothing to be concerned about. Ten BBs went into 0.624 inches.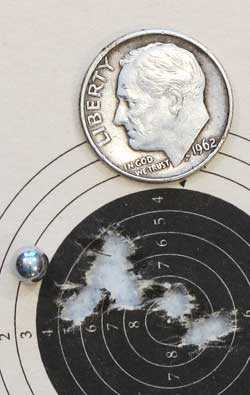 Ten Daisy BBs went into this 0.624-inch group at 5 meters.
If you check my other BB-gun targets (other than those made by the 499), you'll see that this gun really groups tight with BBs. I'm surprised it did so well.
Summary
This Daisy 880 can certainly shoot! Next, I'll mount the scope and back up to 25 yards.