by Tom Gaylord, a.k.a. B.B. Pelletier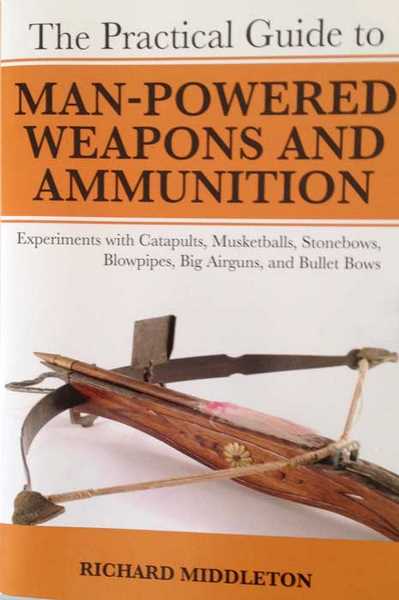 This is the softcover version of the book.
This report covers:
• When is 12 foot-pounds more than 12 foot-pounds?
• How long is long enough?
• Ka-boom!
• Hodges catapult gun
• Why do airguns lose so much power?
• What kind of power can I expect?
This is a brief book review of The Practical Guide to Man-powered Weapons and Ammunition by Richard Middleton, copyright ©2005, published by Skyhorse Publishing, New York. Dennis Quackenbush sent this book to me just because he thought I needed to read it. Well, I've read it and now I'm recommending it to all of you.
The subtitle is Experiments with Catapults, Musketballs, Stonebows, Blowpipes, Big Airguns, and Bullet Bows. That should give you an idea of what's included. Mr. Middleton explains dozens of different experiments in which he advances his understanding of pneumatic and spring-operated projectile launchers. He calls them weapons, as is the custom in the UK and also Australia, where he's from. Here in the U.S., we define weapons as things meant to injure or kill; and, while most of what is in his book will do exactly that, our American culture sets the word weapon apart as a term charged with emotion. Most of us don't consider airguns to be weapons.
That aside, this is one of the most interesting nonfiction books I've read in years, and it may be the very best one on the subject of pneumatic guns. The author addresses several scientific subjects without referring to formulas and equations, and the way he backs into each new subject makes you think he is a normal guy — just like the rest of us. But it's obvious that he's spent a lot of time and devoted much thought to making these complex subjects seem simple.
When is 12 foot-pounds more than 12 foot-pounds?
I don't know about you, but I rarely read an introduction to anything. But in this book, I found the first profound concept on page viii — you know, one of those odd-numbered pages you flip past when turning to the real book? The author tells us he is puzzled by something he's seen. He has a ballistic pendulum hanging from the ceiling of his garage. The bob weighs 12 lbs. When he shoots the bob with a .22-caliber airgun pellet going 620 f.p.s., it swings one-half inch from the impact. When he shoots it with a .451-caliber lead ball launched from a slingshot at 196 f.p.s., the bob swings an inch and a half — three times as far! The interesting thing is that both projectiles develop an identical 12 foot-pounds! Does that make you stop and think?
How long is long enough?
This topic comes up all the time. We "know" that a longer barrel allows an airgun projectile to go faster when fired from a pneumatic gun, but where does it end? How long is long enough? I see endless discussions on this blog between two or more readers wondering what the optimum barrel length might be for a certain airgun, yet nobody seems to know how to figure it out. Well, Mr. Middleton knows, and he conducted several experiments to demonstrate it to the reader.
Ka-boom!
We recently introduced the Air Burst MegaBoom Supersonic Target System here at Pyramyd Air and several of you were enchanted by it. Mr. Middleton made one a decade ago and describes how it worked. He took his experiments to places the MegaBoom folks don't want you going, and he tells you what happened. You really should read this.
Hodges catapult gun
You veteran readers may remember that I reported on the Hodges catapult gun a couple years ago. This book not only talks about Hodges guns, it gives ballistics for several of them and tells you what to expect if the ammo is changed. This is stuff you cannot find anywhere.
Why do airguns lose so much power?
Our blog readers ask these intriguing questions all the time, and this book has the answers. Why does the mainspring in a breakbarrel rifle that's rated at 150 lbs. of energy only put 21 foot-pounds out the muzzle? What happens between the spring and pellet that wastes most of that energy? And why is a .22-caliber gun always more powerful than the same gun in .177? This book explores these themes and explains them through the results of several experiments.
What kind of power can I expect?
"If my rifle develops 20 foot-pounds in a .22, what sort of power can I expect from the same gun in a .177?" I get that question a lot. This book answers it and tells you how to figure it out for yourself.
I could go on, but I'm going to stop here. I see questions every day about airgun fundamentals from many blog readers. Here's a book that answers a lot of them and suggests how you might answer others on your own. The writing is easy to follow and almost conversational — like this blog!
I have an extensive library about the shooting sports and those books have helped me write this daily blog for you. Questions we ask today were also asked 150 years ago and have often been answered more than once by some very creative people. You can now add Richard Middleton to that list.
Pyramyd Air doesn't sell this book, but you can certainly find it on Amazon. It's not expensive, but it's worth many times the $12 price. If you really want to know more about airguns, this is a place to start looking and learning.