by Tom Gaylord, a.k.a. B.B. Pelletier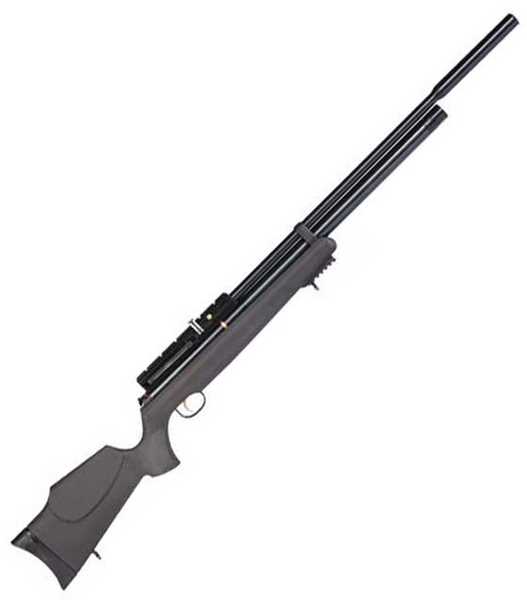 Hatsan's AT44S-10 Long QE is packed with features for airgun hunters.
This report covers:
• Inconsistent shots?
• Most accurate pellet?
• 100 yards means scope adjustments
• JSB Exact Jumbo heavy pellets
• Crosman Premier pellets
• H&N Baracuda Green pellets
• Gamo Hunter pellets
• Call it a day
• Conclusions
• Pyramyd Air sale
Today is a test of the Hatsan AT44-10 Long QE at 100 yards. I don't do this very often for many reasons; but when I find a PCP that's exceptionally accurate at 50 yards, I feel it's worth testing at the greater distance. It takes a perfect day for this test because any wind will push the pellet around. We don't get many windless days here in Texas, but this past Wednesday was one of them. It was so calm that dandelion fuzz would fall straight down.
You also know from reading this blog that groups do not always open in linear fashion as the distance increases. A rifle that shoots a half-inch group at 50 yards will not automatically shoot one-inch groups at 100 yards — even though the day is perfect.
Inconsistent shots?
While testing this rifle, I'd seen that the first 10 shots could be less accurate than the second 10. They sometimes contained fliers that didn't seem to exist in the second group. Yesterday, blog reader Jerry in Texas asked me why one shot out of 10 from his Benjamin Marauder was dropping in velocity by over 250 f.p.s. I told him I thought some PCP guns do that in certain places in the power curve. I saw evidence of that on the 50-yard range and again at 100 yards, as I'll show you.
Most accurate pellet?
I also hedged my bets by taking several pellets to the range that hadn't been tested in this rifle before. I was getting such great performance at 50 yards from one pellet in particular — the 18.1-grain JSB Exact Jumbo Heavy — that I sort of stopped testing other pellets. That's not very scientific of me, though it's very much in keeping with being a gun crank. So, I took some other pellets along and gave them a try at 100 yards — even though they'd not been tried by me before in this rifle.
100 yards means scope adjustments
I knew the pellet would drop a lot going from 50 yards to where the rifle was sighted to 100 yards. I guesstimated the drop would be at least 12 inches, which would be 48 clicks on the quarter-minute elevation knob to bring things back up. But when I adjusted the scope, I stopped at 40 clicks because you never know if the clicks are exactly quarter-minute or if that's just an approximation. As it turned out, both my guesstimate and the adjustments were close to correct, and I had to adjust the scope another 16 clicks up to get close to the point of aim.
JSB Exact Jumbo Heavy pellets
The first pellet up was the 18.1-grain JSB Exact Jubo Heavy that had given me a group of 10 in 0.522 inches at 50 yards. If any pellet was going to excel in this rifle at 100 yards, I felt this one had the best chance. Alas — the best-laid plans….
The best I was able to do with this pellet was 10 in about 3 inches. I shot the same pellet in both the first 10 shots and the second 10 shots per fill with pretty much similar results, except there was a flier in the first group. I'm not going to show you those groups because they don't help the report and also because the first group fell below the target paper and hit the 2×4 backer paper I always use when I'm not sure where the pellets are going.
At this point, I decided to punt — as in testing something I hadn't tried before. One reader had recommended trying the 15.89-grain JSB Exact Jumbo pellets, and I thought it was a good choice. It happens to be one of my favorite .22-caliber pellets, and I normally would have tested it at 50 yards; but when the heavier JSB did so well, I decided to just shoot it to the exclusion of all others.
I refilled the rifle with air and loaded 10 JSB Exact Jumbos into the circular clip. The first group was very telling. Nine out of 10 pellets landed in a 1.668-inch group, but the first shot hit about 4 inches above the top of this main group. Remember what I said about inconsistencies in the first 10 shots after a fill?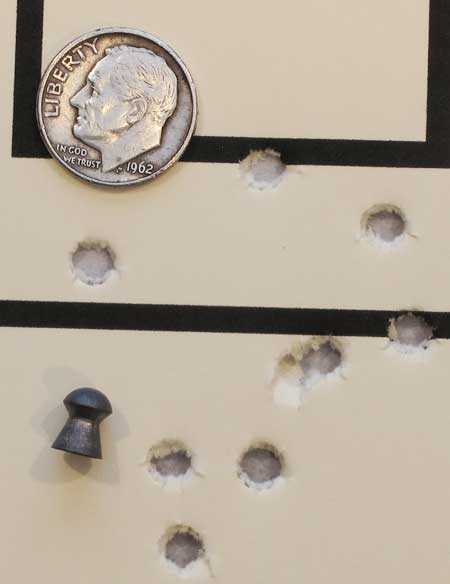 Nine of the 10 JSB Exact pellets landed in this 1.688-inch group at 100 yards. The first shot was 4 inches higher. This is a very good group for any pellet rifle at 100 yards.
After that group, I refilled the clip and shot a second group with the same pellet. This time, all 10 went into 2.385 inches. I know that doesn't sound very good, but I ask you to reserve your comments until you have shot some 10-shot groups of pellets at 100 yards. It isn't easy! And guns that group in a half-inch at 50 yards do not necessarily group in one inch at 100 yards.
Look at the shapes of these holes. Many are oval in shape, which indicates they didn't go through the paper straight-on.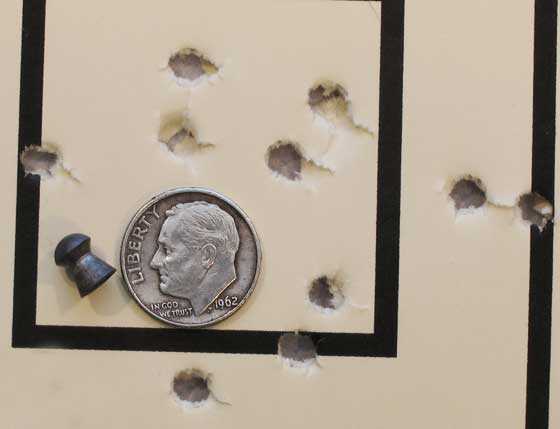 Here are 10 of the same JSB pellets in a 2.358-inch group. These oval holes show some evidence of a tilt on axis.
Crosman Premier pellets
One of the most accurate .22-caliber pellets is the domed Crosman Premier that comes in the brown cardboard box. Sometimes, they're the most accurate, and other times they're among the top 3. But in PCPs they don't do as well — especially when the PCP is more powerful such as this Hatsan. And this was no exception to that rule, as Premiers couldn't stay inside 6 inches at 100 yards. I didn't even complete a group with them after seeing the first few shots land so far apart.
I'd planned on trying Eun Jin pellets, as well; but when I started loading them, I discovered that the tin I picked up were .25-caliber pellets.
H&N Baracuda Green pellets
The next pellet I tested was the H&N Baracuda Green. While lead-free pellets are not that accurate as a general rule, Baracuda Greens are an exception. In the Hatsan, they managed to put 10 shots into 5.25 inches, with 9 of those shots in 2.988 inches. That's pretty good for lead-free pellets; and, yes, this was the first group of 10 after a fill.
Gamo Hunter pellets
The last pellet I tried was the Gamo Hunter. While I have very little experience with this pellet, I do recall it working well in one spring rifle years ago. But it was not suited to the Hatsan AT44. I didn't see where the first Hunter struck the target; but I saw the second pellet's flight through the scope, and it was a wild spiral curve to the right that landed a foot off the target! Clearly this rifle is not suited to shoot Gamo Hunters.
Call it a day
After this last attempt, I decided to call it a day. The shooting had worn me out by this time. I think it's clear that of the pellets I've tested so far, the JSB Exact 15.89-grain Jumbo is the best. Out to 50 yards it may do no better than the heavier 18.1-grain JSB Jumbo Heavy, but something about this lighter pellet carries it to 100 yards in better form.
Conclusions
I believe the Hatsan AT44-10 Long QE is one of the finest PCP rifles on the market at any price. It has power, accuracy, a great trigger and very quiet operation –all for a wonderful price. If you're in the market for a good PCP, I would put this one on your short list.
Pyramyd Air sale
Pyramyd Air is having a "Christmas in July" sale. If you're planning to make a purchase, click here to visit their sale pages.