Hakim air rifle: Part 5
by Tom Gaylord, the Godfather of Airguns™
Writing as B.B. Pelletier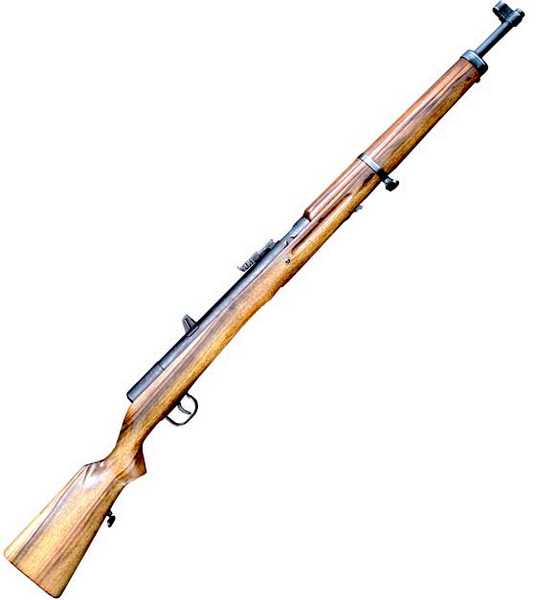 Hakim is a large, heavy military trainer made in the 1950s by Anschütz.
This report covers:
• TF90 dot sight
• Accuracy test
• RWS Hobby pellets
• RWS Superpoint pelelts
• Eley Wasp pellets
• JSB Exact RS pellets
• Evaluation so far
• Talk to me on Facebook this Thursday
This is a report that addresses 2 different items. Today, we'll look at the accuracy of the Hakim air rifle trainer at 25 yards, and we'll also be seeing the results of the Tech Force TF90 dot sight mounted on that rifle. I think you'll be surprised at what can be done with a dot sight.
TF90 dot sight
As you know, I mounted the Tech Force TF90 on the Hakim for the second accuracy test at 10 meters and found the rifle was easier to shoot with the dot sight than with the open sights that came standard on the rifle. It wasn't more accurate — just easier to aim with the dot sight.
Today, I backed up to 25 yards to test the rifle again with the dot sight. These will be 10-shot groups, as always. Though the TF90 is an optical sight, 25 yards, or 75 feet, is too far to see most pellet holes — especially those in the black — so I won't be destroying my aim point as I shoot. It's more like shooting with a peep sight than an optical sight.
I noted that I was able to put the brightness switch on the lowest setting and still see the dot clearly. It did cover nearly all of the bull at 25 yards, even though it's a 3-minute dot that should look smaller at that distance. I was shooting at 10-meter pistol targets that have a bull measuring 2.33 inches across, and I estimate I covered 75 percent of it. What I'm saying is that this dot is very bright and was flaring just a bit in this situation.
Accuracy test
I've done nothing to this rifle so far, other than adjust the trigger-pull. It still buzzes when it fires, which I'll address next. But that doesn't affect accuracy, which is pretty good, as you'll now see.
I shot the rifle off a sandbag rest with my hand under the forearm, but not in the conventional artillery hold. The Hakim recoils so softly that it's possible to grasp the stock and still get decent accuracy, so that's what I did.
RWS Hobby pellets
The first group was shot with RWS Hobby wadcutters. I looked after the first shot and saw the pellet had struck near the center of the bull, so the remaining 9 shots were fired without looking again. When I changed targets I found a neat 1.084-inch group in the center of the bull. This group was fired immediately following the BSA Stutzen test, so it looked pretty good by comparison.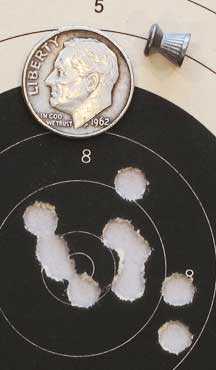 This group of 10 Hobbys is well-centered at 25 yards. It measures 1.084 inches between centers.
I felt pretty confident after the first group. Because this Hakim is new to me, I really didn't know what to expect at 25 yards. In the past, all my shooting has been at 10 meters with only 5 shots per group. So, it was nice to see the rifle pile them into the same place every time.
RWS Superpoint pellets
Following Hobbys, the next pellet I tested was the RWS Superpoint that has always done the best for me in this rifle. When I say this rifle, I mean this type, for this is the first time I've shot this particular Hakim at 25 yards.
Ten Superpoints went into a tight 0.673-inch group. I didn't see it until I walked down to the trap to change targets; and when I saw this one, I was amazed! This is really good accuracy, and it was done with a dot sight. I don't see how a scope could have done much netter.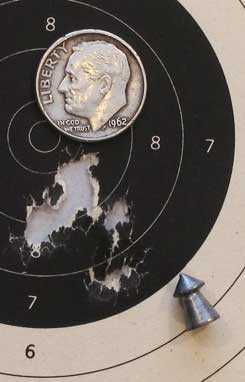 Ten RWS Superpoints made this stunning 0.673-inch group at 25 yards. This is the best of the session.
Eley Wasp pellets
Next up were the 5.56mm Eley Wasps, which are now obsolete. I laid in a supply for my Webley pistols. At 10 meters, this Hakim seems to like them, too. But at 25 yards, these pellets opened up to make a 10-shot 1.506-inch group that was the largest of this test. This is a good illustration of why we want to test air rifles at distances greater than 10 meters when possible.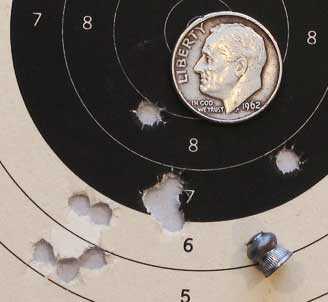 Ten Eley Wasps opened up at 25 yards. They looked good at 10 meters, but opened to 1.506 inches at 25 yards, which was the largest group of the session.
JSB Exact Jumbo RS pellets
The final pellet I tested was the JSB Exact Jumbo RS. Its thin skirt and lighter weight makes it a good choice for the Hakim. In this test, 10 of them went into 0.985 inches between centers. And see how well-centered they are! This is another good choice for the Hakim, though the Superpoint is still the pellet to beat.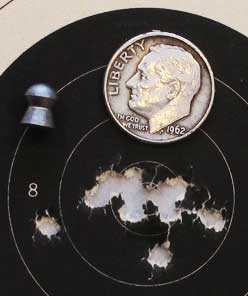 s
Ten JSB Exact RS pellets went into 0.985 inches at 25 yards. This was the second-best group.
Evaluation so far
This Hakim is just as accurate as the others I've shot. It's still quite buzzy, though, so the next step will be to open it up and quiet the powerplant. Hopefully, I won't sacrifice much velocity when I do this.
I'll show you the teardown and what the insides look like, plus I'll share how I tune the rifle. So, there are one or two more reports yet to come.
Talk to me on Facebook this Thursday
I'll be answering questions on The Pursuit Channel's Facebook page during their weeklong Facebook Takeover event. From 7:00 to 7:30 PM Eastern, I'll be connecting with The Pursuit Channel's American Airgunner fans and other interested shooters. Click here to go to the page. See you then!