by Tom Gaylord, The Godfather of Airguns™
Writing as B.B. Pelletier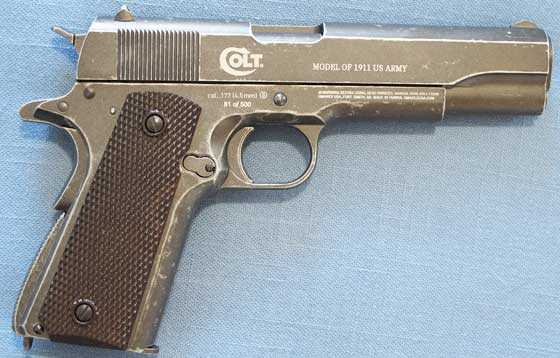 Colt WWII Commemorative 1911 BB pistol.
This report covers:
• I shoot BB pistols at 5 meters
• Preparing to shoot
• First group
• Second group
• Pistol not holding open after last shot
• Third group
• The voices in my head spoke to me
• Fourth and final group
• Final evaluation
• Pyramyd Air Cup
Today is accuracy day for the Colt WWII Commemorative BB pistol. Since that version is no longer available, I've linked you to the Colt Limited Edition NRA 1911 BB Pistol in this report, and that continues through today's report.
I shoot BB pistols at 5 meters
I normally start shooting pellet guns that have rifled barrels at 10 meters, but I shoot BB guns at 5 meters. In the past, I've sometimes shot them at 15 feet, which is just over a foot closer. Unless I tell you different, all groups are 10 shots. And because this gun runs on CO2, I'll wait at least 10 second between shots, even though it's a semiautomatic that can be shot very rapidly.
I decided to run most of this test with Umarex Precision Steel BBs because this is an Umarex airgun and also because I have found them to be the equal of Daisy Premium Grade BBs in past tests.
Preparing to shoot
The gun was charged and loaded, and I sat down to fire 10 rested shots at a 10-meter rifle target that was placed 16 feet, 5 inches away (5 meters). I used a monopod to rest my hands, and I used a 2-hand hold that was very steady. I held the sights at 6 o'clock on the bull, and the BBs seemed to go to the right of the aim point.
First group
The first group turned out to be the best of the session. Ten BBs went into a group that measures 0.937 inches between centers. As you can see, it's just to the right of the aim point. To correct this, the rear sight could be moved a little to the left, but I'm going to leave it where it is. I won't be shooting the gun that much and it's accurate enough to hit pop cans out to 25 feet or so.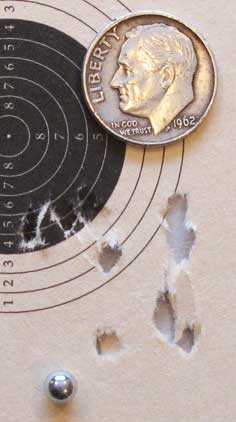 This first target was the best all day. Ten Umarex Steel BBs are in 0.937 inches at 5 meters.
Second group
The second group was larger, at 1.279 inches between centers for 10 shots. Still using the Umarex BBs for this one. I tried holding the monopod tighter to reduce any wobbling, but apparently it didn't matter.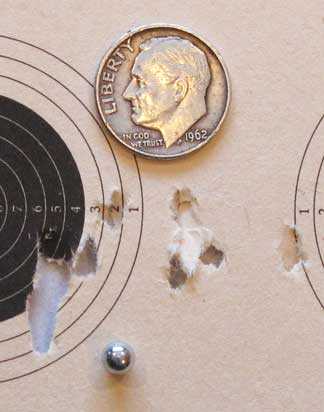 Second target measures 1.279 inches at 5 meters. Though the hold was better, the group is larger.
Pistol not holding open after last shot
I'd loaded just 10 BBs for the second group, but the slide didn't stay back after the final shot. When I checked the magazine, it was empty. Either the slide isn't coming back far enough to stay open or the spring in the hold-open device is weak and not catching the slide.
Third group
My third group was a little smaller than the second group, at 1.217 inches for 10 shots. I was holding each shot perfectly, and it was disconcerting to see 2 of them rise up and to the right of the bull.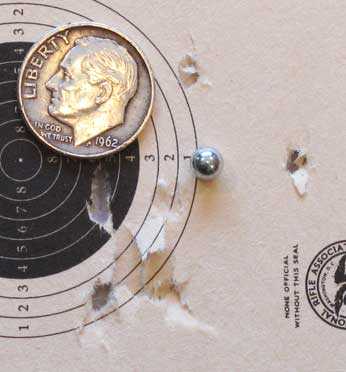 This third target measures 1.217 inches at 5 meters. That's slightly better than the second group but not as good as the first.
The voices in my head spoke to me
At this point, I was satisfied with the test. I figured I knew how good the pistol is and that was that. But then the programming from all you vocal readers kicked in and I could anticipate you asking me why I didn't test the gun with other BBs. So I did.
Fourth and final group
For the last group I loaded the pistol with Avanti Precision Ground Shot — the stuff the Daisy Avanti Champion 499 shoots. If anything was going to do better in this pistol, this would be it.
However, these BBs didn't improve accuracy. In fact, they produced the largest group of the session. Ten went into 1.684 inches between centers.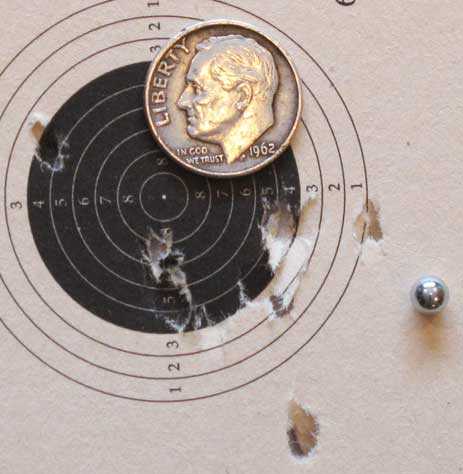 This target was shot with Avanti Precision Ground Shot. Ten shots went into 1.684 inches at 5 meters. That's the worst group of the session.
Final evaluation
This is one of the few times when accuracy isn't what I'm considering when I evaluate this airgun. And that's a good thing, too, because there are plenty of less expensive 1911-type pistols that will shoot better. I've already tested some of them for you.
What this air pistol has, that the others don't, is character. It looks like a sidearm that's been through a war. And that was always the attraction for me. If I want accuracy, I have other air pistols to use — this one is for the nostalgia.
Pyramyd Air Cup
The big event is rapidly coming! If you haven't registered for the Pyramyd Air Cup shooting tournament and gun fun weekend, then get on it!
It's October 24-26 and will be 3 great days of shooting. How much you participate is up to you. Shoot field target. Shoot silhouette. Shoot sample guns Pyramyd Air supplies at the sight-in range. Watch the matches. Chat with me, airgun hunter Jim Chapman and Airgun Reporter Paul Capello. Or do all of them!
It's up to you what you want to do. Any way you slice it, you'll have fun as you immerse yourself in airguns. All the info is on the special Pyramyd Air Cup website.