by Tom Gaylord, The Godfather of Airguns™
Writing as B.B. Pelletier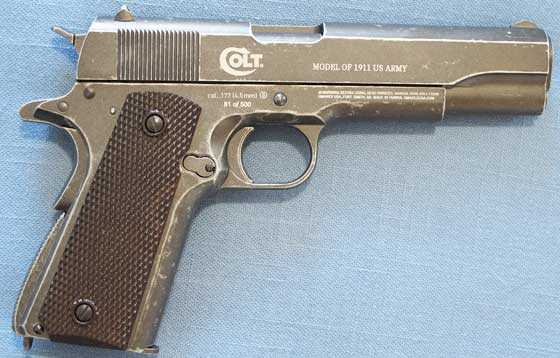 Colt WWII Commemorative 1911 BB pistol.
This report covers:
• I shoot BB pistols at 5 meters
• Preparing to shoot
• First group
• Second group
• Pistol not holding open after last shot
• Third group
• The voices in my head spoke to me
• Fourth and final group
• Final evaluation
• Pyramyd Air Cup
Today is accuracy day for the Colt WWII Commemorative BB pistol. Since that version is no longer available, I've linked you to the Colt Limited Edition NRA 1911 BB Pistol in this report, and that continues through today's report.
I shoot BB pistols at 5 meters
I normally start shooting pellet guns that have rifled barrels at 10 meters, but I shoot BB guns at 5 meters. In the past, I've sometimes shot them at 15 feet, which is just over a foot closer. Unless I tell you different, all groups are 10 shots. And because this gun runs on CO2, I'll wait at least 10 second between shots, even though it's a semiautomatic that can be shot very rapidly. read more