by Tom Gaylord
Writing as B.B. Pelletier
This report covers:
• More new toys!
• More on field target
• Shooting opportunities galore!
• And the winner is…
• Same time next year!
Today, we'll return to the Pyramyd Air Cup for a last look at the event. Some of you have also visited my social network pages and may have seen some of these pictures already, but they'll be new to everyone else.
More new toys!
People bring their new ideas to me at these events, and the Pyramyd Air Cup was no exception. This is how I learn about many of the new things that are happening.
Someone mentioned in the comments wanting to see what a KalibrGun airgun looks like (the Cricket and the Hummingbird), so I'll show them here. Both guns are bullpups (guns whose actions extend back to the butt of the gun to reduce overall length). The Hummingbird is longer, but it's still quite compact.
I shot the Hummingbird. While it's unquestionably accurate and has a fine trigger, the hold feels odd to me because my cheek rests on top of the metal action. The full-sized rifle felt more conventional to me and was a nice-shooting gun.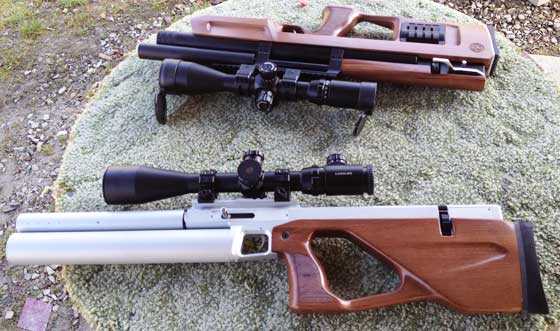 KalibrGun Cricket (top) and Hummingbird.
I've already mentioned meeting Greg Lundy of Ballistic Enterprises, and he was shooting his exotic-looking Benjamin 392. Greg's invention is a scope base called the INTEGRABASE, which attaches to the top of a Benjamin 397/392 to give the rifle a more stable scope base that accepts both 11mm and Weaver rings. Greg gave me a base to test for you, and I plan to mount it on my custom 392 with the Pump-Assist modification.


Greg Lundy's INTEGRABASE for Benjamin multi-pumps.
Rich Shear also approached me with a new tuning application he's created for spring rifles that have excessive recoil and vibration. He asked me if I'd ever tested the Hatsan 135 and I told him I decided not to after measuring the cocking effort at 75 lbs!. I feel the gun is too violent and extreme for most shooters to use. So, he asked me if I would like to see one he had tuned. I was eager to see what he had, so he fetched 2 Gamo Hunter Extremes (obsolete model names, but the powerplants are still being made for Gamo guns with other names) and a Hatsan135.
His 135 is smoother than the factory gun, but the cocking effort is still too high in my opinion. But one of the two Hunter Extremes he had was interesting. It's a .22 that I found to be very smooth — not at all like the way it comes from the factory. To make a long story short, Rich is shipping that Gamo to me for testing, and I plan to report my findings to you. It's a more powerful spring gun than I enjoy shooting, but Rich has tamed the firing cycle quite a lot. I think it'll be a treat to test for you.
More on field target
Many of those who attended the event had never seen field target before. The course was set up on two rifle ranges, so the lanes were parallel and close to each other. I lost at least 2 points by shooting at (and hitting) the wrong target — in the lane next to me.
I wasn't trying to win anything. I just wanted to compete in something at the event, and field target seemed logical. Pyramyd Air loaned me a beautiful walnut-stocked TX200 Mark III and a box of Crosman Premier 7.9-grain pellets at my request, and Tyler Patner had sighted-in the 4-12x UTG scope for me. The sight-in was perfect! I never had to touch the adjustments — just confirm the zero at several distances and record the sight picture holdover information.
I requested the rifle be sighted-in for 20 yards, which gave me a flat trajectory from 20 to 40 yards. At all other distances I used the mil-dots to gauge the holdover. I did all my checking on Friday before competition started and recorded the results on the inside of the cardboard pellet box lid.

The holdover info for my TX200's scope was written on the inside of the Crosman Premier box lid.
We had a little drama in the match. On Saturday, when was the first half of the match was shot, my blood sugar dropped very low and I started shaking and feeling faint. Fortunately, a young lady who was on the range has a father who is also a diabetic, and she gave me a candy bar that revived me in about 10 minutes. But, I lost about 8 points during the episode. I shot a 16 on Saturday and 29 on Sunday, which shows how much I was affected.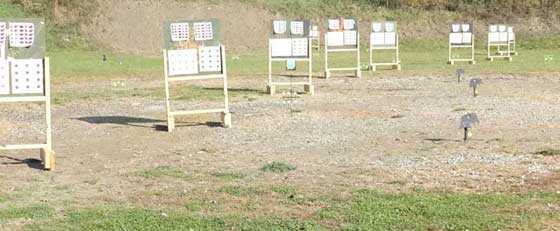 The sight-in range was open all 3 days and allowed everyone to get accurate sight-in data at key distances.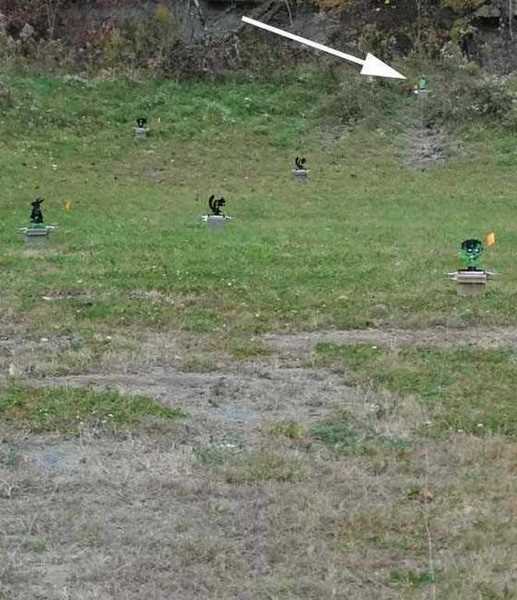 The field target course lanes were close to each other, and care had to be taken to avoid shooting at the wrong targets. The targets in this picture range from 20 yards to 50 yards away (arrow).
Then, on Sunday my squad partner, Ruth Kass, wasn't hitting anything on the sight-in range in the morning warm-up before the match. It turned out that one of her scope mounts had jumped out of the dovetail grooves on the rifle some time after she started the match on Saturday!
She switched from her Beeman R9 to my TX200 and used my sight data after confirming it with a few shots at different distances. Ruth more than tripled her Saturday score on Sunday, demonstrating that having the right equipment makes all the difference! Although the TX and scope weighed over 2 lbs. more than the R9 she'd trained with, she found it quite manageable.
We both shot off monopods in the Sportsman Springer class. I'll be showing you the UTG monopod I used as soon as it's released as a product. I can tell you that my monopod was just as stable as half the bipods I saw in the competition!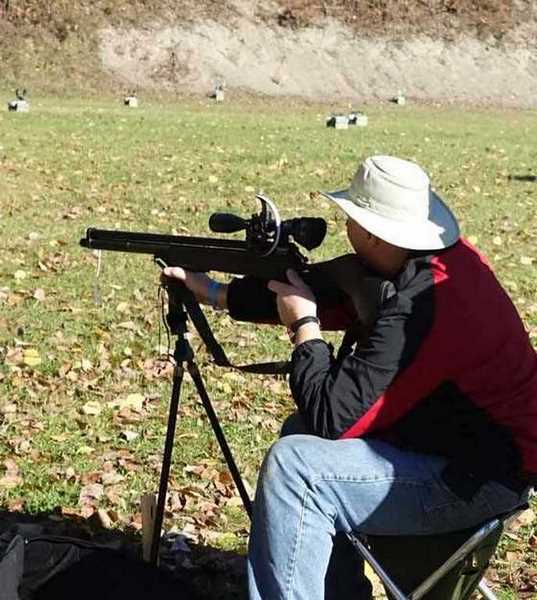 This bipod is actually a monopod from the shooter's perspective.
Shooting opportunities galore!
Besides the competition, this event was about general airguns and shooting. Pyramyd Air supplied airguns, pellets, air and technical advice to the general public for all 3 days of this event. The public range was set up with reactive targets and paper targets from 10 meters to over 50 meters. There was no charge to shoot, and shooters took advantage of being able to test many guns they'd previously only read about.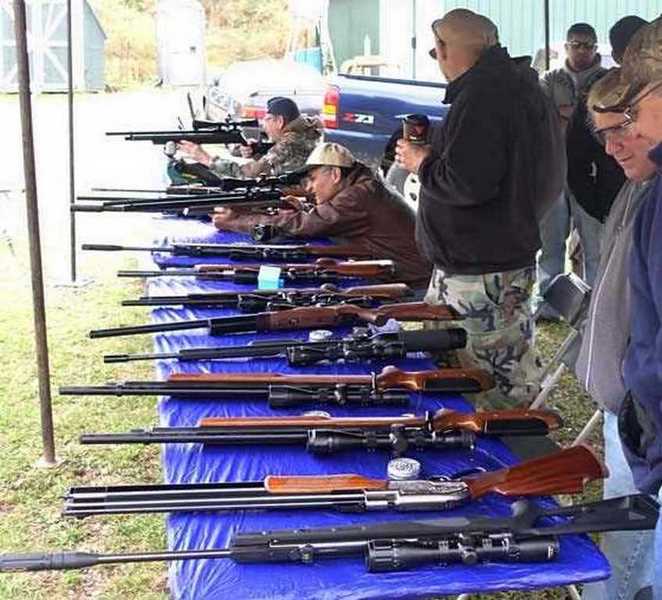 The public range was open throughout the entire event. There were expensive PCPs and spring guns on the line, along with pellets and air for the pneumatics.
And the winner is…
The end of the Pyramyd Air Cup came with the awards ceremony. There were cups for the first three finishers in each of the 4 classes — Pro PCP, Sportsman PCP, Pro Springer and Sportsman Springer. The scores of the 2-day field target match, the offhand silhouette competition and the Gunslinger, which is a timed benchrest silhouette competition were combined to determine the standings. Besides trophy cups, the winners got to choose donated prizes from a selection that related to where they placed in the competition.
And the overall champion of the event was awarded a special cup, plus a check for $1,000. So, this was an event worth attending. Ironically, Ray Apelles won the overall championship with a modified spring rifle, despite competing against a former world champion and several nationally ranked shooters who shot PCPs.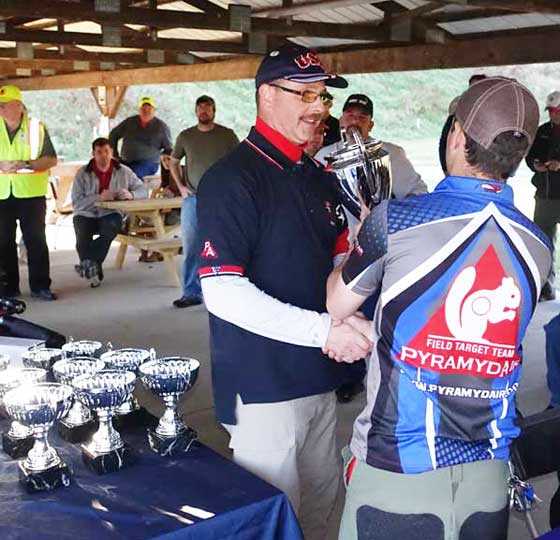 Ray Apelles (left) won the overall championship. He is presented the cup by Tyler Patner of Pyramyd Air.
Same time next year!
The Pyramyd Air Cup combined a lot of things airgunners say they want. It was a chance to shoot airguns you have only read about, a chance to see competitions that are so popular today, a chance to meet some of the other airgunners you have come to know through the internet and a chance to immerse yourself in all things airgun for 3 whole days. There's more to see and do than you have time to experience. If airguns have become important in your life, this is an event to attend.