by Tom Gaylord
Writing as B.B. Pelletier
This report includes:
• My tastes change all the time
• Easy cocking
• Diana 27
• Accuracy
• TalonSS
• Daisy 499
• Quirky-ness
Today's report was suggested by blog reader Joe and seconded by RidgeRunner. I accepted their recommendation gladly because I'm testing so many other things all the time that I don't get enough chances to really appreciate the airguns I truly love. I know — poor me, right? Most of you would kill to have my job — and don't think I don't appreciate how really great I have it!
But there are some airguns that I like better than all the others; and whenever I get the opportunity to shoot them or even just to talk about them, it's a special treat. So, today is my day for fun.
My tastes change all the time
I suppose it's only natural that my tastes change from time to time. Don't most people's? If I wrote about an airgun I loved in 2006 and someone reads that report today, they may be surprised to find that airgun is no longer at the top of my list. Does that make sense? I think it does, but I can't tell you how many times I get letters and emails saying, "I just read what you wrote in The Airgun Letter 1998 and now I see that in your blog 2011 you seem to contradict yourself! Please tell me what I am missing."
You are missing the passage of time, my friend. Things change.
On the other hand, there are some things that never seem to change. Perhaps, I should write my list of favorites from that perspective.
Easy cocking
I have always liked airguns that are easy to cock. Therefore, air rifles like the Diana model 27 cannot fail to be on my list. And the FWB 300S is also very easy to cock. And so is my Beeman R8, which was the same as the HW50S of the 1990s, which, in turn, had the same powerplant as the HW55 target rifle. Of course, there are a large number of airguns that are easy to cock, so this one factor doesn't put them on my list. It's just one checkmark they need.
I have many airguns that are easy to cock. The Diana 27 and the Beeman R8 make my list. Many of the others don't.
Diana 27
I refer to the Diana 27 often, but it's been years since I tested one for you. Actually, I did a 10-part report back in 2009; and when I checked it for this report, I discovered that in all 10 parts I never looked at the accuracy! I may have to rectify that in the near future.


My Diana 27 is actually a Hy-Score model 807. These were only made in .22 caliber for Hy-Score and Winchester.
The Diana 25 is quite similar to the 27, though slightly less powerful. I've tested Diana 25s in many flavors, including a pre-war smoothbore. They're nice guns, as well, but for me the 27 came first and will always hold a soft spot in my heart.
I bought my first Diana 27 (actually a Hy-Score 807) when I was still in the Army at Ft. Knox. It was a rusty gun I gave all of $18 for, but I knew to oil the piston seal and the power came up when I did. I shot that rifle for several years and gave it to a friend when I left the Army in 1981.
My current 27 is also a Hy-Score 807 that I bought at the Winston-Salem Airgun show in 1993. I paid $110 for this one because it's in much better condition and also because by the 27 was starting to be recognized as a classic by that time. The Hy-Score 807 came only in .22 caliber, so that's what mine is. Over the years, I've also owned several .177-caliber model 27s, but for some reason I don't warm up to them in that caliber. The 10-part report I linked to is on a .177-model 27, and I don't think I still have that rifle!
So, when it comes down to it, I've done several fluff pieces about my .22-caliber model 27, but never a solid report that uses the format we've come to know. I guess it's long overdue. Hurrah!
Accuracy
Airguns have to be accurate, or I'm not interested. Both the Diana 27 and the Beeman R8 are accurate. But I have other accurate airguns. My FWB 300S is very accurate — and also easy to cock. But it's so big and heavy that it doesn't make my list. My Air Arms TX200 Mk III is also very accurate, but it's hard to cock. And it's heavy! Even so, it makes the list. Why? I can't really tell you, although I can make a guess. The TX200 is consistent.
The TX is the kind of gun I can just pick up and do almost anything with. It will shoot off a sandbag rest or off a monopod in a field target match. If I use the right pellets, it will outshoot the FWB 300S at every distance. But that's not why it made my list. I can't really tell you why the TX200 made my list, but it did. Maybe it's because of all the thought that went into its design. Perhaps, it's the additional care that went into finishing the metal parts. I don't know. Maybe it's just because whenever I pick up the TX200, I know that I'm going to make the shot.
Talon SS
Reliability is why the AirForce Talon SS makes my list, as well. My rifle now sports an optional 24-inch .22-caliber barrel, and I've enclosed it in a bloop tube that lowers the sound of the report significantly. It isn't the quietest airgun I've ever shot, but it's the quietest reliable airgun — that's for sure. It's the quietest, most reliable, lightest-weight air rifle I own that's also the easiest to cock. It holds air forever. I know exactly where to adjust the power to get maximum accuracy from this rifle. And I figured out the trigger so many years ago that it's second nature to me today. I just pick up may Talon SS and hit the target — whatever it is.

The Talon SS is famous for being the first PCP with an intentionally shrouded barrel. It's lightweight, powerful, accurate and, above all, reliable.
I remember back when I was working for AirForce Airguns, I would be asked to sight-in a rifle for a special customer from time to time. These were often business partners who became interested in our rifles and wanted to get one. The operations manager, Yvette, would ask me to mount a certain scope on a certain rifle for a customer who was sitting in her office. I got so used to this that I could unbox everything, mount the scope, fill the gun and sight it in — all in about 30 minutes.
If the rifle was a .22-caliber Talon SS, which it was 90 percent of the time (at least until the Condor came out in 2004), I knew I was going to blow away the customer with his new rifle! This is when I developed my special 10-minute sight-in procedure that I still use today.
When I was finished, I would take the 5-shot group I'd shot at 23 yards (the maximum safe indoor distance I was able to get in the old AirForce shop) along with the new scoped rifle and show it to the customer. Invariably, the group was 0.20 inches, or so, and never failed to impress the new owner. I would show them the cardboard box of .22-caliber Crosman Premiers I used and give them the address to Pyramyd Air's website, where they could be purchased.
The Talon SS never failed to deliver accuracy and power. Because of that, it earned a spot on my permanent list. While my current SS sports a longer barrel, my rifle was produced so early in 2001 that it doesn't even have a power scale etched on the adjustment window. No bother, though, because I keep it set at one power level all the time. The trigger that's been the object of some ridicule from those who compare it to European PCP rifle triggers on guns costing over $1,000, has smoothed out over tens of thousands of shots to the point that it's ideal. I know how to build every part of this rifle, and yet in 13 years I've never had this one apart. What does that tell you about reliability and longevity?
Daisy 499
The last super-accurate airgun on my list is the Avanti 499 Champion from Daisy. When I first learned of this legendary BB gun's accuracy, I had to get one to test. This was back in the days of The Airgun Letter, and I only intended to test the gun and then return it to Daisy. They sent me a gun and a package of what was called Number 515 Precision Ground Shot at the time. Today, it's called Avanti Precision Ground Shot.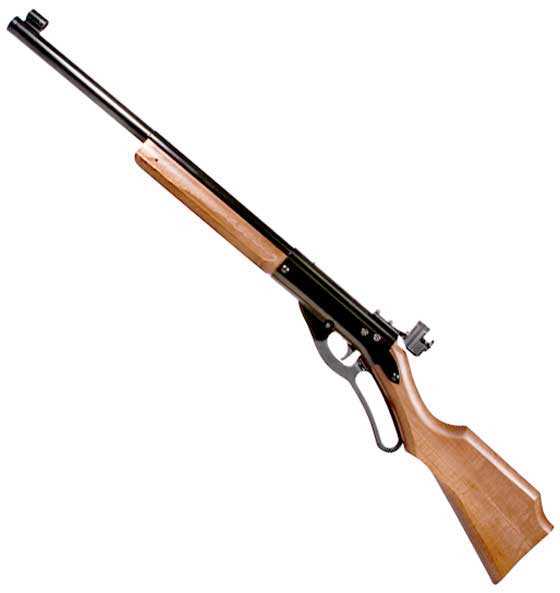 Daisy's 499 is known as the world's most accurate BB gun.
Neither the 499 nor the shot could be bought by the public at the time. To purchase one, you had to belong to an accredited junior marksmanship team and the team coach had to vouch for you. Joe Murfin, Daisy's VP of marketing, told me the 499 was hand-built and would cost too much if they tried to sell it for a profit. After I tested one and found out how truly accurate it is, I told Joe I thought they should sell it to the public at any price — there would always be people like me who only care about accuracy and would pay to get it.
It turns out that what Joe meant was that the 499 would have to cost $70, retail, if they were to market it. I was flabbergasted! Was that all that was holding him back? I thought he meant the gun would have to cost $250 or something! It turned out that Joe was so focused on his sales to the large discount stores, where every penny is watched, that he overlooked the far smaller real airgun market. To tell the entire truth, though, building more 499s also meant Daisy had to restructure their production lines to accommodate the additional labor this gun requires. So, it wasn't just a lapse of reasoning.
I suggested they try a retail campaign with just one dealer for starters. There was a new airgun retailer in Cleveland called Pyramyd Air, and I knew they were open to trying new things. If I told them how good this target gun was, I felt sure they could sell some. I would send them some of the readers of my newsletter, for starters.
Well, the rest is history. Daisy now sells the 499 at retail, and over the years they added what was an option at the time — the target rear sight. They also had to ramp up production on the special BBs, but their price still keeps the quantities low enough that they can keep up.
My friend Otho tried out my 499 last Christmas and was astounded by the accuracy. He is my age and wears prescription glasses. And, like many of us, he says he can't see open sights anymore. But when he put 5 BBs into one-tenth of an inch at 15 feet in my garage, he saw that his shooting days weren't over quite yet. He ended up buying five 499s last Christmas season — 4 as presents for his family and friends, and 1 for himself. This past summer he sat on his porch and killed grasshoppers at ranges out to 20 yards with his gun!
Last 499 story. One of my Airgun Letter readers restocked his. He built a Tyrolean stock with a high cupped cheekpiece and a deep hooked buttplate. And he made the pull longer to suit himself. Can you imagine that? It would never be worth the effort he put into it, but what a joy it would be — shooting something like that!
Quirky-ness
There is also a category of guns that are quirky. They're also accurate or I couldn't love them, but it's how they're built that really attracts me. Leading this list is the .22-caliber Hakim trainer that was built by Anschütz in 1954. This rifle copies the action that was invented by BSA in the late 1940s and is seen in their Airsporter line. The Falke 90 also copies this same action. But for some reason, I like the Hakim the best. It's quite accurate at close range, but I think it's the quirky-ness that puts it over the top.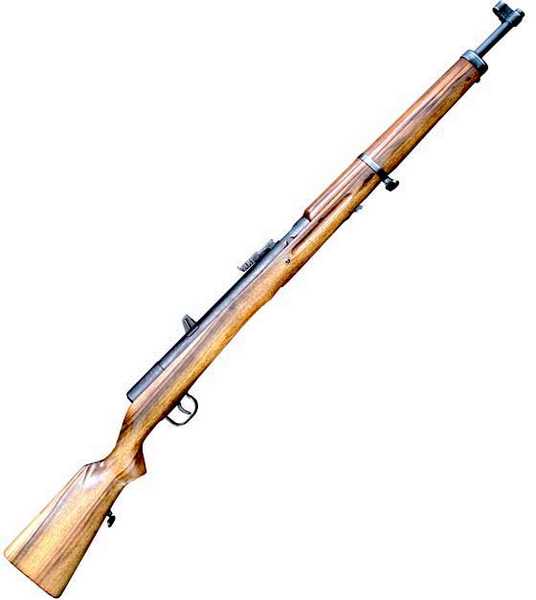 My current Hakim has a beautiful handmade walnut stock. Where most Hakims are ugly, this one is quite attractive.
I certainly reported enough about the Hakim this year, so I'll move on. What about air pistols? Surely, there are some on my list?
Yes, there are. The first one is probably the airgun I've owned the longest. I bought this Webley straight-grip Senior at a gun show in Kentucky when I was stationed at Ft. Knox. Then, I installed a new breech seal. It's a .22 and isn't very fast or accurate for that matter, but I love the all-steel construction and the gorgeous single-stage trigger. This pistol doesn't get shot a lot, but whenever I need to smile, it's right there in a drawer, waiting to be held.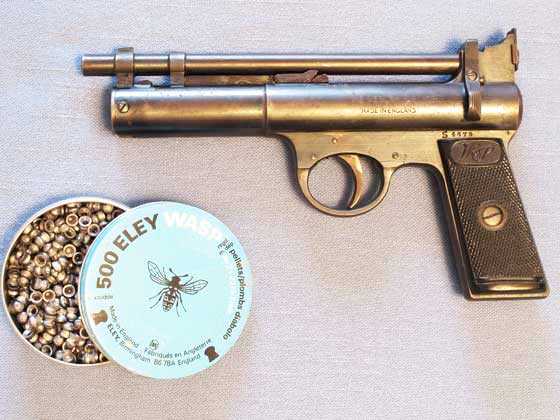 My Webley Senior is a lot like the Webley Mark VI revolver we've been looking at. It's big and solid and feels great to hold!
Next, I can't overlook my Beeman P1 pistol. Whenever I need an air pistol that can do things, this is the one I reach for. You can still buy one today, but they're expensive — so people pass them by. I think that is a big mistake. While it isn't my most favorite airgun, the P1 is one I can never let go.
Another air pistol that's a keeper is my Crosman Mark I Target. When Crosman decided to copy the Ruger Mark I pistol, little did they realize their airgun copy would surpass the original! The pistol has a gorgeous adjustable trigger, adjustable sights and adjustable power that has two settings, once adjusted.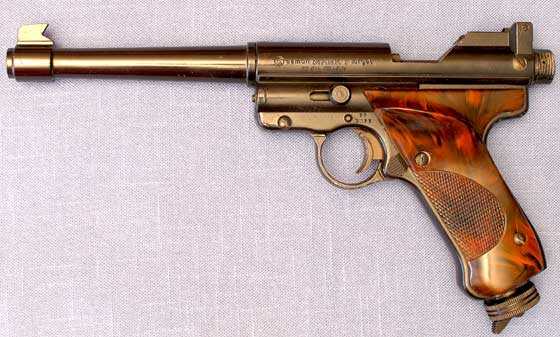 My Crosman Mark I Target pistol has been pleasing me for more than 20 years.
The final airgun on my list is the BSA Scorpion pistol I acquired this year at a gun show. I'd read so much about the gun for many years, but it's so powerful that I thought it would be a monster to shoot. Instead, it's a dream, with little recoil and no harsh buzzing. And it's quite accurate — enough to give the P1 a run for the money!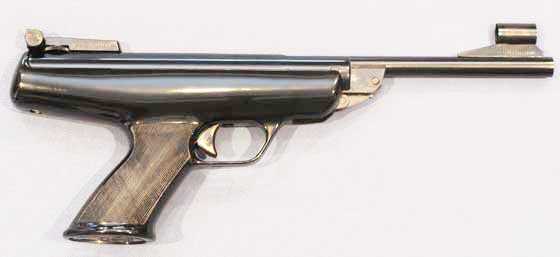 Big BSA Scorpion is really a smooth, accurate air pistol!
Well, that's it. Did I leave something off that you hoped for? Well, there are airguns I no longer have, but I do remember. One of them resides with reader Robert of Arcade and is a quirky Sterling HR81 underlever rifle that I always thought was neat. Another was a Diana 75 T01 target rifle I used to own years ago. And a third one was a Crosman 160 in the box that was purchased by the U.S. Air Force for marksmanship training. When I bought it, it hadn't been fired since leaving the Crosman factory.
There are probably many others I've forgotten. How about you? What are your all-time favorites?