by Tom Gaylord
Writing as B.B. Pelletier
This report covers:
Reason for this report
What I won't do!
Things to consider when mounting a scope

Consider the scope mounts.
Consider the type of scope
Consider the gun and where the scope has to fit
Pay attention to how much elevation your new scope needs

Summary
Reason for this report
This report is for a friend who recently acquired a new-to-him 30-06 bolt-action rifle. He asked me for some tips on mounting a scope and sighting-in the rifle, and I'm afraid what I gave him was a college-level course instead of the basic information he needed. Despite my "help," he stumbled through the process, making many mistakes as he learned what I am going to try to tell you in this report.
This misadventure opened my eyes to a need for even more basic instruction about rifle scopes. If my friend is having problems, so are hundreds of others who read this blog.
What I won't do!
This report will not advise you about which scope to get or even which set of features you need. All those decisions are very subjective and difficult to explain to someone who has no experience with rifle scopes. And, once you have some experience, you know what you want without being told. For example, if I were to tell you that low-power scopes are often clearer, someone would argue that his particular 6-24x scope is as clear as a bell. That's because he uses only it at the rifle range on bright days. He has no trouble seeing the targets with the sun behind him. But he never mentions that fact when defending his scope. He just says it's clear, and other readers are confused by the conflict between what he and I seem to be saying.
Or, if I tell you that you don't need a mil-dot reticle to hunt squirrels, another reader will read on some forum where a shooter has had great success with a mil-dot reticle. What that forum poster doesn't mention is that he only shoots the squirrels that are on his bird feeder, located 30 feet from his back deck. When I talk about hunting squirrels, I'm referring to hunting them in the deep woods, where a duplex reticle is the easiest to find against the dark green background.
One shooter wants a scope with a huge objective for better light transmission. Another wants a scope with a small objective, so he can mount the scope close to the bore line. This shooter wants long eye relief, that shooter wants variable magnification. There are just too many personal decisions when choosing a scope for me to cover, even in a series of reports. Scope choices are very personal, and the only way to find out about them is to start using different scopes.
I can, however, discuss how to mount a scope and sight it in. So, let's start on that now.
Things to consider when mounting a scope
–> Consider the scope mounts:
1. Do they position the scope in the right place for your eye?
2. Can they be moved on the gun to accommodate the scope you want to use?
3. Will they attach to your rifle?
My friend didn't consider this when he bought his first scope, and he ended up with a compact scope that didn't fit into his rings when they were installed on the rifle. In his case, he used 2-piece rings; but because they attach to his Remington 700 rifle in only one place, they're the same as the 1-piece rings that I often advise people to avoid. Here's why: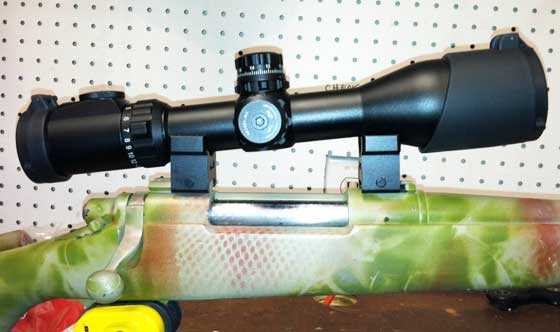 These 2-piece rings might as well be 1-piece, because they cannot be mounted anywhere else on this Remington 700 rifle. Obviously, they're separated too far for this compact scope.
–> Consider the type of scope:
Compact scopes are great for some applications but not for all of them. If they can't be positioned in the right place on the gun, they won't present a full sight picture to your eye. A longer scope can be slid back and forth until the eye relief (the image you see when you look through the scope) is perfect.
–> Consider the gun and where the scope has to fit:
Some airguns don't offer a lot of options for where the scope has to be mounted. Many Korean PCPs, for example, have a short 11mm dovetail on top of their receivers, so the scope mounts have to attach there. If the scope you mount extends out and interferes with the rifle's rear sight, the sight may need to be removed. On some guns, that's difficult — because, although the sight comes off, the base does not…at least, not easily.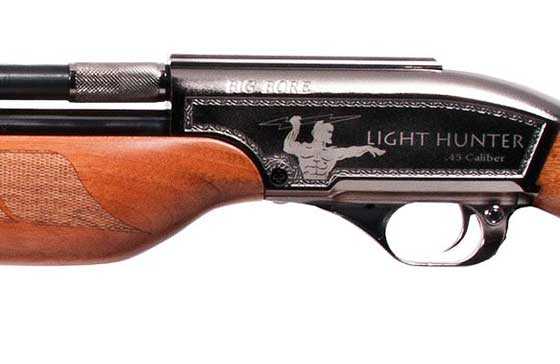 This Sam Yang 909S is typical of many Korean precharged rifles: The place where the scope rings fit is a short strip of dovetail just above the receiver.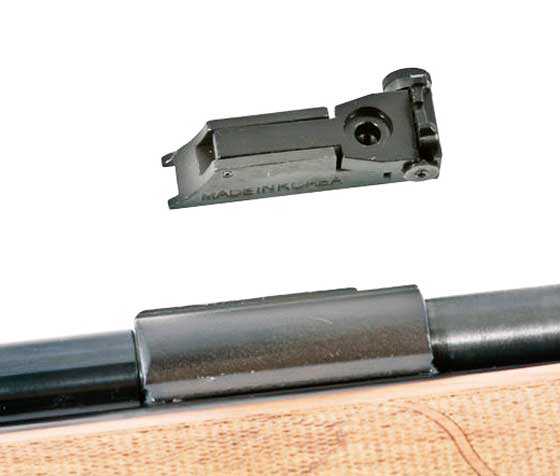 The Sam Yang rear sight is located just forward of the receiver, where a scope bell will hit it. The sight comes off easily, but the sight base does not. Be sure the scope bell will clear the base.
–> Pay attention to how much elevation your new scope needs:
Maybe this belongs with the sight-in discussion, but I'll address it here. If you install a new scope and find that you have to adjust the elevation up to three-quarters of the scope's limits, you're going to have problems. Your barrel is pointing downwards in relation to your scope. You have what's known as a "drooper."
Most scopes will not hold a zero when adjusted up this far. The same holds true when the adjustments have to go too far to the right. Up and to the right are the places where the scope's erector tube spring(s) relax and allow the tube to jump around from vibration. The erector tube is what holds the reticle inside the scope. It's the reason why the crosshairs remain centered when you adjust them. The spring(s) work against the adjustment knobs, keeping the tube under tension and following where the knobs go. But when the spring(s) relaxes, the tube can move when the gun vibrates during firing or handling. I say spring(s) because some scopes use a single spring that's set on a 45˚ angle to the adjustment knobs, while others have separate springs for each knob.
Summary
That's it for this report. Let me know if there's something I haven't discussed that confuses you about mounting a scope. Next time, I'll discuss sighting-in your scope.