by Tom Gaylord
Writing as B.B. Pelletier
This report covers:
Weihrauch
Crosman
Diana
Up for grabs — Umarex?
Today, I'm going to talk about some airguns I wish were made. I'm not talking about the fine guns of 60 years ago that were made of blued steel and nice walnut. I understand that level of hand work costs so much that it is practically impossible to build today — outside of a handmade proposition. What I'm taking about are airguns that could be made with very little risk or cash outlay by the manufacturers. The basis for some of these guns is in the inventory right now and require only minor changes to make entire new models that I believe shooters will embrace. This is how the Air Venturi Bronco was designed, and also how the $100 PCP was created.
Weihrauch
Weihrauch got rid of their HW55 target rifle a number of years ago. They had to, because they weren't selling enough of them to keep the model alive. Precharged and CO2 target rifles had kicked spring-piston target rifles out of the market in the 1970s, and the demand for a recoiling spring target rifle ended. The guns continued to sell to private individuals who don't shoot in competitions; but as time passed, even they began looking elsewhere. I get that! The costly HW55 had to go away.


The HW55 Custom Match was the high-water mark of the HW55 series. It didn't sell well at the end of its life because of the price, and also because spring target rifles fell out of favor.
But Weihrauch is sitting on a goldmine of an airgun today that could be turned into a bold new product for them. Their HW30S — the little springer with the Rekord trigger — is a wonderful air rifle. If they would modify the trigger that now comes in the 30S into a target Rekord like the HW55 had, and if they would mount an inexpensive peep sight, it would be a wonderful informal target rifle. It already comes with a globe front that accepts interchangeable inserts, so nothing more needs to be done there. I think there would be a demand for this rifle.
The challenge is the retail cost. Pyramyd AIR now sells an HW30S for $330. If the changes I am about to recommend could be done while keeping the retail price under $400, I think there would be a demand.
I want a stock with a longer pull. I want a target-grade trigger. I want a rear peep sight to compliment the globe front sight with its replacement inserts. The peep sight doesn't have to be a full-blown target model. Do what Diana did and make a sporting sight by replacing the notch with a peephole.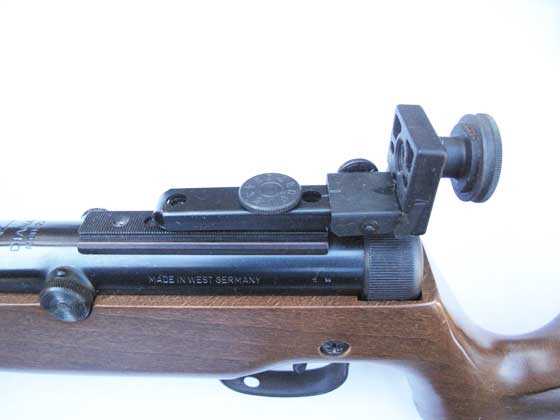 This "target" rear sight from Diana is simply a nice adjustable sporting open sight to which they have mounted a round peep hole. This one is mounted on a Diana 25, but they also used it on the models 70, 72 and others.
The trigger modification is even easier. Hans Weihrauch Jr. told me that the target trigger in the HW55 was a standard Rekord that had a lightweight trigger return spring with a locking adjustment screw. So, do that. Just put in a lighter return spring and interrupt the adjustment screw threads to make the trigger weight adjustment screw harder to turn.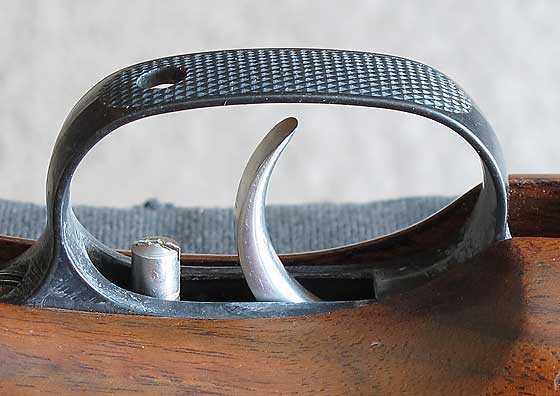 The standard sporting Rekord trigger has an aluminum adjustment screw behind the blade. It adjusts the tension on the standard trigger blade return spring.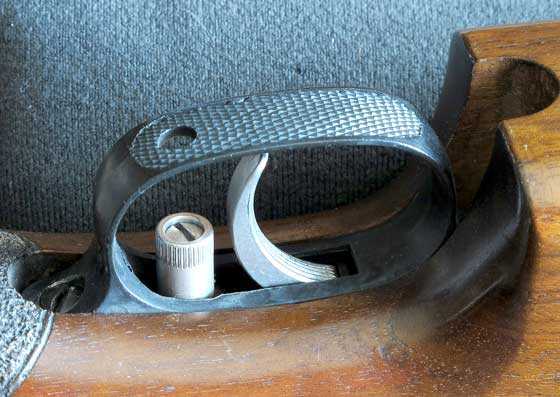 The target Rekord has a locking sleeve around the trigger-pull adjustment screw.
The stock and new rear sight will be the two high-cost items, but even there they don't have to spend a lot of money. They can lengthen the pull of the standard stock with spacers at the butt.
Keep the risk low by selling a limited run of this new model. Call it the HW30ST and build 200 of them. If they evaporate in a month — you'll know what to do next!
Crosman
Crosman made a lot of epic airguns over the years, but the Crosman 600 semiautomatic pistol is perhaps the most iconic! It's a 10-shot repeater that has a light trigger-pull and real semiautomatic operation.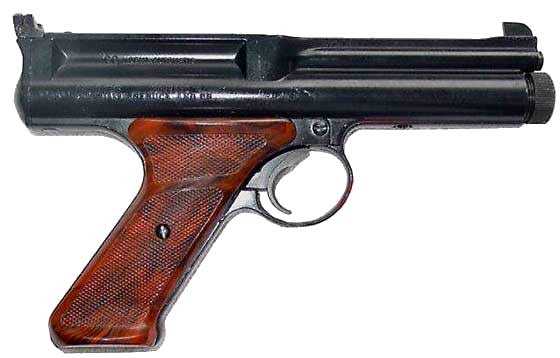 Crosman's 600 semiautomatic pistol is a delight to shoot! It's a real semiauto with a great trigger.
A 600 is a delight to shoot! So much so that people are paying premiums to get them in working order. But the 600 has a bunch of parts that are not currently made by Crosman, and it isn't cheap to reinvent the wheel!
Don't go that way. Don't try to re-make the Crosman 600. Do something different. Several years ago, Crosman made a carbine called the Nightstalker. It was a 12-shot repeater that functions ALMOST semiautomatically! The Nightstalker cocks semiautomatically, but Crosman left the advancement of the circular clip up to the trigger. That boosted the trigger-pull to 7 lbs. instead of less than 2 lbs. for the 600.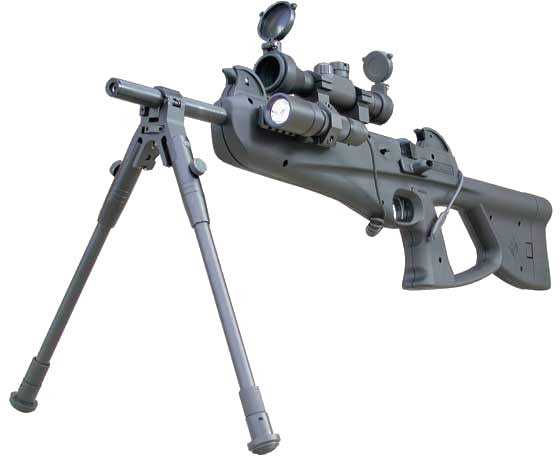 Turn the Crosman Nightstalker into a semiauto pistol, and you'll recreate the 600!
Take the Nightstalker action and make it a pistol. Let the semiautomatic action also advance the cylinder so the trigger can be made light. If Crosman would make a pistol like that, I bet it would set sales records!
This project is not as free from risk and as cheap as the Weihrauch rifle is. Someone has to support it, because major changes have to be made to the action. If they do decide to undertake it, just remember — a good trigger sells guns!
Diana
Diana recently changed hands. It remains to be seen what the new owners will do.
What I would advise them to do is base a new rifle on their popular 48 platform. Most of the tooling costs should have been amortized for that model long ago.
So, what should we do? Well, the 48 has more than enough power. Let's take some of that away by installing a weaker mainspring that is somewhat easier to cock. Let's put the 48 on a weight reduction program with most of the weight coming out of the wood stock. Do that by slimming the stock to a more classic profile — slimmer pistol grip, slimmer forearm, and a slimmer butt that has an adjustable cheekpiece.
Eliminate the open sights and the barrel jacket that often becomes loose. Have an engineer go over the T06 trigger and refine it to be more adjustable and give it an adjustable over-travel stop.
Know what you've just built? A field target rifle that can compete with the TX200 Mark III and the Walther LGU.
Don't tell me it can't be done, or that such a rifle wouldn't be in demand. The recoilless Diana 54 is very popular with field target shooters today. The 48 is just a version that recoils.
Look at the rifle field target shooter Ray Apelles made — and used it to win numerous championships. It's a 54 with his custom touches. I'm not advocating that Diana build that rifle, but what they can do is within their grasp and not expensive. They have so much clay that's just waiting to be shaped!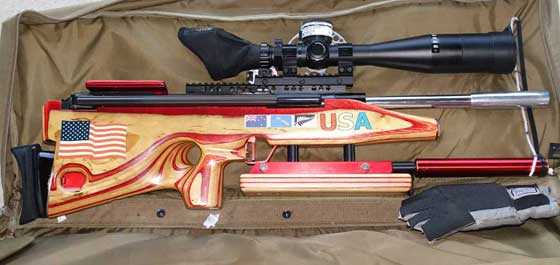 Ray Apelles used his modified Diana 54 to win the 2014 Pyramyd AIR Cup — beating several world-class shooters who were using world-class PCPs!
Up for grabs. Umarex?
Here's a freebie that's up for grabs. Make an airgun replica of the Liberator pistol the U.S. made during WWII for resistance fighters. With all the interest that exists for military replica guns, the Liberator should be a snap. Only make this one last for more than 50 shots without coming apart the way the firearm did.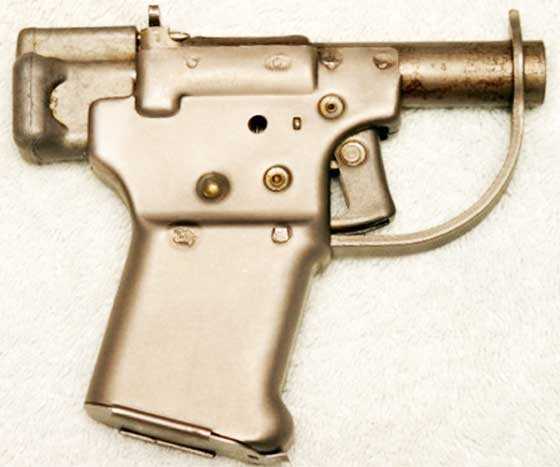 The Liberator from World War II would make a fine air pistol!
Yes, I think there are a lot of opportunities that have been overlooked by airgun manufacturers. While they concentrate on high velocity and thumbhole stocks, they're ignoring the sector of the market that has disposable cash to spend. Don't make them faster, guys. Make them better!