by Tom Gaylord
Writing as B.B. Pelletier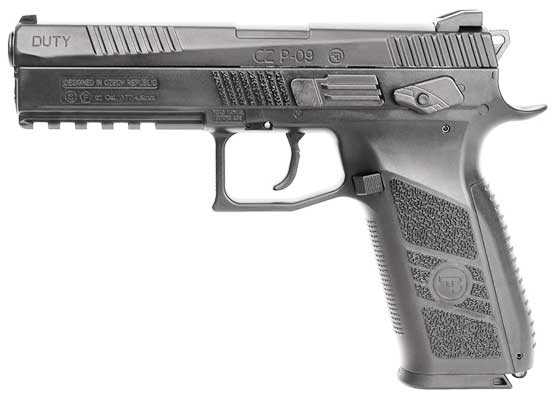 CZ P-09 BB and pellet pistol copies the firearm closely.
This report covers:
• Daisy Premium BBs
• ASG Blaster steel BBs
• Air Arms Falcon pellets
• RWS Hobby pellets
• H&N Finale Match pellets, 4.50mm head
• Trigger report
• Overall evaluation
Today, we'll look at the accuracy of the CZ P-09 Duty air pistol. Remember, this pistol shoots both steel BBs and lead pellets through it's rifled barrel, so we'll look at both types of ammunition. BBs are first.
Since the circular clips on each end of the magazine hold 8 rounds, I decided to shoot 8-shot groups instead of 10. All groups seen here will have 8 shots in them.
For BBs, I set up the 5-meter range (16 feet, 4 inches). I sat on a backless stool and rested my gun hand on the UTG Monopod, which is as steady as any bench rest.
Daisy Premium Grade BBs
I first tested Daisy Premium Grade BBs. I used a 6 o'clock hold, and the BBs hit the target low and to the left. Eight of them went into a group that measured 1.305 inches between centers. That's tin-can accuracy, but nothing better.

Eight Daisy BBs made this 1.305-inch group at 5 meters, rested.
ASG Blaster steel BBs
Next, I tried ASG Blaster steel BBs. They hit the target in practically the same place, but were spread out more vertically. Eight made a group measuring 2.081 inches between centers. This would be a second choice BB, only if the Daisys were not available.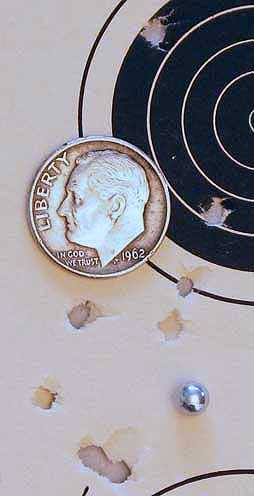 Eight ASG Blaster BBs made this 2.081-inch group at 5 meters, rested.
Rather than just showing the paper targets with groups that are hard to see, I decided to also show both groups on the fresh cardboard backer, so you can gauge the relative sizes.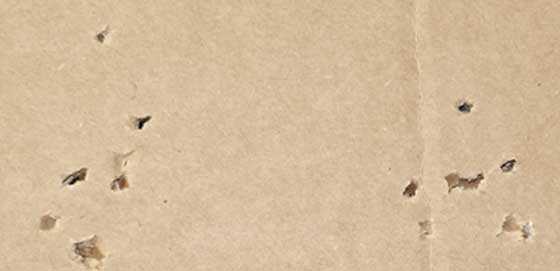 The cardboard backer shows the relative group sizes better.
If it seems like I'm going through BBs rather fast — I am. This pistol has a rifled barrel, and I really want to see what it can do with lead pellets. When it comes to accuracy, I always go for the more accurate probability; and, in this case, that should be pellets.
I shot all pellets from a rest. The distance to these targets is 10 meters, and I shot from a conventional bench rest, with my hands rested on a sandbag. Once again, the groups are all 8 shots.
Air Arms Falcon pellets
First up were 8 Air Arms Falcon pellets. I seated them in the circular clip with a pen for uniformity.
The Falcons went into a 1.812-inch group that was low and left of the target. I saw no trends with this group, so I moved on.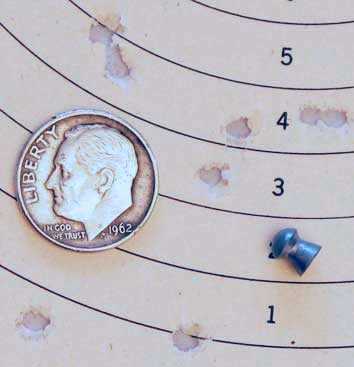 Eight Falcon pellets made this 1.812-inch group at 10 meters.
RWS Hobby pellets
RWS Hobby pellets were the next. These fit the chambers of the circular clip much tighter than the Falcons and had to be pressed in hard to enter. They popped in when they went.
Eight of them landed in a group that measured 1.225 inches between centers. That's a lot better than the Falcons, but it still isn't a target gun group and it's still low and to the left.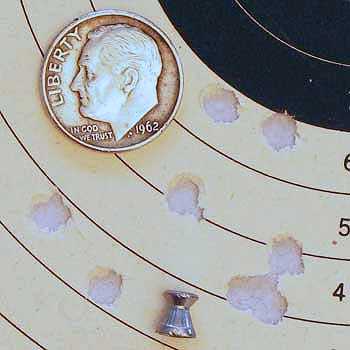 Eight RWS Hobby pellets made this 1.225-inch group at 10 meters.
H&N Finale Match pellets, 4.50mm head
I tried H&N Finale Match Pistol pellets with 4.50mm heads. These were the last pellets I shot. Eight landed in a group that measured 1.347 inches between centers. The final 6 pellets are in a smaller group, but there were no called pulls, so that doesn't matter.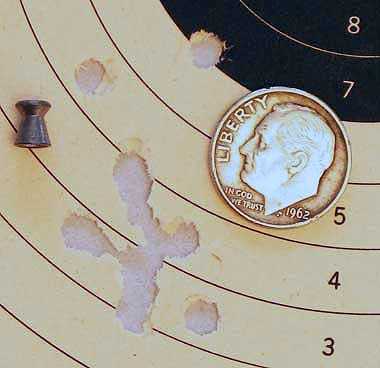 Eight H&N Finale Match Pistol pellets made this 1.347-inch group at 10 meters.
I did shoot a second group of the Finale Match because of those 6 tight shots, but the pistol was loosing gas pressure and the group was elongated vertically. So, with pellets at 10 meters, 40 shots are all you can count on for the best accuracy.
The Hobbys did best of all, but it still wasn't that good. No doubt a little experimentation would discover a pellet the pistol likes even more.
Trigger report
The trigger-pull is long, and I can feel the trigger advancing the circular clip for the next shot. Once all of that's finished, the trigger stops at the sear break point and the break is clean, if very heavy. The trigger-pull did not play a part in these groups because the gun was rested.
Overall evaluation
Buy this air pistol if you like the CZ P-09 styling. Don't buy it as a target arm. As a plinker and for action targets, it's accurate enough, but the heavy trigger and fixed sights work against any target shooting.
The pistol was completely reliable throughout the test. Every shot went off as it was supposed to.