by Tom Gaylord
Writing as B.B. Pelletier
This report covers:
Something special from the back room!
Easy to cock
Smooth shooting
Testus interruptus
No more Legacy
Something's coming — maybe
The rifle
Cocking effort 16 lbs.
A modern Diana 27?
Today's report is the reason I wrote the whole report about interesting designs. Today, I'm going to address what I've wanted to show you for the past 5 years. This is an interesting story, so fill your cup, sit back and enjoy.
It began in 2009, when Paul Capello and I started the television show American Airgunner. We needed content for the show, and the Crosman Corporation in East Bloomfield, New York, invited us to come in and film their operation. I had toured parts of their plant before, and I knew there was a lot to see.
Something special from the back room!
During the tour, their head engineer, Ed Schultz, asked if we would like to see something special. Naturally, we were excited! He took us out a back door next to the bulk CO2 tank that fills all the cartridges they make. Then, he told us about a secret project of his.
He'd taken one of their breakbarrel rifles and installed a gas spring in it. But this wasn't your typical gas spring — oh, no! This unit had way less pressure inside, and Ed told me the breakbarrel would cock with about 16 lbs. of effort! One-finger cocking for a gas spring! I looked at him like he was crazy. No one had ever made a gas spring rifle that was easy to cock.
Easy to cock
Ed and I had talked about this at a SHOT Show a year earlier, and he decided to see if what I told him was right — that a gas spring that was easy to cock would also be wonderfully smooth to shoot. I told him about the Theoben Fenman that cocked with just 40 lbs. of effort. That sounds high today; but when it was new, the Fenman was the lightest-cocking gas-spring rifle on the market. It was a delight to shoot!
Several years later, Theoben made another gas spring rifle that RWS USA imported. It was even easier to cock than the Fenman — getting down into the 30-lb. region. I think it was called the Classic. Not only was it the easiest gas-spring rifle to cock, it was also very accurate. Gas-spring guns were very hard to shoot well in those days, so when one came along that was a tackdriver, I paid attention. Ed wanted to know if what I told him was fact, so he experimented.
He handed me the new rifle and told be to try it. It really was easy to cock! I didn't have any way of measuring the effort that day, but it felt like his 16 lb. claim was spot-on.
Smooth shooting
When I shot the rifle, I got the next surprise. There was almost no vibration, very little recoil and almost no noise. I was able to hit a small mark several times on a dirt bank about 15 yards away.
The rifle I shot that day was a .22-caliber breakbarrel that Ed said wasn't shooting very fast. It was definitely under 12 foot-pounds. And it was a real delight to shoot. I begged Ed for a sample to test, and he assured me that when the rifle got to production I would get one to test for you.
Five months passed before I saw the rifle again; and when I did, it had a name — the Benjamin Legacy SE. The first part of the name was borrowed from an earlier rifle that I tested several years before, and many people think that gun is what I'm referencing when I mention it. But the Legacy SE I received was the delightful secret gas-spring gun I'd seen too briefly at East Bloomfield.


The Benjamin Legacy SE was a gas-spring rifle that had a very short run.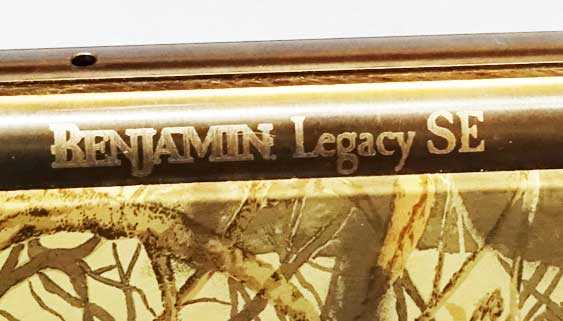 Although few have ever seen one, the Benjamin Legacy SE was a production gun for a very short while.
Testus interruptus
I started testing the rifle in late March 2010, but was interrupted by stomach cramps and a bout of nausea that sent me to the emergency room at the local hospital. To make a very long and unpleasant story short, it took a total of 4 hospitals over the next 7 months before I got back out of the woods. Over 2-1/2 months straight were spent in 2 different hospitals — much of it in intensive care.
No more Legacy
When I returned home in June that year, one of the first things I wanted to do was get back to the Legacy test. Unfortunately, the rifle was no longer available. In just the few months I'd been laid up, the finest gas-spring rifle I ever saw had been launched — and then taken off the market. That was sad because I could have sold thousands of them if I just had a chance to test one for you!
Something's coming — maybe
The worst thing I can do is tell my readers about a wonderful airgun they can't buy. So why am I telling you this now? Why am I going to finally test the gas-spring rifle that I believe was the best one ever designed? Because I have hopes that it will be resurrected! Or something similar. Maybe Crosman won't bring the Legacy SE back — though I would be its champion if they did — but others are now looking at the design and thinking this could be a wonderful way to go. It isn't powerful, so it won't displace other gas-spring guns that are already successful, but it's a very pleasant gun to shoot.
The rifle
Enough history. Now I'll tell you about the gun. As you can see in the picture, the Legacy SE looks a lot like Benjamin Trail rifles. There's no Weaver scope base because the Legacy SE was made years before Crosman began putting Weaver bases on their Trail rifles. What it does have is a set of conventional 11mm dovetail grooves with a single hole at the back for a vertical scope stop pin. Given the extreme smoothness and lack of recoil, that will be more than enough. There are no open sights on the rifle.
The trigger appears to be the same one that's found in the Trail guns; since it isn't holding back as much force, it breaks very crisply on stage 2. The safety is manual, so the shooter is in control, which is how I like it.
Cocking effort 16 lbs.
The cocking effort is exactly 16 lbs. I know because I've now measured it for this report. That is the first time in almost 6 years that I have actually measured the effort!
The rifle is normal-sized, at 44 inches overall. What looks like the barrel is just under 20 inches long, but the actual barrel is hidden deep inside a shroud. The actual barrel is about 1-1/2 inches shorter, and there are no baffles in front of it. The muzzlebrake is just a nice solid cap that completes the look of the rifle.The pull is 14 inches.
The stock is synthetic with a dipped woodlands camo pattern in deep woods green and gray. There's a stylized thumbhole, and the stock makes the rifle completely ambidextrous. A dark rubber cheekpiece is pinned to the top of the straight comb. The buttpad is a ventilated black rubber pad that prevents the rifle from slipping when stood in the corner. The forearm is thin in cross section and flat on the bottom for a good hand rest.
The metal parts are not polished and present a matte surface for the black oxide. The metal barrel jacket is even duller than the spring tube. There are a few plastic parts on the gun, like the triggerguard and end cap, but even the trigger blade is metal.
The barrel pivot is a screw that can be tightened. That means the rifle can be very accurate.
The trigger has one adjusting screw, and in the next part I'll find out what it does. The gun came to me without a manual, so I'm winging it. I'll also tell you the velocity for certain .22-caliber pellets, though I don't want you to expect too much.
A modern Diana 27?
This rifle is as close as any modern air rifle gets to the legendary Diana 27. It's light, has a great trigger and cocks even easier than the 27. I think it's a little more powerful, as well, but don't expect too much.
Crosman took Ed's idea and created the Benjamin Trail Lower Velocity rifle that was made for a short time and the Benjamin NPSS that also had a short life. Lower velocity doesn't seem to sell well for some reason — yet, every time I put one of these airguns into a shooter's hands, they smile and say they wish they could buy one just like it. The Nitro Piston 2 is the modern airgun that comes closest to matching this performance, but it's still too powerful — and the barrel pivot is a pin instead of a screw that can be tightened.
There's a lot to like about this air rifle. Maybe not in the power department, but a smooth-shooting, easy cocking gun that's accurate? Heck — I always want one of those! We'll see!