by Tom Gaylord
Writing as B.B. Pelletier


The Gletcher Mosin Nagant 1891 CO2 BB rifle (gun) is extremely realistic.
This report covers:
The 1891 Mosin Nagant
The test
The sights
Daisy BBs
Black Diamond BBs
Crosman Copperhead BBs
Overall evaluation
April is a busy month for me. I'll be attending the Findlay, Ohio, airgun show this Saturday, April 11; then next week, I'll be filming American Airgunner episodes for 4 days in Arkansas. A few days after returning, I'm driving to the Malvern, Arkansas, airgun show held April 24-25. I'll be selling a lot of vintage airguns at the Malvern show. If you can attend either of those shows, please stop by my table and say hello.
I'm also planning this year's Texas Airgun Show, which will be held in Poolville, Texas, on Saturday, August 29. We plan to have everything that was at last year's show, plus a big bore airgun match that's new. We also plan to have a special filming of the Round Table for American Airgunner the evening before the show. This will be an event the public is invited to, which means you'll get to watch us put together a segment of the show. What takes 3 minutes on-screen often takes a hour to film, plus you can watch us do all the stuff that never makes it to the air.
This airgun show planning has me attending meetings all over north Texas in the coming months. All the things on my schedule will keep me from going to the range for several weeks. My shooting will have to be done at home, plus I'll write reports that don't require me to go to the range.
Before I begin today's report, I want to update you on some other reports I'm working on. Blog reader Azhar has waited patiently for a very long time to see a report on shooting heavyweight pellets in an air rifle. I've actually done some testing for that report and have determined that no pellet gun short of the AirForce Condor or Escape is going to be suitable. The other guns simply lack the power to stabilize these solid pellets, which are really bullets by another name. I'm gathering all the heavyweight pellets I can for this test, but it will have to wait until I can get out to the range, again.
I also have a test to positively determine if the Diana Bullseye Zero Recoil scope mount works as advertised. And there's a whole lot more I'm putting into that report. Some of you thought that any mount that moved would have to be inaccurate, and I hope to show you why that isn't the case. To properly test the ZR mount, I have to get out to the range, so at least the last part of that report will also have to wait. I should get the first part done before then.
At both airgun shows, I hope to do a little fantasy shopping — looking for super bargains that anyone who attends could have bought. I always do that at airgun shows. I also hope to score a couple airguns we haven't looked at yet and use them for blogs during the coming year.
That's enough. Let's get to the report.
The 1891 Mosin Nagant
Owners of the Mosin Nagant 1891 CO2 BB Rifle are almost unanimous in their praise for the realism of this gun. The majority opinion on this blog, however, is that this is the wrong airgun. Most readers think Gletcher should have built a Mosin Nagant rifle with a full-sized stock.
The test
I shot the gun off the UTG Monopod rest at 5 meters (16 feet, 4 inches). The gun holds very oddly, and it took some time to find a good hold. I finally rested the butt against my cheek, where the sights looked sharp against the target. I have to say this is not a gun to shoot at targets! It feels really unnatural.
The sights
As I tested the airgun for accuracy, I used the sights for the first time. The rear sight on this replacement gun is just as loose as the sight on the first one. While it does adjust up and down, there's no possibility for windage adjustments.
While some owners have reported that the sights are plastic, they're actually metal. I had a person hold mine and commented that they are plastic, but I know better. To test whether an item is plastic or metal, touch it with your lips or tongue. If it is cold, it's metal. Plastic will feel neutral or warm when tested this way.
Daisy BBs
I began with Daisy Premium Grade BBs. The sights were set too low, so I used the first 10 shots to get used to shooting the gun as I adjusted the sights. Unfortunately, the gun also shot to the left, and there was no correcting for that.
The second group of 10 Daisy BBs went into 2.699 inches between centers. Yes, you read that right — 2.699 inches! The picture tells the story best.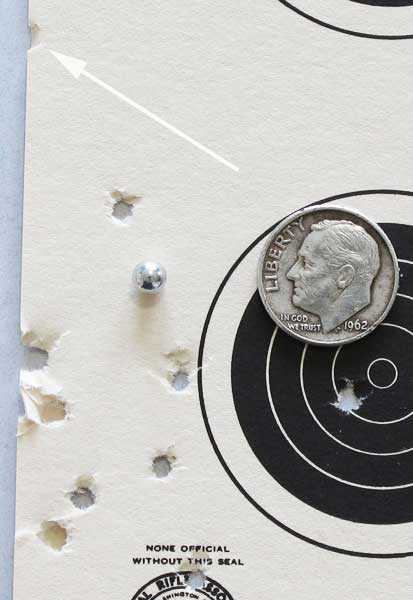 Ten Daisy BBs made this 2.699-inch group at 16 feet! The tenth BB is at the top of the group, halfway off the paper (arrow).
Those who have read this blog for a month or more know that I can shoot better than this. This is not me — it's the gun.
Hornady Black Diamond BBs
Next up were 10 Hornady Black Diamond BBs. I didn't expect them to doo much better than the Daisys — and they didn't. Ten made a group that measures 2.865 inches! Nothing much I can say about that.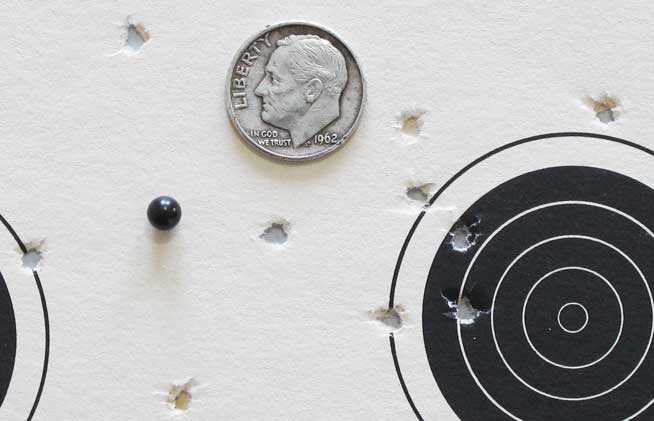 Ten Hornady Black Diamond BBs made this 2.865-inch group at 16 feet.
Crosman Copperhead BBs
I decided to try Crosman Copperhead BBs next. I've seen them be more accurate in some BB guns, although that's not usually the case. Still, it was worth a try.
Ten Copperhead BBs went into 3.166 inches at 5 meters. One of the BBs landed off the paper so the target only has 9 holes.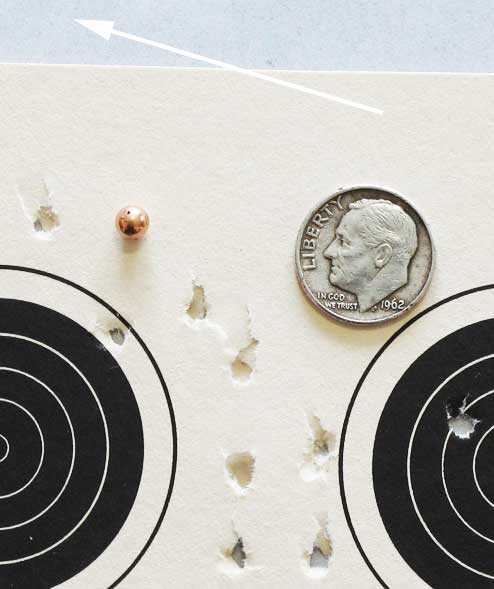 Ten Crosman Copperhead BBs made this 3.166-inch group at 16 feet. The final BB landed off the target paper where the arrow points.
Overall evaluation
I think Gletcher should have released a BB gun with a rifle-length stock and perhaps not made this model at all. Maybe it's popular as an airsoft gun (if they make one), but I doubt it'll ever be very popular as a steel BB gun.
It needs too many improvements. It needs a rear sight that doesn't move around. It also needs the ability to adjust the sights for windage, for problems like we see in today's test. But most of all, it needs a tighter barrel for improved accuracy. I can outshoot it with almost any BB handgun I have tested, and that's a pretty broad statement.
If what you want is a gun that feels like a firearm, this will suffice. Just don't try to hit anything with one.