by Tom Gaylord
Writing as B.B. Pelletier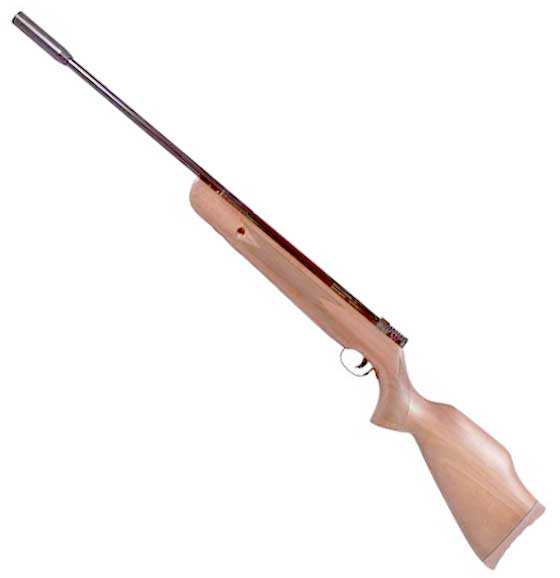 Air Venturi M8 is very much like the Bronco.
This report covers:
Velocity
Conclusions
Cocking effort
Trigger pull
Firing behavior
Evaluation so far
Today we become more familiar with the Tech Force M8 rifle. In Part One I mentioned that the powerplant on this gun is very similar to the powerplant on the Air Venturi Bronco that has been discontinued. In fact I believe it is identical. The one thing that differentiates Air Venturi and Tech Force spring rifles from Mendozas is we made them not drill a hole on the left side of the spring tube for oiling the piston seal. Low-order detonations were the way Mendoza rifles achieved their velocities, but we didn't want that.
Several readers who already have this gun can confirm that the M8 is smooth-shooting and easy to cock. Reader Bulldawg mentioned how surprised he was at the beauty of the M8 stock. I must agree. You can see it in the photo above,and that seems to be an accurate representation. The shape is pleasing and Mendoza seems to have used some beech wood with more figure than you usually see. The stock on my test rifle is as pretty as walnut.
Velocity
Today we learn just how close in performance the M8 is to the Bronco. Before I tested it I guessed it would be very close. And, for the record, here are the velocities of both guns .
Bronco
Pellet………………………..Vel. Avg……………….Vel. Range……………..Spread
Hobby ……………………….558 f.p.s. ……………..538-566 f.p.s.……………..28 f.p.s.
Gamo Match…………………537 f.p.s………………534-541 f.p.s………………..7 f.p.s.
Crosman Premier 7.9……….528 f.p.s………………526-533 f.p.s………………..7 f.p.s.
Let's look at these numbers for a moment. They are in the low to mid 500 f.p.s. range for three pellets that weigh less than 8 grains. More importantly, the spreads for two of the pellets are tight. Only the Hobby is large. If these two rifles are as alike as I think, we should see similar numbers from this M8. Let's see what the number are right now.
Tech Force M8
Pellet………………………..Vel. Avg………………. Vel. Range…………….Spread
Hobby……………………….573f.p.s……………….548-586 f.p.s………………38 f.p.s.
Gamo Match………………..575 f.p.s……………….563-585 f.p.s………………22 f.p.s.
Crosman Premier 7.9………544 f.p.s………………532-555 f.p.s……………….23 f.p.s.
Conclusions
So, the M8 is very close to the Bronco. Close enough to say the powerplants are identical. The M8 is burning some oil, which is why the spreads are larger for each pellet, but notice the relationships remain the same. The Premiers have a much greater velocity spread than either of the other two pellets, and their spreads are very close.
Why is the Gamo Match pellet so much faster? It's entirely possible that I tested the Bronco wi9th a Gamo Match of a different weight. I don't know.
One final note — the Premiers loaded with much greater resistance than the other two pellets. Somehow that has to factor into the greater velocity spread for that pellet.
Cocking effort
The Bronco I tested (and also bought) cocks with 19 lbs. of effort. The M8 I am testing cocks with 18 lbs. There is more than that amount of variation within one specific model, so I am now positive these guns share the same powerplant.
Trigger pull
As you know, the M8 has a 2-stage trigger. And it has 2 blades, as well. The first blade can be thought of as stage one. When it comes back even with the second blade, you have arrived at stage two and the gun is ready to fire. Stage 2 has no discernible creep, though I cannot call it glass-rod crisp, either. When I used the trigger-pull gauge I could feel a slight hint of creep before the release, but my finger could not detect it. I have a sensitive trigger finger that is used to 18-oz. (500-gram) triggers on 10-meter pistols, so I doubt that one shooter in a hundred will ever feel any creep in this trigger.
The trigger broke at an average 1 lb. 12 oz. It's not adjustable, but this is as light as any sporting airgun trigger should ever be.
The ambidextrous safety is automatic. It comes on when the rifle is cocked and is easy to push off with the thumb.
Firing behavior
The M8 is as calm as a non-buttoned piston ever gets. Compared to most other spring guns today, it is superior.
Evaluation so far
So far the Tech Force M8 appears to be a Bronco without sights but with a better stock. Those of you that have them can talk about them all you like — don't wait for me. Accuracy comes next and I think I'll start at 10 meters.