by Tom Gaylord
Writing as B.B. Pelletier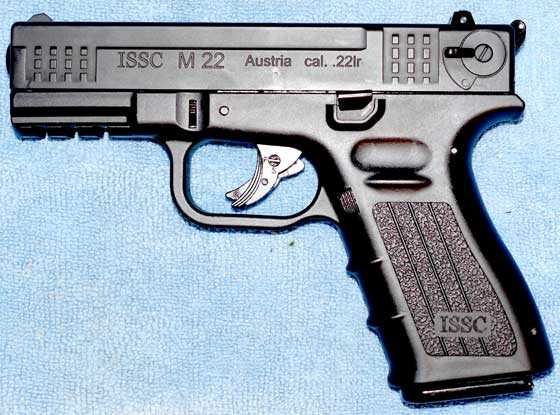 Air Venturi ISSC M22 BB pistol.
This report covers:
Air Venturi Copper-Plated Steel BBs
Long trigger pull
Daisy Premium Grade BBs
Radio interview
H&N Smart Shot copper-plated lead BBs
Realistic recoil
Shot count
Evaluation so far
Today we look at the velocity of the ISSC M22 BB pistol from Air Venturi. As small as the pistol is, it will be difficult to get a lot of velocity from it, because barrel length is important to a CO2 powerplant. Air Venturi rates it at 400 f.p.s., so let's see how close they got.
Air Venturi Copper-Plated Steel BBs
First up were some Air Venturi Copper-Plated Steel BBs. Why not shoot Air Venturi BBs in this Air Venturi gun? The first step was to install a CO2 cartridge, which was straightforward. I used the combination tool provided to tighten the tension screw and the cartridge sealed just fine. Naturally I used a drop of Crosman Pellgunoil on the tip of the cartridge to lubricate the internal seals.
Ten of these Air Venturi BBs averaged 384 f.p.s., with a low of 378 and a high of 396 f.p.s. That's a spread of 18 f.p.s. I allowed at least 10 seconds between shots to stabilize the velocity in the 70 degrees F. environment in which the test was conducted.
Long trigger pull
I noticed while conducting this test that the trigger pull has a very long first stage. That's typical of this kind of pistol, so it's actually a good thing to have for training. Owners of Gloacks will feel right at home, but 1911 owners will find it disconcerting.
The second stage breaks at a consistent 5 lbs. 10 oz. That's better than a factory Glock trigger. I had to put a custom trigger on Edith's Glock 36 to get the pull that light.
Daisy Premium Grade BBs
Next to be tested were Daisy Premium Grade BBs. They averaged 392 f.p.s. in the M22 and the range went from a low of 386 f.p.s. to a high of 399 f.p.s. That's a 13 f.p.s. spread. And there is the 400 f.p.s. mentioned in the specs, so this M22 is spot-on for velocity.
Radio interview
I was interviewed by Charles Heller of Liberty Watch Radio, a talk radio program based in Tuscon, Arizona, this past Sunday. During the interview he asked if I had seen the ISSC M22. When I told him I was testing one he became very excited. Charles teaches a self defense course with pistols and wants to get the ISSC M22 to replicate his personal Glock firearm. I told him I thought the ISSC M22 was close enough in design and features that it would be fine for that.
H&N Smart Shot copper-plated lead BBs
The last BB I tested in the M22 was the new H&N Smart Shot copper-plated lead BB. If the M22 will be used for training, these are the BBs you'll want to use, because they don't rebound from hard targets. If you doubt that, read Part 3 of the report I did on them, where I shot them at numerous hard targets. They fell harmlessly to the floor after flattening out on the target — just like lead BBs always used to before steel came into the picture.
These BBs are considerable heavier than the nominal 5.1 to 5.4 grains that a steel weighs. These weigh 7.4 grains, so the velocity will be slower in any given airgun. In the M22 they averaged 333 f.p.s., with a spread from 322 to 342 f.p.s. That's a 20 f.p.s. spread.
Realistic recoil
The long travel of the metal slide during blowback delivers a realistic pulse of recoil when the gun fires. It's not quite as stiff as a .22 rimfire, but it's in the same neighborhood.
Shot count
I continued shooting after the test to see what the shot count would be on one CO2 cartridge. Some gas has to be used for the blowback, and this gun has a long blowback, so this test will show us how many good shots you can expect. I used the Air Venturi Copper-Plated BBs for this test. The gun was still producing full power (384 f.p.s.) on shot number 40. Shot 51 went out at 355 f.p.s., which is a drop off the power curve. It's still powerful, but the liquid CO2 is probably exhausted. Shot 56 was 337 f.p.s. and shot 61 was 315 f.p.s. After that I didn't load any more BBs and the gun went full-auto at shot 65. That's a sure sign its out of gas. On shot 67 the slide failed to remain open after the shot, which means the slide wasn't coming all the way back.
Let's call it 60 good shots on a CO2 cartridge. If you stop there you won't risk getting any BBs stuck in the bore.
Evaluation so far
So far the M22 is stacking up very well. It's so realistic that I think it will please a lot of people for just that reason. And the power is decent for such a short barrel. Let's hope it also has some accuracy, because it could become a best buy.